How Kentucky Used the Post Threat of Anthony Davis
After dominating the first half of last night's national championship game, Kentucky reached a point in the second half where it was struggling to score. Kansas used the Wildcats' scoring troubles to go on an 8-0 run of its own and trim what had once been a 16-point lead down to seven. Needing a bucket to put the game away, Kentucky used the threat of Anthony Davis in the post to set up one of their better shooters, Doron Lamb, for an open 3-point shot: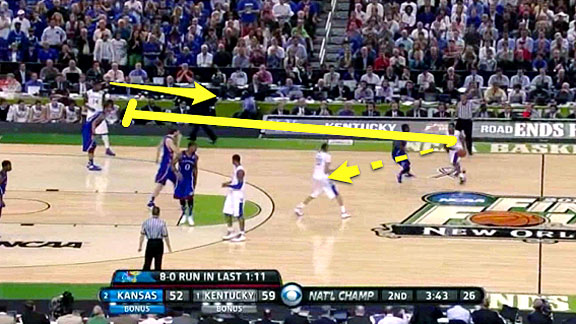 The play starts with Marquis Teague bringing the ball up and getting it to Davis as he flashes out to the 3-point line. After Teague makes the pass, he heads to the corner and sets a screen for Michael Kidd-Gilchrist.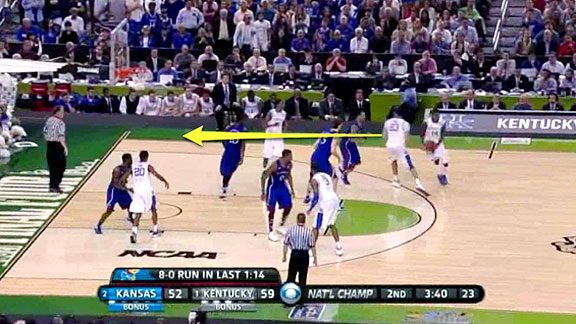 Kidd-Gilchrist comes off Teague's screen and gets a dribble handoff from Davis. After getting the ball to Kidd-Gilchrist, Davis dives to the ball-side block.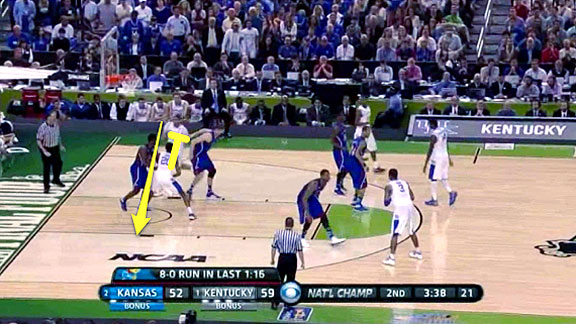 Davis then comes off a cross screen set by Lamb and gets position in the post in order to get the ball from Terrence Jones.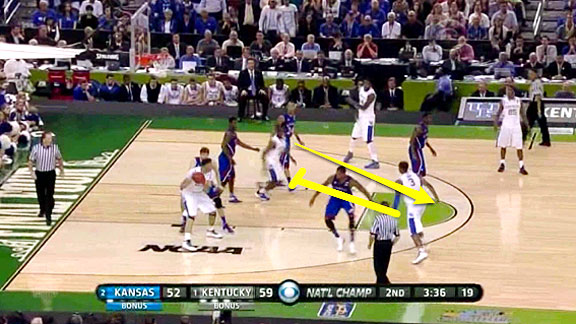 Jones makes the post entry pass and heads down as if he were going to cut through the lane. Instead, he stops in the middle of the paint and sets a screen for Lamb. In this screen-the-screener set, Lamb curls off Jones's screen and looks for the pass from Davis.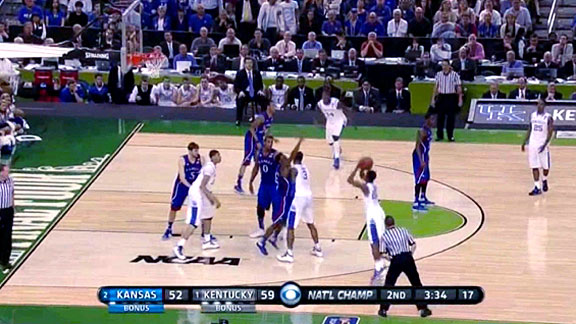 Lamb comes off Jones's screen looking ready to shoot, and after receiving the ball from Davis, he rises up and lets it go. Here is the play in real time:
Now, the jumper rims in and out, but this is a tremendous play by Kentucky. Coach Cal wanted to put the game away, and he nearly did it by running a great play that used several concepts. There is a screen-the-screener action, with Jones setting a screen for Lamb, who just set a screen away from the ball for Davis. The action also sets Davis up on the block, which made it look as if that were the end point of the play. It was that confusion that allowed Lamb the wide-open look.
Filed Under: College Basketball, Kentucky, March Madness, NCAA tournament, Sebastian Pruiti, Total Breakdown