From Genius to Dolt: On the Intriguing Open Jobs in Toronto and Los Angeles and the Fickle Nature of Success in the NBA
Joe Murphy/NBAE/Getty Images
The long game in the NBA is fickle. Luck intertwines with talent to determine long-term success in a 30-team league in which having at least one of the top 20 players (and preferably one of the top 10) is required for championship contention. The luck + talent + decision-making equation tilted against two local lightning rods on Tuesday, one coach and one GM. Some words on each:
The Clippers Decline to Offer Vinny Del Negro, and Del Negro's Hair, a New Contract
Del Negro is by some measures the most successful coach in the sad history of the Clippers, but 56 wins and back-to-back playoff appearances were not enough to earn a new contract — not after the Clips dropped four straight games, each more dispiriting than the last, to a very good Memphis team in the first round. It's hard to evaluate this decision without first acknowledging four realities so basic they are almost boring:
• Del Negro would still have this job if Chris Paul wanted him to have it.
• Del Negro may well still have this job had Blake Griffin not suffered a serious ankle injury between Games 4 and 5 of the Clippers' first-round series against the Grizzlies.
• With Del Negro out, and probably unlikely to get one of the head-coaching jobs currently open (or soon to come open), there is a vacancy atop the "Best Coach at Screaming at Opposing Shooters and Stamping His Feet" rankings. Del Negro really redefined this skill. He was like a sixth defender on some possessions, and if you edited out the basketball game happening around him, he'd have looked at times like an adult going through a child's tantrum. Lawrence Frank was a solid no. 2, but he's also out of a job for now. The door is wide-open, Erik Spoelstra.
• Del Negro might still have this job if the Clippers played defense in the second half of the season, and in the playoffs, as they did over the first 30 games. The Clippers finished ninth in points allowed per possession, but they ranked just 21st from February 1 through the end of the season, and the slowpoke Grizzlies absolutely sliced them up in the playoffs. The Clippers were bad defensively almost the whole season when the Blake Griffin–DeAndre Jordan duo shared the back line, and they just never showed enough growth or systemic coherence on that end. The Clippers' bench was mostly very good defensively, and both Griffin and Jordan showed fits of progress — Jordan protecting the rim and defending the post, Griffin using his speed to disrupt pick-and-rolls far from the hoop.
But the principles of the Clips' defense always seemed unclear, and the key players couldn't consistently execute whatever rules might have been in place. They committed the same fundamental breakdowns over and over — failing to keep side pick-and-rolls on one side of the floor, and allowing one opposing big man to get behind the entire defense as Griffin and Jordan struggled through confusion in guarding basic three-man sets. It was almost jarring to watch a Clippers game and follow it with a game featuring the league's strictest rule-based defenses — Memphis, Indiana, Boston, Chicago, Miami, etc. The Clips made mistakes that just wouldn't fly on those teams, in part because those other coaches installed hard-and-fast systems, got players to understand and execute those systems almost immediately, and benched guys who couldn't do that. Del Negro and his staff had two-plus years to do it, and some solid talent on hand, and they couldn't manage it. They had a horrible time defending the 3-point line in 2011-12, and particularly the more profitable corner 3s, and the same patterns repeated this season. It seemed like the team would need a shake-up — among the coaches, players, or both — to reach another level.
The same was true on the other end, which is weird to say, since the Clippers ranked fourth in points per possession and have been an elite offensive team since they swung the Chris Paul trade. But there was no broader offensive system in place. Paul to some degree is a system unto himself, and when he was on the floor, the Clippers did fine alternating between Paul pick-and-rolls, Griffin post-ups, and some other stuff on the fringes. (The bench units largely ran a different offense, centering on Jamal Crawford jetting around screens at the elbows for handoff plays, as well as some high-speed cutting action.) But there was no continuity — no flow from the first action into second, third, and fourth counters if that first action went nowhere. Those first tries often went to very nice places, since Paul is the league's best orchestrator and Griffin draws almost automatic double-teams in the post. But the other Clippers were mostly standing around as only semi-dangerous spot-up shooters, and when those first actions didn't open cracks in a defense, they were too often left to fight for bad shots late in the shot clock.
The playoffs magnify the problems of being systemless. Give an elite defense two weeks to scout a single opponent with a blah offense, and that defense will smother those first options. If you can't adapt on the fly, you might score at a bottom-five rate, as the Clippers did in the final five games of the Memphis series — a drought that began before Griffin's ankle sprain. (The Clips actually put up a solid scoring number in the Game 6 closer, when Del Negro submitted one of the most bizarre coaching performances in recent NBA history.) The Clippers and Thunder are similar in that they built play-based offenses, and not systems, around multiple superstars, and learned in the postseason that those play-based offenses simply cannot be sustained without one of the two superstars.
The Bulls provide an interesting contrast. Their offense is boring and unglamorous. They are allergic to the 3-point line. They're slow in the perimeter when Nate Robinson is on the bench. They run the same three or four actions on just about every possession. But they make good use of all their personnel, and they run a continuous system — a pick-and-roll here flows into a dribble handoff there, which flows into a catch-and-shoot action or another pick-and-roll someplace else on the floor. The Bulls managed to squeeze out nearly 100 points per 100 possessions in the playoffs and a very decent 102.3 points per 100 possessions in their seven-game thriller against the Nets. They maintained something within hailing distance of an average offense despite spinal taps, dudes vomiting on the bench, plantar fasciitis, and a general lack of available NBA bodies. The Thunder couldn't manage anything close to that without Russell Westbrook against Memphis, and the Clippers were right on Chicago's playoff pace after their Game 1 romp.
The Clippers' offense was fine in the big picture. Del Negro actually designed some pretty nice stuff out of timeouts in that Memphis series, and he made smart use of blind back screens over the last two seasons — screens that took advantage of all the heads turned in Paul's direction. But the playoffs are about the small picture. The opposition gets better, the margin of error shrinks to zero. Teams need to maximize every possession on both ends, and Del Negro was not the coach to bring out that maximization. A cadre of players, presumably including Paul, had reached that conclusion during the postseason, as ESPN.com's Kevin Arnovitz reported on Tuesday.
The Clippers now have to find a coach who can bring that toolbox. There are plenty available. They'll reach out to Warriors assistant Mike Malone, a CP3 confidant from their New Orleans days, if they haven't already reached out to him. Donald Sterling, the team's owner, reportedly likes Lionel Hollins, and if the Clips want a defensive tactician from the assistant ranks, they'd do well to look at Hollins's assistant Dave Joerger. The other names, the usual suspects, will all come up, and it will be interesting to see how much Sterling is willing to shell out for a coach. Del Negro came cheap, and the Clippers are cheap with coaches and execs.
It will also be interesting to see how the Clips retool their roster, assuming they re-sign Paul. Doing that makes it almost inevitable they will trade Eric Bledsoe, still somehow unable to earn enough minutes under Del Negro, and there are other interesting trade chips here. The Paul Pierce–Kevin Garnett discussions (for Bledsoe, DeAndre Jordan, and filler) were very real, and show that the Clippers understand how rare a championship window is — and how quickly it might close. Paul is not young anymore, and he has knee issues. This will be a fun offseason in Clipsville.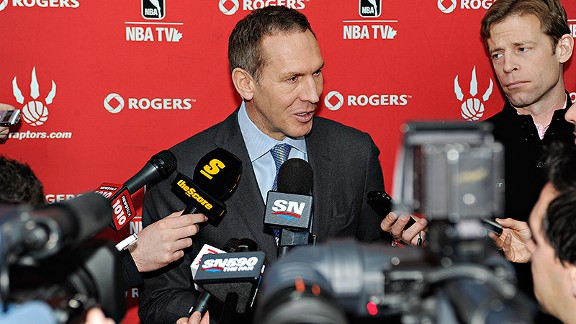 The Raptors Move Bryan Colangelo Aside
In the NBA, a genius can turn into a dolt in a year or two, even if said genius hasn't actually changed at all. Heck, people are already starting to wonder if Sam Presti is as brilliant as everyone thought he was just eight months ago. News flash: Presti is just as smart today as he was when he had the foresight to mind-trick the Blazers into drafting Greg Oden so that the Sonics could select Kevin Durant, now the second-best player in the league, with the no. 2 pick in the 2007 draft.
Win the draft lottery when the undisputed no. 1 pick is Tim Duncan and you'll be a genius for a long time, provided some decent health luck. (The Spurs, of course, have been so good for so long because of their culture, their smarts, their front office, and their coaching staff. But Duncan was step no. 1, and step no. 1 is the most important.) Win the draft lottery when Andrea Bargnani is the closest thing to a consensus no. 1 pick, and your genius status will likely fade over time.
The Bargnani pick looks bad in hindsight, and it was the first landmark move of Colangelo's tenure in Toronto. It looks especially bad because the no. 2 pick, LaMarcus Aldridge, has turned into a foundational piece for the Blazers. But remember: Chicago thought so highly of Aldridge on draft night that they flipped him that same night for the rights to Tyrus Thomas, best known now for never playing and for picking a fight with Paul Silas. This is the multilevel luck factor of the NBA. Winning the lottery is a tremendous stroke of luck, but only if you're lucky enough to win it in a year when Durant or Duncan or Anthony Davis is quite obviously available at the top.
The moves made by Colangelo, who is transitioning to an amorphous front-office role with the Raptors, after that Bargnani pick obviously haven't worked in the big picture; the team hasn't made the playoffs since 2008, and they're probably going to be capped out over the next two seasons, with a lot of money earmarked for a lot of underperforming players. The team punted future cap flexibility by dealing Jose Calderon's expiring contract for Rudy Gay, who is going to have to rediscover his 3-point shot (with new vision!) and do a lot of stuff he's never done before to earn his $17.9 million salary next season and (if he opts in, which is far from certain) $19.3 million in 2014-15. Trading for Jermaine O'Neal in 2008 didn't work out, primarily because the Raps surrendered Roy Hibbert, but you could make any GM look like a dunce by going through what he did with picks in the late teens. Trading O'Neal for Shawn Marion a year later wasn't particularly damaging on its own, but it did allow Miami to open up the LeBron James–Chris Bosh cap space in 2010, and it led to the Hedo Turkoglu horror show (see below).
The Raptors' usage of cap space before the Gay trade was discouraging. They blew their 2009 space on a disastrous sign-and-trade for Turkoglu, and though lots of us suspected Turk's best days were behind him, nobody could have predicted how terribly he'd play in Toronto — and how quickly he'd alienate the very polite Canadians. Colangelo deserves credit for getting out of that deal as quickly as he did, dumping Turkoglu on Phoenix in exchange for Leandro Barbosa.
Last summer, the Raps tossed an insane amount of money at Landry Fields, a wing player who cannot shoot at all, partly as a means of blocking the Knicks from trading for the player Toronto really wanted: Steve Nash. The Lakers and Nash's desire to win a title saved Colangelo from paying Nash something like $10 million per year over three seasons. The Nash-Fields pairing, the team's intent, would have been a cap catastrophe (captastrophe?).
Bargnani and DeMar DeRozan will earn a combined $20.25 million next season, and though DeRozan is only 23, he hasn't yet played up to his $9.5 million annual salary. But he's a good kid, and a hard worker, and Mike Conley's ascension is a reminder that young guys take some seasoning sometimes.
The Bargnani and DeRozan extensions speak to something of a lack of creativity and/or aggression when it came to Colangelo's own guys. It would have taken rare courage for a GM to recognize a sunk-cost no. 1 pick early — to deal him when his value was still relatively high, or to offer him a much lower extension, dare him to take the one-year qualifying offer, etc. But the best GMs make moves that occasionally surprise us, because they are working two steps ahead or have come to some internal conclusion, even an uncomfortable one, about one of their own players. Colangelo struggled to do that with his own guys, and now the Raptors are stuck either paying Bargnani way too much or dealing him for nothing.
And that's almost surprising, because Colangelo is a smart basketball thinker who has done creative, aggressive stuff in the past. He helped build Phoenix teams that literally changed the league. He had Toronto on the forefront of the international game, in terms of both executives (Masai Ujiri, Maurizio Gherardini) and players (Jorge Garbajosa, Jonas Valanciunas). He made a worthy bet on Kyle Lowry, perhaps the league's most mercurial talent, and saw early the kind of defense-first leader Amir Johnson might become. He was ahead of the game on Tyson Chandler, very nearly closing a deal for him in 2010 that would have given the Raptors a defense-first center who has changed everything for two franchises since then. (The Bobcats pulled out at the last minute.) He invested early, and aggressively, in advanced analytics.
All of which is to say: Colangelo's record is spotty, just like the record of basically every GM who sticks around long enough to make a lot of decisions. There is more bad than good, especially with the team's recent use of cap space, but it's easy to see how things might have turned out differently had the Raptors won the lottery in the right season. Even so, the Lowry-Gay-Johnson-Valanciunas-DeRozan five-man core has promise; the Raps outscored opponents by nearly 13 points per 100 possessions — a larger number than Oklahoma City's league-leading margin — in 343 minutes with those five on the floor, and it's fun to think of how good that group might do on offense if Valanciunas develops and the Raps dare to flip DeRozan — one of their own — for some real outside shooting.
Tim Leiweke, the new CEO of the Raps' ownership conglomerate, concluded that Colangelo was not the right guy to make those future moves. Now he just has to find a replacement, one who is willing to work with Colangelo hovering nearby, input at the ready. This is an attractive job in some ways. The Raps have been a high-payroll team, and they've indicated they are willing to exceed the luxury tax by a significant margin if doing so helps Colangelo's successor build a winner, according to multiple league sources.
They're coveting Ujiri, up for a new deal in Denver, and he'd be a home run hire — an out-of-the-box thinker who is usually plotting six or seven steps down the line and understands how the league is evolving. He's also tight with Colangelo, which would either be ideal or awkward. But Ujiri likes his Nuggets team and is curious to see where they might go. Either Denver or Toronto will need to pay him, and if they're not going to pony up for a guy with Ujiri's track record, I'm not sure why they are competing in the NBA. If Ujiri passes, the Raps have a half-dozen or so other names in mind. Someone will have a very exciting challenge on their hands.
Filed Under: Blake Griffin, Chris Paul, Los Angeles Clippers, NBA, Toronto Raptors, Zach Lowe