Fantasy Island: Week 3 Preview
Each week, the Fantasy Island contestants will submit a preview for each of that weekend's games. The best preview from each game will be selected and combined with the others into one comprehensive guide, where points are awarded based on how many individual previews from each writer are selected. Get it? OK. We sorta do too.
Buccaneers at Cowboys
The Bucs are legit. They fell victim to a little Eli magic this Sunday, but I think we all know Tony Romo is about as magical as David Blaine. (Sorry, buddy. Standing in an ice cave for two days isn't magic.) The 'Boys haven't been able to stop anyone, so I like Doug Martin a lot this week; I think he finishes as a top-10 RB. Vinnie Jackson is always a boom-or-bust play, but an interesting sleeper in this game is Dallas Clark. America's Team of 1992 has given up TDs to TEs (that's a weird phrase) in two straight weeks, and Clark is better than either Martellus Bennett or Anthony McCoy (my apologies to the McCoy family, who may be the only people who knew who Anthony was before this week).
— Josh Klein

Jaguars at Colts
Blaine Gabbert used to look like Tim Riggins.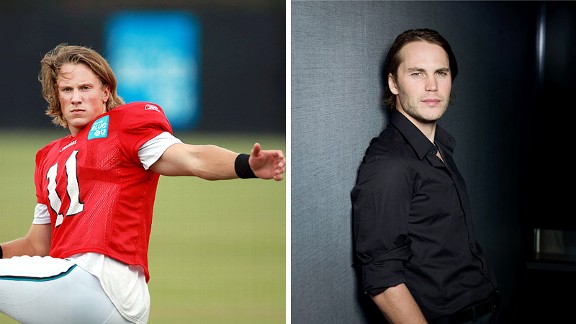 Andrew Luck looks (and so weird … sounds) like Andre the Giant.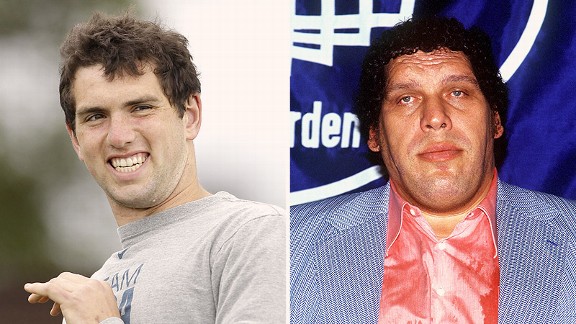 Andre the Giant is the better choice EVERY SINGLE DAY.
— Kat Gotsick
Bills at Browns
Here's a weird stat: Ryan Fitzpatrick is tied for the league lead in touchdown passes with five. Steve Johnson is always a good start, but Scott Chandler is becoming one with a touchdown in each of their first two games. C.J. Spiller is doing everything possible to ease people's concerns about running backs who go by CJ(2K). As far as Cleveland goes … their river caught on fire once.
— Ryan Moskal
Jets at Dolphins
The Jets passing game reverted back to the Vinny Testaverde–to–Jumbo Elliott era last week in their loss to the Steelers. In less than seven days Mark Sanchez went from celebrating his victory on a date with Eva Longoria to being one bad half away from Tebowmania. You can almost see Sanchez taking a bad sack followed by Rex's nod to the trainers to start warming the whole milk for Tebow's hamstrings. Avoid all Jets this week if possible. Reggie Bush should put together another good game as he continues his season-long walkabout to prove he actually has the chops to be a featured fantasy back.
— Ben Liebman
Chiefs at Saints
Third cog Shaun Draughn has three less rushing yards on the season than Jamaal Charles, Matt Cassel clawed his way to 300 yards passing in the ugly Buffalo blowout, and the Saints' postwar defense will allow 30-plus all the way to 6-10. In deeper leagues, I'd start Cassel and Draughn until Chris Johnson stops running like an Italian car. A popular waiver wire move this week was the owner who cut slow burner Mark Ingram before desperately trying to reclaim Ingram after he scored a touchdown. I still prefer Pierre Thomas because he remains impressive in limited touches, catches well out of the backfield, and waiting for Mark Ingram is exhausting.
— Ramon Ramirez
Bengals at Redskins
The Law Firm is a legitimate RB1; try to trade for him before his owner realizes he is going to get more than 20 carries a game for the rest of the season, doesn't fumble, averages four yards a carry, and is the only guy in Cincy that isn't terrible at playing running back.
Alfred Morris is not losing this job. I know that you're screaming "Shanahan!" at the screen right now, but the guy has been finding no-name RBs and turning them into thousand-yard backs for years: Olandis Gary, Mike Anderson, Reuben Droughns, Tatum Bell, and now Alfred Morris.
— Josh Klein
Rams at Bears
Player to Start: Michael Bush
With Matt Forte sidelined, Bush should see the majority of the workload for the Bears this week. The matchup couldn't be more favorable, as Chicago hosts a St. Louis team that has yielded a greater YPC (5.5) than any other in the NFL. Expect the Bears to rebound from their Week 2 disaster in Green Bay — a game in which Jay Cutler was absolutely rocked by Clay Matthews — by keeping the ball on the ground against the Rams.
— Jonathan Bales
49ers at Vikings
Just in case the 49ers defense wasn't scary enough last year, the team now has an offense that can put up points and force teams to throw. That's not a great combination if you have a running back going against the 49ers. You're still starting Adrian Peterson this week, but be prepared for what could be an underwhelming fantasy day. Peterson has never been a great receiver out of the backfield, so it's pretty important that the Vikings don't get down early in this game.
Strong fantasy plays: Adrian Peterson, Percy Harvin, Vernon Davis
Fair to middling plays: Michael Crabtree
— Frank DuPont
Lions at Titans
I am going to cut and paste my rant from last week:
Chris Johnson stinks. If he's on your team and you have any rookie fantasy football players in your league, or any that lived in a box last season, try to trade him. For Shonn Greene. For Titus Young. Hell, I'd take Evan Royster in this situation. Trade him before you have to (gulp) cut him.
It's not time to start any of the Titans WRs yet. Let's see how Kenny Britt does with a full workload before putting him into your lineup. If you need advice for the Lions, there are only two players you're starting and you know who they are. I feel the same way about Leshoure as I do Britt — let's not make him a top-10 RB in his first NFL game.
— Josh Klein
Falcons at Chargers
The Falcons are clearly an offensive force so far this year, although they have yet to face an elite defense … and they won't again this week. Yes, the Chargers have held their opponents to 24 total points, but that says more about their opponents (Raiders and Titans) than it does about them. Roddy White's stock is up, Julio Jones's stock is down, and Tony Gonzalez is clearly a favorite red zone option for Matty Ice.
Antonio Gates is back for the Chargers and should see a lot of looks from Rivers in scoring situations. The Chargers still clearly have offensive line issues, though, and man, that Falcon defense looked REALLY good against the Broncos. I had low expectations and I got served. I think Rivers isn't your best option this week, unless he is.
Dancing With the Stars Alert: Tony Gonzalez is a lock for Dancing With the Stars, and SOON. If the Falcons make the Super Bowl this year, you can bank it. He's winding down his career and is a tall, good-looking, well-known, ethnic vegan with a flashy end zone celebration and a hot wife named October. He would be the first tight end on Dancing With the Stars, and I bet that producers are dying for Bruno Tonioli to make a tight end joke that's finally relevant.
— Kat Gotsick
Eagles at Cardinals
Both of the defenses in this game look legitimate, so don't be surprised if this is a low-scoring game from a fantasy standpoint. The Cardinals offense is going to struggle against almost any defense, and the Eagles are not just any defense. They've allowed less than five yards per pass attempt and less than four yards per rushing attempt through two games. Two games is a small sample, but it's the only sample we have right now. You're probably not going to be able to get away from starting Larry Fitzgerald, and he might do fine, but this is a difficult matchup.
Strong fantasy plays: Michael Vick, LeSean McCoy, Larry Fitzgerald
Fair to middling plays: DeSean Jackson, Jeremy Maclin (if he plays)
— Frank DuPont
Steelers at Raiders
If the Oakland defense gave up 35 points last week to the Dolphins, then we can expect the Steelers to score 125 this week. Losing is one thing, but allowing Reggie Bush to run for 172 yards is another. Big games should be in store for Big Ben, Antonio Brown, and Mike Wallace. If you need some RB help, consider starting Jonathan Dwyer, who could have a breakout game.
— Ben Liebman
Texans at Broncos
Talented post-hype prospect Knowshon Moreno returned from injury and scored on a shifty red zone draw in Week 1. I don't see that being the end of it. Pick him up and stash his legs while Willis McGahee has a brutal outing against the NFL's best defense. Denver's corners are money: Champ Bailey and Tracy Porter are the headliners, but Tony Carter was huge in slowing down Atlanta's Julio Jones. Andre Johnson is another hulking frame the Broncos seemed equipped to swarm. I'd start both defenses and reluctantly lean on the skill stalwarts. That said, Eric Decker got a lot of looks last week, and with Pro Bowler Johnathan Joseph set to wear out Demaryius Thomas, Decker is the Bronco you want this week.
— Ramon Ramirez
Patriots at Ravens
PSA for disgruntled Aaron Hernandez owners: Your best bet to replace Hernan is playing in this game, and it's not Patriots stopgap Kellen Winslow. The Ravens' Dennis Pitta, who has seen a ton of targets in just two games, has emerged ahead of Ed Dickson as Joe Flacco's go-to tight end. Tom Brady has latched on to Brandon Lloyd, but I'd feel better about Lloyd if he could actually get open once in a while. Gronk owners may be giddy that noted point-poacher Hernandez is gone for a month, but I'm not so sure. Much of Gronk's success is predicated on Hernandez's presence, and I anticipate a bit of a drop-off for Mr. Bibi Jones.
— Matt Borcas
Packers at Seahawks
Don't expect 2011 Aaron Rodgers to make his return this week, but Greg Jennings should be back, which could mean a diminished role for all the James Jones lovers from Week 1. Marshawn Lynch will look to start a streak with his second straight 100-yards-and-a-touchdown game. Russell Wilson hasn't developed a strong relationship with any of his receivers yet, so I'd stay away from Sidney Rice and anyone else catching passes for the Seahawks.
— Ryan Moskal
Filed Under: Aaron Rodgers, Fantasy Football, Fantasy Island, Jay Cutler, Reggie Bush