Derrick Rose, Tanking, and Anarchy: Your Guide to the NBA in 2013-14
Scott Cunningham/NBAE via Getty Images
After six weeks of NBA Warnings, we have come to the end. The zero-day warning. Basketball is back. This is not a drill. The games count for real tonight, and then Wednesday the whole league is in action. It's NBA Christmas!
And in the spirit of the season, who's up for one final preview, a last-minute reminder of everything we should be excited about this year? Just because.
Here's your guide to the NBA in 2013-14.

The Return Is Real
Derrick Rose is not just back on the court, but he's BACK. He's been torching people in the preseason, destroying ankles, getting into the lane at will, and generally blowing our minds just like he used to. It may take a little more time before he's completely back to normal, but the best part of the preseason has been watching Rose look like his old self. Everyone can breathe a sigh of relief now. The injury didn't ruin Derrick Rose.
If they can stay healthy — especially Joakim Noah and Luol Deng — the Bulls with Rose and role players like Mike Dunleavy and Jimmy Butler should be murderous. Thibs will be back to his old grumpy self, D-Rose will say no more than 50 words the entire season, and the world will make sense again. There will probably be wars with the Pacers, there will definitely be wars with the Heat, and it doesn't even matter who wins. It's just nice knowing those wars will involve Derrick Rose.
Maybe this will all feel normal and we'll take it for granted by February or March, but for right now, there's nothing more exciting about the NBA than watching Derrick Rose wreak havoc again.
Rejoice.
Give thanks.
Vengeance starts tonight.
Chaos in the West
Everyone in the West has just enough weaknesses to make us clueless.
We know the Spurs will never truly die, but they inch a little bit closer to death every week. The Thunder are playing without Russ Westbrook for two months. The Clippers are the Clippers, so they'll start hot and look incredible, but then who knows? The Grizzlies could be the dark horse in all this, but they (still) can't shoot, and Z-Bo (probably) isn't what he used to be. The Warriors could shock everyone if Andrew Bogut and Steph Curry stay healthy, but that's a pretty gigantic if. We have no idea how the Rockets will look, because we have no idea how Dwight Howard will look.
And those are your contenders in the West. You could make a case for each of these teams, but it's hard for any of them to be all that convincing. The only thing we know for certain is that Denver inexplicably ruined one of the most exciting teams in basketball. As for everyone else? There is no order. Everyone can beat everyone. It's all a great reason to stay up late, because there's nothing more fun than four or five months of outright anarchy.
Three Teams That Will Surprise You
Wizards: Nothing in the NBA universe is more irresponsible than Wizards optimism, but whatever. Beal looks like a star right now, John Wall is healthy, Nene is back … Just let me have this for the 48 hours. The Polish Hammer changes everything.
Pelicans: The true arrival of Anthony Davis as a future superstar would be enough to make them competitive and/or addictive on a nightly basis, but throw in Jrue Holliday and Tyreke Evans on a good team where they don't have to do everything themselves and the Pelicans should be more fun than anyone realizes.
Pistons: DUNKING > TANKING.
Three Teams That Will Disappoint You
Cleveland: The Cavs should've drafted Oladipo. They should've drafted Harrison Barnes. They should've drafted Valanciunas. There are high hopes for the Cavs this year, and maybe it'll work, but it seems like there's a better chance we all look up in five months and wonder how a roster with four top-five picks could ever be this ordinary.
Golden State: Say a prayer for Steph's ankles, say a prayer for Bogut's everything. Hopefully this is wrong.
Brooklyn: How often does a team buy a starting lineup by betting on high-priced veterans and have it actually work? Everything hinges on Deron Williams this year, and if you've watched him for the past four years, that's kind of terrifying. Also, hiring Jason Kidd seemed like a much better idea before the Nets actually had a chance at contending. Also — ALSO — it's still bullshit that David Stern didn't let KG come out to L.A. and start Ubuntu West. Speaking of which:
Moment of Silence
Boston was this.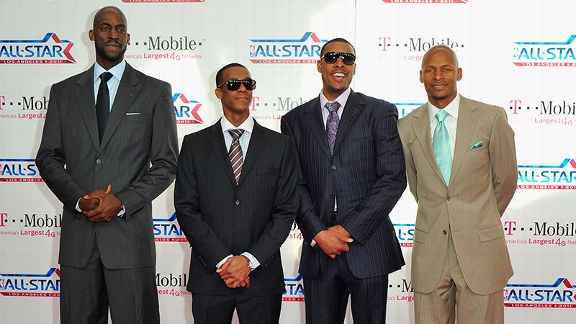 And now Boston is this. Get ready to not watch the Celtics for the next 24 months!
Kevin Durant's Best Day
This is arguably the best day of my life RT @jerrycferrara: I am proud to announce the #Entourage movie is officially a GO!

— Kevin Durant (@KDTrey5) October 29, 2013
This has nothing to do with the NBA this year; we just had to preserve it somewhere for posterity.
The Best NBA Website
We highlighted this Tumblr site earlier in the NBA Warning series, but there can never be enough reminders that David Stern Look Like a Frog is the best NBA website in the universe.
There is no second place in this conversation.
The Rookies
The only rookie who matters is Giannis Antetokounmpo. Example: This Bucks video taking us through a day in the life of Giannis. Here is making pizza:
Everything past the three-minute mark in that video is great. So is his locker-room Dougie. So is this feature on Giannis and his journey from the Athens streets to Milwaukee.
Giannis is everyone's favorite baby brother this year. All the other rookies? Not so great. So, seriously, just follow Giannis all year, because everything he does will make you smile. I could watch 25 more episodes of A Day in the Life of Giannis. It's just a bonus that he'll end up being the best in this class when it's all over.
Fate Worse Than Death
One thing to remember about the 2013-14 NBA is that there will be an avalanche of horrible basketball, too. To help prepare us emotionally, we asked Grantland's bad basketball expert, Danny Chau, to break down five games that will test your faith and torture your soul.
Philadelphia 76ers at Washington Wizards, 7 p.m. ET, Friday, November 1: The Wizards lost eight games in a row to kick off their 2011-12 season. A year later, the team somehow outdid itself by losing the first 12. Those days of crippling futility look to be over. Congratulations, Wizards. Y'all have been upgraded to purgatory. Sixers, welcome to your new hell. Make yourselves comfortable.
Boston Celtics at Orlando Magic, 7 p.m. EST, Friday, November 8: How are we already so far away from 2009 and 2010? Save us, Neon Jesus.
Sacramento Kings at Los Angeles Lakers, 9:30 p.m. ET, Sunday, November 24: Kobe probably won't be ready to suit up by then, so this will likely be a terrible game. But that's not important. What's important is that Boogie the full-court big man is now division rivals with his stylistic forebear.
Utah Jazz at Charlotte Bobcats, 7:30 p.m. ET, Saturday, December 21: I'm a big fan of revenge games, but Al Jefferson might be the kindest soul in the NBA and has nothing but love for the Jazz organization. So we might not even get that. How's that for a sales pitch?
Philadelphia 76ers at Phoenix Suns, 9 p.m. ET, Saturday, December 28: It'll be like "The Aristocrats," but basketball.
Related:
We Live in Tanktacular Times
Sixers/Suns for 82 games. Winner gets Wiggins. They tie, we go to a Who Can Stand Up competition between Len and Noel. Who says no?

— Michael Levin (@Michael_Levin) October 25, 2013
An anonymous GM has already told ESPN The Magazine that his team has given up this year. "Our coach understands that too," he told Jeff Goodman. "It's no secret what we're trying to do, and you can't lie to him anyway or you'll lose all trust. We never really had to tell him, because the handwriting is on the wall. He knows exactly what's going on, and he's good with it. What's hard is keeping it from the players."
But the players know. The fans, too. And the refs. The announcers. David Stern. Everyone's part of the tanking experience!
And once the novelty of the NBA new year wears off, the tanking subplot will really shine. Especially when we hit January and (a) a few more teams give up on the season, while (b) the draft prospects in college start to hit another level to keep everyone extra-motivated to suck. You won't want to actually to watch the games, but it'll be so ridiculous as a whole that you can't help but appreciate it.
There are many who think tanking is a problem in the NBA, there are others who think it's hilarious, and all you need to know is that we're going to have A LOT of these conversations as the season unfolds, and eventually the debate itself will be far worse than any actual tanking.
And we end with two more notes.
No Ceilings
He's the best player in the world, and everything else in the NBA universe orbits around him, so we can't not mention LeBron here. But really, there's not much left to say. Two years ago he was the most polarizing athlete in the world, and now he's the one thing on which pretty much everyone can agree. This is where we are.
He'll be tested more than ever this year — his team will probably be worn down, and the competition is tougher than any field the Heat have faced the past three years — and there will be free-agency questions hanging over the season, because next summer he's got another chance to change the landscape of basketball. This season will be complicated for all kinds of reasons. And there's a good chance none of it matters, because if he gets just a little bit of help, LeBron is good enough to make everything else irrelevant.
It'll probably look more like three years ago than the last two title seasons. In 2010-11, Miami sputtered through most of the regular season, we all nitpicked the Heat on a weekly basis, someone else won MVP, and then the playoffs came and the Heat became the unstoppable death machine that everyone had been fearing all along. Then the Finals happened, and … you know. But that's not happening again. LeBron is stronger and better, and a new season means we get to watch one more season with one of the greatest players ever smack in the middle of his prime. He's answered every question we ever had, and the only question left is how much crazier it gets from here.
The Year of Kevin Durant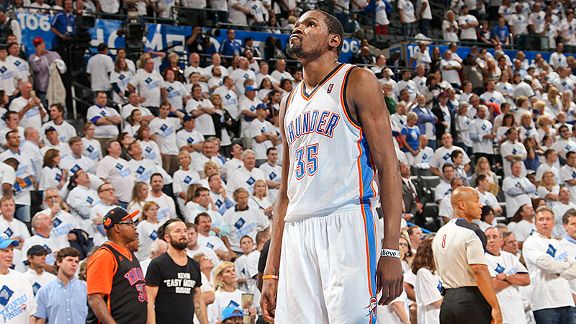 Durant turned 25 years old a month ago, and the Sports Illustrated cover from last year's playoffs still captures where he is better than anything. He's second place. But this is your reminder that everything we ever say about LeBron — he's from another planet, he's once-in-a-generation, we're watching one of the greatest players of all time — is also true of Kevin Durant.
Is it possible for a four-time All-Star and three-time scoring champion to have a breakout season? Because it feels like that's what we're getting this year. People understand he's the second-best player in the league, but I'm not sure everyone understands quite what we're dealing with. He's Steph Curry in Kevin Garnett's body. He's every bit as unfair as LeBron, he's just a few years younger.
Now he's got less help than he's had since his rookie year, the Thunder have more skeptics, and it's all lining up for KD to spend the entire year reminding everyone he's not human. So the NBA Warning series ends with one final warning. Fear Kevin Durant, because the next six months could get diabolical.