Champions League Retro Diary III: Barcelona-AC Milan!
Brian Phillips and Chris Ryan return for the Champions League quarterfinals second leg. On Tuesday, they watched as Barcelona beat AC Milan 3-1.
Chris: Brian! Once more unto the breach, am I right? Cry havoc and unleash Isaac Cuenca. At least that's what Pep Guardiola says. (He totally says that.) The Catalonian youngster is starting alongside Lionel Messi, Cesc Fabregas, Andrés Iniesta, and Xavi. No pressure, kid. Apparently former Liverpool and Rangers boss Graeme Souness just said he anticipated Barcelona "passing AC Milan to sleep." Praise the lord and pass the vaguely legal Chinese energy supplements. It's the second leg of the quarterfinals from the Camp Nou in Barcelona. Any pregame prayers to the Gods of football you'd like to incant?
Brian: If a haggard, red-eyed Ashley Judd shows up in the stands wearing a slightly-too-small Barcelona jersey, totally just trying to keep the high alive, I'll be happy.

Chris: This has already jumped up a notch, with dueling, buccaneering runs from Ibra and Messi. Christian Abbiati is going to miss one of those one of these times? Why? Because this machine (Messi) kills fascists (Abbiati). It's the fifth minute and I just saw Milan perfectly set up in its patented "Christmas tree" formation. That was kind of beautiful.
Brian: Yup. If you stood them up, they'd be cheerleaders. More urgently: Messi just missed a relatively easy one-on-one opportunity, and I have no canned goods or shotgun ammunition on hand.
Chris: Every time Barca tries to pass it out from the back, Tony Pulis listens to Black Flag's "Jealous Again." As I type that, a roadrunner break by Messi results in a penalty for Barcelona. Let's see you save this one, Abbiati.
Brian: Sometimes I watch a bit of play that just knocks me over the head with WHAT A WEIRD TEAM BARCELONA IS. They just won that penalty by bypassing a couple of completely plausible shots in order to stroke the ball around in the area like they were playing a very casual game of hot potato. They were literally trying NOT to pass the ball into the back of the net, and now it's 1-0.
Brian: If you're the heads-up display in the Barca-player visual-software interface, how do you decide when to light up for "shoot"? There are like nine floating circles that have to converge, at which point the software runs an algorithm that determines whether the resulting shot would be beautiful.
Chris: Massimiliano Allegri struggle face joins the pantheon along with Roy Hodgson squirrel-esque face rub …
… And Paul Ince writing "SHOOT" on a notepad.
Brian: Paul Ince is running a very different program, I think.
Chris: *Furiously deletes "The Tika-Taka Of Paul Ince's Blackburn.doc" from hard-drive.*
Meanwhile, Bayern gets one step closer to the semis, going up 1-0. It is 2012 and Chelsea is going to be the underdog in the Champions League semifinals. I too am short on ammo and canned goods.
Brian: I'd say we should head for the hills, but I'm guessing Chelsea might want to set up a pitch there for the semifinals. "Fuck you, Guardiola! Let's see you bring tiki-taka to a contour map!"
Chris: I think we just solved the Fernando Torres problem. He just needs to run downhill. We should definitely co-manage Wolves.
Back to the match. If Puyol had connected on that sliding volley and scored, all the Pantene bottles in the world would have simultaneously exploded.
Brian: Marcelo Bielsa just started frantically scanning the FIFA rulebook for a chapter on terraforming.
Chris: Love Barcelona, but it's about to look like the train station scene from Gone With the Wind down there. Fabregas does the rolling, "IT HURRRRTS" act for a few seconds. I haven't taken Robinho very seriously since the story about him demanding 40 condoms. Actually, wait, I absolutely take him seriously.
Brian: I think my ability to take any little, sly, slippery player seriously was either permanently reinforced or permanently destroyed the day Joe Cole escaped out Keeley Hazell's window. I just don't know which.
Don't judge Barca harshly for all the rolling around in agony; they were stricken with a smallpox plague 20 seconds after Messi's penalty.
Exciting news: I think I finally figured out the endpoint of Guardiola's gradual hipster-to-Edwardian-gentleman sartorial transformation. It is Badger from The Wind in the Willows.
That creeping triangle of gray in his side-whiskers was a dead giveaway.
Chris: And when it all goes wrong and he's managing Anzhi Makhachkala in eight years, it will be Badger from Breaking Bad. By the way, if I can just slip on my Bielsa granny glasses for a second, Milan are going to have to take a shot at attacking down Barca's right flank to expose Dani Alves. He's playing so far forward right now. I bet Seedorf gets moved in to the center of the park or yanked in the second half.
Brian: Yeah, Milan are looking tactically out of it, probably because they prepared for the match by studying African rock pythons as they squeezed their prey to sleep and then realized that being African rock pythons was useless as — HOLY SHIT MILAN JUST SCORED.
Chris: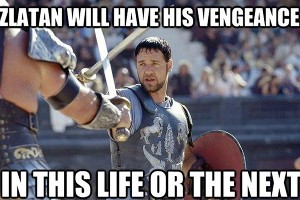 Brian: I'm leaving the rest of that in there to show how out of nowhere that goal was. Pep looks like Mr. Toad just adjusted his driving goggles and ran the flivver over the riverbank.
Chris: Seems like Barca is noticeably staying away from Cuenca's flank. Why start him then? Milan are obviously overloading on Messi; seems like they could spread the ball around, horizontally.
Brian: Yeah, but they're still getting decent looks, they're just not finishing. Kind of like last week.
Chris: Robin van Persie just opened "the good stuff" after seeing that penalty call. 2-1, Barcelona. Not crazy about that one.
Brian: Yeah, that was toilet-paper-commercial-bear soft, and for kind of the same reasons.
On the penalty itself: Not to go all Peter Handke here, but I was absolutely convinced Messi was going to go back to Abbiati's right, just to inflict the maximum psychological damage — I can score twice in the same spot and you can't stop me. So was Abbiati, who dove hard to the right. Messi, of course, went left.
Chris: That was definitely the Wallace Shawn–Cary Elwes–Princess Bride poison scene of penalty kicks.
Brian: Tip-off no. 1 that a player is diving: He falls over even though the man tackling him is Robinho. Come on, Cesc. Keep it to the conceivably possible. Fun thing about this first half: After staring at the San Siro for 90 minutes last week, the Camp Nou pitch looks like it's about 1,400 yards wide. Otherwise, I thought that was about 10 minutes of fun surrounded by 36 minutes of Barcelona foul-absorbing their way to victory.
Chris: Robinho tackles are so innocent, Roy Keane counts them to fall asleep.
Brian: Absolutely hate that I had to think, Well, Barca could have been given two penalties last week, so it all evens out. (Justice achieved through the balanced distribution of incorrect calls over time is such a bitchin' thing to look for in sports.)
Chris: I want Eric Wynalda to open that Pizza Hut box and have it glow like the suitcase in Pulp Fiction.
Brian: Yes! That thing is totally holding the nuclear material from Kiss Me Deadly. By the way, a couple of months ago, I don't remember what the game was, but probably because Pep was wearing a Victorian frock coat, I did a #SteampunkBarca hashtag on Twitter, and someone tweeted that Xavi would be a dirigible captain charged with transporting a mysterious messenger (Messi) carrying a briefcase chained to his wrist. So clearly they were right, only they should have said "pizza box."
Chris: Our mysterious messenger would be met on the shores of the Thames by a courier with a tattered past (Reggie Bush).
Milan start the half looking for two penalties at once. Good team talk, Allegri. I'm putting the over-under on the Nesta red card for the 65th minute.
Brian: Ibra could go off too. Just being in the Camp Nou is filling him with stressful memories of the time he had to drive an Audi.
Chris: ZLATAN DOES NOT DRIVE STICK.
Brian: So Barca have moved Cuenca to the right wing and Alves to right back. Does that clarify what Milan need to do to score here?
Chris: I don't know, but if it involves Zlatan taking a road tour of the Alps in a manual transmission German sports car, we're all in trouble.
Brian: So, of course, five minutes after being moved to a wider position, Iniesta is standing all alone in the middle of the area to get that pass from Messi.
Chris: In the name of the father, the son, and Andres Iniesta. For a guy who looks like he's the best Assassin's Creed player in greater Catalonia, he really does have a habit of getting the most important goals possible.
Brian: I love Abate's comedy handball appeal there. "I wasn't five yards out of position! He was cheating!" If this were FIFA '12, the dude playing Abate just insisted his controller was broken and signed out of Xbox Live.
Chris: "Bendtner would have buried that" —something Cesc Fabregas did not just think to himself.
Brian: Kevin-Prince Boateng just put hands on Javier Mascherano. MASCHERANO HAS EATEN CARS FOR SMALLER OFFENSES THAN THAT.
Chris: I loved Robinho's "I AM NOT INTERESTED IN A CONCILIATORY BEAR HUG, DANI ALVES" face.
Brian: "I AM NOT STOPPING YOU, BECAUSE WE ARE FRIENDS, BUT YOUR EMBRACE CANNOT CHANGE MY OPINION ON THAT HANDBALL."
Chris: Thiago, another academy grad, on for Xavi. Cuenca starting. Maybe Pep should yank Messi for a lovable terrier that's been hanging around La Masia for the last few weeks. "We call him 'Tuffy.' He understands space, movement, and sees the whole field. He also pees on the corner flags. Working on that part."
Brian: And Thiago promptly flubs what looked like a makeable chip shot. If Barca's targeting systems were functioning properly, this tie would be like 9-1. So now that this has devolved into Milanese pride vs. Barca's desire to pass the ball 1,000 times in a row without leaving the center circle, do you think people have really processed the fact that this Barcelona team may very well not win La Liga?
Chris: Aside from Sergio Ramos's conditioner dealer, no, I don't think anyone has really come to grips with that. I am already getting a weird mix of excitement, depression, confusion, loathing, and joy thinking about a Clasico Champions League final. I feel like I just ate a pound of caramel corn. Meanwhile, somehow Pato is back from Atlanta. DJ Toomp must be rather lonely.
Brian: When did this happen? I didn't even realize he was in the game until he almost scored. I guess the doctors successfully implanted his cloaking device.
A Clasico Champions League final is going to blot out the sun. Mr. Burns might actually be behind this. I thought last year that if Barca dropped La Liga and Spain didn't win Euro 2012, it would mean the end of an era in the game. But if Barca win the Champions League final over Madrid, it might just render all other titles meaningless.
On the other hand, if Madrid win a Clasico Champions League final over Barca, La Masia might sink back into the earth like Avalon after King Arthur died.
Chris: Well that was fun while it lasted. Pato puts in a yeoman's 15 minutes before getting subbed off for Maxi Lopez.
If Mourinho pulls that off, he will literally build a land bridge made of Sheikh Mansour's money over the Bering Strait and take over the Lakers.
Brian: He will establish his own duchy in Malibu with its waters patrolled by Abramovich's submarine.
I love that Messi is still into this enough that he's willing to play keepy-uppy in the area and prompt an Alan Smith lecture about the dangers of humiliating Mexes.
Chris: Starting a Three Musketeers reboot script starring Amborsini, Mexes, and Maxi. It's about three men who rise up against tyranny in search of the perfect blonde dye job.
Brian: All for 1-0 and 1-0 for all.
Chris: Brian, do you understand that this Barcelona team might face David Luiz and Gary Cahill in the next round of the EUROPEAN CHAMPIONS LEAGUE?
Brian: It's happening. I can almost taste the Daily Mail articles earnestly wondering whether Frank Lampard will be enough to contain the blaugrana midfield. For what it's worth, they taste like gravy. Lampard would enjoy them.
(I just accidentally auto-wrote a feature about whether Oriol Romeu would give Di Matteo an x-factor thanks to his knowledge of the Barcelona B system.)
Chris: Well there it is. Like most things, that seemed like a much better idea before it started. Sorry to see Ibra go out and I wish him well on his Carlos-like journey throughout Europe. We creep ever closer to a Clasico Champions League final and probably 1½ nervous breakdowns shared between the two of us. Brian, thank you for being my rock throughout this tie. What did we learn? That Barcelona, on an off-day, are still two goals better than three angry blondes and 15 minutes of Alexandre Pato. We'll have to see if they can do it on a cold, wet night in West London. Oh wait, they can totally do it on a cold, wet night in West London.
Brian: Also, it's springtime. The English curse! Until then, d'Artagnan!
Filed Under: Barcelona, Champions League, Lionel Messi