Calm Like a Bomb: The Finer Points of Manti Te'o's Search-and-Destroy Style
Jonathan Daniel/Getty Images
Manti Te'o finished the 2010 season, his second in South Bend, as already one of the most decorated linebackers in Notre Dame history. A former five-star recruit, Te'o finished his sophomore year with 133 tackles (good for 21st nationally), was a finalist for both the Butkus and Bednarik awards, was named a second-team All-American by CNN/SI, and, against Stanford, had managed 21 tackles. There was just one problem: He could've played a lot better.
"He had a lot of production he left on the table," Notre Dame defensive coordinator Bob Diaco, who is also Te'o's position coach, recently recalled. Fortunately for both the Irish and their star linebacker, Te'o, as Diaco puts it, "longs to be coached." That offseason, Diaco put together a DVD from the season — a lowlight reel of sorts — and gave it to Te'o with an accompanying message: "If you really want to take the next step in your game, here are the 83 plays you will be able to make next year." The response was, in hindsight, predictable. "He studied that thing," Diaco said. "He broke the film studying that thing."

Notre Dame's entire 2012 season was remarkable, but no part was more remarkable than the performance — and perseverance — of the man in the middle of its defense. Te'o, who was recruited by former Irish coach Charlie Weis, has been a part of Notre Dame football at its lowest and now, undefeated and in the BCS Championship Game, near its highest. But football struggles pale to real-life ones, and Te'o has seen those, too. In September, in a span of six hours, he was told that both his grandmother and his girlfriend had died. His girlfriend, Lennay Kekua, was buried on the same day as Notre Dame's game against Michigan, a game in which he started, and in which he had two interceptions.
Diaco, a former college linebacker at Iowa under the legendary Hayden Fry, is fond of saying at coaching clinics that "the team looks like the defense, and the defense looks like the inside linebacker." But it's unlikely he could've imagined the sort of resolve his team would need to look like Te'o. He's a great linebacker, yes, but teams need leaders, and to a man everyone at Notre Dame says that Te'o is theirs. "What he's done for us off the field is probably as important as what he's done on the field," said head coach Brian Kelly. "His leadership, in a large degree, is why we're here."
All that comes close to what Te'o has shown away from the field is how he's improved on it, and tonight, the focus will be on Te'o's play. The Irish play an Alabama team that racked up more than 300 yards rushing against a Georgia defense with multiple NFL-bound linebackers of its own. And while Notre Dame's entire front seven will be tested by Alabama's great offensive line and dynamic running backs, a special focus — and responsibility — will be on Te'o as both the defense's captain and the player whose reactions and instincts are critical to slowing down the Tide.
According to New England Patriots coach Bill Belichick, a good linebacker is "kind of like a quarterback; the linebacker has to make multiple, multiple decisions on every play. Not only what his assignment is and what the play is, but all the way along the line, different angles, how to take on blocks, how to tackle, the leverage to play with, the angle to run to and so forth." Like quarterbacking, learning how to succeed in any of these areas is not easy. Some of it is natural ability, to be sure, but true excellence comes with experience. For a good quarterback or linebacker, as the repetition comes the game begins to look different. Eventually, a player like Te'o "can really sort it out," Belichick says. "They can see the game at a slower pace … and decipher all that movement."
Diaco's defensive philosophy, like Belichick's, can be indirectly traced back to the same multiple 3-4 defense championed by Al Groh, and part of how both slow down the game is by giving their linebackers simple reads that keeps them playing as fast and instinctively as possible. The key for Te'o against Alabama is identifying what those reads will be.
If the play is a pass, it's fairly straightforward. Te'o will drop, read quarterback AJ McCarron's eyes, and cover the receivers that enter his zone (Notre Dame does not play much man-to-man coverage). Against the run, it becomes a bit more complicated. Te'o will read his "keys," or the players and movements that give away the offense's intent. Those keys are the offensive guard and the running backs. Te'o will look just above the guard's helmet so he can see the guard as well as the action behind him.
Fundamentally, Alabama has five running plays: inside zone, outside zone, "power" (which involves a backside guard pulling to lead), counter (similar to power, except there are two pullers and some misdirection), and a draw play. Setting aside the draw play, this means Alabama's offensive line — with plenty of nuance and specifics — has two broad tactics: either zone blocking or a "block down" with linemen from the other side pulling around.
The key is for the entire front, but particularly the linebackers, to diagnose which of the two tactics Alabama is using, then to get to their assigned space, what are known as their run fits, in a hurry. (Unlike many linebacker coaches, Diaco doesn't teach his linebackers to shuffle — they run.) Diaco and Kelly refer to this as their "No Crease Defense," but there are only no creases when Te'o and his teammates are arriving with a bad attitude.
If the offensive guard steps laterally with an upfield push, Te'o's job is to instantly read "zone blocking." If the run is at him, he will effectively bum rush the guard, hit him — with his face mask and hands underneath his opponent's — and deposit him toward the side of the play. Te'o will keep his inside leverage, next to the offensive's center. This clogs up the desired running lane and leaves only one path for the back: right into Te'o's waiting arms.
If Alabama tries to pull linemen from the backside as extra blockers, this assignment changes. When the run comes to Te'o's side, the offensive guard will likely block "down," and Te'os job now requires him to "scrape" over the top, fly around the end, and blow up any blocker coming around from the backside. This cuts off the running lane to the outside and leads the runner right back into the mass of bodies that is Louis Nix III and the other Irish defenders.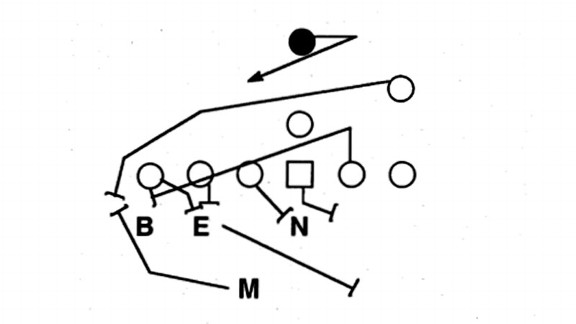 It's when the play goes away from him that Te'o's job becomes to attack and disrupt. Michigan State tried this tactic earlier this season with predictable results.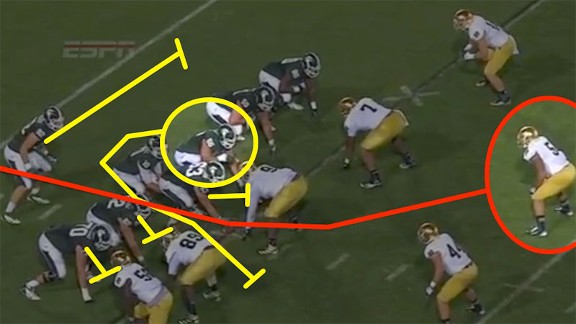 As soon as Te'o sees Michigan State's guard — who is lined up a bit off the line and back on his heels, a common giveaway of an impending pull — Te'o comes roaring downhill to attack inside of where the guard intends to block. His first job is to take away any obvious open spaces, known as "destroying the bubble." This also forces the pulling lineman to choose a target; if he peels off for Te'o, that merely frees one of the other Notre Dame defenders to make the play.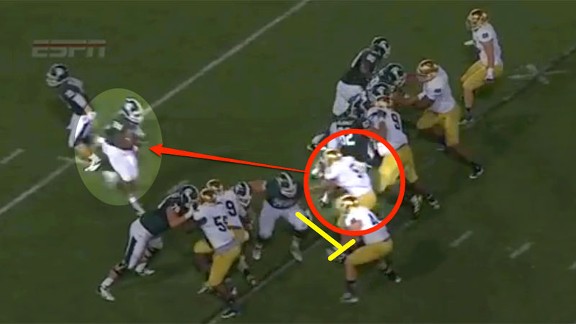 On this play, however, Te'o gets to the line so fast — faster than even his play-side teammate — that it's not clear if Michigan State's pulling guard even sees him. At that point, there is only one thing left for Te'o to do — execute Diaco's final instruction for all of his linebackers: "Get there fast and blow shit up."
Watching Manti Te'o play football, with his incredible energy and attention to the little things, has been a pleasure all season, and getting to see him do it against Alabama, unquestionably the biggest challenge he and the rest of the Irish defense have faced all season, will be fascinating to watch. Regardless of the outcome, it won't be the end of watching Te'o's instinctive, sophisticated style of search and destroy. "Despite Te'o coming in second in the Heisman, all the wins, all the tackles, and all the interceptions, Diaco has maybe the scariest message of all: "His best football is out in front of him. He's just going to keep getting better and better."
I can't wait.
Filed Under: Alabama, Chris Brown, College Football, Draw It Up, Notre Dame