Bargain Hunting: Baseball's Five Best Free-Agent Values This Offseason
Jamie Squire/Getty Images
Shortly after the Red Sox won the World Series, I looked back at the main takeaways from the 2013 season. Among the key lessons: Quite often, bargain-hunting can and does pay off.
In 2013, Francisco Liriano, Koji Uehara, Russell Martin, Bartolo Colon, James Loney, and Marlon Byrd were the poster boys for that reality. They all had flaws that led to relatively low-price contracts, but wound up delivering big. Teams underrate defense and overrate offense. Too often, franchises focus on a poor recent season instead of considering a three-year sample, discounting that players in their late twenties and early thirties are still capable of bouncing back from off campaigns.
So who will these players be in 2014? Two have already signed amid a flurry of early activity. Three more remain there for the claiming with the winter meetings still two weeks away.
These five undervalued players look poised to help their new clubs reap big rewards in 2014, and possibly beyond.

Already Signed
• Starting pitcher Dan Haren: The Dodgers have signed Haren to a one-year, $10 million deal with a vesting option for 2015. They're going to be glad they did.
Yes, Haren was incredibly erratic the past two seasons, but he was battling back and shoulder injuries. Before that, he pitched like a fringe Cy Young candidate. In 2012 and '13, Haren's health issues affected everything from his ability to hit 200 innings, as he'd done in every season from 2005 to 2011, to his fastball velocity, which dipped from 91 to 89 mph.
Despite setting consecutive career lows in innings pitched and career highs in ERA the past two years (counting only seasons in which he was a full-time starter), Haren maintained his usual microscopic walk rate, posting the sixth-lowest mark among all qualified starters over those two seasons. He got burned in a couple major ways in 2013, getting strafed with runners on base (.854 OPS allowed with runners on compared to .703 the rest of the time) and having a disproportionately large percentage of fly balls leave the park (13 percent in 2013 compared to 10.8 percent for his career). There's no evidence to suggest that Haren is fatally flawed while pitching from the stretch, so both of those black marks could be due to bad luck more than anything else. In his best years, Haren gave up a bunch of solo homers and not much else, and looked a bit like Curt Schilling in the process; the last two years, those homers were often multi-run backbreakers.
Then there's this: In Haren's final 15 starts of 2013 (plus a one-inning save), he threw 87⅔ innings, amassing a tidy 3.29 ERA with 84 strikeouts, 18 walks, nine homers allowed, and an opponents' line of just .228/.271/.355. While it's dangerous to place too much emphasis on a small sample size, this half-season of work pointed to what Haren is still capable of doing when he's healthy.
In a world in which Jason Vargas is fetching $32 million over four years, it's worth remembering that Haren offers more upside, even at age 33. The Dodgers need Haren to be their no. 4 or 5 starter, not their ace. If Haren can stay healthy, he'll be able to meet and exceed that expectation.
• Outfielder Chris Young: The Mets have signed Young to a one-year, $7.25 million deal, thereby landing the Platonic ideal on most statheads' buy-low shopping list.
Young plays a premium position (center field) at a better-than-average clip; he delivered a down year in 2013, but he rates well over a more reliable three-year sample. He's a better-than-average baserunner, he hits lefties well (.262/.363/.474), and he has got pop. He's certainly not perfect: Young has struck out in slightly more than one-quarter of his career at-bats, has struggled with injuries over the past two seasons, and is a weak hitter against right-handed pitching (.225/.295/.415).
No team was going to bid much for Young coming off his injury-plagued .200/.280/.379 season, the worst of his career. But Young is still just 30 years old. At a minimum, the Mets can get real value out of Young by playing him in a platoon, thereby allowing him to contribute at-bats against lefties, serve as a frequent pinch runner, and play late-inning defense. If they get even more bang for their buck, the Mets could see Young flourish as an everyday outfielder regaining the form he displayed as an annual four-win player in Arizona in 2010 and '11.
Remaining Bargains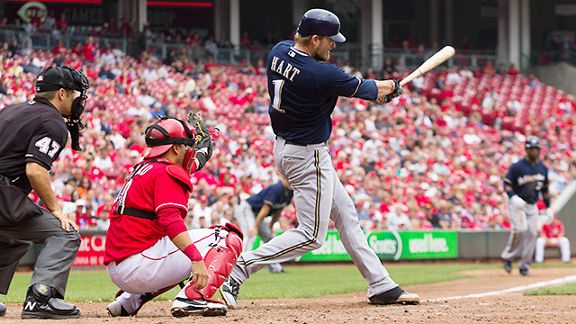 • First baseman/outfielder Corey Hart: Amid a leaguewide drop in power, Hart might have more pop than anyone on the market other than Robinson Cano and Mark Reynolds. From 2010 to 2012, Hart averaged 29 homers per year and slugged better than .500 in all three seasons. He's a bargain now because he hit zero home runs in 2013. Hart missed the entire season because of injuries to both knees; he missed the first part of the season while recovering from microfracture surgery on his right knee, then injured his left knee while rehabbing. The good news? Baseball isn't basketball, where players need resilient knees. Hart was a 20-20 player earlier in his career, but at this stage, teams will be paying him for dingers and respectable defense, most likely at first base, where he won't have to run to chase down fly balls. Carlos Beltran has chronic knee issues and he seems to be doing just fine.
Hart's knee injuries bring risk, but they also offer opportunity. There's no guarantee that he'll approach 30 homers or play in 140 to 150 games after missing an entire season, but as a result his asking price is reduced. Hart has said he'd take a discount to re-sign with the Brewers, but shrewd teams should consider making superior offers to try to land him instead. A three-year deal for Hart's age-32, -33, and -34 seasons could cost half as much as Nick Swisher's four-year, $56 million deal with the Indians and net similar or maybe even better results. Hell, Hart might even prefer a one-year deal that would allow him to reestablish his value before going after a bigger deal next offseason. If that's the case, he'd be an even bigger bargain for 2014.
Consider that Shin-Soo Choo is seeking a nine-figure contract, then ponder this:
Corey Hart 2010-12: .857 OPS, 127 OPS+, 87 HR, 1787 PA. Shin-Soo Choo 2011-13: .826 OPS, 131 OPS+, 45 HR, 1756 PAs. Hart one year older

— David Murphy (@ByDavidMurphy) November 19, 2013
Oh, and no "Sunglasses at Night" jokes here, because O.G. Corey Hart fans prefer "Never Surrender."
• Starting pitcher A.J. Burnett: While Hart has said he'd be open to returning to the Brewers at a discount, Burnett has taken a more extreme position, saying he'll either play for the Pirates or retire. Bucs general manager Neal Huntington offered comments Monday that could complicate that stance, but the facts remain: Burnett was overshadowed by Liriano's massive comeback campaign last season and demoted in some minds because of his October struggles, but Burnett's larger body of work points to a pitcher who still ranks among the league's best.
Over the past three seasons, Burnett has averaged 195 innings pitched, a 3.98 ERA, and a 2.7-to-1 strikeout-to-walk rate. Those numbers don't tell the whole story, though, as Burnett posted one of his best seasons ever in 2013: 3.30 ERA, 2.80 FIP, and a career-best 26 percent strikeout rate.
Burnett is a two-pitch pitcher entering his age-37 season. He also owns what might be the best curveball in the game, and he's riding a streak of six straight seasons with 30 or more starts that most pitchers five years younger would kill to have.
If the market allows, the Buccos should lure back Burnett. A full year of Liriano, Burnett, and Gerrit Cole could be extremely productive and set up another playoff run. If Pittsburgh isn't willing to pay, another team should be. Then it's up to Burnett.
• Starting pitcher Scott Kazmir: Kazmir tossed 1⅔ big league innings in 2011 and zero in 2012, spending time pitching in independent leagues while trying to make his way back to the Show. He was nothing more than a scrap-heap flyer for the Indians last season, but he turned in his best fielding-independent numbers in six years.
Kazmir struck out more than a batter per inning, whiffed three and a half batters for every one walk allowed, and posted the lowest walk rate of his major league career. He also rediscovered his fastball velocity, which, at 92.5 mph, was his highest average speed for that pitch since his rookie season way back in 2005. Kazmir wasn't perfect, yielding a 23.1 percent line drive rate that was the 15th-highest among all starting pitchers with 150-plus innings pitched. And his ability to eat innings also remains in question; even in his best seasons, Kazmir often struggled to get through six innings, going deep into counts against hitters and running up big pitch totals early in games.
Still, everything's relative. Kazmir turns 30 in January, and how many 30-year-old lefties with mid-90s fastballs and his strikeout-to-walk rate are out there for the taking? If suitors are spooked by the fact that Kazmir is only a year removed from being out of the majors, the asking price could be startlingly low in terms of both years and dollars. It's not a matter of figuring out which teams could use Kazmir's skills at rock-bottom prices; it's a matter of whether there are any clubs that couldn't.
Filed Under: Jonah Keri, MLB, MLB Hot Stove