Anthony Davis's Fracture May Break the Pellies
AP Photo/Kathy Willens
The harsh reality of the Western Conference: If your team's internal projections have them settling around the 45-win mark, a medium-term injury to your best or second-best player could make the difference between a playoff spot and a trip to New York City for the lottery.
That doesn't apply to every Western Conference team, obviously. At least four teams — San Antonio, Oklahoma City, Houston, and the Clippers — began the season with high enough projected win totals that they could withstand the loss of an All-Star-level player for three weeks or a month. Golden State has held strong despite a brutal early schedule and a wave of injuries, and the Blazers, who pegged themselves in that 45-win range, have a cushion now.
But the rest are vulnerable in a conference that is ridiculously strong, the inverse of the embarrassment happening in the two-team Eastern Conference. Memphis, considered a playoff shoo-in, faces the real possibility of missing the postseason if Marc Gasol's absence extends beyond the expected timetable. The Pelicans were a playoff long shot to begin with amid this gauntlet. They have talent, but much of it overlaps, and the dual challenge of building a competent defense and meshing three ball-dominant perimeter players just felt too daunting to hit 45 wins in this super-conference.
That long-shot dream goes out the window if Anthony Davis has to miss several weeks after suffering a nondisplaced fracture in his left hand in the Pellies' Sunday-night win over the pathetic Knicks. (It's unclear at this moment when exactly Davis hurt himself. Both Davis and Monty Williams mentioned a missed dunk, perhaps one Andrea Bargnani contested, but highlights on NBA.com point to a charge Davis took against Amar'e Stoudemire. If a Knick turns out to be responsible, even indirectly, please pray for that player, because Pierre the Pelican is coming for him.) The Pelicans are 8-8 and a surprisingly strong sixth in points per possession, but they scrounged up that .500 record against by far the easiest schedule in the Western Conference. Six of their first 16 games have come against the NBA's Triple-A teams in the East, and their intraconference schedule has featured four games combined against the Jazz and Lakers — and none against Houston, Oklahoma City, or the Clippers.
The pain is coming soon, just as Davis leaves the lineup. The Mavs, Thunder, and Grizz all come to New Orleans in the next two weeks, and the Pellies then jet off for a five-game road trip through some very tough Western Conference stops. They'll be home for the holidays, but the first week of 2014 brings a four-game roadie that includes visits to Miami and Indiana.
This is all great news for the Sixers, who own the Pelicans' first-round pick in the coming draft, so long as the pick falls outside the top five. A prolonged Davis absence increases the odds that the pick lurches up to no. 8–no. 10 territory, instead of the no. 13–no. 14 slot the Pelicans would get if they finished just outside the playoffs in the West.
And, yes, losing a second-year guy is that dire for New Orleans. Davis has been their best player, and it hasn't been all that close. He's still no. 2 overall in Player Efficiency Rating, behind only LeBron James, and it's unclear if the Pelicans can build anything close to an average defense without him. They're 23rd in points allowed per possessions as is, despite monstrous improvement from the Brow and a cupcake schedule that has been light on good offensive teams. Half of their games have come against teams ranked 21st or worse in points per possession, and their defense has fallen apart when Davis hits the bench. New Orleans has allowed 102.8 points per 100 possessions with Davis on the floor, already a below-average mark, and a disgusting 106.2 when he sits. The latter mark would rank 28th overall, and the team's defensive rebounding has cratered horribly without him, per NBA.com.
Monty Williams has his big men jumping out hard to contain pick-and-rolls, as Davis does here with a textbook hard hedge: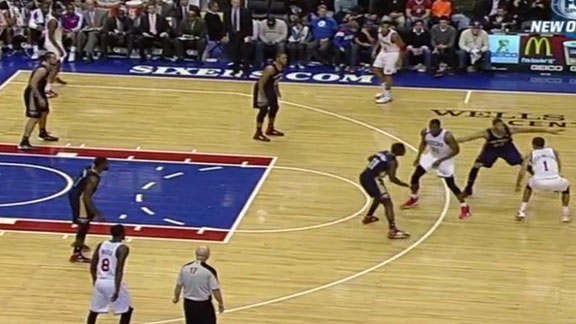 The strategy is designed to cut off ball handlers before they can make any north-south penetration, and to leverage the mobility of Davis, Jason Smith, and Ryan Anderson. The Pelicans don't always attack like this; they vary things depending on which big man is involved in the play, and on the identity of the opposing ball handler. But they are among the league's more aggressive teams in these terms, and opponents are turning that aggression against them for the second consecutive season via a hail of 3-point shots. If you can get by that initial trapping blitz, you have a five-on-three situation — ripe for profitable drive-and-kicks that lead to juicy triples. Only four teams have allowed more 3-pointers per game so far this season, and opponents are lighting up New Orleans from the corners; enemy shooters are launching 6.4 corner 3s per game, the sixth-highest mark in the league, and they've hit an insane 48 percent of those shots so far this season, per NBA.com.
This figures to get worse without Davis. Anderson is a minus overall defender, despite a game effort, and offers zero rim protection. Smith is a mobile shot-blocking threat, but his execution of Williams's scheme is uneven, and teams generally roast Smith in the post. Greg Stiemsma is hurt, and Jeff Withey has barely played. Smith and Anderson figure to log a ton of minutes together, and the Pelicans have struggled badly in each of the last two seasons when those two share the floor. They've allowed 107.9 points per 100 possessions so far in 64 minutes this season with the Smith/Anderson duo, a mark that would rank dead last overall, and they weren't any better last season, per NBA.com.
Davis is still only learning the NBA game, but he's New Orleans's best big-man defender at basically everything — attacking pick-and-rolls, thwarting post-ups, and protecting the hoop as a help defender. He spent most of last season on skates — hedging too early or too late, lunging himself out of a play, biting on pump fakes, and generally running around like a pelican with its head cut off. You still see some of those control issues this season, but Davis is much steadier overall. He has been a one-man menace. Davis is such a good shot-blocker, with such long arms, that you can see some of his rejections coming several seconds in advance. Don't even try this up-and-under, Thaddeus Young!
And I swear, watching Utah's recent visit to New Orleans, Gordon Hayward rose for what appeared to be an uncontested 3-pointer from the right corner in semi-transition. Davis literally was not on my television screen as Hayward began his shooting motion. And then an unidentified, unattached arm broke into the picture, followed by a whirring collection of limbs, and the arm rose to somehow block Hayward's shot just as it left his hands. Poor Hayward had no clue.
It's unclear how the Pelicans can really make up for this. They've got 15 players on the roster, and they're over the cap after beginning the offseason underneath it. That gives them limited resources in signing a big man off the scrap heap, and they'd have to waive a player just to do that. And we're too early in the season for any meaningful names to emerge via buyout. The Pelicans can cobble together three midsize expiring contracts for trade purposes, but all three are attached to rotation players (Al-Farouq Aminu, Stiemsma, and Smith), and the trade market is still at least two weeks away from opening up.
They'll have to unearth Withey now, and hope that Stiemsma, a human foul machine with a limited offensive game, recovers quickly from his knee ligament sprain. They might also consider using Aminu as a small-ball power forward, as they did against New York's small-ball group on Sunday. Aminu can't shoot at all, and he kills New Orleans's spacing as a wing guy; Williams recently benched him in favor of Anthony Morrow for this reason. But his lack of shooting is less damaging if he's slotted at power forward, especially since both Smith and Anderson have range. Aminu is long, tough, and a very good rebounder for a wing guy.
Playing Anderson at center would be dicey on defense, and that's probably an understatement. And we haven't even addressed the Brow's role in New Orleans's offense. He's been a very dangerous offensive player despite still being so, so raw. He still gets most of his offense via mooching — on cuts, offensive rebounds, and in transition, where he is an absolute terror. He's 25-of-30 in transition so far this season, per Synergy Sports, and the Pelicans take flight when he's out there; they average four more possessions per 48 minutes when he's on the court, per NBA.com.
His post-up game and pick-and-roll stuff are still in their infancy. He's just 9 of 36 on post-ups so far this season, and he can't really decide what to do with himself down there. He likes the left block, and he has obvious face-up skills — an improved (but still overused) midrange jumper he hits just 39 percent of the time; a wicked, Chris Webber–style baseline spin; and an off-the-bounce game via which he prefers to drive to his left. But he takes a lot of post-up jumpers after some awkward pauses and aborted moves, and the righty jump hook he's toying with just doesn't work yet.
He should be a pick-and-roll beast, but he's not quite there. Some of that is on Williams, who adores calling pick-and-pops for Smith. Smith is a very good midrange shooter — he has hit 47 percent of his midrangers this season — but the Pelicans are devoting way too much of their half-court offense to midrange shots, and not nearly enough of it to 3-pointers and other good stuff.
Davis should be an antidote to that on the pick-and-roll, especially since he's an 85 percent foul shooter, which seems unfair. Teams cannot just hack him when he rolls free for a lob, as they can with Andre Drummond. But Davis's timing on those rim runs isn't there yet, which is not surprising, since he's not even 21 freaking years old.
It's not as if the Pelicans don't use Davis as a pick-and-roll guy; they do, though perhaps not enough. They have several lob sets for him, and the attention he sucks in cutting to the rim opens up shots for everyone else — especially Anderson, who pops out to 3-point range in lots of coordinated actions with Davis.
The Pelicans will have to rejigger the offense without a dangerous dive guy. They're easier to defend if Smith and Anderson both pop out for jump shots on the pick-and-roll, and on stagger screen plays where they both set picks, though the Knicks managed to screw those sets up horribly Sunday night. This will primarily be on Smith, who has to put the roll back into his game. Nearly 80 percent of his shots have come from midrange this season, up from 59.8 percent last season, and he has taken just 20 shots in the restricted area — very low for a big man playing heavy minutes.
He went to the rim more when Davis missed time last season, and he'll have to do so again now. But he can't approach Davis's explosiveness around the basket, and the Pelicans run the risk of tilting their offense even further toward inefficient shots. Having Anderson back to bomb 3s has helped, but he'll get more focus from defenses now. Speaking of Anderson: Davis going down cuts short, for now, Williams's ongoing experiment using all five of Jrue Holiday, Tyreke Evans, Eric Gordon, Davis, and Anderson together — a group he has used more often lately, including as a closing lineup.
They've blown the doors off opposing defenses in limited minutes together, but the Pelicans' defense has allowed nearly 117 points per 100 possessions when that five-man group plays, per NBA.com. New Orleans's ability to defend credibly with the Anderson-Davis combo, and without any other big man on the floor, is a huge long-term question that will dictate how Dell Demps builds the team going forward.
For now, New Orleans should have enough to carve out an average offense, or at least something close to it, while Davis heals. Surviving on the other end will be much harder, and will likely kill their postseason hopes.
Filed Under: Anthony Davis, NBA