A Guide to Jumping on the Panthers Bandwagon
Jeff Siner/Charlotte Observer/MCT/Getty Images
The Panthers host the Patriots tonight in one of the first decent Monday Night games we've gotten all season, so this seems like a good time to discuss what's happening with the Carolina Panthers and look into why they're awesome.
I don't know whether they can actually beat the Patriots tonight, but even if they lose, they're still the most enjoyable contender in either conference, and if they can survive the next month or so and get into the playoffs, they'll be a nightmare for teams to play against in January. If your favorite team is a mess, there's no reason not to jump on the Panthers bandwagon for the next eight weeks and just see what happens here.
Why? In no particular order …
CAM
Here he is getting terrified by the Tampa Bay cannons.
And here he is doing the Superman celebration with Warren Sapp's doll.
I don't understand people who hate Cam Newton.
He stole a laptop when he was 18 years old, and since then the most controversial thing he's ever done is maybe take money to go win a national title at Auburn. And didn't we all decide that NCAA rules are bullshit and athletes should get paid? If Cam actually did get $180,000 for that one year at Auburn, he definitely earned it! And now that he's in the NFL, he has four or five moments every game that blow your mind one way or another.
Sometimes it's a perfect throw across the field that shouldn't seem possible, sometimes it's a run that makes an entire defense look stupid, sometimes it's a GIF of him being freaked out by cannons. However he does it, after all the half-assed character assassinations he's been through over the past four years, watching Cam on a winning team has been one of the best subplots of the season so far.
Star Lotulelei and Luke Kuechly and the Defense
Kuechly came from out of nowhere to become a team-wrecking linebacker at Boston College, and he's only gotten better in the NFL. He had 11 tackles and a sack in Carolina's win at San Francisco last week, and this week his coach and former Bears linebacker Ron Rivera compared him to Mike Singletary. Likewise, Star Lotulelei is a rookie freak of nature who eats up blockers at nose tackle and frees up guys like Greg Hardy and Charles Johnson to wreak havoc from the outside. If it weren't for Kiko Alonso, he'd probably be Defensive Rookie of the Year.
The Patriots will be a big test for the Panthers D, and so will two games against the Saints over the next six weeks, but they've passed everything else with flying colors thus far. Basically: If you enjoy defenses and stars who just beat the crap out of teams, watching the Panthers is pretty great.
Fat Mike Tolbert
If you can't root for a potbellied running back to do great things in this world, I don't want to know you.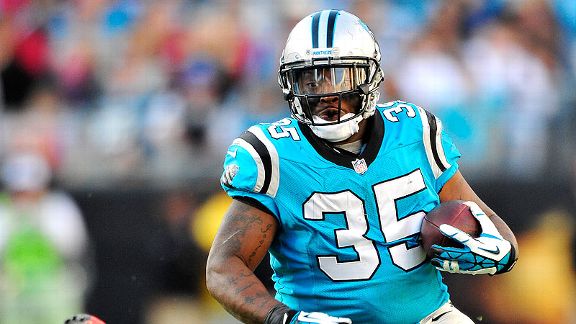 Fat people make any sport better. Fat people running. Fat people pitching. Fat people dancing. Fat people scoring touchdowns. They're all 10 times more athletic and in better shape than we'll ever be, but that doesn't matter. We can imagine them as regular fat people with asthma and Hostess addictions, and that's really all we need.
The Panthers still have DeAngelo Williams to handle most of the carries, but at least a few times every game you'll get Mike Tolbert rumbling through the line of scrimmage and wheezing his way to glory, truck-sticking your defense in the process. It's beautiful.
He's a hero to kinda-chubby people everywhere.
Steve Smith
Almost as good as fat football players? SMALL football players. They all have gigantic chips on their shoulders, they all spend every second of every day trying to prove imaginary haters wrong, and nobody personifies this better than Steve Smith. Chris Ryan did the legwork assembling his greatest hits here, but my favorite video from that piece is probably this one, in which he lectures a bunch of teenagers about entitlement.
"I love my 14-year-old son, but if he was ever talking the way you guys are, he wouldn't have any teeth … I'm 12 years in the league. I don't have to sign."
But he's doing it because he's a nice guy.
"It's not about being nice, I'm doing it because I choose to."
OK then!
Steve Smith is real-life Rod Tidwell. He never gets half the respect he thinks he deserves, and he's probably right. He's out there making miracles happen. He's all heart, motherfucker. He's short, but at any given time he's probably the angriest player on the field, talking shit to everyone, possibly starting a fight.
He probably only has one or two years left in the league, which is all the more reason to appreciate his genius while it's still here. Ignore his flaws — like the time he got way too defensive about Kerry Rhodes — and appreciate the entertainment. Which might mean the time he threatened to "punch Janoris Jenkins in his fuckin' mouth" and told him to start wearing condoms, or it might refer to the other side of the contraception coin, when he explained his preseason mind-set.
"I'm more at the point now where if I was a female and 35, I'm looking to get pregnant and married tomorrow," he said this summer. "Sense of urgency is an understatement."
Real-life Rod Tidwell is also Renée Zellweger in every movie she's ever done.
RIVERBOAT RON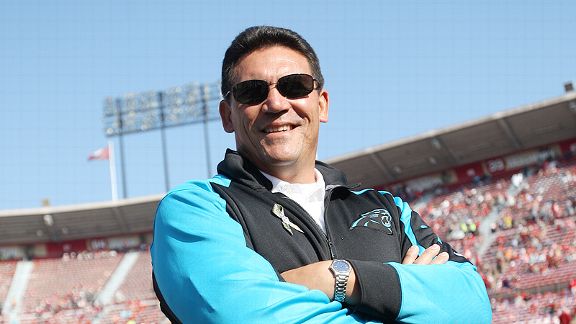 I don't know whether this is like the time Lenny Dykstra somehow got hot picking stocks and became king of Wall Street for a few years, but whatever it is, Ron Rivera is actually a good coach right now. Right? Look at him up there, smiling with the confidence of a man who cracked life's code and never looking back. He's a goddamn savant.
He also personifies this whole Panthers season. We were all ready to give up on him (and them) back in July, and then again in October when they were 1-3. Bringing back Ron Rivera for another swing at 6-10 felt like they were forfeiting the season.
But now they've won five straight, and the legend of Riverboat Ron has taken on a life of its own. Look at this from USA Today:
Rivera was driving through the middle of an intersection near his Charlotte-area home before his 0-2 Panthers played the New York Giants. The coach was so consumed by his decision not to go for it on fourth-and-1 late in a Week 2 loss to the Buffalo Bills, he never saw the traffic light change on his commute from the Panthers complex.
He literally hit a crossroad, because superheroes always do. Then he went out and started playing Bill Barnwell football, gambling wherever possible, and generally just flipping a middle finger to haters the world over.
Rivera kidded that he tells Panthers offensive coordinator Mike Shula on the headset, "Hey, this is Riverboat Ron — Let's go for it."
What is even happening here?
The Panthers are happening.
Get onboard while there's still time. Because they're not quite good enough to make you a fair-weather fan, but they're probably good enough to make things fun for the next month or two. Tonight is a great place to start, because even if you can't root for the Panthers, can't we all root against the Patriots?
Come on. Let's do this.
IN RON WE TRUST.
Filed Under: Andrew Sharp, Cam Newton, Carolina Panthers, NFL