8 Great NHL Trade Breakouts
Ian Tomlinson /Allsport
If you're an NHL general manager pulling the trigger on a trade, there are a few ways the move can blow up in your face. Maybe the star player you get back has nothing left. Maybe the deal messes up your team chemistry. Maybe somebody gets hurt. Maybe your owner panics and forces you to overpay.
Or every once in a while, maybe you get what has to be a GM's worst nightmare: when an established player you've traded away suddenly takes his game to the next level.
We're not talking about the long shot prospect who develops into a star down the road. We mean the guy you had on your roster and thought you knew pretty well, who almost immediately transforms into one of the league's elite players. Suddenly, a deal that might look defensible or even downright smart at the time it's made ends up haunting a franchise for a generation.
Here are eight deals that saw teams give up on a player who turned out to be a year or less away from making the leap to superstardom:

March 7, 1988: The Flames trade Brett Hull to the Blues
What he was before: Despite being the son of legendary winger Bobby Hull, Brett wasn't considered a top prospect and had a reputation for being lazy and out of shape. He struggled to catch on with a top junior team, and was passed over in the 1983 NHL draft before being taken by the Flames in the sixth round in 1984. After two years of college hockey, Hull had been enjoying a decent season in Calgary (26 goals and 50 points) leading up to the 1988 trade deadline.
The trade: The Flames sent Hull and Steve Bozek to the Blues for veteran defenseman Rob Ramage and goalie Rick Wamsley.
What he was after: Hull scored 41 goals in his first full year in St. Louis. He then put together three straight seasons of scoring 70-plus, including an 86-goal season in 1990-91 that ranks as the best ever by a player not named Wayne Gretzky. He finished his career with 741 goals, the third most in league history, and he was inducted into the Hall of Fame in 2009.
What were the Flames thinking? This one still makes a surprising amount of sense for Calgary, even in hindsight. The Flames felt like they had a shot to crack the Oilers' dynasty and win the franchise's first-ever Stanley Cup, and were willing to sacrifice potential to add veterans who they hoped were the final pieces of a championship puzzle. It didn't work in 1988 (they lost in the second round), but they'd go on to win it all in 1989, with Ramage and Wamsley playing key roles.
February 9, 1995: The Canadiens trade John LeClair to the Flyers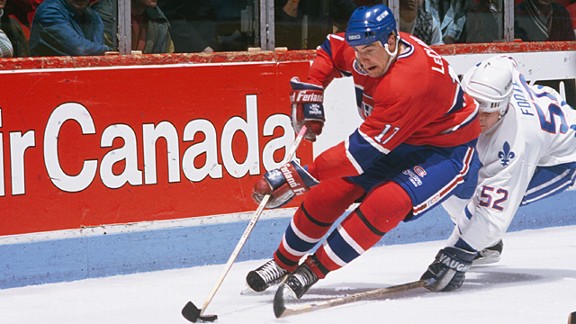 What he was before: LeClair was in his fifth season as a Hab. He'd become a Montreal legend when he scored overtime winners in back-to-back games during the 1993 Stanley Cup finals, but hadn't developed into a consistent scorer. Despite playing two full seasons in the freewheeling pre-lockout era, he'd peaked at just 19 goals each year.
The trade: The Habs sent LeClair, Eric Desjardins, and Gilbert Dionne to the Flyers for Mark Recchi and a draft pick.
What he was after: LeClair was put on a line with Eric Lindros and immediately transformed into a superstar. He piled up 25 goals in 37 games after the trade, and followed that with three straight 50-goal seasons (and a few awkward photographs) as a member of the Legion of Doom.
What were the Canadiens thinking? They were thinking they were getting the best player in the trade, and most of the hockey world agreed with them. Recchi had been the Flyers' leading scorer in each of the past two years and was only 26. If anything, the big piece going the other way was supposed to be Desjardins. Some felt that LeClair had more talent than he'd shown in Montreal, but nobody thought he was ready to explode the way he did.
November 16, 2003: The Sharks trade Miikka Kiprusoff to the Flames
What he was before: A former fifth-round pick who'd been impressive in the AHL but repeatedly failed to find success at the NHL level. Kiprusoff was coming off a particularly ugly year as the Sharks' backup — a 5-14-0 record with 3.25 GAA and .879 save percentage. He'd been relegated to a third-stringer and hadn't even played a pro game in the two months leading up to the deal.
The trade: The Sharks sent Kiprusoff to Calgary for a second-round pick.
What he was after: Originally intended as a temporary substitute for injured starter Roman Turek, Kiprusoff posted the league's best GAA and save percentage in a half season's work in 2003-04. As the undisputed starter the next season, he won the Vezina and was a first-team All-Star, and has gone on to post more wins than any other goalie in the NHL since 2005.
What were the Sharks thinking? They just didn't have room for him. Not only was he not going to threaten Evgeni Nabokov's job as the starter, but he'd just lost the backup's job to Vesa Toskala. There was still hope that he'd develop into an NHL starter, but it was never going to happen in San Jose.
May 15, 1967: The Blackhawks trade Phil Esposito to the Bruins
What he was before: While taking a backseat to superstar teammates like Bobby Hull and Stan Mikita, Esposito put up strong numbers for the offensively explosive Blackhawks. His then career-best 61 points during the 1966-67 season were good enough for seventh-best in the league (though only fourth on his own team).
The trade: Chicago sent Esposito, Ken Hodge, and Fred Stanfield to Boston for Pit Martin, Gilles Marotte, and Jack Norris.
What he was after: Esposito arrived in Boston and went from being a very good player to the best forward in all of hockey. He became the first 100-point player in league history in 1969, and shattered the single-season goal-scoring record with 76 in 1971. He won two Hart Trophies in Boston, to go along with a pair of Stanley Cups. By the time he retired, he had recorded more goals and points than any player in NHL history besides Gordie Howe.
What were the Blackhawks thinking? Pit Martin was a solid player and some thought Esposito's production was largely due to having Hull on his line, but that's about as far as you can go in defending this deal. It shows up on every "worst trade ever" list for a reason.
June 23, 2001: The Islanders trade Zdeno Chara to the Senators
What he was before: Chara was a 24-year-old defenseman whose main claim to fame was being the tallest player in NHL history. He'd played parts of four seasons for the Islanders, establishing a reputation as a reasonably solid defensive defenseman (though he'd been a -27 each of the two years before the trade) without any offensive upside (he'd scored just eight goals and 29 points in 231 career games).
The trade: The Islanders sent Chara, Bill Muckalt, and the second-overall pick in the 2001 draft (which the Senators used to select Jason Spezza) to Ottawa for disgruntled center Alexei Yashin.
What he was after: Chara immediately became a star in Ottawa, dominating physically and going a combined +92 in his first three years. More surprisingly, he suddenly developed into an offensive threat, scoring 10 goals the year after the trade. He was named a first-team All-Star in 2004, and went on to win the Norris Trophy in Boston.
What were the Islanders thinking? This was a Mike Milbury deal, so your guess is as good as mine. The Islanders apparently felt like Yashin would be an elite superstar they could build the franchise around (oops). Plenty of experts hated the deal at the time, given that Yashin was inconsistent and moody, and Spezza was considered a potential franchise player. But nobody predicted Chara would develop the way he did.
January 2, 1992: The Flames trade Doug Gilmour to the Maple Leafs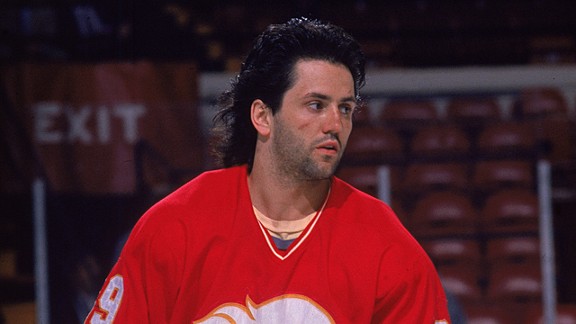 What he was before: Gilmour was a strong two-way center who'd been at least a point-per-game player for five straight years. He was one of those players who was very good but not considered a superstar, which was unfortunate, given that he wanted to be paid like one.
The trade: In what still stands as the biggest trade in NHL history in terms of players involved, the Flames sent Gilmour to Toronto as part of a 10-player deal, with former 50-goal scorer Gary Leeman as the main piece coming back.
What he was after: In his first full season in Toronto, Gilmour recorded a franchise record 127 points. He was nominated for the Hart Trophy, won the Selke for best defensive forward, and led the Leafs to within a game of the Cup finals, which resulted in some legitimate "best player in hockey" talk. He followed that up with a 111-point season in 1993-94. He was inducted into the Hall of Fame in 2011.
What were the Flames thinking? Even at the time, virtually everyone agreed that the Leafs had fleeced Calgary on the deal. (The day after, legendary Toronto Star columnist Jim Proudfoot called it "about as lopsided a trade as you're apt to see.") But it's worth remembering that Gilmour had been in the middle of a messy contract dispute with the Flames and had walked out on the team days before. The Flames had no choice but to move him, and apparently figured Leeman and friends was the best they could do.
June 15, 1989: The Red Wings trade Adam Oates to the Blues
What he was before: Oates had gone undrafted as a teenager, but a strong college career led to a pro contract from the Red Wings. After three solid but largely unspectacular seasons in Detroit, Oates had what appeared to be a career year as a 26-year-old, when he recorded 78 points in 1988-89.
The trade: The Wings sent Oates and winger Paul MacLean to the Blues for veterans Bernie Federko and Tony McKegney.
What he was after: Oates immediately established himself as one of the best playmakers in the game, posting a pair of 100-plus point seasons and averaging better than an assist per game in St. Louis. He continued to dominate after moving on to Boston, including a 142-point season in 1992-93. He'd play in the league until 2004, even leading the league in assists in back-to-back years in his late 30s, and was inducted into the Hall of Fame in 2012.
What were the Red Wings thinking? After making trips to the conference finals in both 1987 and 1988, the Wings were coming off a first-round exit and felt like they needed to add veteran leadership. Even at the time, people thought they'd overpaid (MacLean was a pretty darn good player in his own right). Federko had been a legitimate superstar in the mid-'80s and would end up in the Hall of Fame, but his best days were far behind him. He lasted only a year in Detroit, recording 57 points, and the Red Wings finished last in the Norris.
August 7, 1992: The Blackhawks trade Dominik Hasek to Buffalo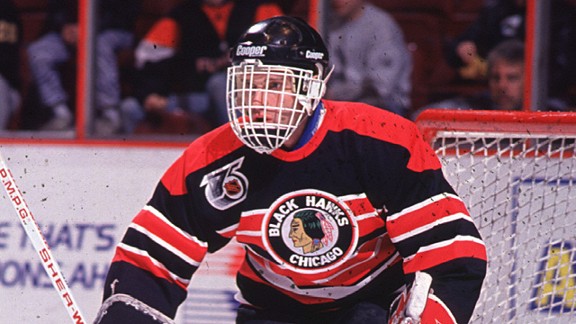 What he was before: A 27-year-old with an unorthodox style and just 25 career games of NHL experience who was firmly entrenched as a backup in Chicago.
The trade: Chicago sent Hasek to the Sabres for goalie Stephane Beauregard and a fourth-round pick.
What he was after: Arguably the best goaltender in NHL history. After one season mostly spent backing up in Buffalo, he won back-to-back Vezina Trophies in 1994 and 1995, and would go onto capture four more after that.
What were the Blackhawks thinking? This is another one of those "bad" trades in hindsight that made perfect sense at the time. The Hawks were already starting the younger Ed Belfour, one year removed from a Vezina of his own, and had a capable backup in Jimmy Waite. They had no need for Beauregard, and had already made a side deal to flip him for scoring help. And they used the fourth-round pick on Eric Daze, who posted eight straight 20-goal seasons in Chicago before back problems derailed his career.
Honorable mentions
Here are five more deals that were considered for the list, and an explanation of why they didn't quite make the cut (i.e., my pre-emptive strike against the coming wave of "You idiot, how could you forget about …" comments).
The Penguins trade Markus Naslund to the Canucks
This deal (Naslund straight up for Alek Stojanov) is undoubtedly one of the league's worst, but Naslund's transformation into a franchise player took some time. It actually took him three seasons in Vancouver just to get back to the offensive output he'd previously managed in Pittsburgh, and he wasn't considered a superstar until years after that.
The Bruins trade Joe Thornton to the Sharks
Sure, the Bruins traded a player in the middle of an MVP season for three spare parts. But could you really call Thornton's post-lockout explosion unexpected? This was a former first-overall pick and three-time All-Star who'd already recorded a 100+ point season at the age of 23 in the clutch-and-grab era.
The Stars trade James Neal to the Penguins
Settle down, Penguins fans. Let's give this one a few more years to play out.
The Flyers trade Peter Forsberg to the Nordiques
It's certainly true that nobody thought Peter Forsberg would turn out to be a better player than Eric Lindros (which is why the Flyers also threw in half their roster, three first-round picks, and a dump truck filled with cash). If it weren't for the two full seasons Forsberg stayed in Sweden after this deal, he'd be on the list.
The Canucks trade Cam Neely to the Bruins
This was the toughest deal to leave off the list because of how unquestionably bad it was (the Canucks also gave up a first-rounder who ended up being the third-overall pick). But if anything, that's why it couldn't make the cut. Neely turning out to be dominant wasn't all that unexpected — he'd been a top 10 pick and had 120 points in his only full year in junior, and just turned 21 on the day of the deal. Everyone already thought he was going to be a star. The Canucks just screwed up.