They Are Remaking 'Kickboxer' With UFC Guys and Wrestlers and Stunt Men and No Jean-Claude Van Damme
A compendium of several bad ideas I've had as a human:
Ramen Noodle Kool-Aid: I took a bunch of the flavor packets that come in ramen noodle soup packages and put them in a jug of water and made a sort of beef-flavored Kool-Aid. I did it because I was hungry and thirsty and so I figured it'd help with both. It didn't. Instead it just made me throw up and gave me diarrhea. That's basically the opposite of what I was going for.
The Mega-Skateboard: A few friends and I took four skateboards and nailed one each to the underside of two large pieces of plywood stacked on top of each other to make a giant skateboard that could hold multiple people. We tried to ride it down a hill. We made it 30 or so feet before crashing horribly.
JNCO Jeans: I am so sorry.
The Bowling Ball Catastrophe: The idea was we roll a bowling ball down a hill and you have to just stop the ball before it gets to a busy street intersection. I had not anticipated how fast the ball was going to roll, though. After about a quarter of the way down the hill, the ball was going approximately 100,000 mph. The kid who was supposed to stop it tried to stop it. Only it didn't roll like it was supposed to because we were doing this on a city street. And so maybe two or three feet before it got to him, it rolled over a marble-sized stone, bounced up into the air, and obliterated his whole mouth. It looked like he'd been shot in the face with an elephant gun. His whole everything was broken.
And still — AND STILL — none of those is as bad as what's apparently about to take place in Hollywood:
Those rotten capitalist MFers, consumed by greed and diamond-lust, are taking the gorgeously, amazingly, perfectly perfect 1989 martial arts movie Kickboxer, tossing it into a Dumpster, then remaking it with bit pieces.
DID YOU HEAR WHAT I SAID THEY ARE REMAKING KICKBOXER, BRO.
Please, take several minutes to gather up any old keyboards you may have, both traditional and BlackBerry, pry loose all the g's and all the t's and all the f's and all the o's and all the h's that you have because I don't have enough to send all of the GTFOHs that need to be mailed to whoever it is that's in charge.
There aren't many details right now about the new Kickboxer, save that (a) Georges St-Pierre is going to be in it (though not as Van Damme's Kurt Sloane); (b) former wrestler Batista is going to be in it (because he was so good in The Man With the Iron Fist?); and (c) Alain Moussi, a stunt man you don't know and have never heard of and is most assuredly not the national treasure Jean-Claude Van Damme, is going to be the star.
I don't know what to say.
I feel like my dad divorced my mom and then brought home a big plastic bag filled with hair and dirt and was like, "Meet your new mom." Now I gotta introduce this bag of hair and dirt to my friends and they're like, "That's your new mom?" and I'm like "That ain't my real mom, that's just the new mom." I don't know, man. Who could know? I just know this is a tragedy.
I mean, come on, look at this hero:
That's star power right there. That's an American dream.
And look at this one:
What true beauty. What poetry. What elegance.
Now look at this. This is Alain. This is the new guy who's gonna be the man in Kickboxer:
I mean, that's not really him, but you get it. Here's the real Alain.
Ack. He doesn't look like he could be the new Jean-Claude Van Damme. He looks like Mike Barnes from Karate Kid 3.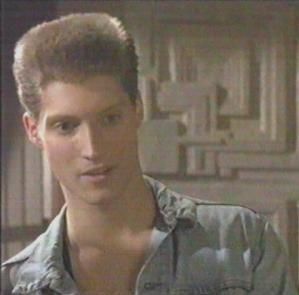 I can't root for Mike Barnes. HE BROKE MR. MIYAGI'S BONSAI TREE IN HALF AND THEN THREW IT IN THE OCEAN AND NOW MR. MIAGI IS DEAD.
Jean Claude Van-Damme made fighting noble. He made it worthwhile. He made it more important than kicks and splits and fury punches. He made it necessary.
This new guy looks like he was an all-city free safety for his high school football team and said racist things in the locker room. Except he's from Gabon. Things are getting very confusing.
What have you done, America? What have you done?
Filed Under: Bad Ideas, Movies, Jean-Claude Van Damme, casting, kickboxer