Ciara and Future's Enrique-Janet–Jamie Lee–Ciara Moment
Epic Records
When I was just a boy, something happened on Total Request Live one afternoon that forever changed my life.
It was 2005, Ludacris had just launched into his guest verse on "Oh," and that was the cue for Ciara to climb a car.
Nothing's been the same since. Until yesterday.
A portion of my seven-year emotional break from Ciara stems from the fact that very few of her post-Goodies outings matched the quality of "Oh," a song that, while certainly celebrated (no. 127 on Pitchfork's top 500 songs of the 2000s; "Choice Music Make-Out Song" winner at the 2005 Teen Choice Awards), still isn't treated like the classic it is.
The rest is, selfishly, because she dated Bow Wow.
I respect what Ciara did with "Like a Boy"; as an outspoken champion of grinding, she deserves medals for "Promise" and "Ride"; and the Ginuwine "Differences" sample supporting "Sorry" resulted in a good single. But I still wasn't on the Ciara train like I was in 2004-05.
And, even when someone breaks up with Bow Wow, as Ciara did in 2006, you forgive, but you don't forget.
This was all before yesterday. Because, before yesterday, there was no video for Ciara's "Body Party." But now we're in future yesterday (today), which means there is a video for "Body Party."
And just like that, my self-imposed, highly selfish Ciara moratorium has been lifted.
Instead of discussing the video frame-by-frame, lets tackle it theme-by-theme.
The Enrique
In 2002, Enrique Iglesias released the video for his international sensation, "Escape." His co-star/countertop makeout pal in the video was Anna Kournikova. She was eye candy for the video, but as we have since learned after some 11 years of their relationship, the romantic chemistry was real. Love, on and off the screen.
Enter: FUTURE.
Future is Ciara's boyfriend. Future is also a new-age rapper folk crooner with the soul of Vandross and the vocoder talents of T-Pain. Future does not have a verse on "Body Party," but did assist his girlfriend, Ciara, in writing the song that is about Ciara's body being Future's party.
The first two lyrics:
My body is your party, baby
Nobody's invited but you baby
Ciara's talking about Future, the guy in the video and her real-life boyfriend. I just really want to hammer down that point.
Unlike other examples of couples sharing the screen for videos (Jay and Bey in "'03 Bonnie & Clyde," Jennifer Lopez and Ben Affleck in "Jenny From the Block"), Future and Ciara's attempt at acting as if they aren't in real-life love, and simply are strangers who just met at a party, is highly unbelievable — BECAUSE THEY CAN'T HIDE THEIR REAL-LIFE LOVE.
And just like that, in my heart, the curse of Bow Wow has been lifted.
You have my blessing, Future.
The Janet
Ciara has stated that Janet Jackson is a major influence in her career. Nowhere is that more clear than every aspect of this song and video. The relaxed, but sensual party atmosphere of "Body Party," filled with individuals famous (Trinidad James, Jazze Pha, Ludacris) and not-famous (everyone else) reminds the dedicated music video viewer immediately of Jackson's "That's the Way Love Goes."
If you're going to pick a video to imitate, this is a great choice. A few, probably coincidental comparisons between Ciara's "Body Party" and Janet:
"That's The Way Love Goes" was released 20 years ago, this week.
Both "Body Party" and "That's The Way Love Goes" are dependent on very familiar samples, "My Boo" by Ghost Town DJ's and "Papa Don't Take No Mess" by James Brown, respectively.
"Body Party" is a single off of Ciara's soon-to-be-released fifth album, titled Ciara. The title of Janet's fifth album: janet.
"Body Party"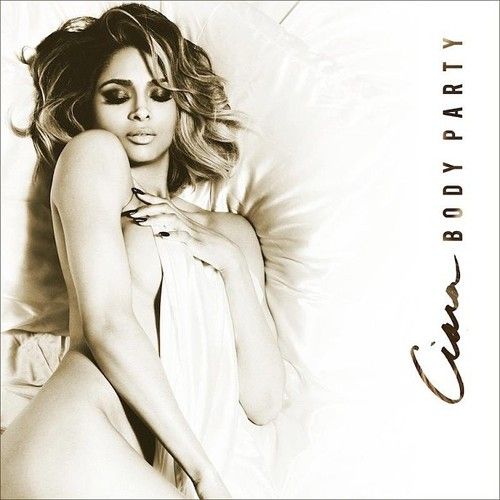 OK, so maybe these aren't coincidences, after all. Maybe Ciara finally found the Janet blueprint and is going to copy it until she decides to date Jermaine Dupri. We'll see.
The Jamie Lee
The most obvious callback in this video is the scene where Ciara sheds her Hefty bag hammer pants for a loving striptease for her boyfriend, Future, who sits in a chair, taking mental notes, reminding himself that the body he's witnessing is, still, his party.
This is a reference to 1994, when Jamie Lee Curtis was put in a much less voluntary position, performing a striptease for Arnold Schwarzenegger in True Lies.
Jamie Lee's strip, and what followed, was pretty much the opposite of a party, which is the main difference between the film and the music video.
The Ciara
Despite the time I took away from her, Ciara never really left. And, as necessary for anyone who has achieved a successful, lengthy career, she's increasingly honed in on what her best talents are, and what separates her from the pack.
The facts:
No one dances with more controlled authority in six-inch heels like Ciara (sorry, Beyoncé).
No one has looked more fantastic in pants the size of doorways than Ciara.
No one has been more in love with Future in her own video than Ciara.
Proof of this love, being cultivated onscreen while bubbling over offscreen:
Future: "You know you gonna be mine, right?"
Ciara: "Oh is that right? How do you know?"
Future: "I saw it."
Ciara: "Oh, really."
Future: "They don't call me the future for no reeeeeeason."
Ciara: "OK, well we'll see about that, Mr. Future."
Future: "We'll see. I'ma see you inside"
Ciara: "All right, I'll see you inside."
Ciara's response to Future leaving:
What does she mean by this?
Simple: from that conversation, she gathered that Future is literate. And that, because his name is Future, he reads minds. And the future. A future of Ciara being Future's girl. A future filled with parties. Body parties. Forever. Amen.
(GIFs thanks to VH1, @LilyBenson, and MuuMuse)
Filed Under: Future, Ludacris, Music Videos