An Open Letter to Sasha and Malia About Michelle Obama's Rap Album
JENS MEYER/AFP/Getty Images
Dear Sasha and Malia,
I'm sorry. There's no way any of us could have predicted this.
Blessed with two parents, you've been lucky. One is the president of the United States. And the other is a woman who, when placed alongside said president, occasionally renders him invisible.
You've been lucky so far.
At some point during his first term, it became very clear your father was not as cool as we all thought. Behind a lectern, yes, he is the G.O.A.T. But give him the freedom to throw on some mom jeans or listen to a Casio keyboard "hip-hop" beat and the illusion rapidly wanes.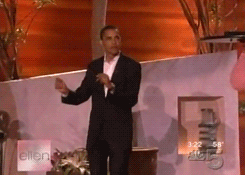 I'm sorry you had to see that.
Those are the moves of a man who drops his daughters off at the school dance by walking them in and then makes his way to the refreshments table and decides HE WANTS TO STAY AND CHAPERONE BECAUSE HE LIKES THE TUNES AND THE PUNCH.
That's your dad. But I don't have to tell you that. Because you live it.
Luckily for you, with every "left foot, shimmy shimmy, right foot, snap snap" from him, there's been your mother to balance everything out.
Actually, that's a gross understatement. Your mother can completely erase any potentially embarrassing public display of "hip" that your father has done, with flyness to spare.
For years, your mother's streak was so hot, it seemed inextinguishable.
Get it, girl.
GET IT, GIRL.
She was becoming a cult icon. For everything. For powerful women. For cardigans. For vegetables. For bangs. And, ever increasingly, for the Dougie.
Surely she wouldn't be the one to deliver the irreversible parental lameness blow, causing the two of you to simultaneously think "oh my god no no no no we have to run away from home or transfer schools or change our names to Sylvia and Marsha O'Connell ASAP."
Not Michelle. Not this Michelle. Our Michelle. And, of course, your mom.
This morning, via the Washington Examiner:
First Lady Michelle Obama is releasing a rap album as part of her Let's Move! initiative to fight obesity.
Wait, did y'all know about this? Please tell me you're not finding out at the same time as the rest of us? And there's more, girls. You might want to sit down for this.
Here is the track list for the album, entitled "Songs for a Healthier America" which is being released by Partnership for a Healthier America.
1. "U R What You Eat" ft. Salad Bar (Matisyahu, Ariana Grande, Travis Barker)
"Salad Bar." The gauntlet of "let me embarrass my children" has been thrown from the jump. Also, how did mom pick these three people? It's like a twisted, MTV Jams–inspired game of "Kill, Fuck, Marry." (Don't you dare say that middle word out loud, Sasha.)
2. "Everybody" ft. Jordin Sparks, Doug E. Fresh, Dr. Oz, Ryan Beatty, Hip Hop MD
Mom put Sparkle and Dr. Oz on the same track. I'm so sorry that this is happening to you two.
3. "Let's Move" ft. Doug E. Fresh, Artie Green, Chauncey Hawkins
4. "Just Believe" ft. Ashanti, Gerry Gunn, Artie Green, Robbie Nova
You don't know who Ashanti is, but let me be the first to say this is not good.
5. "Veggie Luv" ft. Monifah and J Rome
You have to talk to your mother. Immediately. Getting kids to move with Beyoncé makes sense. But what's her game plan with Monifah? Keeping people active during TV One commercial breaks?
6. "Hip Hop FEET" ft. DMC and Artie Green
7. "Stronger" ft. Shayna Steele, Jeremy Jordan, Our Time Theatre kids, and E Street Band guitarist Nils Lofgren
8. "Give Myself a Try" ft. Ryan Beatty
9. "Jump Up" ft. Brady Rymer and the Little Band That Could
10. "Hip Hop LEAN" ft. Artie Green
11. "Pass the Rock" ft. Iman Shumpert and Artie Green
Another hard conversation to have, I know, but you need to tell your mom to hire someone who knows slang. You CANNOT have back-to-back songs referencing "lean" and "the rock." Your mother has to stop promoting purple drank and crack. She has to.
Also, "featuring Iman Shumpert." This is probably the only smart thing that's happened so far.
12. "Good Living" ft. Ashthon Jones
13. "Beautiful" ft. Daisy Grant and Artie Green
14. "Change the Game" ft. The Happiness Club, featuring Naledge
Ignore this next vent, Sasha and Malia. Seriously, it'll just confuse you.
HOW DO YOU NAME THIS SONG "CHANGE THE GAME" AND NOT ASK MEMPHIS BLEEK, THAT IS, UNLESS MEMPHIS BLEEK IS IN "THE HAPPINESS CLUB," IN WHICH CASE, THANK YOU FOR PUTTING BLEEK ON THE ALBUM, MAYBE THIS IS THE ONE HIT THAT JAY WAS ALWAYS TALKING ABOUT.
15. "Wanna Jump (Let's Move)" ft. Paul Burch
16. "Mother May I" ft. Amelia Robinson
17. "We Like Vegetables" ft. Los Barkers!
18. "Get Up Sit Up" ft. Babi Floyd
19. "One Step Forward" ft. Samite
This is really bad, ladies. Luckily, you easily dodged embarrassment's largest bullet. According to Politico, there will be no singing or rapping from the First Lady, just occasional video cameos.
Congratulations, girls. I can't even imagine your sigh of relief upon learning this news.
Still, you know it's only a matter of time. This album curation is a gateway drug and she must be stopped before it's too late. You know Barack can't stop her; only the horror on the faces of her two wonderful daughters can successfully provide the heat check.
Do whatever it takes.
And don't worry, this'll all blow over by the time school starts. That is, unless they really push "Salad Bar," in which case, ask for homeschooling.
Filed Under: Barack Obama