It was the hour before Game 4 of the New York Knicks' first-round playoff series against the Celtics, and Walt "Clyde" Frazier was loitering in the tunnel connecting the Madison Square Garden court to the underworld of the arena. Typically by now, Clyde would be on the other side of the court, perched on his MSG Network broadcast stool, but the day's contest was being broadcast nationally on ABC. And so the man forever dressed as if it were Easter Sunday found himself with the actual holiday off.
"I haven't stopped smiling all day," he said, sounding like any other working stiff on vacation, particularly one who has been at the job, as he has, for 22 years. (He would later watch from courtside, seated next to actor Zach Galifianakis.)
The Knicks trailed 3-0 in the series after two oh-so-close ones in Boston and a dreadful clunker two nights earlier at MSG, the first NBA playoff game at the Garden in seven years. I asked Clyde for his Game 4 prediction.
"I don't know, man," he said, wincing at an internal memory. It pained me to see. "I don't know. I was so optimistic for Game 3 …"
I told him I had actually been pessimistic for that game. "If it makes you feel any better," I said, "I have a good feeling about today."
"So then you're more like … masochistic!" he said, smiling.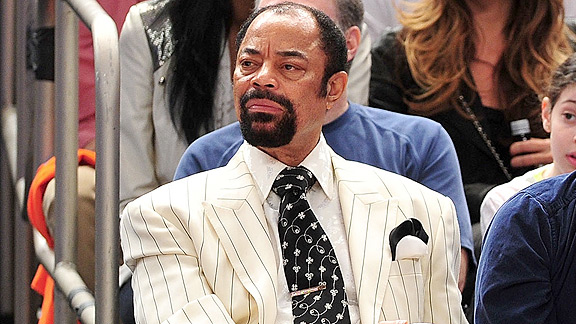 Photo by James Devaney/WireImageClyde Frazier wasn't a bit surprised to see the Knicks lay another egg on Easter.
THE IDEA OF New York as some legendary basketball mecca has always been undermined by the fact that the team has only ever actually won two championships, both of them back in the '70s. Which was unfortunate for someone like me, born in 1983, 10 years after the last banner was raised. My generation of Knicks — the Pat Riley and Jeff Van Gundy teams of the '90s — were beloved but utterly heartbreaking, the type of teams whose last-second, late-stage playoff losses made me mutter that maybe things would have been better if they just hadn't made the postseason at all.
Be careful what you wish for. The Knicks made the playoffs only once in the decade that followed and became one of just two teams in the NBA to have zero playoff wins over that time. (The other team, the expansion Charlotte Bobcats, did not even exist until 2004.)
Still, my good cheer on the cusp of Game 4 was a result of convincing myself the playoffs were simply mirroring the end of the Knicks' regular season. The late-season run had been rendered chaotic by a trade that brought, among others, Carmelo Anthony and Chauncey Billups to New York from Denver in exchange for 60 percent of the Knicks' starting lineup, shaking up a team that was 28-26 when the deal was made.
The Knicks' last six or so weeks with Carmelo were a whiplash-inducing ride. The team went 6-3 immediately following the trade, with a big Oscar-night victory over Miami and a Melo game-winner in Memphis. As would later manifest in those first two playoff games in Boston, this early post-trade portion of the Knicks season hinted at the potential of the new-look team while also introducing the uneasy realities of having two want-the-ball stars.
Compared to the two close games in Boston, both of which came down to final posessions, Game 3 was just sad. Fans bouncing with anticipation at a chance to once again see playoff basketball in the World's Most Famous Arena found themselves slumped, slack-jawed in front of a Knicks team that featured an injured and wooden Amare, a triple-teamed Melo, and little else. Nothing went right. Fans at the Garden scarcely had a chance to applaud.
It was reminiscent of the Knicks' long slog through most of March, when they went through a 1-9 stretch so bleak that I jotted down on a little notepad the following list of categories to track throughout the games:
Melo (Panic)
Amare (Mood)

D'Antoni (Blithe)
Media (Anger)
Fans (Despair)
Using my list, I kept track of six games during the slump. The resulting matrix resembled a Russell Nash-designed Amish quilt. In the "D'Antoni (Blithe)" category after the Knicks' lone win over Memphis, it says: "Prozac, Hysteria." At the intersection of "Media (Anger)" and Detroit, the press's discontent is summed up thusly: "Melo didn't talk 2'em." And if you run your finger to where "Fan (Despair)" meets Orlando, you'll see this heartbreaking shorthand: "Look @ Denver/Amare Sux."
In hindsight, I regret not making additional categories for people like Jim Dolan (Tyranny) and Donnie Walsh (DONTLEAVEUS!), although I did squeeze the following in the margins after the Boston game:
"Team just not that good." (Walsh)
Right around the time I wrote those words, the Knicks hit rock bottom.
Nick Laham/Getty ImagesMike D'Antoni was coaching an entirely new team after the Melo trade gutted the Knicks' starting lineup.
BUT BACK TO Clyde's pointed rhyme: Was I masochistic? Come to think of it, my favorite player had been John Starks, and I harbored an almost creepy crush on a string of '90s teams that tended to brawl their way out of the playoffs and choke their way out of championships. I looked back fondly on turmoil, wanting nothing more than to relive missed finger rolls and Pat Riley's faxed-in resignations. The Knicks' unexpected surge to the NBA Finals in 1999 took place in a strike-shortened season so internally contentious that New York GM Ernie Grunfeld was fired with only eight games remaining in the regular season. Celebrated coach Jeff Van Gundy would leave in a huff two years later. Those were the good old days. Whatta team!
If only I actually were that kind of glutton for punishment, the next decade might have yielded near-Tantric delights! It wasn't just that the team coupled the league's highest payroll with the league's lowest record, as in 2006. It wasn't just that the Knicks, who had missed the postseason only eight times between 1967 and 2001, went on to miss it eight more times in the next nine years. (They were swept in their lone appearence in 2004 by the Nets.)
No, it was the way in which the franchise went down during the course of the '00s that was so insane: in a prolonged scorched-earth campaign marked by mammoth contracts, personal vendettas, botched drafts, illegal operations, and outright hostility. Nothing was sacred, nothing was safe. Fans weren't the only ones who felt the collateral damage: players, respected coaches, and even Marv Albert were casualties. But the carpet-bomb that really tied the room together was a sexual harassment lawsuit filed in 2006 by former Madison Square Garden employee Anucha Browne Sanders against MSG, in general, and general manager Isiah Thomas, in particular. Postgame press conferences were packed with reporters, unusual for most 23-win teams.
But in Gotham City, the night is always darkest before the dawn. The 2007-2008 season began with a jury granting Saunders $11.5 million and ended when, on the shadowy "recommendation" of David Stern, the Knicks hired respected Indiana Pacers executive Donnie Walsh to come make some sense of the MSG madness. He relieved Isiah of his coaching duties, hired Mike D'Antoni as coach, and spent the next few years preparing to make a run for LeBron in the summer of 2010.
We all know how that turned out.
Brian Babineau/NBAE/Getty ImagesIt didn't take long for Knicks fans to give their hearts over to Amare Stoudemire.
AMARE STOUDEMIRE LOOKS older than his 28 years. He is a walking rectangle, all 90-degree angles, from his square shoulders to the juxtaposition of the tattoos that span them to the scar on his forehead that bisects the deep burrows of his brow. When Amare smiles, which he does in binges, his face transforms from imposing to near-rapture, the sides of his eyes crinkling like Robert De Niro. You desperately want him to remain happy forever.
Last summer's free-agent market brings too much secondhand, embarrassment-related PTSD to spend much time looking back on, but Amare arguably navigated it better than anyone else. Whether he was lucky or good, he snagged an enormous first-mover advantage, adoration-wise, among New York fans who had been told for years to be patient for the Summer of 2010. It's widely agreed that he "did all the right things early on." which translates, as far as I can tell, to: declaring the Knicks "back" and using the magic word "championship;" exploring his inner Jew with a tour around Israel; not being LeBron; nakedly gracing the cover of ESPN The Magazine's Body Issue (with a smile), and signing a five-year, $100 million contract.
I barely registered the size of the contract; it almost felt as though Amare had come here out of some sort of deeply-felt duty, like a passionate docent at a cash-strapped museum who serves for a dollar a year. I grew obsessed with him before even the first preseason game, gushing about his presence, his enthusiasm, his willingness to come to work here, in a Madison Square Garden that seemed either haunted or cursed. And I wasn't alone. How pathetic we Knicks fans were, clinging blindly to his uninsurable leg, our eyes damp with gratitude. How free-flowing our love! It would have been a true embarrassment — except he delivered, becoming the unquestioned leader of a young, breathless team.
"We started rocky, and you could tell people were thinking 'Aw, it's gonna be the same old Knicks team,'" said Bill Walker, one of the few players who were around before this season. "But once we got rolling, Big Fella ran off those games, carried us, changed the whole dynamic. It was the difference between us going into games trying to figure out a way to win it, instead of trying not to get embarrassed."
The games Big Fella — a nickname once used for Patrick Ewing — "ran off" were nine consecutive 30-point games, a franchise record that helped power the Knicks to a November-early December stretch in which they won 13 of 14, eight of them on the road. Amare was voted into the All-Star Game as a starter, and his name was floated as a candidate for MVP.
It was the ultimate first impression. Amare cemented himself in the minds of Knicks fans as a player on par with cherished greats. And he expertly surfed the waves of goodwill emanating from fans who were so starved for any kind of commitment.
Ray Amati/Getty ImagesEddy Curry is one of many acquistions that made Knicks fans want to forget the 1990s.
IF KNICKS FANS saw Amare, accurately or not, as a throwback to Ewing and Co., they worried Melo carried a faint whiff of the Bad Old Days and were spooked. In the weeks leading up to the big trade, the Knicks' front office had become increasingly desperate and erratic, the drunken guy at an auction, readily acquiescing to Denver's ever-bolder requests to sweeten the pot. It could only mean one thing. Rumors flew that owner Jim Dolan had taken over control of negotiations from Donnie Walsh, but that Dolan's good old pal Isiah was the one pulling the strings. Something didn't feel quite right, and many fans despaired — at the cost of the trade, at the loss of their faves, and at the sense that the whole terrible cycle might be in motion once again.
Before a game against the Grizzlies on March 17, I watched a father with teenagers approach an usher for help finding their way. "No more Gallo!" the guard preemptively commiserated, referring to trade chip Danilo Gallinari, the second-year Italian forward with a jumper so lovely that I sometimes imagined the ball sprouting a beauty mark to match the one on its shooter's own face.
The security guard's ethnic profiling proved successful. "I know!" wailed the father, clutching his chest in a display that was only mildly less cartoonish than the Ee-tal-ee-annnn-o cadence with which the Knicks PA announcer had, until only weeks earlier, mamma-mia'd the former Knick's name.
I missed Gallo too. I still caught myself scanning for him on the perimeter, wide open as he always seemed to be within D'Antoni's offensive system. I missed Wilson Chandler, my erstwhile favorite Knick, also gone. I loved the way he would throw down a monstrous dunk with his expression unchanged: dazed and benign. Did he even know he had done it? There was no way to tell. (Also, he sometimes tweeted about watching "Rugrats" and "Doug," and how can you argue with that!?) I even missed Timofey Mozgov, whose blog posts since moving to Denver nearly moved me to tears.
I knew deep down the trade had probably been the right move, an important step toward the future, a building block. Still, it's one thing to give all your friends great relationship advice and quite another to actually keep yourself from drunk-dialing your ex.
The family had wandered away by now, but I could still hear the father moaning.
"Lotta bummed out Italians?" I asked the usher. The Knicks, with Gallo and D'Antoni (who spent several decades playing and coaching basketball in the Italian League), had amassed a lively base of international fans.
"Oh yeah," said the usher, "Every day. I tell em: 'Hey, Carmelo: That's an Italian name at least, right?'"
Nick Laham/Getty ImagesAnd don't even think of mentioning the name of Isiah Thomas (or the possibility of his return) to New York fans.
THE KNICKS MADE the playoffs the year I turned 5 and didn't miss them again until I was 19. They were a practically a British boarding school of a sports team in that way, caring for and controlling me through my childhood and adolescence, year after year, as braces and boys came and went. And then one day it just ended — high school graduation, I guess — and I was all on my own.
I'm ashamed to admit it, but without the Knicks as an anchor, my memories of the NBA during my college years are mostly a blur of marketing tie-ins and personal grudges. I remember more about making runs to Burger King for the Shaq Pack cheese fries than I do about the Lakers winning it all. I recall making fun of Jason Kidd's wife and adorable alien child at some point, but I have no idea when. I remember the Yao Ming Visa Check Card commercial ("Can I write check?") but probably only because it aired during the Super Bowl. I know I watched the infamous Malice at the Palace game live at a bar, because it made me depressed for all the wrong reasons. LIke: why did the Knicks have to draft Frederic Weis when they could have had Ron Artest?!
And that was only the first half of what would become a lost decade. Thumbing through the team history pages in the Knicks media guide I thought of the truest line from David Carr's addiction memoir "The Night of the Gun:" "Every hangover begins with an inventory." A rude awakening, for sure: I blinked at the names and the faces of the past many years, searching my memory and my soul for the answers. We traded for WHO? That contract didn't expire 'til WHEN? We paid him WHAT? We drafted him WHERE? Was I awake during all of this? What did I say? Was I making out with anyone? Do you have my phone? Anything else I should know?
This was not a champagne headache, the throbbing letdown of success. There were no fun times to recap over a big greasy brunch. This was the full-body hurt of hard liquor, straight up. We had been cruelly hazed for 10 years by Isiah — for a fraternity that wasn't even cool on campus.
I graduated from college and moved into the city with a roommate whose tolerance for ambient televised basketball was low. It didn't really matter, because I worked late regardless. Sometimes I went to my company's box at MSG with clients and colleagues, and I wasn't entirely sure who anyone was — either in the luxury suite, or on the floor of the Garden. "Wait … is that … we have Stevie Franchise now!?" I demonstrated team pride by ironically sending boxes of Dale and Thomas popcorn to other friends who were in on the can't-make-this-up joke that was the New York Knicks.
Guys like Amare and Carmelo, out in the Western Conference, existed on the far periphery of my weakening vision. It's crazy to think about: Both came into the league on a wave of excitement, faced myriad personal and physical setbacks, sought redemption, played in years' worth of playoff series and multiple Olympics, had children, disagreed with coaches, navigated impending free agency, and took "the next step" of their careers — all basically within the time since the Knicks' last playoff appearance. I barely noticed any of it.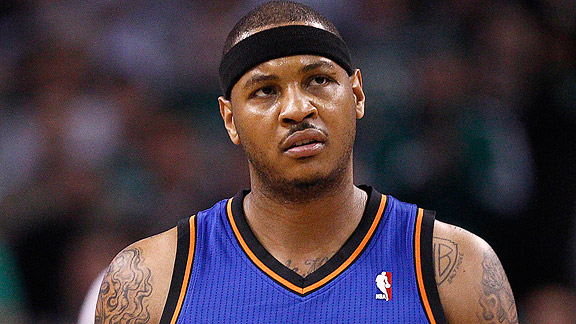 Mark L. Baer/US PresswireCarmelo Anthony's brilliant Game 2 performance gave Knicks fans a hopeful glimpse of the future
WITH BOTH IN New York, there was little about Amare and Melo that I didn't pay careful attention to. Like a body language expert in a celebrity magazine (complete with the teeny disclosures: "Dr. Baker does not treat Stoudemire, nor is she a real doctor"), I constantly monitored their faces and postures for any signs of unrest.
Games 1 and 2 showcased the dizzying potential of a STAT-Melo combo but also exposed how fraught with neuroses and emotional manipulation such a lineup could be. That's the bane of the two-star system: it's tailor-made to generate intrigue and excuses and scandal, even after wins and especially after losses. Every shot has a built-in opportunity cost. Every huddle deserves extra scrutiny. Whose day is today? Who is going home mad? Watching the games felt like being a greedy tween once again, pitting my parents up against one another, asking one for permission or the other for money and allocating affection based on results.
The Knicks were one possession away from a Game 1 road win in Boston. Amare dominated the fourth quarter, twirling and dunking to pick up 12 of his 28 points. But it was Melo who took and missed the final shot, leaving fans overcome with second-guessing and blame. STAT had the hot hand. Why hadn't they run the play through him? Nevermind that pretty much anyone, if asked which Knick should have the ball in their hands with the game on the line, would have picked Melo, one of the league's finest clutch performers.
Game 2, on the other hand, featured Melo's best performance as a Knick. With Amare on the bench with back spasms and Billups out for the series with a knee injury suffered in the closing seconds of Game 1, Melo singlehandedly took over, scoring 42 points and adding 17 rebounds while sharing the floor with some of the Knicks' most obscure bench players. It was a dazzling showing that, in and of itself, seemed to justify the trade.
We were getting the No. 1 Melo because we were letting him be No. 1. His performance made me think of Chris Ballard's book "Art of a Beautiful Game" in which he watches Melo in Game 2 of the 2008 Nuggets-Hornets series with Idan Ravin, his trainer.
"Here he goes again," Ravin says to Ballard. "He's on fire. This is where if I'm George Karl, I let him play until he misses, because if not, Melo will get pissed."
Stop there and Melo seems like the sulking child that he was reported to be in mid-March this season, the kind of player who could ruin Amare and/or the Knicks. This wouldn't last forever. What if Amare came back in the game and messed up the chemistry? I wanted to slap myself in the face for the ridiculous thought.
But the rest of the quote is illuminating: "You have to remember, Melo's had five years of not getting past the first round. He's very excited. He's very motivated. Especially after a bad first game. You want him to feel like he's a big part of this."
When he passed to a wide-open Jared Jeffries under the basket rather than launch another late-game 3-pointer, I rued ever begrudging him the final shot. When he failed to defend Delonte West in the backcourt, though, I felt faint.
Nick Laham/Getty ImagesCarmelo doesn't even try to hide his emotions on the court.
CARMELO ANTHONY'S SMILE must double as Carmelo Anthony's grimace, because why else would he have that look on his face, as he so often does, after fouling, or traveling, or missing a free throw? Carmelo Anthony is the reason the phrase "wipe that grin off your face" was invented. In one late regular-season game against the Bucks, I watched him jawing at someone, all toothy, malevolent charm. "He would drive me crazy," I said to Bill Daughtry, the Knicks radio broadcaster. He nodded beatifically, and with his gorgeous voice said: "I'd sock him."
It's fitting that Melo has a tattoo of the Warner Brothers logo on the left side of his chest, given how much he resembles Elmer Fudd in Space Jam, headband and all. The "WB," though, actually stands for West Baltimore, where he grew up more so than Brooklyn — unless it stands for "Warna Brotha," as in: "If you see the cops …", an ethos in line with longtime Melo cause "Stop Snitchin'". He's got one of those fat-skinny bodies that looks softer than it actually is, and the way he moves it is just as deceptive. He lopes and ambles around the court, all dangling arms and dragging feet, but, as he often says, man — get the ball in his hands and his every movement is suddenly vital, explosive and clear.
"I've seen him score 40, 50 points, clutch baskets all the time," Billups told me after a slump-snapping victory against Orlando. "You get him focused on both ends? You're talking about maybe the best player in the game."
When he's in the zone, Melo starts smiling before his shot has even begun to arc downward, and the look stays on his face well into the next defensive play (which in his case is usually to wave for a switch.) He made his career on mid-range isolation — jab steps and arched back and elbows. His style requires both time and space, and he deserves both. But in D'Antoni's preferred offensive system, time is precious and space is fluid, shifting like mercury. Players like Melo can be, to use D'Antoni's preferred epithet, "ball-stoppers."
D'Antoni's adherence to his offensive doctrine these days is not as fanatical as it is often portrayed. (Knicks beat writers can spot press room newbies by their use of the phrase "seven seconds or less offense" in a question; the coach will nearly always point out that it was never a phrase, it was a book title, and not his idea.) A fair amount of his style rests upon letting players make on-the-fly decisions themselves. One of the funniest scenes in the actual ":07 Seconds or Less" book, by Jack McCallum, occurs when the Orlando Magic leave behind a scouting report about the Phoenix Suns, whom D'Antoni was coaching at the time. Describing the offense it says: "Literally nothing is frowned upon."
"A lot of times I have my idea of how I wanna play," D'Antoni said after a loss March 21. "And if we can't do that, we gotta play some other way." A few games later, D'Antoni was asked how much the team had changed the playbook since acquiring Carmelo. "A lot," he said. Asked if he had increased isolation sets, he laughed. "I haven't increased 'em, they've increased 'em," he said. (A look at Melo's 3-point production suggested D'Antoni hadn't been the only one to compromise. "It's a spread-out system, pick and rolls, everything is so open," Melo said after a victory over Philadelphia in which he went 5-for-8 from behind the 3-point line. "Those are the shots that you almost have to take, you're so wide open.")
D'Antoni spent the end of the season asserting that Melo could become not just a scorer, but a playmaker, too. It's classic go-against-the-flow thinking from the coach: when he shruggingly said that Melo should "nightly be getting close to a triple-double," it sounded like the most obvious thing in the world. A few beat writers, curiosity piqued, looked it up. Melo had notched only one triple-double in his career — in 2007, against D'Antoni's Phoenix Suns.
AP Photo/Winslow TownsonIf Chauncey Billups hadn't been injured at the end of Game 1, the Boston series might have been more competitive.
THE KNICKS HAD resembled the Ludlow family for awhile since acquiring Carmelo, but by Game 3 of the playoffs, they had become an even more fully-realized version of "Legends of the Fall." Amare was Alfred, desperate for attention and respect, just trying to do the right thing, but repeatedly overlooked for Tristan (Carmelo), his frustrating, enchanting and volatile brother. (I could totally see Melo disappearing one day with a terse note to fans: "All we had is dead, as I am dead. Marry another.") Injured Chauncey Billups was the long-lost mom, while Mike D'Antoni was a post-stroke Colonel Ludlow shouting "Screw 'em!" at the officials. And Samuel, poor doomed Samuel, was Landry Fields, whose embarrassing demise Melo arrived just in time to witness.
The Ludlows had endless potential but were ultimately doomed. As were the Knicks, who began the game down 9-0 and never recovered. With 3:45 to play in the game and the Knicks down 106-84, a mustachioed usher swept through press row like that dog in "Alice in Wonderland." "Nobody will be needing this anymore, right?" he said, switching off the little TV used for replays. I felt like the last person in a restaurant, still slurping my soup as the staff passive-aggressively hoisted chairs atop neighboring tables.
Fans booed and the media scoffed. D'Antoni dismissively downplayed Rajon Rondo's 20-assist performance, noting it was merely a function of the hot-handed Ray Allen and Paul Pierce. If I had still been keeping track of things like "D'Antoni (Blithe)" I would have had an easy entry.
Amare tried to play through a strained back muscle, a gesture that tore me in two: on the one hand, he'd led the team through the season and wanted to be there for the first playoff series in seven years. On the other, he was awful: on offense he could barely elevate, and on defense he resembled Daria half-assedly attempting to stop a volleyball. Why was he out there? Maybe he was even more like Patrick Ewing than I originally thought.
Jennifer Pottheiser/Getty ImagesAs long as Donnie Walsh stays around, the Knicks should be in capable hands.
DONNIE WALSH HAD already spoken to a scrum of cameras and beat writers on the morning before Game 4 from his seat on one of the Knicks' practice courts. ("Well, we got our ass beat last night," he said.) Behind him, Allan Houston and Amare Stoudemire's sons, Allan and Amare, were shooting baskets with Amare's "guy," Max. A reporter circled back with one last question.
"Donnie, I have to ask," he said to Walsh, who was in Indiana during all the contentious Knicks-Pacers series of the 1990s. "When Larry Johnson comes to the games, and they show that four-point play on the screen …"
"Oh, I hate it," Walsh said, shaking his head. (The famous and controversial play happened in the 1999 Eastern Conference finals against Indiana.) "Oh, it drives me insane. I love having Larry at the games, but what happens is I'll get a glimpse of it, and then I'll hear the crowd start to react …" He rocked back and forth, agitated. "It makes me so fucking mad. There's a picture of it right outside my office. I have to see it every day!"
"You know, that's funny," said Jonathan Supranowitz, head of Knicks PR. "It doesn't bother me at all."
"I'm going to have a picture of Reggie's five 3s put up outside yours," Walsh said.
It's refreshing to have someone so unimpressed by — and even hostile toward — Knicks history at the helm of a franchise that has such complicated ties with the past. Three years ago, Walsh was handed a team lousy with expensive and incompatible players — and was given the task to clear out enough cap space to put the team in a position to acquire the pieces for a legitimate championship run. It was not unlike an episode of "Hoarders," really, with Walsh the host and the Knicks the little old lady holding tight to her overvalued stockpiles — Eddy Currys and Jerome Jameses in lieu of stuffed bunny rabbits.
The Knicks hold a team option for the fourth year of Walsh's contract that they've yet to exercise, which is mildly sickening. Sign Donnie! These things take time: Imagine if three-quarters of the way through "Hoarders" someone walked in, glanced around, and exclaimed "God, this place is a mess!" The uncertainty Walsh has endured over the past few months hasn't been too far off.
A few recent reports indicate that a two-year extension might be in the works, though — great news, considering how hard it can be for an organization to remain rational after it has just been the lone team this season to be swept in the first round of the playoffs.
Nathaniel S. Butler/NBAE/Getty ImagesThe Big Fella never celebrated the meager achievement of a playoff berth.
WHEN THE KNICKS clinched a spot in the postseason with a victory over the Cleveland Cavaliers on April 3, there was no discernable locker room celebration — just Whoopi Goldberg milling around as reporters joked under their breath about whether "Eddie" was the last time the Knicks had been to the playoffs. Of course, there was no celebration! The playoffs were just the beginning. I felt silly for having thought it would be any different.
I was chipper going into Game 4. Amare, whose status had been doubtful after his croaking Game 3, had a spring in his step, even talking to reporters in the locker room before the game, which he doesn't typically do. "I mean, I am on Advil right now," he joked. (He seemed so upbeat and loose that one cynical reporter wondered skeptically whether the whole thing had been a mystique-building hoax.) The contrarian in me sensed how lopsided popular sentiment had turned against the Knicks, a team that had almost beaten the Celtics twice in Boston. This would be it. The new Knicks. A step forward. No more throwing rocks at the house that Isiah built like sobbing Jennies in "Forrest Gump." This team would bulldoze the place down.
Alas, no heavy machinery was to be broken out that night, only brooms.
Nathaniel S. Butler/NBAE/Getty ImagesJust wait until these guys really learn to play together. Just wait …
LIKE MOST OTHER professional sports franchises, the Knicks organization doubles as a borderline retirement community for many of its former athletes. Walt Frazier works for MSG Network. Herb Williams will never not have a seat somewhere on the Knicks bench. (He has played every role from beloved 12th man to assistant coach to, during some of the low points of the last decade, interim head coach.) Allan Houston is the Assistant to the President of Basketball Operations, and often gets out on the court with the team during shootarounds. John Starks has some sort of must-be-nice job that involves taking pictures with various groups of people at halfcourt before games. Larry Johnson is just always … around. Ditto Charles Smith and Earl "The Pearl" Monroe. Before one game, Ray Williams was sitting behind the scorer's table, telling anyone who would listen about how he used to hustle Dr. J in golf. The Jumbotron routinely cuts to former players waving from the stands. "Once a Knick, always a Knick!" it says.
After the final home game of the season, a Knicks spokesman idly mentioned to Melo in the locker room that Steve Francis had been at the game. "Steve Francis," Melo repeated with a smirk. "He still on the payroll?"
To be a fan is to be a part of this dysfunctional family. We're basically stuck with each other. We project our insecurities, problems, and biases on the very same people who we claim to unconditionally love. We become nagging mothers, proud fathers, jealous sisters, awestruck brothers. Hugs are given and grudges are held. Habits are scrutinized and resemblances pinpointed. We meddle like aunties and rage like drunk cousins. Certain children are favored, and certain favors are traded.
We resent the family patriarch — in this case Jim Dolan — for his despotic ways, though we also rely on his cash. And there will be more where that came from next year: ticket prices at Madison Square Garden, which will undergo the first phase of a massive renovation this summer, will be up 49% on average. (The team announced this before even clinching a playoff berth. Tacky!)
The MSG renovation is symbolic of the transitional time for the franchise in general. The longest-tenured current Knick is Toney Douglas, who joined the team as a rookie last year; in his two seasons he has played alongside 33 different teammates. The team exercised its option on Chauncey Billups for next season (another sign that bodes well for Donnie Walsh, who was in favor of the extension) but what's after that? The Knicks roster is small and shallow, as was obvious in Game 3. Watching other playoff series can feel like watching a different league, one populated by giants.
On the horizon are names such as Dwight Howard and Chris Paul, who both become free agents at the end of next season (should there be one). But the Knicks will have limited cap space and even scarcer trade bait to make another big move — most of their tradeable assets are now in Denver, and New York also has little in the way of draft picks. Mike D'Antoni has one year left on his contract, meaning each loss next season will be immediately blamed on him.
Unless Amare and Melo take the blame. Both handled the media quite well over the last two months in New York, but the expectations for next season will be ratcheted up quite a bit.
One of the Knicks family's youngest members has already begun to weigh in with his judgment. Age 5 and dressed in a tiny Eastern Conference All-Star jersey — a departure from his usual Knicks jersey bearing the number 1/2 — Amare Stoudemire, Jr. watched his father get silently dressed. He contemplated for a moment and then spoke up.
"Daddy, none of your shots today were dunks."
Amare said nothing, the way parents sometimes do.
"You should do that, Daddy."
Amare responded so quietly that I wonder if his son even heard his Zen koan.
"Sometimes you dunk and sometimes you don't."
Katie Baker has written for the New York Times Magazine, Deadspin and Gawker. She is a regular contributor to Grantland.com.