Few things are worse than a forced wedding hashtag.
A phenomenon gained traction in 2013 as a result of the merger of two of our society's most innocent expressions of self-idolatry: Instagram and weddings. Their spawn is the wedding hashtag, a tool used, yes, to aggregate Instagram photos from a wedding, but also as a way of bringing "Bennifer" and "Brangelina"-esque portmanteaus into the age of social media.
Last year, in this introductory space of the "Who Won 2012?" bracket, I went on a very necessary tear about the "engagement" feature on Facebook and how it was adding much stress and clutter to my life. This year, having my Saturday Instagram feeds filled with #ShaneLuvsBethanny or some horrible combination of "Becky" and "Jamal" (probably #Jamelcky) has simply moved my side-eye from one platform to another. It's almost as if everyone purposefully failed to read the Knot's comprehensive "7 Risks of Hashtagging Your Wedding" piece.
I only bring this up because with every passing year, I'm closer and closer to trashing the "Who Won" bracket model in exchange for "Who Lost." Or "What Ruined This Year for Me the Most, a Bracket of 1024."
Thankfully, we're not there yet. There are still some things worth celebrating, people continuing to find ways to stay relevant and interesting, new concepts and innovation gaining traction, and most notably, new apps being made to distract people from day jobs, child rearing, taxpaying, and general human interaction.
Unlike Grantland's many other brackets, this is not a participatory process. As my mother would say to her curious only child when he had a question about why he had to do something, this is not a democracy. I honor her parental prowess by continuing to make the official call on who won the year, with the consultation and aid of no one, for a third straight year.
Last year's bracket:
The 2012 Final Four: Instagram, Gabby Douglas, GIFs, and the Knowles-Thronedashians, with GIFs losing in the end to the Roc-A-Fella diamond of Jay, Bey, 'Ye, and Kim Kardashian. The victory was an important career moment for the power quartet, particularly since 2011 saw a runner-up performance from the Kim-less "Knowles-Thrones." But as quickly became apparent, they had been missing one puzzle piece in their quest for world domination: Kim Kardashian.
It was a tremendous victory, but it does mean the Knowles-Thronedashians (as a collective, not the individuals) are now the second entity to get TRL-retired from the contest (2011 winner = Twitter).
But enough of the past. Let's discuss 2013.
Structurally, this year's contest will be the same as 2011 and 2012. It's a bracket of 32, instead of 64, because there weren't even close to 64 winners in 2013. The entrants come from four walks of life: Sports/Athletics, Celebrities/Entertainers, Technology/Internet, and Movements/Phenomena. Eight people/teams/entities/things are in each category, which is how, by way of multiplication, we make it to 32.
Before getting to the bracket, a few more crucial agenda items. Though this is a one-man job, there are guidelines, and while this dictatorship lacks checks and balances, there are laws to be obeyed.
The Deceased: Not included. People die and sometimes become postmortem winners, but no. Dying is never a win. Even if they go platinum.
The Royal Babies: Not Prince George, but Nori and Blue Ivy. They're always winning, but I don't have the heart to put them in the bracket. Because then I'd rig it to pit them against one another. And then I'd have to crown a winner and a loser, which would make it very awkward for me as the godfather to both.
The Honorable Mentions: A lot of nouns had great years, but there's just not room for everyone. The streets are rough. Trust me, I know. Because I am the streets. The following were considered but then dismissed:
Kendrick Lamar's "Control" Verse; Everyone Who Got to Bike Around With LeBron in That Commercial; White Santas; Molly (Drug); Molly (Lambert); Versace; Drinkin', Smokin', Fuckin', Plottin', Schemin', Plottin', Schemin', Gettin' Money; Auburn Play-by-Play Announcer Rod Blamblett, Juicy J.
The Really Honorable Mentions: And these are the ones that, for a moment, were in the field, but ultimately were moved to the bubble, either purely as the result of a numbers game or because of personal beefs:
Bitcoin; Lorde; Michael B. Jordan; Tinder; Louisville Basketball; Mike WiLL Made It; Olivia Pope; Yasiel Puig; Jimmy Johnson; Historical Accounts of Black People in Movies Having It the Worst; White Jesus; Drake's Parents; Uber.
The Seedings: This is the part I know no one ever reads, since almost all the comments I receive are people complaining about why certain things were seeded so high/low. But this is the only part of the entire bracket I have no control over. Kind of. It's an objectively subjective process.
Seedings are purely based on the person/thing's number of Twitter followers. That's the objective part. The subjective part is that if someone/something doesn't have a Twitter account, I then grant myself the freedom to pick a semi-related Twitter handle to determine placement.
Last year, I tried to get fancy and create an algorithm loosely related to the singer Jojo, but it was clear that was too AP Calc for the Internet, so we're back to square one: Twitter followers. Again, SEEDINGS = TWITTER FOLLOWERS. One more time: SEEDINGS = TWITTER FOLLOWERS. Let's bold and italicize and underline it: SEEDINGS = TWITTER FOLLOWERS.
But I know no one's reading it, so feel free to argue with me about seedings once you get to the end.
So those are the rules. I hope you feel they are fair, because from here on out, it's no longer about being fair. Only correct. Because, as Beyoncé said about last year's bracket, "This bracket, flawless. My bracket, flawless."
MORE ON HER IN LIKE 17 SECONDS — LET'S GOOOOOOO.
Categories
[**denotes appearance in 2012 bracket, ***denotes appearance in both 2011 and 2012 brackets]
Sports/Athletics
**LeBron James: The basketball player in Florida; @KingJames
David Ortiz: The baseball player in Massachusetts; @davidortiz
Serena Williams: The tennis player from the West; @serenawilliams
Chris Davis: The college football student in Auburn, Alabama; @chris11au
Peyton Manning: The quarterback in the Rockies; @broncos
The Chicago Blackhawks: The hockey team in the Midwest; @NHLBlackhawks
**Andy Murray: The tennis player from Europe; @andy_murray
Jason Collins: The unemployed professional basketball player; @jasoncollins34
Celebrities/Entertainers
Kanye West: The guy with the yells; @kanyewest
**Jennifer Lawrence: THE GOD KATNISS; @TheHungerGames + @AmericanHustle
Macklemore: The dude that isn't Ryan Lewis; @macklemore
The Pope: The Frank, the one after Joey Ratz; @Pontifex
Miley Cyrus: The one without the clothes; @MileyCyrus
Benedict Cumberbatch: The serious actor, based on his name; @Cumberbitches
Pharrell Williams: The man they call Skateboard P; @Pharrell
Beyoncé Knowles: The woman they call Surfboard Bey; @Beyonce
Technology/Internet
Snapchat: The one where they disappear; @Snapchat
Netflix: The thing where you watch a bunch and don't move; @netflix
Grand Theft Auto V: The game where you run over people; @RockstarGames
Vine: The thing that is quick and then loops; @vineapp
***Instagram: The thing where you post old photos once a week; @instagram
Candy Crush: The game that is the same as smoking crack; @CandyCrushSaga
Spotify Premium: The one without the ads; @Spotify
Emoji: The one that makes words not matter anymore; @EmojiDictionary
Movements/Phenomena
The Breaking Bad Finale: The show about the meth; @BreakingBad_AMC
The City of Toronto: The place in Canada; @Drake + @TOMayorFord + @Raptors
Twerking: The dance that just got invented; @yingyangtwins
Scandal: The only show that airs on Thursdays; @ScandalABC
Cultural Appropriation: The phrase everyone just learned; @SenateApprops
Catfishing: The thing where you always lie; @CatfishMTV
Selfies: The cool thing where it's all about you; @shots
The Harlem Shake: The other dance that just got invented; @baauer
So there's the 32. And, just in under 1,300 words, we're ready to begin the bracket. It'll take the rest of the day to read, but don't be scared. You can trust Xtina and Adam.
They're your friends, after all.
Round of 32
Gold Teeth, Grey Goose Region
Miley Cyrus (1) vs. Twerking (8): Well what a convenient place to start. One of the most talked-about humans in popular culture going up against the dance move that she became unfairly associated with inventing, or even bringing back. It really started here, in June, in a scene from her video for "We Can't Stop."
And then peaked at August's MTV Video Music Awards:
Even though dancing in such a manner isn't new, she gets credit for making it as mainstream in 2013 as selfie. Ying Yang Twins, God bless their hearts, didn't put the word into the mouths of grandmothers with their 2000 blessing "Whistle While You Twurk." Of course the girls I went to high school with knew what it meant back then, but not the ladies at bingo night. Only 2013 Miley is responsible for a headline like this, in the Financial Times: "A year in a word: Twerking — the oldest trick in the book."
But despite the word taking on a new life of its own, it wasn't bigger than Miley herself. She wasn't a one-twerk pony in 2013; she gave us a year full of stunts to forget Amanda Bynes 2.0 ever existed. And she seemed to never let up, whereas the trajectory of the word twerking had a Facebookian rise and fall, peaking over the summer and then quickly becoming embarrassing to say aloud once it started getting abused by those with AOL email accounts and various members of The View.
Seriously. This video is called "Jenny McCarthy & Sherri Shepherd Twerking!"
So yeah, not even twerking can bounce back from that. Even though "what is twerking?" was the most Googled question of the year, Miley still wins. Because, now that we've all discovered that Google-generated answer, the phenomenon can end.
David Ortiz (5) vs. Macklemore (4): 11-for-16. That's the sporting statistic of the year for me, David Ortiz's line during the World Series (including two doubles, two home runs, and six RBIs). But after watching it in real time, one of the great sports "he's on fire" moments, it's shocking to imagine he actually didn't advance past home plate on four occasions. Even in a career defined by a clutchness rivaled by few, regardless of the sport, this Ortiz stretch truly stands out.
If this were an October 2013 bracket, Ortiz would win. But it's the entire year, and during most of that year, when Ortiz was a very mortal baseball player, a man named Macklemore was everywhere. Yes, the act is a duo, Macklemore and Ryan Lewis, but the rapper is the one who absorbs the majority of the praise, and in turn, the majority of the criticism.
Whatever your feelings about the guy, the impact of the singles from The Heist was unavoidable. "Can't Hold Us" was the no. 5 song on the year-end U.S. Billboard Hot 100 charts, and no. 2 on the U.S. Rap charts. The song that topped both of those charts? "Thrift Shop." And then, if that weren't enough, there was "Same Love."
The existence, rise, and dominance of Macklemore is one of the more mulled-over conversation topics in music and culture in 2013. But regardless of where you land on him, it's hard to deny what he pulled off for 12 straight months. And for that, he advances.
Pharrell Williams (3) vs. Scandal (6): Imagine a 2013 without "Get Lucky" and "Blurred Lines." Maybe you'd prefer to, seeing as both songs were played ad nauseam, but there's no ignoring how different the year would have been without them. And neither would exist without Pharrell's vocals on the former, production and ad libs on the latter, and video cameos in both.
Also, Pharrell just turned 40 and is seemingly getting younger.
But it wasn't just those two songs. He produced 2 Chainz's weirdly-not-a-summer-banger-but-should-have-been "Feds Watching." And two tracks on Samsung's Jay Z's Magna Carta … Holy Grail, one on Pusha T's My Name Is My Name, two on Beyoncé's Beyoncé, and four on Miley Cyrus's Bangerz. And, on top of all that, that great Nelly song in which Nicki Minaj referred to herself as "Bunz Menage."
But then there's ABC's Scandal. For me — and perhaps only me — the show is becoming my Godfather, in the sense that it's the classic example of the thing you tell everyone you've seen but you haven't. (Note: I've seen The Godfather, but you people know who you are.) I've watched only a few episodes here and there, because occasionally it's nice to see your friends on Thursday nights. But, because of the Internet and the live-tweeting culture around the show, I'm completely caught up. No exaggeration, I know every single thing that's ever happened on Scandal, and girl, is Shonda a trip or what, she can't keep putting me through this.
It's a legit phenomenon, and while the show's ridiculous plot twists might ultimately lead to its demise, the hysteria it caused throughout the TV-watching-and-then-talking-about-it-the-next-day public in 2013 makes it one of the year's most colossal forces. Not even Pharrell's conscious effort to make us dance all year can best Olivia and Fitz. So Scandal advances, mainly because if it didn't, my mother WOULD. KILL. ME.
Jason Collins (7) vs. Kanye West (2): I will not insult the year Kanye West had by burying the lede. He easily advances to the second round. But it's difficult to talk about the great things in 2013 without acknowledging Jason Collins's coming-out in April. And the great Sports Illustrated piece he wrote about the decision. And the milestone that it is in professional sports. Yes, there have been efforts to diminish its importance by noting that he wasn't a superstar and isn't currently on an NBA roster, and yes, if LeBron James came out tomorrow, it would forever upend notions of what is perceived as unacceptable and unmasculine, but that's not what matters. What Jason Collins did mattered, and will continue to matter.
But yeah, Kanye was 2013. So he's going to keep going. There's nothing more to say about that.
Bloodstains, Ball Gowns Region
Toronto (1) vs. Cultural Appropriation (8): This image really sums up the year of 2013 in Toronto:
That's Drake and the pre–crack confirmed/post–crack accused mayor of Toronto, Rob Ford, having a jolly time in late September, as the news is announced that the city will host the 2016 NBA All-Star game. The two faces of the city, for better or worse, giggling. As someone not from Toronto but long a fan of Aubrey's "All I care about is money and the place I'm from" line, it's been great to see the city insert itself into daily conversations, be they positive or negative. The contrasting nature of its press is what makes Toronto truly relevant. And for big chunks of 2013, it was the most talked-about town in the news. Also, its two-headed monster is a black Jewish rapper and a guy who admitted to smoking crack and is still the mayor. Only in (North) America, right?
Going against Toronto is the phrase of the year. "Cultural appropriation." Regardless of which side of the fence you stand on with regard to those accused of said appropriation, there was no way to avoid the term in 2013. For big chunks of the year, the Internet felt like it'd just taken its first sociology class and was ready to take on the world with the tools gained from that mind-blowing freshman seminar. Just looking around the bracket, there are a number of people or things that were major talking points in the discussion of using "others'" "cultures" "irresponsibly" for one's own personal gain.
I put those three words in quotation marks because the beauty (if you're an ex-sociology major who loves watching dialogue play out) of the year's seminal circular argument hung on what constituted "other," what defined "culture," and what was ultimately "responsible." And the barrier for entry into a discussion about cultural appropriation is so amazingly low ("I don't like this"), anyone can participate.
And in 2013, it felt like everyone did. Which is why it's advancing to the next round. Sorry, Crackronto. Yes, I know you got Kanye to come to your city's club, wear your city's name on a BEEN TRILL shirt, and D'usse drunk scale your city's club's ceiling pipes, but it's not strong enough to advance.
Netflix (5) vs. Jennifer Lawrence (4): Remember about two years ago, when we were all mad at Netflix? Hilarious, right? Since now it more than just represents the lazy thing you do if you can remember your roommate's password to distract yourself on a weekend day. It's still that, trust, but now it's also a bona fide network. In 2013, there were House of Cards (three Emmys), Orange Is the New Black (summer phenomenon, inspires blackface), and, of course, the semi-triumphant return of Arrested Development. Netflix banked on what its entire existence was built on, binge-watching, and came out looking like a genius. The company's easily one of the comeback stories of the year.
And then there's Katniss. In February, Katniss won an Academy Award for Best Actress in a Non-Katniss Role, for Silver Linings Playbook. And now Katniss is in another David O. Russell movie, American Hustle, for which she'll probably get nominated for another Non-Katniss Role Academy Award, and then end up with a second Non-Katniss Oscar statue. And then, on top of all that, there was Katniss as "Katniss" in Catching Fire. She's a true Hollywood force, a rarity in the young, non-tabloid-dependent community. And, as the ultimate cherry on top, she's riding the "J-Law's so normal, just like you and me" wave until the wheels fall off. It's incredible stuff to watch.
But no. In a surprise twist (says Vegas), she is not advancing to the second round, failing to match her 2012 performance of a Sweet 16 berth. The re-rise of Netflix is simply too much to ignore this year, something not even Katniss could (SPOILER ALERT) shoot an arrow at the ceiling of the dome to overcome.
Instagram (3) vs. Catfishing (6): Before getting into Instagram, a quick reminder about how 2013 felt seven years long. Deadspin broke the Manti Te'o–fake-dead-girlfriend-catfishing-or-maybe-Manti-is-a-liar story on January 16, 2013. That was this year. So we started this year off talking about the idea of "getting catfished." (Or did he know the whole time?) Either way, between this story and the ever-growing guilty pleasure that is MTV's Catfish, it's a phrase that truly is the Internet's to lay claim to, as well as a phenomenal practice to try to explain to someone over 50 who actually fell in love with someone they met in real life, like the sensible fossils they are.
Speaking of getting catfished, I'm sure Instagram has played a part in a fair share of people in 2013 thinking that model named "Candis" was actually a model named "Candis" and not a barber named "Neil." But it also did so much more this year, most notably adding a video component. Initially dismissed as merely a way to deal with the rise of Twitter's Vine app, it has given us 15 seconds to (classic joke alert) film everything we had at brunch, instead of just a simple image of things that have been Benedicted. If you have Instagram, there was probably a moment when you were skeptical, but now you're all about it. The main people not excited about it? The people trying to get their catfish on. It's really hard to catfish via video. Trust me, I've been trying to catfish CNN's Don Lemon since August, and it's just a lot tougher these days.
Catfishing tactics aside, Instagram wins — easily — if for no other reason than the beauty that is, and will always be, Thanksgiving Throwback Thursday.
Benedict Cumberbatch (7) vs. Vine (2): My dude BC had a huge year. I'm talking 2012-Fassbenderian, even (Star Trek Into Darkness, 12 Years a Slave, August: Osage County, The Hobbit: The Desolation of Smaug, as Julian Assange in The Fifth Estate). That said, I'm still not exactly sure who he is. I mean, I've seen him plenty of times, but whenever I think about him, I just envision my junior high copy of The Picture of Dorian Gray. Or one of the people in the room when the Articles of Confederation were being debated. Perhaps that's my own fault, but it's the truth.
Do you know what I'll never forget, though?
THAT BACKFLIP. OVER. AND OVER. AND OVER AGAIN.
This Vine, alone, gets it past Cumberbatch. Because, as is true with Vine superstar @KingBach and many others, the medium became more than simply a venue to share things with your friends. Somehow, Vine became its own outlet for entertainment. You know, like television.
So Vine advances. And, for better and for worse, we haven't even gotten to TerRio. Not yet.
Cristal, Maybach Region
Beyoncé (1) vs. Candy Crush (8): A fact about this bracket: I began prepping for it, and then Beyoncé came through like Black Feminist Santa in the middle of the night and released an album. So I had to start the bracket over. I say this for two reasons: (1) to admit there was a time when this bracket didn't include Beyoncé, which is something I'm not proud of, and (2) to make it clear that her sudden, bracket-validating inclusion is most likely not going to result in a first-round exit.
With that said, for most of 2013, Candy Crush was all over everyone's fingertips like liquor. The addiction levels of the game make Rob Ford look like @Pontifex. So yeah, that's next-level crack. [Note: While I was typing this, someone invited me to play Candy Crush Saga on Facebook. I kid you not, the fiends can sense I'm about to knock it out of the bracket. I think they may be at my door. Pray for me.]
But no. Even pre-Beyoncé Beyoncé, the mother, Tumblrer, documentary subject, and Super Bowl halftime performer, advances. But the addition of this:
It's hard to argue with that. So Drunkyoncé advances.
The Chicago Blackhawks (5) vs. The Breaking Bad Finale (4):
So there was this:
But before that, more remarkably, there was this:
In the time it takes to proofread a tweet, the Blackhawks went from looking at a Game 7 to scoring twice in 17 seconds and winning the Stanley Cup. Considering the stakes, and the moment, and the quickness of it all, it's hard to argue against Chicago and its hockey team with the culturally appropriated name as having the best finish of the year. Put simply, it was sports magic, which is often the best type of magic.
While the signature moment of the Blackhawks' season happened unexpectedly, the most incredible aspect of AMC's Breaking Bad finale, "Felina," was the buildup. Because of the unique marriage of television and the Internet, there's never been anything like the crescendo toward the show's last breath. The bar was so high, and the world that had invested so much time in the show and its characters seemed to not be disappointed in what it got — a rarity for a series finale. In this age of instant critiques, things never seem to live up to the hype. The Breaking Bad finale stands apart as one of the few things that did, ending a show that kept its audience enraptured like few other things in 2013. The Blackhawks had their moment, and then they were gone. But when you think back to 2013 and its most prominent figures, one of those is Walter White.
Don't look now, but the Breaking Bad finale is going up against Beyoncé in the Sweet 16, which is hilarious.
Andy Murray (3) vs. Snapchat (6): Sure, it matters what Andy Murray does for the rest of his career/life, but at the moment he finally won Wimbledon, the first British man to win in 77 years, his duty to his country was officially discharged. Yes, he won Olympic gold on his home turf in 2012, but that still wasn't the ultimate prize. He could have been no. 1 in the world for five straight years, but if he failed to win at the All-England Lawn Tennis Club during that span, he'd be seen as a failure. But he did it, so he's the King of England. Forever.
Last year, Andy got ousted in the second round by a "handful of blogs," a.k.a. Tumblr. This year, he's up against "an eyeful of disappearing pictures that actually aren't just the junks of men" in Snapchat. Because this is the pinnacle of Murray's life, and he's going up against some app, it seems like a no-brainer that he advances. Even with a graph like this, showing how significant a market share Snapchat has taken in 2013, Murray, the Brit, won Wimbledon.
So this is Andy's year in this bracket, right? Wrong. Why? Because there's good and bad in peaking. The good, obviously, is the peak. The moment. This moment.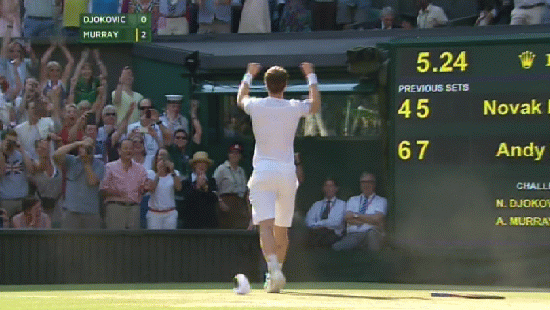 The bad: the reality that it probably can't get any better than this. I've never done anything in my life, so I'm always on a constant push toward being somebody. For Andy, it's all downhill. And that path down, while higher than all of our highs, is still a very clear downward trajectory.
Depressed yet? You should be, because this is the second and final year Andy Murray will be in this bracket. Unless, somehow, he becomes (1) an astronaut, or (2) the new Pope. Snapchat didn't win this round. Andy just lost. Because he reached the mountaintop, which is ultimately the end of me, and probably you, truly caring about Andy Murray.
Emojis (7) vs. the Pope (2): Emojis blew up in 2013. Some would call it "mainstream," and others, "selling out," depending on which set you rep. The word was added to the Oxford English Dictionary, it was the medium for entire articles, and it became an expression of art. When one of the coproducers of New York's Emoji Art and Design Show, Lindsey Weber, was told that her medium was facing Pope Francis in the first round, her response was
Solid argument, but just not enough to sway me toward thinking emojis somehow had a better year than the Pope. Because, lest we forget, Francis became Pope in 2013, an achievement enough in itself for advancement, but then he additionally ended up being the best guy ever, if you're someone that really enjoys human rights and equality for all.
Speaking of equality, there's still no black person emoji. So there's that.
This is probably the blowout of the first round. And we haven't even started talking about all the stuff the Pope did this year. But there's time. Trust me.
CLICK HERE FOR PART TWO

Jet Planes, Islands Region

LeBron James (1) vs. Chris Davis (8): Before discussing LeBron, just watch this 100 times:

The Blackhawks winning the Stanley Cup in 17 seconds was incredible, but this — even in a non-championship game — blows it out of the water. And the great thing about it is that Chris Davis isn't necessarily doomed to the same fate as Andy Murray. Deservedly, he will be royalty in Auburn for the rest of his life, but there could be more moments. Like, for starters, in the upcoming BCS National Championship game.

But he's going up against LeBron. And LeBron is peaking on and off the court at the same time, which is an amazing thing to live through. Not only did he prove 2012 wasn't a fluke by leading his team to a second consecutive title while winning a fourth MVP award, he got married, joyously hug-tackled a fan at half court, and his commercials with his family (or the entire city of Miami) are actually getting better. Between Nike and Samsung, he's becoming a hybrid of Rocky and a 6-foot-9 Cliff Huxtable. He truly had his "Be Like Mike" moment this year, and with the Heat now in a very real hunt for the three-peat, he's — you know — almost really close to being like Mike.

LeBron made it to the Elite 8 last year, and that was before he had another year of doing everything even better. So things are looking great for him. Chris, despite getting the boot, know that the guy who just beat you probably knows who you are now. So, congrats on that.

Peyton Manning (5) vs. Spotify Premium (4): Peyton came into 2013 hot, leading his new team, the Denver Broncos, into the playoffs in his first season back from injury. But then they lost to the Baltimore Ravens in double overtime. His 2013 response? Throwing seven touchdowns in the regular-season opener — against the Baltimore Ravens — in a blowout, and then leading his team to the best record in the league (through Week 16), having a probable MVP season, regaining the single-season touchdown record, and being named the Sports Illustrated "Sportsman of the Year."

Going against this guy is the version of Spotify you have to pay for. Last year, Spotify (the company) made the bracket, but after another year with the must-have service, I realized that there's nothing worse than non-premium Spotify. It's almost worse than not having access to music. We all have that friend that has regular Spotify and turns on music at their house and the vibe gets nice and then there's a 30-second ad for Dial Soap or something. (I say "or something" because I wouldn't know anything about this junior varsity version of musical playback.)

Basically, Spotify Premium is great. But at the end of the day, iTunes got the new Beyoncé album, causing me to rediscover iTunes, so there's no way Spotify can advance. That's just the way rules work. So Old Manning River is on to the next round. To face LeBron James.

Grand Theft Auto V (3) vs. the Harlem Shake (6): Sure, only a handful of people go platinum these days, but video games are doing just fine. Especially the ones whose titles begin with "Grand Theft Auto," with this year's fifth edition resulting in $800 million in worldwide revenue. In the first 24 hours. This is insane, considering the previous one-day record was set by 2012's Call of Duty: Black Ops 2. And it made $300 million less in its first 24 hours.

Going up against this phenomenon is another of the year's sensations: making videos to Baauer's "Harlem Shake." Like a Vine (six seconds) or an Instagram video (15 seconds), all it took was 31 seconds to join the craze that was the Harlem Shake. And for a period of time, if you were any type of collective (team, office, college class, news crew, wedding party, etc.), you were getting in on the action. Even though a personal goal was to make it through this entire bracket without using this term, it was hands-down the viral craze of the year. I know it seems ages ago, but do you remember the mad dash that took place to make these videos? With everyone in a full, unspoken understanding that it would die out by the first of spring?

And, of course, because it was 2013, it wasn't simply a craze. It was also a deeper topic, seeing as it wasn't the first thing called "the Harlem Shake," and with each passing day of it sweeping the nation, some felt as if the original name was being co-opted. Because, quite honestly, it was. I think they called it "cultural appropriation" or something.

GTA V made a lot of money, especially when compared to the cut Baauer probably didn't get for accidentally being behind the here-now, gone-tomorrow sensation of the year. But you can't discuss the first quarter of this year without Baauer's song and the 31-second clips that followed. And for that, like it or not, it must advance. IT MUST.

Selfies (7) vs. Serena Williams (2): Look at the president of the United States of America. JUST LOOK AT HIM.
How did we get to this point? I remember the old days, when it was commonplace to mock someone who took a picture of themselves, with their arms always slightly gracing the edges of the frame, the entire process signaling that the person had no friends to take pictures for them. That feels like ages ago, because now it's the thing to do. Yes, even at Nelson Mandela's memorial service.

Continuing with this point, I really don't know how we got to a point where the act of taking a picture of yourself beats the AP Female Athlete of the Year, a woman who continues to dominate her sport, winning when she feels like it and having another minimum two-Slam year (her sixth). But we're here. Sorry, Serena. But, at the same time, you understand.
Sweet 16

Gold Teeth, Grey Goose Region

Miley Cyrus (1) vs. Macklemore (4): This is some people's 2013 nightmare. That's why it is the perfect matchup. The entire year consisted of both artists gaining in popularity while the force denouncing their existence in particular genres grew in strength. They were like the prom king and queen of the 2013 cultural appropriation thinkpiece, with Miley's centered around her newfound role as the star of Mike WiLL's hip-hopera and Macklemore's being twofold: the most popular rapper in America and music's new face of LGBT equality.

With such similar 2013 trajectories, it's hard to find a clear winner between the two. But there's one piece of luck that Miley enjoyed that Macklemore couldn't compete with. Her name sounds just like the undisputed drug of the year, "Molly." And boy, did that ever come in handy over the course of the past 12 months. There's the "dancing with Molly" lyric from "We Can't Stop" (that sounds just like "Miley" at first listen), as well as the foundation of an entire Migos song, titled (of course) "Hannah Montana":
Maybe if "Cracklemore" had caught on, he would have had a chance. But it didn't. So Miley wins. Again. I'm sorry, America.

Scandal (6) vs. Kanye West (2): Scandal is awesome television. But take this into consideration: On not one but two occasions this year, Kanye West had legitimate late-night television moments. And not the kind to be caught on Hulu the next morning. Moments that needed to be seen in real time, almost as if these were the days before the Internet.

He made people stay in and actually watch Saturday Night Live on a Saturday night, just to see what'd he do. That night in May, the public got very unpolished versions of "New Slaves" and "Black Skinhead," pre-Yeezus, and, across the board, most people either didn't like it or didn't get it. Fast-forward seven months later, and they're two of the most critically acclaimed songs of the year, part of the most talked-about album of 2013.

And then there was Kanye vs. Kimmel. Again, there was no catching it the next morning. Because Kanye is so clearly about moments, in this back-and-forth he did not fail to give us a multitude of them. No one else can currently do this to the masses, in the sense of bringing people's lives to a standstill.

In 2013, it seemed like the public was split in half, either wanting him to succeed or wanting him to fail. But either way, we were tuned in.

So Kanye advances, purely on the grounds of being a better television show than Scandal. And just like that we have an Elite 8 appearance for Mr. West without even getting into his album. Or his family. Or his building projections. Or his speeches. Or his tour. Or his Confederate flags.

Bloodstains, Ball Gowns Region

Cultural Appropriation (8) vs. Netflix (5): Speaking of Kanye's Confederate flag, here's one of the Yeezus pop-up shops:
This is how far cultural appropriation got in 2013. While the Mileys and Macklemores of the world were stuck in this world of being critiqued for "appropriation," Kanye was out here attempting "reappropriation." While some spent the year being accused of thievery, Kanye claimed he was forcibly taking back a symbol and making it his own.

And to think, there was a time (last year) when one of America's foremost issues was "not talking about race enough." Seems laughable now. Netflix killed it this year, but it didn't hit every pocket of society the way this once-whispered concept did. And for that, the bracket continues to be a heady, academia-rich experience and cultural appropriation moves on.

Instagram (3) vs. Vine (2): On paper, this is the toughest battle of the round, but there's actually a really simple way to crown a winner. Vine was hot and then Instagram released its video version, which seemed like the six-second app's death knell. Because it should have been. But it wasn't. Because Vine is still alive and well.

Survival (and luck) is what advances Vine past Instagram. Nothing more.

Cristal, Maybach Region

Beyoncé (1) vs. the Breaking Bad Finale (4): I think this may be my favorite GIF of the year, because it's so much more effective than a series of words.
She let everyone have their moments all year, and then came through and reclaimed her throne. It's like when Jordan allowed the Rockets to win two championships in the '90s. More than anything, it's a really kind gesture. But now that she's back, feel free to exit alongside these still-lit candles.

Breaking Bad had the nation locked in for a significant portion of 2013. And "length of time spent enrapturing" is certainly an important aspect of winning. But there's something about coming out of nowhere, pulling the impossible (a secret album), and having it not only be successful but also perhaps one's best work to date that's hard to beat. It's not impossible to beat, but it's hard. Too hard, in fact, for Breaking Bad. Bey, how do you feel about this win?
General indifference? I get that. But what if I told you there's a good chance you're going up against the Pope in the next round?
THERE'S MY GIRL. Let's just see if the Pope can beat Snapchat.

Snapchat (6) vs. the Pope (2): When you stumble into a Sweet 16 berth, it's not great for your future to go up against Pope Francis. He really is the Best Man of Ev'ry Holiday. He's like real-life Upworthy. I'm not going to spend many words on why the Pope deserves to best Snapchat, because it's insulting to God. Honestly, the only person who would have a good rationale for Snapchat's advancement would be the Pope himself, who would probably see the app as a way of "bringing people together without taking up so much phone storage space." But no, not even you, Francis, can argue your way out of this win.

YOU MUST FACE BEYONCÉ. IT MUST BE DONE. AND IN TIME, IT WILL BE DONE.

Jet Planes, Islands Region

LeBron James (1) vs. Peyton Manning (5): And here we are, the two final athletes in the bracket, going head-to-head. I love the idea of Peyton trying to cross over LeBron or LeBron dropping back and hitting Peyton on a slant route. Unfortunately, neither of those dreams has anything to do with one of these men advancing. What is crucial about both is that it's really beginning to feel like a privilege to watch them separate themselves from their peers in real time. Heat and Broncos games are clinics, with the leaders each seemingly playing a different game from their teammates and opponents.

But at the end, like most things, it comes down to winning. And in 2013, LeBron won (again) and Peyton didn't. But he could, come next February. Unfortunately for Peyton's lifeline in the bracket, February 2014 is not a part of 2013. So it doesn't matter. Mr. St. Vincent–St. Mary Class of 2003, on to the Elite 8 for a second straight year. Don't worry about Peyton, though; he'll be back in the bracket as a congressman in three to five years.

The Harlem Shake (6) vs. Selfies (7): This is a great matchup, because neither is cool but some of our coolest humans have fallen into the trap of both. Case in point: CHRISTOPHER BOSH.

Exhibit A: BOSH SELFIE
Exhibit B: BOSH SHAKE
So it's a simple question: Which Bosh is the #BestBosh? In the selfie, it's almost as if Christopher saw himself for the first time and panicked. But when it's time to get goofy and Harlem Shake, Bosh instantly becomes himself, a clown in a cowboy hat that carries a boom box and wears a baby-blue robe. If you're not convinced that is the #BestBosh, you probably need to get your eyes checked (served).

I know we've all tried to pretend like the Harlem Shake 2.0 didn't happen, but it did. And, whether you loved it or were annoyed by it or hated it, for a moment you cared that it existed. For that (and #BestBosh), it rolls on.
Elite 8

Gold Teeth, Grey Goose Region

Miley Cyrus (1) vs. Kanye West (2): At times, they felt like the year's two biggest publicity stunts. But with every passing month, it became clear there was something behind Kanye's "rants" (a word, rudely redefined in 2013 as "the act of Kanye West saying things in such a way that it's easy to bill him as crazy"), whereas with Miley, the stunt-ness only became more apparent as the year progressed. In terms of being topics of conversation, few people could best Miley in 2013 — but Kanye West is one of those few people. And, on top of that, there's Yeezus and then there's Bangerz. So that pretty much does it for Miley.

Bloodstains, Ball Gowns Region

Cultural Appropriation (8) vs. Vine (2): Before jumping into more reasons that cultural appropriation mattered in 2013, it's time to finally talk about one of the saviors of Vine, an overweight little black boy named TerRio.

These were simpler times. Back when it was just Vines of him dancing, seemingly enjoying his childhood. But then, really quickly, he became Honey Boo Boo Black and ended up the unofficial puppet of the Internet. And then, even more quickly, he became the equivalent of a sideshow freak in real life. Like when I took this picture of him in Washington, D.C., outside a club at 2 a.m.
He looked like he just wanted to go home. You know, because it was 2 a.m. and he was surrounded by drunk adults screaming, "Oooh, kill 'em!" and, at the time, he was 6 years old. A star being born, indeed.

The good thing about Vine is that it became a medium that expanded beyond the simple sharing of videos. Its transformation into a star-making platform is what helped it survive the Instagram attack. It is a shame, however, that perhaps the platform's brightest star is also the most exploited second grader in America. This isn't Vine's fault, it's just a reality, and something I'll always link to the app.

And that's all I think I ever have to say about TerRio.

SPEAKING OF EXPLOITATION, let's get back to cultural appropriation. In November, the Huffington Post ran a piece titled "Cultural Appropriation 101, Featuring Geisha Katy Perry And The Great Wave Of Asian Influence." And in this piece were seven subheads to help guide the reader: "What exactly is cultural appropriation?" "Is it always racist?" "So, Miley Cyrus' VMAs performance was, like, definitely a steaming hot plate of racism?" "What about Selena Gomez, when she wore that bindi for 'Come And Get It'?" "Is it ever OK to borrow from other cultures?" "You really haven't answered the main question here. Was Katy Perry racist or not?!" and "But I saw 'Part Of Me' and Katy Perry is so nice. There's no way she was trying to reinforce stereotypes!"

Reading something like this, you'd think cultural appropriation launched at the same time as Uber. But it didn't. It has actually been around for a bit. Like, a forever bit. But this is the year the seal finally broke. And for that, it continues to advance, now into the Final Four.

Cristal, Maybach Region

Beyoncé (1) vs. the Pope (2): This is a balanced 2013 matchup, because both people bring pride to their ilk. Even thought I lack a strong affiliation to either group, it's still quite apparent to me that it's an exciting time to be a woman, because of Beyoncé, and a Catholic, because of Pope Francis. And the sheer reach both have is insane:

Beyoncé-related Twitter mentions, around the world, once the album dropped:
Three million people gathering to hear Pope Francis celebrate Mass in Rio de Janeiro:
So yeah. They're both known. But ultimately, Bey's year doesn't stack up with the Pope's when it comes to getting stuff done. He's making statements on the regular that are changing the face of what it means to be religious and tolerant. Like saying "Who am I to judge?" with regard to those who are gay. And saying atheists "should be seen as good people if they do good." And speaking on the cooperation between Christians and Muslims. And then, when bored of attempting to direct more than one billion humans down a virtuous path, he auctions his motorcycle for the homeless, raises awareness for the Amazon rain forest, occasionally loses the papal garb and roams the streets dressed like a normal priest to feed the homeless, AND TAKES SELFIES.
I take back some of what I said about selfies, because this is a great moment. But I'm glad it's not Francis's phone. I think that's a fair thing to say.

Given what he did, it feels a bit like 2008 Obama. Yeah, I think that's why I like him. And that, among everything else on his lengthy nine-month résumé, is why he gets the best of Beyoncé and moves on.

Yoncé, you just lost to the Pope. Any final thoughts? Are you devastated?
BEYONCÉ I'M SO SORRY I'M SO SORRY PLEASE FORGIVE ME.
Thanks.

Jet Planes, Islands Region

LeBron James (1) vs. the Harlem Shake (6): The reason this is easy is because LeBron was crucial to the years of both LeBron and the Harlem Shake. Easily one of the most tolerable (bordering on enjoyable) versions of the dance was the Miami Heat team version, with #OperationWowLeBronIsReallyLikable in full effect with his behavior in the video.

There's a Harlem Shake phenomenon without LeBron and his teammates, but it doesn't resonate as much, to as many people, without it. So, with ease, LeBron eurosteps into the Final Four.
Final Four

Kanye West (2) vs. the Pope (2)

This is a rough one, and not because it's Yeezus vs. an actual religious figure, but because I don't really want either of them to advance. My hesitations about Kanye are based in keeping his ego in check, and hesitations about Pope Francis are purely because this is his rookie campaign. Who knows, maybe our guy Frank is just a better dressed, more socially conscious Jeff Francoeur, showing up a third of the way through the year, convincing the public he's the next big thing, ultimately getting the cover-boy treatment, and then A-Town Vatican Stomping into mediocrity. Just look at the similarities:
The Pope's Time "Person of the Year" cover might as well have said "Pope Rookie FRANCIS Is Off to an Impossibly Hot Start. CAN ANYONE BE THIS GOOD?" Yes, I want to celebrate the man and all that he's doing, but I'm invested in him doing this for a while. Basically, I need this Pope to help save humanity from itself. And to ensure that, we can't celebrate too early. Because (spoiler alert) the answer to "Can anyone be this good?" with regard to Jeff Francoeur was "Yes, everyone can." I won't let that happen to Pope Francis. I know how bad he wanted to win this, and his street team was persistent as all get-out, but not this year. Not yet.

You're welcome, Kanye West. But don't celebrate too extravagantly. Because, at the end of the day, you're advancing purely on the basis of me trying to save the human race. From Jeff Francoeur.

Cultural Appropriation (8) vs. LeBron James (1)

There are many baseless comparison between LeBron James and Michael Jordan, but one that sticks is that they're really just basketball players. Even as the most popular athlete on earth, Jordan never really crossed that line into cultural commentator like an Ali. For now, LeBron's the same way. And, for now, that's fine. But when you limit yourself to just your field, there's ultimately a ceiling.

That ceiling is apparent when you pit LeBron against a concept. Because concepts can encompass multiple individuals. And actions. And, potentially, other concepts. With the rare exception, in 2013, when you're discussing LeBron, you're talking about sports. Nothing more. With something like cultural appropriation, sports are part of the equation, as are music, clothing, film, race, ethnicity, and sexual orientation, among others. The scope is larger, and in 2013, its impact was felt throughout society in a way that LeBron simply could not compete with. But again, that's for now.
Championship

Kanye West (2) vs. Cultural Appropriation (8)

****GRAND CHAMPION****
Why?

2013 was incredible, because it played out exactly how I hoped it would. Week in and week out, I would cycle between being insulted, impressed, shocked, dumbfounded, and enlightened by either someone's behavior or someone's critique of said behavior. And, ultimately, I loved it. I can't think of a messier year in my lifetime, in the sense that people were existing with an almost reckless abandon, with discussions previously too taboo to breach exploding everywhere.

The idea of cultural appropriation can mean myriad things, but the rocket fuel behind its rise in 2013 was the question of how we talk about and react to race (and other oft-polarizing issues) in mixed settings. Cultural appropriation has been occurring forever, but it has been long addressed in homogenous silos. In 2013, that changed. We all saw Miley's transformation in 2013 and felt required to talk about it. Kanye West forced discussions of race on everyone, and in turn became the most relevant, polarizing, and discussed artist of his generation. And Macklemore's existence alon