The Raptors had a lot of legitimate reasons for trading Rudy Gay — his bloated salary, his inefficient game, and the difficulty of planning the franchise's path without knowing whether Gay would exercise his mammoth $19.3 million player option for next season. But they also understood the possibility that flipping the team's offensive centerpiece for rotation flotsam could send the Raptors into chaos — and into a top-five spot in the most anticipated lottery since 2003. It was not a coincidence that Toronto engaged the Knicks in Kyle Lowry trade talks just days after sending Gay to the reaching Kings.
The immediacy of the Lowry talks also revealed two truths that will define the next six weeks of Raptordom:
1. The market for Lowry, and whatever other veteran pieces the Raptors might wish to slough off, might not be as robust as the team had hoped. Tanking is painful on its own, and it's especially tough this season, with so many miserable teams at the bottom of the standings. Tanking can bring a double blow if the process includes selling off talent at a discount rate simply for the sake of getting worse without any guarantees in the end. Real talent has value; knowingly wasting that value hurts and comes with a cost.
2. The Gay trade might have made the Raptors better — an outcome that was not hard to predict. At the time of the trade, Gay was poisoning Toronto with a toxic and nearly unprecedented combination of volume shooting and bricklaying. Almost any team would get better by excising a player hogging possessions at Iversonian levels and shooting 38 percent.1 The Raptors added four useful rotation players, three of whom filled in positions where the team had minimal NBA-level talent: backup big man and backup point guard.
Not even the most cockeyed Raptor optimists could have expected this: Toronto is 7-3 since the trade, with road wins over Dallas and Oklahoma City and a point differential in that stretch that would rank just behind Portland's very strong overall mark. Two of the three post-Gay losses came against San Antonio, and the Raps didn't yet have the Kings' trade bounty for the first of those games. The Raps now sit atop the embarrassing Atlantic Division with a content group of players, a fun, whirring offense, and the toughest schedule to date of any Eastern Conference team.
"You can sink and drown, or you can float," DeMar DeRozan explained to Grantland over the weekend in Toronto while discussing his reaction to the trade. "And we out here like Michael Phelps."
Toronto has scored 105.8 points per 100 possessions since dealing Gay, nearly five points better than it managed with a Rudy-centric offense.2 Toronto is flinging the ball from side to side, one pick-and-roll bleeding into the next on the opposite wing, bending opposing defenses until an opening emerges. The Raptors are passing the ball 30 more times per game since the trade, per SportVU data provided to Grantland, and shooting about three more 3-pointers — an intended benefit of replacing Gay in the starting lineup with Terrence Ross. "The ball is just constantly moving," DeRozan says. "We don't care who scores, or who shoots the ball. Masai [Ujiri, the team's GM] made the best decision for us to win. You hate to see a close friend go, but he made a good decision. It's paying off now."
Dwane Casey, the Raps head coach, chuckles at the idea that Toronto has dramatically changed its offense since the Gay trade. "All the same sets," he says, smiling, though the equation has tilted a bit more toward the pick-and-roll.3 That has been a boon for Lowry, enjoying his best sustained stretch since his peak in Houston, and for all of Toronto's big men — especially Amir Johnson and Jonas Valanciunas. Johnson has long been a dynamic pick-and-roll finisher, and though Valanciunas is still in the early stages of learning to time his cuts to the rim, he's gotten better at ducking for little post-ups below Lowry/Johnson pick-and-rolls:
"The ball is moving," Casey tells Grantland. "Guys are playing together. Everyone is buying in. No disrespect to Rudy, but he's a different type of player."
This run has put Ujiri and the front office in an awkward position. Only two weeks ago, they were prepared to deal Lowry for future assets and dive headfirst for a top-five pick. That process may have included testing the market for DeRozan, though the Raptors are clearly growing comfortable with the idea of DeRozan as a long-term core piece. But Toronto has been winning with the kind of spirited, fun ball this city has been craving for years. And as it has done that, the rest of the tank brigade has continued to flounder around it. Milwaukee has Larry Sanders back, but the rest of the frontcourt is in shambles, O.J. Mayo is somehow a bench player, and Khris Middleton is routinely leading the team in shot attempts. Philadelphia is 6-21 since a 3-0 start. Orlando has shown spunk of late with Glen Davis back, but it's still just 10-20, a trade away from going down the drain. Utah has been better with Trey Burke, but it's still awful. The real possibility exists that neither flaming pile of basketball dung in New York City figures it out this season. Sacramento played the Spurs and Heat tough in a back-to-back, but its defense has stagnated, and it is just 3-6 since acquiring Gay.
Then there are the swing teams — Chicago, Charlotte, Detroit, Cleveland, and the Lakers, who look poised to implode with Pau Gasol ailing. Some of these teams will do better than expected; some will do worse. This is a deep draft, but you don't tank for the no. 7 pick. You tank for the no. 5 pick or better, and at 13-15 with an elite backup point guard in Greivis Vasquez, it's unclear whether trading Lowry would be enough for the Raptors to tank into the ideal range.
Add in the cost of tanking, and it's clear Ujiri and his team face a thorny choice. Getting worse isn't pain-free. It alienates a fan base that can only take so much, especially when there is nothing close to a guarantee that said losing would net Canadian proto-legend Andrew Wiggins.4 It can build bad habits among unmotivated players. It can cause friction between the coaching staff and management, which is why Casey wisely stays out of the entire discussion. "Masai is the boss," Casey says. "I'm a company guy. I've gotta go with him. I'm never going to talk about losing games on purpose. I won't even discuss it. [Management] doesn't bring it down here, but they have every right to talk about it. They have to think about the big picture. What I have to do is coach the guys we do have, and coach the heck out of them."
Ujiri understands the downsides of tanking, a strategy he explicitly avoided in guiding Denver through the post–Carmelo Anthony world. "You play ball to win," Ujiri told Grantland. "It's difficult to teach winning by losing. There is value in winning. If it comes to a point where you feel like the team is not what you felt it was, then I think you can react. But I think the team will dictate where we go."
So will the trade market. The Lowry rumors have gone silent since James Dolan, the Knicks owner, quashed a deal that would have sent a first-round pick to Toronto in exchange for Lowry. That isn't an accident. How many teams are in a position in which it makes sense for them to give up a future asset, and specifically a first-round pick, for a league-average starting point guard? Contenders are contenders precisely because they have better point guards than Lowry, or play with rosters and styles such that an upgrade at the position isn't necessary. Russell Westbrook's injury might change the calculus in Oklahoma City a bit, but Reggie Jackson is ready to start now, and the Thunder are probably good enough to ride out Westbrook's injury until after the All-Star break. Miami would love a shot at Lowry, but it's got nothing to offer. Patty Mills and Cory Joseph have played well enough that San Antonio feels solid at backup point guard now. Indiana's fine. Golden State could use the help, but it's dealt two first-rounders to Utah already, and Toney Douglas will get healthy soon.
Dallas and Washington are among the sub-contenders dying to make the playoffs that could use a boost at the backup point, but both are already out first-round picks via prior trades. Minnesota needs depth, but it owes Phoenix a first-rounder, and it already dealt its upside asset in Derrick Williams.
Acquiring below-cost talent is a huge challenge in the NBA. Lowry is a difficult character, but he's a 27-year-old legit starting point guard on a $6 million expiring deal. Johnson is a solid two-way big man on an affordable contract only partially guaranteed in the final season. Those are real, valuable assets. Lowry will be a free agent after the season, which could scare off trade suitors now, but the "attitude" issues that have dogged him at every stop will deflate the value of his next contract. Flipping an asset like that for nothing — for an outside chance at a franchise player — carries an opportunity cost that is hard to swallow. Several teams, including the Rockets most recently, have shown that careful asset accumulation can serve as an alternate road map to a franchise-level star. Tossing aside assets in exchange for a low-odds lottery play is reckless in comparison — the tanking inverse of what the Knicks have done for years, mortgaging the future for low-odds plays in the present day. The Raps might lose Lowry for nothing in free agency, but they could also re-sign him on the cheap or use him as part of a sign-and-trade.
Winning a title in the NBA generally requires a top-10 or top-15 overall player. The Raptors don't have such a player. DeRozan gets better every season, but he's 24, putting up an above-average Player Efficiency Rating for the first time in his career.5 Ross is intriguing, but he's not going to be a star. Valanciunas has the best shot of reaching franchise-player status among Toronto's young core, but he hasn't shown those kind of signs yet. (He's only 21.)
The best way to acquire such a player is to draft him, and the best way to do that is to pick at or near the top of the right draft. That's why teams still tank today. Tanking doesn't always work, but for a certain species of team and ownership group, it can be the quickest and easiest way to transform a franchise. That's why Toronto thought about it, and why it might do so again if this run turns out to be fool's gold. The wins in Dallas and Oklahoma City were impressive, but the Raptors caught Oklahoma City on a back-to-back after a draining win over the Spurs. The rest of the recent wins have come against tankers or mediocrities, including a back-to-back sweep of the sad-sack Knicks. The Raptors have also had almost perfect health the entire season; what happens if a key cog gets hurt? Are these new Raptors for real? Is anything real in the Eastern Conference?
Related: A segment of fans tends to view the NBA as a ringz-or-fail league, and following such a philosophy, suggests teams avoid 45-win above-averageness and do whatever it takes to acquire a franchise star. But the real NBA doesn't work that way. Franchise players by definition are a scarce resource. A team that wins 45 to 50 games every season, enjoying a deep playoff run here and there, can be considered a huge success, depending on attendance figures and ownership priorities. Ujiri presided over just such a team in Denver, and he created believers in the possibility that a starless team, constructed the right way, could find itself in the conference finals given some luck with matchups and injuries.
But those post-Melo teams never got by the first round, and Ujiri was open during his tenure in Denver about his desire to land a top-10 overall star — either through the internal development of one, or by trading a pile of assets for one in a James Harden/Kevin Garnett–style deal. As we approach the trade deadline, Ujiri will evaluate all these factors in setting a course for his new team.
The Raps play Indiana and Miami three times combined in the next 10 days, and the schedule after that eases into a series of games against the kind of average-or-worse teams Toronto must beat in order to snag the no. 4 seed and win a playoff round. The Raptors will learn a lot about themselves over that stretch, and they'll watch how the trade market evolves — in both directions. The Raptors could turn into buyers, using Ross as the linchpin to net one of the many proven veterans playing on rebuilding teams. One such veteran, Arron Afflalo, is a former Ujiri guy who plays for a team that values Ross highly, per several league sources. There are lots of other potential targets out there, though things would get much more complicated if the Raptors work to unload either Landry Fields or Steve Novak in any "buy now" trade talks.
Of any potential future-for-present trades, Ujiri would only say, "That would be tough."
Team-building is rarely easy, and Ujiri finds himself in a spot today he probably didn't anticipate a month ago. The next two months are going to be fun.
10 Things I Like and Don't Like
1. Injuries
The perception that injuries are up dramatically just isn't true, but there is something about this new set of injuries that is especially painful. The repetitive nature of some of these ailments creates the perception of a leaguewide crisis. A knee injury has cost Derrick Rose another season, Brook Lopez broke his foot again, Kobe barely got back on the court before going on the shelf, Russell Westbrook has had three surgeries in eight months on the same knee, and even Al Horford's pectoral tear is a repeat injury.
It's dangerous to speculate about causes to an uptick in injuries that might not even exist, and injuries play a huge role in determining the championship picture every season. But a pile of sequel injuries to a group of beloved players in such a short time span just plain sucks. Get well, everyone.
2. The Pacers Get Frisky
As each player on the Pacers develops a more nuanced offensive game, Frank Vogel can stretch a mostly vanilla playbook. Example: Indiana scored on four consecutive possessions using this set during its home whitewashing of Houston:
This isn't rocket science. Lots of teams run point guard/small forward pick-and-rolls with other stuff unfolding on the weak side. But it's pretty spicy for Indy, and it smartly leverages the skill set of all five Indy starters. Freeze that baby mid-play: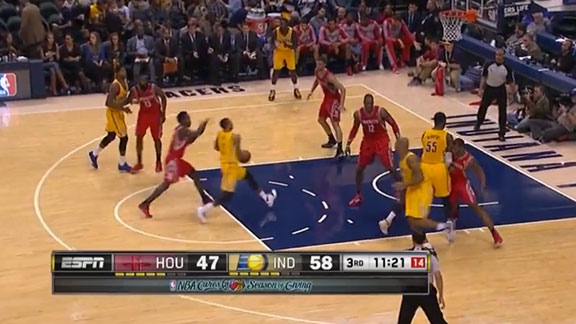 George Hill has already turned the corner into the lane, in part because James Harden, guarding Paul George, is justifiably afraid to leave George (the screener for Hill here) in order to provide any help on Hill. Chandler Parsons could dash into the lane, but he's preoccupied with the rangy Lance Stephenson, who has just cut diagonally into the corner.
Dwight Howard has gone supernova over the past month, but he's not even looking at Hill, even though Hill is about to enter his personal space. Howard is concerned about David West popping off a well-timed Roy Hibbert pick, allowing Hill to glide in unscathed. Great stuff. Watch for this one.
3. Ersan Ilyasova: Dead or Alive?
Ilyasova started slowly last season after signing his big-money contract, but this is something different. We're 30 games into this thing, and Ilyasova just hasn't found anything close to his game after dealing with a bunch of leg issues in the preseason and earlier. Nearly all of Ilyasova's value comes on the offensive end, and a huge chunk of that value comes from his elite shooting at power forward. He has been a coveted player around the league.
But holy crap. Ilyasova is shooting just 36 percent from the floor, and he has hit eight 3-pointers all season. An Ilyasova who can't shoot is a minus player, and we haven't even addressed his falloff in rebounding and free throw attempts. Let's hope we can chalk this up to lingering injury issues, and that the real Ilyasova will reappear when healthy.
4. Christmas Jerseys
I can't believe I'm saying this, but I liked them. I've transitioned on the general sleeves thing from raging hatred to grudging acceptance, a tribute to the power of the NBA and television to just beat me down with endless marketing and visual exposure.
But the Christmas jerseys were better than the standard sleeve jobs. They were glossier, and I dug the monotone silver/gray logos at the center. I still think the NBA should just go full measures on this thing and have the teams play in jerseys styled after Christmas sweaters.
5. Portland, Leveraging Mo Williams
Portland's killer offense isn't quite as killer during the minutes Williams and Damian Lillard share the floor, per NBA.com, but it's still damn good. Portland always has a ton of shooting, and Terry Stotts leverages that shooting and Williams's all-around skills in very smart ways. Take the play unfolding here against the Clippers:
Williams has just rocketed off a LaMarcus Aldridge screen on the left side and curled into the middle of the floor, ready to catch a pass from Wes Matthews at the top. Aldridge is the screener here for a reason: He's an elite midrange shooter, and if his man (DeAndre Jordan) shifts off of him to contain Williams, the little guy can just pitch the ball back to Aldridge for an open jumper.
The Clippers understand that threat. Blake Griffin, guarding Robin Lopez, has already slid off Lopez and into the center of the paint — a position from which he can rush out at Aldridge. Chris Paul, guarding Lillard in the right corner, has followed Griffin's lead by sliding in front of Griffin's man (Lopez). The Clips are on a string here, but, man, what the hell are you supposed to do?
Williams can hit that little floater if he gets by Jordan cleanly. If Griffin slides into Williams's path, Williams can just kick to Lillard in the right corner. Jamal Crawford, guarding Matthews, can crash down into Williams's driving lane, but that opens the pitch back up to Matthews, and I don't think Matthews has missed a 3-pointer yet this season. (Note: I have to check the stats on that.)
This kind of thing is just unfair.
6. Another Sponsored Phoenix 3
Only Houston attempts more 3s than Phoenix. One bad thing about that: The network that broadcasts Phoenix games has struck a deal with a sponsor I won't name to mention that sponsor every single time the Suns hit a 3-pointer. The sponsor donates $100 for every made triple, and the scripted dialogue Steve Albert, the Suns' play-by-play guy, has to read for each 3-pointer just mentions the donation — an act of kindness!
But hearing any company's name that many times during a sporting event is bound to create some kind of backlash. Once or twice is enough.
7. Nick Young Behind-the-Back Dribbles
Injuries have forced the Lakers to use Young as something like a lead ball handler, and the experience has been both exhilarating and terrifying. Young likes to use behind-the-back crossovers and step-backs to create space, but he's not polished enough with the rock to get away with that stuff consistently amid crowds. It's like watching a bad horror movie — you're worried, it's kind of gross, you don't know how it's going to end, but damn if you can change the channel. And sometimes the hero prevails!
8. Mediocre Teams Not Staggering
Teams will inevitably have to get through minutes in which they don't have an offensive centerpiece on the floor. Not every team can have a prime Manu Ginobili or Jason Terry and the guts, depth, and creativity to bring that kind of player off the bench. The best players start the game, and though they don't always come out at the same time, most teams sit their core starters together for a few minutes here and there.
It doesn't have to be that way, of course. The Mavericks juggle things to minimize the pain of Dirk Nowitzki's rest periods, primarily by subbing him out much earlier than teams typically remove their fulcrum players. The Wolves often make sure to have either Kevin Love or Nikola Pekovic on the floor, though the Wolves' shaky bench drives that as much as any Rick Adelman philosophy.
Two bits of non-staggering that have been grating of late: Detroit playing segments without any of the Josh Smith–Andre Drummond–Greg Monroe trio on the floor, and the reinvented Kings going stretches with all three of Isaiah Thomas, DeMarcus Cousins, and Rudy Gay on the bench. The Detroit stretches were happening in some games even before the Josh Smith–Maurice Cheeks benching tiff over the weekend, and they are especially puzzling. A roster featuring three quality big men begs for constant staggering. Detroit has actually been a net positive in the 93 minutes all three have been off the court, thanks mostly to improvement in its poor defense, but the whole thing strikes me as a wasted chance.
The Kings have been about even since the Gay trade in the minutes all three of their key trio has sat, and talent-bereft units can manage neutrality against opposing second units. But neutrality is probably the best that can come from handing the keys to Jimmer Fredette and a cast of backups.
9. The Hawks' Ceaseless Organ
The Hawks' in-arena experience has gotten raves before in this space — for the terrifying screeching-hawk sound effect, the accelerating shot clock countdown for opponents, and other goodies. I'll miss the Paul Simon "You Can Call Me Al" horn snippet they play whenever Horford scores.
But can we just chill for a minute here or there on the organ music? That thing is playing constantly throughout Atlanta home games. One song transitions into another without any pause in between, until you want to just hit the mute button.
10. Stealing Rebounds
Nice hustle, J.J. Hickson: