The team with the American League's best record squares off against the team with this year's likely MVP and Cy Young winners. Get ready for a power-packed League Championship Series.
(First references to advanced stats are accompanied by links to definitions.)
DETROIT TIGERS VS. BOSTON RED SOX
Schedule
(All times Eastern.)
Game 1: Detroit @ Boston — Saturday, October 12, 8 p.m.
Game 2: Detroit @ Boston — Sunday, October 13, 8 p.m.
Game 3: Boston @ Detroit — Tuesday, October 15, 4 p.m.
Game 4: Boston @ Detroit — Wednesday, October 16, 8 p.m.
Game 5*: Boston @ Detroit — Thursday, October 17, 8 p.m.
Game 6*: Detroit @ Boston — Saturday, October 19, 4:30 p.m.
Game 7*: Detroit @ Boston — Sunday, October 20, 8 p.m.
(*If necessary)
Starting Rotations
Tigers
RHP Anibal Sanchez (2.57 ERA, 2.39 FIP)
RHP Max Scherzer (2.90 ERA, 2.74 FIP)
RHP Justin Verlander (3.46 ERA, 3.28 FIP)
RHP Doug Fister (3.67 ERA, 3.26 FIP)
Red Sox
LHP Jon Lester (3.75 ERA, 3.59 FIP)
RHP John Lackey (3.52 ERA, 3.86 FIP)
RHP Clay Buchholz (1.74 ERA, 2.78 FIP)
RHP Jake Peavy (4.04 ERA, 3.79 FIP)
The Tigers needing five games to knock out the A's does give the Red Sox a slight edge, in that soul-crusher Justin Verlander now won't start until Game 3. Detroit's consolation prize is to start the American League's ERA and FIP leader in Game 1, and the Cy Young front-runner in Game 2.
Sanchez and Scherzer both wield terrific sliders, which should make for an intriguing matchup against the Red Sox. Sliders are something of a choice of course, and pitchers who can't throw one effectively probably won't bother — thus making leaguewide numbers against that pitch lower than, say, against fastballs. Even with that caveat, opposing hitters managed a microscopic .128/.162/.182 line against Scherzer's slider, the second-best performance by any qualified starter with that pitch (only the indomitable Jose Fernandez fared better). Sanchez's slider was also filthy, with hitters going .191/.223/.277 against it (12th-best among MLB's 81 qualified starters this year). The best-hitting team against that pitch this year was actually … the Tigers. Placing second — at least against right-handed pitchers' sliders — were the Sox, who hit .256/.304/.421.
Boston's starters posted a respectable 3.65 ERA against Rays hitters in the ALCS. But it was hardly smooth sailing. Lackey looked shaky throughout his Game 2 assignment, exiting after 5⅓ with four runs allowed on seven hits, along with three walks. Buchholz gutted his way through six innings in Game 3, but appeared to be showing signs of fatigue as early as the fourth; he ceded three runs and 10 baserunners all told. It's entirely possible that these were one-game aberrations. It's also possible that Buchholz is still working on his stamina after sitting on the disabled list for more than three months, and that Lackey's late-season form (5.33 ERA in his final four starts before his Game 2 clunker, albeit with one gem sandwiched among those rough outings) is a better predictor of future results than his excellent early-season performance.
If you're looking for a pitcher-hitter matchup that could play a big role in this series, consider Lackey's numbers this year against right-handed hitters. Kevin Correia, Dan Haren, and Lackey's teammate Ryan Dempster were the only qualified righty starters to allow a higher slugging percentage against right-handed hitters than Lackey's .463. They absolutely pulverized his fastball, slugging .555 against it — also the fourth-worst mark among all righty starters against righty hitters. We'll expand on what that could mean in the lineups section below.
Lineups
Tigers
1. CF Austin Jackson (R) — .272/.337/.417, 107 wRC+
2. RF Torii Hunter (R) — .304/.334/.465, 117 wRC+
3. 3B Miguel Cabrera (R) — .348/.442/.636, 192 wRC+
4. 1B Prince Fielder (L) — .279/.362/.457, 125 wRC+
5. DH Victor Martinez (S) — .301/.355/.430, 112 wRC+
6. LF Jhonny Peralta (R) — .303/.358/.457, 123 wRC+
7. 2B Omar Infante (R) — .318/.345/.450, 117 wRC+
8. C Alex Avila (L) — .227/.317/.376, 92 wRC+
9. SS Jose Iglesias (R) — .259/.306/.348, 102 wRC+
Red Sox
1. CF Jacoby Ellsbury (L) — .298/.355/.426, 113 wRC+
2. RF Shane Victorino (R) — .294/.351/.451, 119 wRC+
3. 2B Dustin Pedroia (R) — .301/.372/.415, 115 wRC+
4. DH David Ortiz (L) — .309/.395/.564, 152 wRC+
5. 1B Mike Napoli (R) — .259/.360/.482, 129 wRC+
6. LF Daniel Nava (S) — .303/.385/.445, 128 wRC+
7. C Jarrod Saltalamacchia (S) — .273/.338/.466, 117 wRC+
8. SS Stephen Drew (L) — .253/.333/.443, 109 wRC+
9. 3B Will Middlebrooks (R) — .227/.271/.425, 83 wRC+
We mentioned Lackey's struggles on fastballs against right-handed hitters. Now, check this out:
Given that Jackson, Hunter, and Cabrera hit 1-2-3 in Detroit's order, and that Lackey will have the Green Monster behind him for both his Game 2 and Game 6 (if necessary) assignments, this could get interesting. Cabrera has feasted on inside pitches this year, though his abdominal and groin injuries could limit his ability to pull inside heat with authority; he did belt a homer over the left-field wall against A's hard-throwing righty Sonny Gray in Thursday night's ALDS Game 5. But that was also just his third extra-base hit since late August. Jackson's heat map vs. righties' fastballs, on the other hand, suggests that we might see some wall ball from him, especially against Lackey.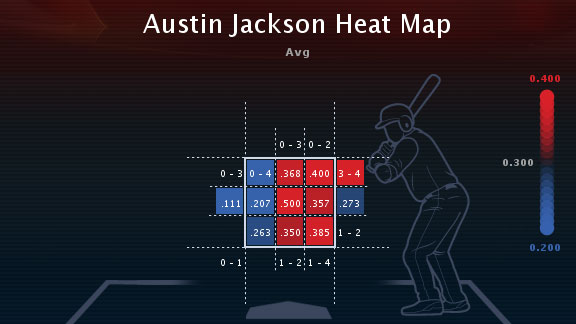 Elsewhere, keep an eye on Jim Leyland's usage of Peralta. The Tigers manager isn't quite willing to go as far as moving Cabrera from third to DH to improve the team's defense. But he has shown that he's willing to adjust according to certain matchups. In Game 5 against the A's, Leyland moved Peralta away from left field to shortstop. Slotting Don Kelly in left offered a big upgrade over Peralta, who has looked awful at that position in limited reps. Pulling the slick-fielding Igelsias out of the lineup might seem to negate that advantage. But if you're going to make that move, doing so with a pitcher like Verlander on the mound makes sense. A strikeout- and fly out–heavy pitcher, Verlander's ground ball percentage was the sixth-lowest for any starter this year. Combine those tendencies with the Sox inserting more lefty hitters into the lineup when a righty like Verlander pitches — thus making grounders to the right side more likely than those to short or third — and you can live without Iglesias's killer-glove/weak-bat combination.
Boston's lineup is balanced and beastly, offering no real weaknesses. Middlebrooks's season-long numbers were ugly, granted. But after looking lost at the plate early in the season, Middlebrooks was sent down to Triple-A, then returned and fared a lot better: From August 10 until the end of the year, he hit .276/.329/.476 with eight homers in 145 at-bats. We won't have to sweat any second-guessing at shortstop, since the Tigers will roll with four righty starters, thus putting Drew's .196/.246/.340 line against left-handers, and the decision on whether to start Xander Bogaerts in his stead, out of play.
Victorino has only one extra-base hit in his past 34 at-bats since September 20; some of that might be a sample-size issue, though his injured thumb could be hurting him too. Still, Victorino laced six singles in 14 at-bats in the ALDS, and also got hit four times thanks to a right-handed batting stance that plants both his elbow and knee in the strike zone when he lunges at a pitch. Boston's got more than enough pop in the middle of the order to accommodate a no. 2 hitter who gets on base but doesn't go deep.
Bullpens
Tigers
Closer: RHP Joaquin Benoit (2.01 ERA, 2.87 FIP)
LHP Drew Smyly (2.37 ERA, 2.31 FIP)
RHP Jose Veras (3.20 ERA, 4.12 FIP)
RHP Al Alburquerque (4.59 ERA, 3.72 FIP)
LHP Jose Alvarez (5.82 ERA, 5.19 FIP)
Red Sox
Closer: RHP Koji Uehara (1.09 ERA, 1.61 FIP)
RHP Junichi Tazawa (3.16 ERA, 3.22 FIP)
LHP Craig Breslow (1.81 ERA, 3.60 FIP)
RHP Brandon Workman (4.97 ERA, 3.43 FIP)
LHP Franklin Morales (4.62 ERA, 4.55 FIP)
Leyland called on Scherzer to pitch two high-pressure innings of relief in an elimination game Tuesday night, and there's every reason to believe he'll try something similar in this series if it goes long. After repeated early-season bullpen breakdowns, the Tigers punted Jose Valverde from the closer job and the roster, and stopped giving high-leverage chances to Phil Coke, who is best used as a one-out lefty specialist. Benoit and Smyly took over the vast majority of late-inning, close-game chances, and Detroit got a lot better at holding leads. Still, this isn't a deep bullpen by any means. So if any of the Tigers' best-in-baseball top four starters get knocked out in the fifth or sixth inning, Leyland might be tempted to try more starter-in-relief shenanigans.
The Red Sox weren't known for their relief depth during the regular season either. But their setup men were spectacular in the ALDS, blowing up Rays hitters. Breslow struck out Tampa Bay's 3-4-5-6 hitters in order in Game 4, giving the Sox a chance to stage a comeback and seize the lead, one they would never relinquish. Breslow fired 3⅔ scoreless innings in that series, while Tazawa's slider looked good as the righty eighth-inning guy tossed 2⅓ scoreless frames with two strikeouts and just a single hit allowed. Boston's starters being a little weaker than Detroit's means they might not pitch as deep into games as the Verlander-Scherzer crew, and also might not be the fire-breathing relief options that the Tigers rotation guys could be. All of which is to say, for the Red Sox to win this series, they may well need Breslow and Tazawa to come through again, so that Boston has a bridge to their dominant-against-everyone-except–Jose Lobaton closer, Koji Uehara.
The Call
First, the usual caveat: Whether it's a one-game playoff, a five-game series, or even a seven-game series, we're still dealing with such a small number of games that anything can happen. The best team doesn't always win in a playoff series. Also, you can run through a million simulations with a billion statistical angles, only to have a seemingly minor player like Breslow (or Mark Lemke, David Eckstein, and countless other unlikely heroes of playoffs past) decide the outcome, or at least play a major role.
Having said all that, we still have to make a pick, if only to ensure that an entire fan base knows where to send its hate mail and accusations of bias. If Cabrera were 100 percent, the pick here would definitely be the Tigers, whose lineup can match Boston's thump, with the added advantage of that great starting rotation. He isn't 100 percent, of course, as we've seen from the impeded weight transfer on his swing and his statue-like defense. But as ace A's beat writer Susan Slusser reported, Cabrera was hitting balls a country mile in batting practice before Game 5, then followed by swatting a Gray mid-90s, chest-high fastball out of the park — so his health might be improving. Either way, this feels like a classic ALCS in the making, with two loaded teams likely to go down to the wire. Verlander would be scheduled to start in a potential Game 7, and that'd be a hell of a task for any offense to manage, even an offense as potent as Boston's. Running through the range of outcomes here, this feels like either Boston in six or Detroit in seven. Of course, that kind of waffling won't stand. So the coin flip says … Tigers in seven.