If you're looking for a potential deciding factor in tonight's tiebreaker pitting the Texas Rangers against the Tampa Bay Rays, consider this: Game 163's rules are the same as those that govern all of September, when teams can carry as many as 40 players. And if you're looking for one player who could swing the result, consider this: Nelson Cruz is back.
The Rangers right fielder and occasional DH will return from his 50-game PED suspension, and he'll almost certainly slot into the middle of the lineup against the Rays and their lefty ace, David Price. In a lineup decimated by the downfall and then departure of Michael Young (.338/.380/.474 just two years ago), along with the exits of MVP-caliber hitter Josh Hamilton and masher Mike Napoli, Cruz was Texas's second-best hitter this season, and the next guy wasn't even close.
Against lefties, Cruz hit .290/.372/.480, also ranking among the Rangers' best options. You might argue that bringing Cruz up cold after a two-month absence is a risky move. But considering Texas resorted to starting A.J. Pierzynski at DH in a must-win game on Sunday (.286/.326/.410 vs. lefties this year, but just .262/.292/.385 for his career), you have to figure Ron Washington will stack his best healthy lefty-mashers together and hope that Alex Rios, Adrian Beltre, and Cruz can provide pop against Price. Given Price's big platoon splits (.199/.254/.283 against left-handed hitters for his career, and .242/.304/.380 against righties), how could he not? (Cruz is also 9-for-21 with three homers against Price for his career, if you're the type that gets excited about small sample sizes.)
This, then, is our educated guess at a Rangers lineup against Price:
2B Ian Kinsler
SS Elvis Andrus
RF Alex Rios
3B Adrian Beltre
DH Nelson Cruz
C Geovany Soto
1B Mitch Moreland
CF Craig Gentry
LF Leonys Martin
(SP Martin Perez)
[UPDATE: The actual Rangers lineup has been posted: Kinsler 2B, Andrus SS, Rios RF, Beltre 3B, Pierzynski C, Cruz DH, Moreland 1B, Gentry LF, Martin CF, and Perez as the starting pitcher.]
Since this is a Ron Washington–managed team, you're going to get at least one inefficiency to start the game, and maybe a tactical mistake or three once the game starts. Here, it's spotting banjo hitter Elvis Andrus second, thus interrupting a stretch in which the Rangers have their best lefty-mashers in Ian Kinsler, Rios, Beltre, and Cruz. Andrus has batted second in 114 of his 155 games this year and more or less all the time lately. He's also hitting just .272/.345/.352 against lefties in his career. Meanwhile, likely no. 8 batter Craig Gentry has posted a .288/.376/.399 line against southpaws for his career (with 17 hits in his past 36 at-bats, once again if you're the type that gets excited about small sample sizes).
With Texas going to their top starters over the weekend to make it to a tiebreaker, Martin Perez gets the start tonight. This isn't necessarily the worst fate. In his past 11 starts dating back to July 31, Perez has put up a 3.05 ERA, holding opponents to a .251/.309/.387 line. Like many of the most promising young pitchers in baseball, Perez's most effective pitch, by far, has been his changeup. Grantland's Kirk Goldsberry, who's done amazing work for us with NBA shot charts, today unveiled the first iterations of the work he'll be doing with baseball data. Below, we see how Perez's changeup doesn't really favor one location. Instead, it's an unpredictable pitch with plenty of break that confounds opposing hitters.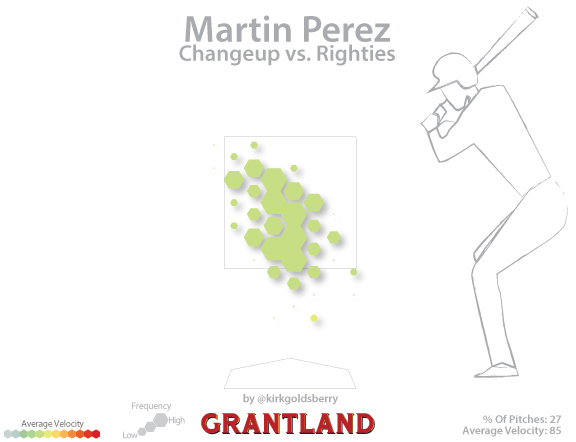 In any elimination game, you'd think that a manager would be aggressive in pulling his starter at the first sign of trouble. That goes double for a game in which Washington has access to an expanded roster, knowing he has many options at his disposal from a bullpen that has allowed just one earned run in its past 20⅔ innings and has pitched very well all year long. But if you're looking for another X factor in this game, keep an eye on Joe Nathan and Tanner Scheppers, the team's elite closer and top right-handed setup man, respectively. There aren't many drawbacks to winning seven straight games to close out the schedule … except for using your top two bullpen righties four days in a row. If the Rangers take the lead, look for Washington to lean on his two horses regardless of that heavy recent usage; this being Washington, look for Nathan to sit in dry dock if the Rangers are tied or trail late in the game. Either way, the possibility of not using those two arms or having them at less than full strength could come back to bite Texas.
---
If Major League Baseball had balanced schedules, the Rays might very well be enjoying the first of two days off before hosting the AL wild-card game. Playing 19 games against each of their AL East opponents but competing in a wild-card race divorced from divisional races, Tampa Bay had a disadvantage going up against Indians and Rangers clubs that played easier schedules. The Rays played 70 games vs. sub-.500 teams this year, vs. 74 for the Indians and 88 for the Rangers. If you're looking for a more precise measure of schedule strength, Elias Sports Bureau has you covered: Rays opponents posted a weighted winning percentage of .501 this year, vs. 490 for Cleveland and .487 for Texas. Not a huge gap by any means, but enough to make you wonder if the Rays could've won one additional game, which would've enabled them to both avoid tonight's tiebreaker and host Wednesday's game against the Indians, all else being equal. With the playoffs upon us and a longer-form take on schedules already in the books from a couple weeks ago, this will be the last time we'll cover this topic until 2014. Just know that if baseball truly cared about making the game fairer, it would implement balanced schedules, and maybe blow up the antiquated division system altogether.
At any rate, with arguably the best roster of their six-year run (the Yankees, Rays, and Cardinals are the only three teams to finish above .500 every year since 2008), Tampa Bay had plenty of chances to finish with a better record, only to blow those chances. Tied for first place as late as August 24, the Rays lost 13 of 17 games, ending their AL East title hopes and turning what seemed like a near lock for a wild-card spot into a mad dash to the finish. They lost in painful fashion, dropping 13 games this year that they'd led after seven innings. They only needed to take two out of three against a decimated Jays team last weekend to avoid tonight's do-or-die battle … and failed. Instead, Toronto smoked them on Friday and Saturday, then nearly knocked them out entirely, slashing a five-inning 7-0 lead to 7-6 by their turn in the eighth, but failing to push any more across despite loading the bases. You can make all the noise in the world about unbalanced schedules, but Tampa Bay played poorly with the season on the line after winning seven straight against the Orioles and Yankees, so here we are.
It's Price who gets the call to start the team's second of what could be three win-or-go-home games in a four-day span. In 2012, Price turned in the best season of a relatively short but already distinguished career, tossing 211 innings with a 2.56 ERA and winning the AL Cy Young award. But he struggled mightily to start this season, posting a 5.24 ERA over nine starts that could've been worse given the seven unearned runs he allowed in that span. Price's first start back after being out for almost two months with a triceps strain came against the hapless Astros, and it was just what he needed to get his season back on track — seven innings of three-hit shutout ball that included 10 strikeouts and no walks.
That start set off a streak that ranks as one of the best by any pitcher this year. In a seven-start stretch that began with that Astros outing and ended August 3 against the Giants, Price delivered a 1.57 ERA in 57⅓ innings — with a 40-to-1 strikeout-to-walk rate. (Cliff Lee struck out 54 batters and walked just one in five September starts, which is ridiculous.) Price followed that with seven innings allowing no earned runs at Dodger Stadium against a tough L.A. team. All told, Price fired 122⅔ innings over his final 17 starts of the season, striking out 98 batters, walking just 12, allowing just eight homers, and holding opponents to a line of .233/.254/.339. He has still struggled a bit at times, including a six-run blowup in Anaheim on September 5 and a five-inning, 90-pitch battle against the Orioles September 20 that was just barely enough to keep the Rays in a game they'd eventually win. But overall, the Rays have to feel they've got their ace back — more or less — with bonus games now upon us.
Price's go-to pitch is a mid-90s fastball that occasionally hits the high 90s. He once leaned very heavily on that four-seamer, trusting elite velocity and pinpoint location to get hitters out. It's still one of the most effective fastballs in the game, even with Price losing a tick or two this year. He doesn't mess around with the pitch, firing it toward the top of the strike zone or even a bit above the zone, trusting that hitters won't be able to catch up with it.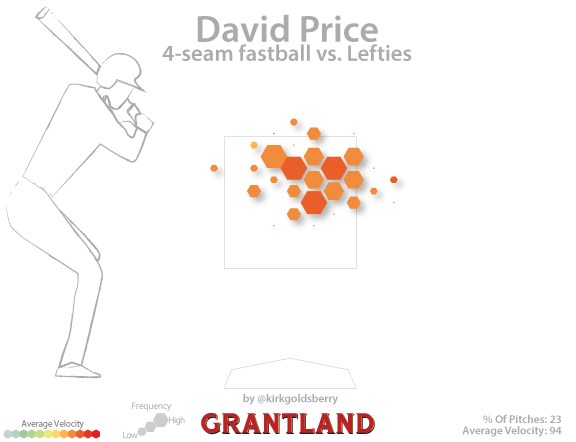 Price now throws secondary pitches more often, using a cutter, a curve, and a changeup. The change in particular has become a weapon against right-handed hitters. Price isn't perfect with the location, often leaving it elevated and near the middle of the plate rather than, say, down and on the outside corner. But Price's ability to disguise the pitch and the 10-mph drop-off in velocity from his fastball make that change one of the 10 best of its kind.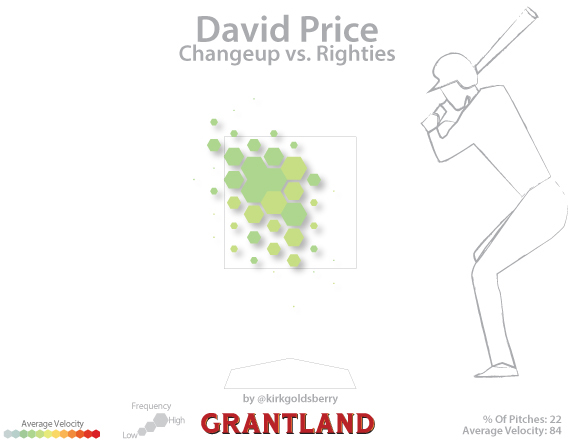 This being Joe Maddon, trying to guess a lineup against Perez and the Rangers is just one level up from a shot in the dark. Desmond Jennings's hamstring injury complicates matters, and also hurts the Rays both offensively and defensively.
2B Ben Zobrist
LF Sean Rodriguez
RF Wil Myers
3B Evan Longoria
DH Delmon Young
SS Yunel Escobar
1B James Loney
C Jose Molina
CF Sam Fuld
This was the Jennings-less lineup Maddon fielded the last time the Rays faced a lefty, Saturday against the Jays. Still, we could see changes for a couple reasons. First, mediocre Jays starter J.A. Happ plowed through that lineup, ceding just one run and five hits over 7⅓ innings. Second, Perez has actually fared better against right-handed hitters (.716 OPS) than he has against lefties (.772 OPS), owing largely to his excellent changeup. Maddon and the Rays have for years shown that they're willing to stack the lineup with same-handed hitters against pitchers with reverse splits, particularly when they're changeup specialists. Tommy Rancel of the Process Report, an excellent Rays-centric analytical blog, broke down Perez's changeup in more detail, illustrating why the Rays might decide to invoke the Danks theory (named after changeup-tossing lefty White Sox pitcher John Danks) against Perez. We could thus see James Loney bat higher in the lineup, given that he's a left-handed hitter who's been batting well lately and has also handled lefty pitching well this season. Sean Rodriguez hasn't been the lefty-smoker the Rays hoped for this year, so we could see him bat lower in the lineup or maybe even get replaced by someone like lefty-swinging outfielder David DeJesus if Maddon wants to push the same-handed hitter strategy harder.
THE CALL
Forecasts based on 162 games are challenging. Those expected to peg five- or seven-game series are much tougher. Predictions on a single game amount to little more than educated guesswork. The smallest, most unexpected occurrence could swing a one-game tiebreaker; the lesser team can and will win that kind of matchup close to half the time; and in this case we've got two teams that … well, if you have a clear read on which one is the better ballclub, you're way better at this than I am. But hell, predictions are fun, and I can appreciate the enjoyment people get in mocking pundits who pick incorrectly, especially those who don't back their favorite team.
So here you go: Price delivers a stellar performance, helping out a bullpen that has taken its lumps lately. The Rays offense then scratches out just enough runs to make their ace's performance stand up. Make the final 4-2 Rays.