You would think a man like Anaheim Ducks coach Bruce Boudreau — who is so talkative he's known to friends and former teammates as "Gabby" — would be all into social media, but until now he's never wanted to enter the fray. "It's the first time in my life I wished I had Twitter," Boudreau admitted Monday night. "Just for the next 24 hours."
It's hard to blame him. If you took all of the weirdest and most wonderful quirks comprising professional hockey — the insane personalities, the stubbornly held biases, the clumsy clamor of fans and the questionable motives of media, the greed and the grind and the getting-things-wrong and the very occasional time when a team somehow gets something right — and distilled them into their most overpowering essence, you'd wind up with the drama surrounding a looming NHL trade deadline.
The coverage of an NHL season has its circadian rhythms. Team previews. Early freakouts based on unsustainable percentages ferreted out by stat-nosed sleuths. Headline writers misusing the term "quarter pole." Excitement over HBO's 24/7. Years in review. Winter Classic snark neutralized by Winter Classic affection. All-Star predictions, All-Star snubs, All-Star ennui.
And then comes the trade deadline discussion.
So much of it is just harmless narcissistic silliness. Credible insiders botch reports while blind squirrel pranksters are occasionally (and confusingly) right. All the rumors and speculation take a big toll on the players. "Honestly, it is a distraction," said Maple Leafs goalie James Reimer. "I mean it's a huge distraction. To not be playing [Tuesday night] is almost a benefit."
TSN sets up round-the-clock coverage that rivals MSNBC on Election Day. Reporters tweet out scout sightings at games in the weeks leading up to the big day, and fans obsess over the terse lists; I obsess myself. It's like a riddle to be solved, a case to be cracked: With the trade deadline approaching, which pair of eyes is there to check out which set of hands?
We think we know, but we have no idea. Patrick Burke, a Flyers scout, half-joked: "My new favorite game is to wait for reporters to tweet the list of scouts at a game and text them to see why they're actually there." He continued, mimicking responses: " 'Only game around.' '4 in 5, closest travel.' 'Wife wanted to come to NYC.'
"All more popular than 'trade targets for the deadline," he said. " 'They have a great press meal' also popular."
Deals are made all year long, sure, but the trade deadline has a mystique. Tune in to the NHL Network this week and you're almost as likely to see b-roll of front-office executives as you are hockey highlight packages. Not that I'm complaining: General manager–related cinematography can be captivating stuff, like watching a wildlife show and glimpsing a mighty beast in its natural habitat. There are a few tried-and-true ways to capture the majesty of the GM jungle:
1. Telephoto lens–enabled footage of a guy sitting high up in a team suite or press box and peering over the top of his glasses, typically taken just as an overtime goal is being scored against his team, thanks to a mistake made by an underperforming player he controversially signed; best used to show a BELEAGUERED GM.
2. Casual clips of a guy making a phone call at some recent draft with the easy air of a man who helms a stable and well-oiled team that doesn't usually pick until the late 20s and who is there mostly to make social calls, not lottery picks, and knows it; best used to show a SAVVY GM.
3. Paparazzi-style reels of a guy walking out of one of the semiannual GM meetings and engaging in small talk with a GM from another team, probably just chitchatting about Roll Up the Rim but who knows, maybe plotting something nefarious; best used to show a WHEELING-AND-DEALING AND/OR COLLUSIVE GM.
4. A quick flash of a furtive, shifty guy striding purposefully from place to place and evading eye contact at all costs, best used to show STEVE YZERMAN.
There are numerous reasons, however, why Wednesday's 3 p.m. ET trade deadline will probably not go down in NHL history as a particularly (trans)action-packed day. (Let's just say it's a good thing we're about to have an Olympic year to give the poor TSN panelists something to discuss.) For starters, some of the more interesting potential free agents — guys like Corey Perry, Ryan Getzlaf, David Desharnais, Alexander Semin, Lubomir Visnovsky, and Ladislav Smid — were preemptively re-signed by their current teams over the past few weeks and swept off the market. Other anticipated trades have already taken place: The Penguins stocked up on Brenden Morrow, Jarome Iginla, and Douglas Murray, while the San Jose Sharks unloaded Murray and sent Michal Handzus to Chicago. Another Shark, Ryane Clowe, is one of the more discussed available players this year, which tells you a lot about the overall selection.
Under the new CBA, the salary cap will drop from $70.2 million to $64.3 million next season, a reduction that many teams will meet via the use of contract amnesties. With these big structural changes looming, some teams are choosing to stay put rather than take on new contracts or cap hits with deadline-day trades.
And then there's the issue of the NHL standings, which — as of the conclusion of Monday night's games — were an aspirational jumble. It's a little misleading to look at NHL.com and see that a team is only a couple of points back. Due to the shortened schedule — in which all games are intraconference — and the fact that some teams have more games left to play than others, even a mere point or two of already lost ground might wind up being too difficult to make up. Take the Western Conference. Here are the standings, through Monday night's games, of the fifth- through 12th-place teams:

As you can see, only one point — one measly little point! — separates Edmonton and Columbus from St. Louis. Even Dallas seems right within spitting distance. But St. Louis has played fewer games than the rest of those teams, and in actuality, the odds of the Blues making the postseason are substantially higher than they are for even the ninth-place Oilers. Here's a chart, reprinted with permission from the excellent resource Sports Club Stats, of all the Western Conference teams' odds of getting into the playoffs. See that grayish line turning up toward a 75 percent chance of success? That's the St. Louis Blues. The upward-trending light-blue line that has juuuust made its way up above the 25 percent mark? That's the Edmonton Oilers.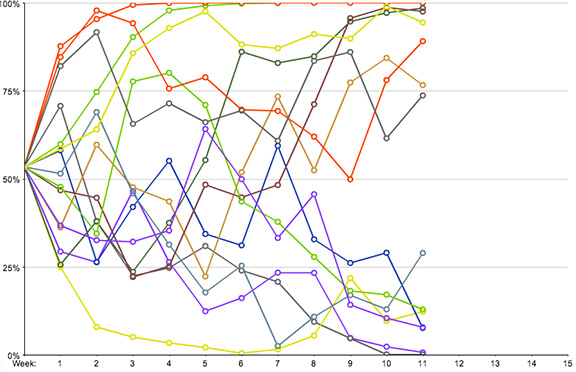 The result is that, while it's tempting for certain Western Conference teams — ahem, Columbus — to feel like they're well in the hunt for the postseason, they might want to think twice before making the kinds of acquisitive deadline moves that bubble teams typically go for. (According to Sports Club Stats, the Blue Jackets' odds are currently 12.2 percent.) On the other hand, St. Louis has probably bet appropriately in making a few deals to shore up its own likely playoff-bound team, though you wonder what it'll do now that first-string goalie Jaroslav Halak is out again with an injury. Might we see the return of Ben Bishop?
The Dallas Stars appear to have resigned themselves to the role of seller: While it seemed even as recently as this weekend that they might retain some of their top trade chips for a playoff push, a 4-0 loss to Anaheim on Monday night dashed those dreams once and for all. On Tuesday morning, the Stars traded Derek Roy to Vancouver, and a few minutes later they dealt Jaromir Jagr to the Boston Bruins (not a bad consolation prize after the team had the rug pulled out from under it during the Jarome Iginla sweepstakes last week). There's a good chance Stephane Robidas could be the next to go — though Stars fans might rather retain him than acquire the sort of mediocre return GM Joe Nieuwendyk has been getting of late. The Sharks, meanwhile, remain another interesting team to watch: Not only are they in a semicomfortable playoff position as of now, they also have players in Clowe and Dan Boyle who have garnered attention for weeks. Not a bad spot to be in.

In the East, things aren't nearly as clear-cut. Although the standings seem similar to those out West — with just two wins' worth of points separating the eighth-place Rangers from the 12th-place Flyers — the situation has more question marks. At this point, five teams are near locks for the postseason (Pittsburgh, Montreal, Boston, Toronto, and Ottawa). They are followed by three teams — the Rangers, Devils, and Jets (represented on the Sports Club Stats chart by light blue, dark blue, and yellow lines) — whose grip on the playoffs are nearly a coin toss at this point. That's followed by the suddenly ascendant Islanders (light brown), the slumping Hurricanes (orange), and the hanging-in-there Capitals (gray) — all of whom remain very much in the race. With the Islanders playing the Jets on Tuesday night and the Hurricanes facing the Caps, there's plenty of room for wild swings in the odds.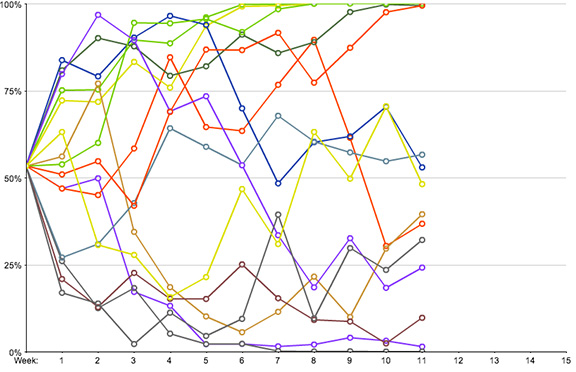 Here, too, teams like the Islanders and Caps are left having to figure out what to do at the deadline. The Islanders' youth and latest hot streak, combined with their dismal recent history, make it a pretty easy decision: try to let the kids make a run, and don't do anything drastic just yet. The Caps are in a trickier spot. They have a scorer right now in Mike Ribeiro who could fetch a nice price, and they'd potentially be selling high on him, too. But they're also a team that's better than its place in the standings, and has both Alex Ovechkin and a very real chance of climbing into the playoffs the same way it did last year. And once you make it into the playoffs, all bets are off.
It's not just teams on the fringe trying to get things done, though. During a fascinating and unexpectedly frank availability with the media last week, in which he addressed the clusterfuck that was the Iginla transaction (more on that in a sec), Bruins GM Peter Chiarelli concluded his comments by noting that "we have an ability to add players, but it's been the hardest that I've ever seen it in my years, just because of the short supply."
Still, even a poorly stocked party will ultimately get some people blackout drunk. This year's stumbling scene has been — is still being — made by Flames GM Jay Feaster, who in the span of a year has gone from making public assurances that Calgary was just a missing puzzle piece away from being a contender to saying Monday, of his own erstwhile optimism, "Maybe I wasn't as intellectually honest as I needed to be." Now you tell us! This came after he had dealt away Jarome Iginla and Jay Bouwmeester in the span of a few days to the Pittsburgh Penguins and St. Louis Blues, respectively, for a net total of a couple low first-round draft picks and some unexciting prospects. "I wasn't going to make [the same] mistake this year," Feaster explained.
As an impressionable tween, I was scarred by witnessing the ruins of the old Boston Garden mid-demolition: One whole side was torn down, but the arena's guts remained unchanged; you could still make out the words on the concession signs if you were stuck in slow-enough traffic. It was ghastly. It's similarly unsettling to witness a team's abrupt dismantling: As of a few days ago, Iginla and Bouwmeester, along with netminder Miikka Kiprusoff, were three of the Flames' biggest weight-bearing pillars. Now the first two have been knocked away and the third might be on its way down, after the Toronto Maple Leafs were granted permission to speak with Kiprusoff. The teardown just feels so sloppy and ill-considered and in-your-face.
In fairness to Feaster, both the dealt players had no-movement clauses that greatly limited Calgary's options, but that's an excuse that covers his ass far more with respect to Iginla than it does to Bouwmeester. Iginla was a pending unrestricted free agent whom the team could have lost for nothing, and Feaster had a deal lined up with Boston, which Iginla effectively ixnayed, that would have yielded a legitimate prospect in Alexander Khokhlachev. The Bouwmeester deal makes less sense. What was the rush? In a world where defensemen Douglas Murray and Robyn Regehr netted two second-round picks apiece, it's not overrating Bouwmeester to say that a higher return than the one the Flames got from St. Louis probably could have been found.
But this is how it goes, this deadline, this annual celebration of the vagaries of team chemistry and contract law that somehow combines the matter-of-fact frenzy of a trading floor with the heady anything-is-possible sprawl of a music festival. You have players referred to as assets or blue chips; the league is cleaved into buyers and sellers. You have markets being set and leverage being applied and returns being expected. Windows close and franchises go all-in. It's the language of investing — which is, really, just the language of gambling. What you also have, though, is the music, man — those dreamy imaginings about those missing pieces falling into place on the way to the promised land, and the veteran leadership, and the guys who just know how to win because they have all the finest intangibles.
But if there's anything we've learned over the past decade, it's that you can't rely on The Markets to price things right. Nor can you count on your friends to not trip out on, uh, all those awesome intangibles backstage and leave you sober and stranded. So it goes with the trade deadline: It's difficult to know what's the hype, what's the dope, and what's real life.