The Not Quite Midseason NBA Awards, Part 2
Cameron Browne/NBAE/Getty Images
I handed out midseason awards for MVP, Defensive Player of the Year, and Sixth Man of the Year on Wednesday. Now it's time to address the "other" three major awards races.
Rookie of the Year
1. Damian Lillard, Portland Trail Blazers
2. Michael Kidd-Gilchrist, Charlotte Bobcats
3. Tie: Anthony Davis, New Orleans Hornets/Andre Drummond, Detroit Pistons

This should be a closer race, though I understand the dynamic behind why Lillard would win in a landslide right now. Lillard has taken an immediate leadership role on a so-so team and embraced the heavy burden that comes with it, while Kidd-Gilchrist plays about 10 fewer minutes per game as a secondary do-everything guy on a terrible team with no expectations. Lillard has scored more often, hit a couple of high-profile clutch shots (including a dagger in New York on Tuesday), used a significantly larger portion of his team's possessions than MKG has in Charlotte, and generally looked the part of an above-average NBA starting point guard. (Note: As Ben Golliver of Blazer's Edge and SI.com noted after Lillard's buzzer-beater against the Hornets last month, Lillard has actually shot a low percentage in a tiny sample of clutch situations; he's now 2-of-8 in the last 30 seconds of games in which the scoring margin is three or fewer points, per NBA.com.)
Lillard's best assets so far are his above-average 3-point shooting and general poise, and that combination of skills is a very good foundation for a point guard in a pick-and-roll league.
But, my god, has Lillard been awful defensively. Just about any metric available ranks Lillard among the half-dozen or so worst defenders in the league, an assessment that jibes with both the eye test and evaluations from personnel folks of all stripes. Lillard's head-to-head assignments have shot a whopping 49 percent on isolation plays, per Synergy Sports, and Lillard has been absolutely lost dealing with screens both on and off the ball. His trouble negotiating picks has left him way behind all kinds of plays, forcing the rest of the Blazers defense into uncomfortable contortions to compensate. Portland, a bad defensive team to begin with, has allowed about two more points per 100 possessions when Lillard plays, and its starting lineup — one of the only playable groups on a very thin team — has coughed up points at a rate that would rank 29th overall, per NBA.com. Lillard has been a bit better defensively in recent weeks, but he's still a huge part of that.
Kidd-Gilchrist, on the other hand, already rates as an above-average defender capable of guarding at least four positions on most nights. He's shooting a hair better than 50 percent, getting to the line and dishing assists at a decent rate for a wing player, and posting a Player Efficiency Rating almost identical to Lillard's. The Bobcats have been better on both ends with MKG on the floor, and he has flashed a surprisingly effective herky-jerky isolation game on offense; he can go around power forwards off the bounce and through/over smaller players after using an unpredictable move to turn a defender's body just a bit out of position. He can't shoot, which mucks up Charlotte's spacing, but he has made up for it in other ways — including by posting one of the best offensive rebounding rates in the league for a perimeter player. And power forwards haven't really hurt him in the post, either; opponents are just 10-of-28 against Kidd-Gilchrist on post-up plays, per Synergy. He fights hard for position against bigger guys, doesn't bite on pump fakes, challenges shots, and has good timing swiping at the ball when he's at a size disadvantage.
Lillard has earned front-runner status, but Kidd-Gilchrist deserves real consideration. Given their three-year age gap, it's not surprising there are some folks around the league who would prefer to build around MKG for the long haul.
The third spot for now goes to two bigs who have put up enormous numbers in minutes too limited for a serious look at the top spot. Drummond has gone through some predictable rookie yips in negotiating pick-and-rolls and rotations on defense, and he can't shoot free throws. But he's a monster rebounder who's trying hard and growing quickly into a Tyson Chandler–style pick-and-roll beast on offense.
As for Davis, if he stays healthy, he may finish the season as the favorite. He's around 35th overall in PER, nestled near David West and LaMarcus Aldridge, and he's going to put up big numbers with his combination of crazy arms, solid effort, and off-the-charts athleticism. But it's surprising how lost he has looked at times on defense. He has had predictable problems dealing with bulky power forwards on the block (West might be appearing in his nightmares), but he's had even worse issues roaming around the floor against pick-and-rolls and within Monty Williams's aggressive crash-the-paint scheme. Almost all rookies have trouble with this stuff, but it's been weird to watch Davis pause mid-rotation to make sure he's going the right way and run himself out of position when shifting from one place to the next. He has looked unsteady on his feet, without an ability to start and stop properly.
He'll get it right eventually, and when he does, watch out.
With apologies to Alexey Shved and Andrew Nicholson.
Coach of the Year
1. Mark Jackson, Golden State Warriors
2. Mike Woodson, New York Knicks
3. Larry Drew, Atlanta Hawks
Things are about to get a lot tougher for the Warriors, who have gone 22-10 against the second-easiest schedule in the Western Conference. Still: They're 22-10 without Andrew Bogut, and their point differential, almost a flat zero just a few weeks ago, is now about +4.6 points per 100 possessions — the sixth-best mark in the league, per NBA.com. They're still not quite as good as their record, but they are not far from it anymore.
Jackson and his staff, including the highly regarded Mike Malone, redesigned Golden State's defense in the offseason with an eye on simplifying things, protecting the paint, and keeping their big men closer to the rim for rebounding purposes. It has worked so far; the Warriors, always a laughingstock on defense, rank 10th in points allowed per possession and a stunning third in defensive rebounding rate. Remember: Golden State finished dead stinking last in that category for four straight seasons before the current campaign, and Bogut has played just 73 minutes as he recovers from ankle surgery.
Jackson has generally worked his rotation well in Bogut's absence. He's used Jarrett Jack, perhaps the Sixth Man of the Year favorite right now, to occasionally move Stephen Curry off the ball as part of a deadly Jack-Curry-Klay Thompson trio. He's worked in the undersized but deadly efficient David Lee–Carl Landry combo in the right doses, coaxed actual useful minutes from Andris Biedrins, and found a role for Draymond Green. Not everything has worked, of course; Green can't shoot, Biedrins is a borderline non-entity on offense, Festus Ezeli faced too much responsibility too soon, and the Warriors' crunch-time performance will probably regress to the mean a bit as the schedule toughens up. But the early results are good, and Jackson has these guys playing hard.
So does Woodson, who has reached both Carmelo Anthony and J.R. Smith in ways previous coaches couldn't; resurrected Rasheed Wallace's career as a useful defensive stopper; and, most importantly, embraced NBA modernity by spacing the floor for a rainstorm of 3s and Tyson Chandler pick-and-rolls. Woodson has been pigeonholed in the past as an iso-ball, slow-it-down conservative stick in the mud, but he has bucked that perception by adding a bit of Mike D'Antoni/Stan Van Gundy flavor. Moving Anthony to power forward was the right move, though it took an early-season injury to Amar'e Stoudemire for Woodson to make the switch. The real challenge comes now.
Drew has taken an almost totally revamped team and made it sing around the Josh Smith–Al Horford front-line combination, even as he's still experimenting with lineups and rotations. He's finding the right mix of little and littler at the perimeter spots, and he's leaned more than expected — and to great success — on ultrabig lineups featuring Smith at small forward; the Hawks have outscored opponents by a mammoth 10 points per 100 possessions over the 180-plus minutes in which Smith, Horford, and Zaza Pachulia have shared the floor, per NBA.com.
The Smith-Horford pairing would put any team on a head start toward a top-10 defense, but Drew has everyone else playing hard on that end, and he's allowed Jeff Teague a bit more room to roam as a havoc-creating thief. He has the Hawks shooting more 3s on offense, and he's maintained the emphasis on corner triples that he brought to Atlanta last season. He's also done quite well designing plays out of timeouts, using a bunch of successful lob plays for Horford.
If this keeps up, Drew will have a real shot to win this award in the final year of his contract — if he can rein in Smith's shot selection (fat chance) and find a way to produce more foul shots.
Toughest omissions: Gregg Popovich, Tom Thibodeau, Rick Adelman, Terry Stotts, Vinny Del Negro/Chris Paul/Chauncey Billups, and George Karl.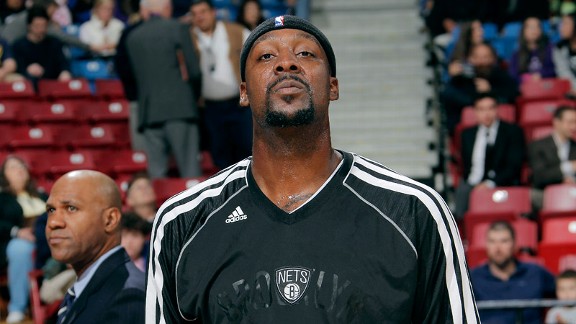 Most Improved Player
Always among the toughest awards, in part because the criteria are so murky. Some voters (and would-be voters) have advocated against giving the award to second- and third-year players, particularly lottery picks, since such players carry expectations of major development. It can also be tricky rewarding Kevin Love/Ryan Anderson types who maintain their career-long per-minute production over longer minutes once their coaches wise up and actually play them more. What about stars or near-stars who add a critical nuance to their games?
There's no right answer. Keeping up sterling production when provided 35 minutes instead of just 20 isn't easy, and some young players stall out early. I tend to gravitate toward players, at any stage of their careers, who show both an uptick in efficiency and one or two new/refined skills. There are literally dozens of candidates; here's one crack at a midseason list:
1. Andray Blatche, Brooklyn Nets
2. J.J. Hickson, Portland Trail Blazers
3. Tie: Jrue Holiday, Philadelphia 76ers/LARRY SANDERS!, Milwaukee Bucks
Blatche probably isn't going to win this award, and it feels icky to give it to a guy thriving primarily because he's finally trying hard and keeping his nose clean off the court. But anytime someone goes from nearly falling out of the league to bordering the top 10 in PER, he deserves some temporary recognition.
The Nets are overextending Blatche by running the offense through him in the post at times within bench units; his shooting percentage is already starting to fall as some of those face-up mid-rangers clank, and the Nets have been a two-way disaster anytime Blatche is on the floor without Reggie Evans next to him, per NBA.com's stats database. He's still a subpar defender, prone to confusion, botched rotations, and faulty mechanics. He gets out of control under the rim and along the baseline when he tries to do too much with the ball, and more of those possessions are going to result in turnovers as defenses recalibrate.
But he's killing it on the offensive glass, passing well, racking up steals, and soaking up possessions.
Hickson is another guy who was close to falling out of relevancy before reinventing himself as a rebounding machine and in-close finisher with the Blazers. He's outworking guys under the boards, scoring mostly off cuts and rolls to the rim, and dialing back the mid-range attempts. Turns out, that's a good idea; he's shooting a sizzling 30-of-55 on shots from outside 10 feet, thanks mostly to shooting only the very best ones, according to NBA.com. He's overmatched guarding centers, and fast-paced NBA team defense just doesn't come naturally to him. But he's rebuilt himself as a very useful rotation player. He'll be a free agent after this season, and he's earned a raise.
Holiday on the surface falls into the Anderson/Love category, but his PER is up almost four full points over last season, and he's taken well to a giant increase in responsibility after the Sixers sent away both Andre Iguodala and Lou Williams. Holiday's assisting on about 41 percent of Philly's baskets while on the floor, a legit top-level point guard number, and he has Philly's offense in about the same ho-hum place it was last season — around 18th in points per possession — despite the roster upheaval and the absence of a certain center. Solid work, even if you'd like him to get to the line more.
SANDERS! has done two things to merit consideration: stay on the court and clean the defensive glass without sacrificing shot blocks. SANDERS! rebounded just 17 percent of opponent misses last season, a below-average number for a big man, and he often leaped himself out of position chasing swats. His defensive rebounding rate is up near 28 percent this season, an elite number, and he has rejected a larger percentage of opponent shots while on the floor than anyone in the league. He's also ditched mid-range jumpers to play more to his (limited) strengths on offense.
And he is limited on that end; the Bucks offense basically falls to Wizardian levels whenever Scott Skiles pairs SANDERS! with a big-man partner other than Ersan Ilyasova, who can provide some floor spacing, per NBA.com. But SANDERS! is a massively impactful defender; opponents have shot just 51.2 percent from the restricted area when he's on the floor and nearly 59 percent when he sits. Some perspective: Indiana has held opponents to a league-low 53.3 percent shooting from inside the block/charge circle. And while he still fouls more than almost any heavy-minutes rotation player, he's cut the hacking enough to log 25 to 30 minutes a night if need be.
Apologies to (deep breath): Chandler Parsons, O.J. Mayo, David Lee, Nikola Vucevic, Kemba Walker, Lance Stephenson, Marcus Morris, Serge Ibaka, Kevin Durant, J.R. Smith, Jason Kidd, Ed Davis, Eric Bledsoe, Matt Barnes, Brook Lopez, Charlie Villanueva, Anderson Varejao, Hasheem Thabeet, Tiago Splitter, Nicolas Batum, P.J. Tucker, Jimmer Fredette, Jermaine O'Neal, Greivis Vasquez, Robin Lopez, and Omer Asik.