Winners and Losers From the NBA Lottery
Jesse D. Garrabant/NBAE via Getty Images
You know how at the beginning of every NFL season, everyone is 0-0 and has a chance at the Super Bowl? That is not true in the NBA. For fans of five to 10 teams every year, the NBA draft lottery is the Super Bowl.
No other sport decides its future like this — with an uncomfortable, surreal 30-minute raffle, basically — and that's what makes it so great. In the span of 30 minutes, jammed in before some conference final game every year, the directions of entire franchises can change one way or the other. For instance, 2013 marks the 10th anniversary of the most insane lottery night of all time …
… when Memphis nearly landed LeBron James, only to end up with nothing (its pick was protected as no. 1 overall but otherwise the Grizzlies had to send it to Detroit). Instead, we walked away thinking Cleveland had just fallen into a dynasty, Detroit was about to extend its dynasty another decade with Darko's frosted tips coming to the Midwest, and the Nuggets were getting Bernard King 2.0 for the next 15 years. Meanwhile, the Grizzlies were destined to remain in NBA no-man's-land, wondering what might have been.
Anyway, that clip's a good way to set the mood.

And as you can see, lottery night can lead to wild proclamations that sometimes look incredibly stupid 10 years later. So with that said … time for some wild proclamations!
Here are a few winners and losers from the 2013 NBA draft lottery.
Losers
Charlotte Bobcats
How did the Bobcats not win?? On Tuesday they officially announced they will bring back the Hornets name next year, giving us all an excuse to remember the glory days of David Wesley and P.J. Brown and Muggsy Bogues and Starter jackets, and giving the Bobcats/Hornets the best possible karma going into Tuesday night. And then … nothing. The fourth pick isn't horrible, but landing at no. 1 would've allowed them to grab Nerlens Noel, sit him half the year while they tank for 2014, and by 2015 they'd have one of the best young cores in the league. But no. There was no basketball god to reward them for bringing back the Hornets. There is no basketball god. Just Michael Jordan in XXL cargo jeans and a velour blazer, somewhere in Vegas doubling down right this very second.
Monty Williams and the New Orleans Pelicans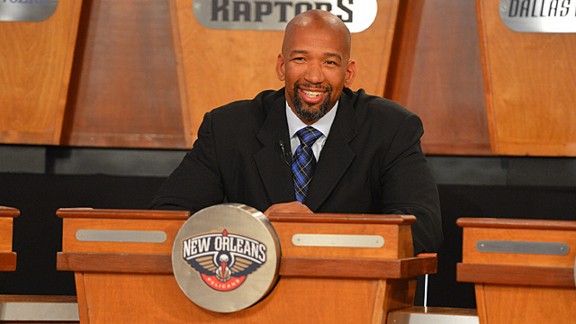 The other side of the Hornets coin did not fare much better. First, Heather Cox asked Monty Williams about the possibility of landing the no. 1 pick two years in a row.
Monty: "We feel great about having Anthony and Austin. If we were to get the no. 1 pick we'd feel blessed in that we're looking forward to our pick wherever it falls."
First, that makes no sense, Monty.
Second, Monty Williams just had to admit on national TV that he drafted Austin Rivers in the lottery, twisting the knife a little deeper for everyone involved.
Later in the broadcast Jay Bilas mentioned Alex Len as a great idea for the Pelicans, giving New Orleans a dominant front line for the next decade. This is the same Alex Len who averaged 11.9 ppg in a weak ACC and is currently in the middle of a four-to-six-month recovery from a stress fracture. Just not a great night to be a Pelicans fan. (On the bright side: PELICANS is a thing we can say now, and the Bobcats don't have be called the Bobcats anymore. Both are big-enough upgrades to maybe render the rest of the lottery moot.)
Machine Gun Kelly
Hey did you see Machine Gun Kelly sitting next to Dan Gilbert last night? Related: This is the meanest and most accurate description of Machine Gun Kelly.
Does the guy next to Dan Gilbert look a lot like Christopher Walken's son from Wedding Crashers?

— Bruce Feldman (@BFeldmanCBS) May 22, 2013
Here he is with Andre Drummond:
I couldn't have been the only one hoping Love would just snap right then and there, denounce the Wolves, and rip off that Rubio action figure's limbs. (Best lottery ever!)
Nothing against Rubio, but think of Love: another year in the lottery, the ninth pick, and not much hope in sight. And he shows up and smiles. It's time to free Kevin Love. We don't know whether it'll happen before the draft, this summer, or maybe before next year's trade deadline, but it's time.
Minnesota Timberwolves
ONCE AGAIN the T-Wolves didn't send Prince as their lottery representative, and once again the T-Wolves did not walk away with the no. 1 pick. This is not complicated. But the T-Wolves keep screwing it up.
The 2013 Draft Class
There were a few reasons this lottery had less drama than past years. First, there's no can't-miss superstar. Second, there IS that player next year, so it would've been 10 times as exciting if we were watching the 2014 lottery Tuesday night, and all night long we kept wondering how the pick for "Team X" would affect their tanking efforts next year. And finally, let's be honest, this year's draft class …
Between hearing Cody Zeller mentioned as a possible top-10 pick — anyone who wants to drafts him in the top 10 should have to rewatch the Syracuse game in public before doing so — or hearing Anthony Bennett mentioned as a potential top-three pick, or seeing that Chad Ford currently has Trey Burke going no. 2 in his mock draft, last night featured plenty of reminders that the 2013 draft class is not setting the world on fire. (We all love Trey Burke, but he's a 5-foot-11 shoot-first point guard. Doesn't it seem a little out of control to be talking about him at no. 2?)
Having said that, there's more talent than you might think: Noel, Ben McLemore, Otto Porter, Burke, Victor Oladipo, Bennett, Len, Michael Carter-Williams, and even one or two intriguing Euros. Depending on your desperation levels, you can talk yourself into any of these guys as potential All-Stars. Nobody's a finished product, but there's more to work with here than, say, the 2010 draft. I swear it's not as bad a class as people are saying.
Conspiracy Theorists
This is David Stern's final lottery as NBA commissioner, and it's pretty disappointing he didn't find a way to give the Knicks or Nets the no. 1 pick. Cleveland? Stern IS getting old.
Gatekeepers
On the left is a man from Ernst & Young who handles the top-secret lottery process, and on the right is Betty Francis's husband, who's also involved with NBA security. We need to send these guys to every single party at All-Star Weekend in New Orleans next year and see what happens. AIN'T NO PARTY LIKE AN ERNST & YOUNG PARTY.
Winners
Phoenix Suns
Picking fifth is PERFECT for them. They will get a player who's good enough to help them long term, but not good enough to keep them from being hopeless and terrible next year, leaving the door open for a good shot at Andrew Wiggins and the rest of the 2014 draft class. (This logic applies to the Kings and Magic as well.)
(The NBA makes no sense.)
Nerlens Noel
Is it weird that the best prospect in this year's draft played two months of inconsistent basketball at Kentucky and is rehabbing an ACL injury that'll probably keep him out until December? Sure.
Definitely weird.
BUT LOOK AT THAT FAMILY'S HAIR.

Wherever he lands, the Nerlens Noel era will be fun.
Dan Gilbert
His outfit deserves its own entry because if any normal person wore that blazer–giant bow tie combo he'd automatically become the biggest jackass in any room he entered. This is true for Gilbert, too, but that's the thing: When you are a billionaire, you can be the biggest jackass on earth and IT DOESN'T EVEN MATTER. You can wear the biggest bow ties on earth and people still interview you, and slap you on the back, and pretend to take you seriously. It's incredible. Yet another reason we should all strive to become billionaires. On the other end of the spectrum …
NICK GILBERT
Shaq and Biggie were really rapping about Nick Gilbert in 1996.
"I just had a feeling, you know?" he said after the Cavs won Tuesday.
Because Nick Gilbert is the greatest.
As Shaq once described him, "Towerin' inferno, invincible, a real smooth individual."
Nick also deserves recognition for keeping the Malcolm X look going for three years running, and somehow beating David Stern at his own lottery-rigging game. As for the Cavs, it's unclear where this leaves them. Should they trade the pick? ESPN's Brian Windhorst says they're definitely open to it. Or maybe they draft Noel and pair him with Kyrie Irving for the next decade. Investing in Noel would allow them to try to tank again next season (allowing Nick Gilbert to rig the lottery again), but even Nick said he doesn't want to return to the lottery. They also could take Otto Porter, who seems like he'd be a great fit right away.
But then what position would LeBron play in 2014?
Woooooo Cleveland!
For now, it adds a fun layer to the draft in June, because the Cavs could go in a bunch of different directions, and until they decide, the rest of the draft is pretty much impossible to predict. But for a franchise that hit the jackpot in 2003 and then lost it all, this is a good problem to have. Things are looking up, and one day the Cavs might actually be as dominant and unstoppable as Nick Gilbert.
Finally …
Washington Wizards
The last time the lottery worked out well for my Wizards, I'd been in the hospital with food poisoning for two days before they won the 2010 lottery. Tuesday, after 10 days of traveling, I spent five hours in a Connecticut airport getting progressively more miserable and insane, wondering who would die first if my 150 fellow passengers and I had to stay at Gate 21 forever. But then the flight took off, nobody died, and just like the food poisoning, IT WAS ALL WORTH IT.
The suffering was worth it. It all makes sense now. Or something.
To backtrack for a minute: Last week we mentioned Kawhi Leonard as an example of how hopeless the Wizards have become, and I stand by all that. Certain teams are stuck in a cycle of awful decision-making that winds up ruining good prospects and dragging down everyone involved, and the Wizards are one of the best examples in the league. The solution for these teams? Luck, mostly. Luck into an undervalued superstar, an assistant coach who turns out to be brilliant, or … well, in the Wizards' case, landing in the top three in three of four years could go a long way toward forging a nucleus that even Washington can't screw up.
I'm terrified even typing this. Something can (and probably will) go wrong to ruin it. But John Wall was one of the best point guards in the league over the second half of the year; Bradley Beal shot 49 percent from 3 after New Year's Day and went from looking like a bust in October to a future All-Star in March; the front line of Nene and Emeka Okafor helped make the Wizards one of the best defensive teams in the NBA; and altogether, the longest-running punch line in the Eastern Conference actually looks pretty decent.
Before Tuesday? "Decent" felt like a curse.
The Wizards were going to be just good enough to make the playoffs as a seventh or eighth seed next year and miss out on the best draft class in years, but limited enough to keep them from ever contending with the current group — basically, a slightly more successful version of the basketball no-man's-land the Raptors have trademarked the past few years.
AFTER TUESDAY? Otto Porter is a real possibility as a playmaking 3 to plug in next to Wall and Beal, or if he's off the board, then maybe Noel is there. Or Oladipo. Or they try to steal DeMarcus Cousins or Kevin Love. Who knows? It's early, but the options just got a lot better across the board. And a team that was headed nowhere as recently as Tuesday afternoon is now set up to add one more crucial piece to a nucleus that could do some real damage in a few years. That's what makes the lottery so great. Because you just never know when things will break your way and change everything in the span of 10 minutes. I won't say anything more to jinx what's happening, but good things are happening to the Washington Wizards. I'm as shocked as you are.
Now the lottery is over, and it's on to the rest of the draft process, full of wonderful insights like this:
Otto Porter said he finally looked up the meaning of his first name for a class at Georgetown. Discovered it means "wealth" in Greek

— Michael Lee (@MrMichaelLee) May 17, 2013
Awesome. Bonus points because "Otto" does not actually mean "wealth" in Greek.
It does mean "wealth" in German, though, and someone named Otto did become the first modern king of Greece in 1832. We're already learning so much from the 2013 draft. And hey if you enjoyed get lost in 30 minutes of the NBA lottery on Tuesday, good news! Things only get weirder and better from here.
Filed Under: Andrew Sharp, Charlotte Bobcats, Kevin Love, Michael Jordan, NBA, NBA Draft, Toronto Raptors, Washington Wizards