Why Matt Barnes, of All People, Could Be the Key to a Clippers Playoff Run
Stephen Dunn/Getty Images
Two nights ago, as the Spurs and Thunder tangled in a rematch of last season's most exciting playoff series, it was easy to drool over another San Antonio–Oklahoma City conference finals. The old lion, its pinpoint system bolstered by some new tweaks in talent and Gregg Popovich's playing rotation, scrambling for one more Finals appearance at the expense of the young bucks who appeared to solve that system last June.
And then, a jolt: Remember the Clippers? Remember in January, when the Western Conference was a three-team discussion? The Clippers ceded the spotlight after Denver ended their 17-game winning streak, and that light has never really returned. The Clips have gone a pedestrian 20-14 since the streak; did the league lose a contender when everyone stopped looking and the presumptive title favorite began its own monster streak?

That's one of the NBA's biggest questions as we enter the stretch run. The Clippers have by no means been bad since the streak. They've put together a solid record while playing 20 of 34 on the road, going through 10 back-to-backs, and dealing with both some injury nicks — Chris Paul, Eric Bledsoe — and the semi-awkward return of potentially key rotation pieces in Chauncey Billups and Grant Hill. Paul's injury simultaneously removed the Clippers' best player, the rightful owner of the no. 3 spot on everyone's MVP ballot, and forced Vinny Del Negro (and his hair) to break up a killer all-bench lineup by starting Bledsoe. Hill's return as a small-ball power forward downsized that all-bench lineup to uneven results so far.
The Clips over those 34 games outscored their opponents by about 3.0 points per 100 possessions, a mark that would rank ninth overall, right behind New York and Denver, and just solidly ahead of Houston. Isolate their first 31 games, when they went 25-6 in a home-heavy schedule, and that number leaps to about 10 points per 100 possessions — above Miami's season-long margin of destruction, and just ahead of Oklahoma City. Heck, take out only the nine consecutive games Paul missed and his disastrous return against Miami in February, and the Clips' margin jumps to about +9.1 points per 100 possessions — level with Miami.
Those numbers sum up the gap between "elite" and "very good," and that is one of the largest gaps in the NBA. Which represents the real Clippers?
A worrisome sign: Their defense, a fantastic early-season story for the Clips, has taken a big step back. After defending at a top-five level through December, the Clips have since allowed 103 points per 100 possessions — a mark roughly equivalent to that of the Warriors, who rank 15th overall in that category, per NBA.com. In other words: The Clips have regressed to average on the end of the floor everyone assumed would be their undoing in the playoffs — an assumption the Clips chipped away at in their first 30 games. The offense has remained powerful, and teams can go very far with an elite offense and an average defense. But "average" anything probably isn't good enough to topple true juggernaut competition in multiple playoff rounds, and research has found the opposite combination — elite defense, average offense — is a better structure for winning titles.
For the season, the Clips have been slightly worse than average — allowing a shade more than 104 points per 100 possessions — when Blake Griffin and DeAndre Jordan share the floor, per NBA.com's stats database. This is one reason, along with Jordan's disappointing failure to improve his free throw stroke, that Del Negro (and Del Negro's hair) is finishing games with the Lamar Odom-Griffin combination in powerful hybrid bench/starter lineups.
But that Griffin-Jordan combo is going to play a ton of minutes regardless — Paul-Griffin is the only two-man combo on the team that has logged more — and the margin for error in playing suboptimal lineups shrinks to a very small number of possessions against the very best competition. Everything matters when you're trying to beat San Antonio, Oklahoma City, and Miami four times in seven games, especially when you don't have home-court advantage. There really is no such thing as having "too many good players," but having a deep team can make it harder for coaches to find the right lineup combinations in the right moments, and to play those lineups in the right allotments against the right opponents.
It's not as if Del Negro can just play Odom 35 minutes a game. Odom has looked better in the last month, especially on the boards, but he's still shooting just 39.7 percent and is 14-of-30 from the line for the season. And the lack of rim protection in the Odom-Griffin pair will present major issues on defense against some teams, especially if Jamal Crawford, a flammable sieve on defense in just about every possible way, is on the floor with them — as he often is in the Paul–Crawford–Matt Barnes–Odom–Griffin lineup Del Negro has used often in crunch time this season.
One possible tweak the Clippers should consider, and probably already have: just starting Barnes and giving him 8 to 10 of the minutes currently going to Caron Butler. Barnes has been fantastic on both ends this season, and there's really zero evidence Butler is a better player at this point. The Clippers have been better when Barnes plays than when Butler does — plus-7.4 per 100 possessions with Barnes on the floor, plus-5.8 with Butler — and they've been awful in a tiny sample size when they play the two together. Most of the gap comes on defense, and Barnes benefits to some degree from playing against opposing backups. But that also means he plays heavy minutes in smaller lineups that include Crawford, and that he plays relatively few minutes with the killer Paul-Griffin combo; Barnes has logged 517 minutes with those two, compared with 1,056 such minutes for the fortunate Tuff Juice, per NBA.com.
Barnes is shooting 46 percent, while Butler is down to 42 percent. Butler, to his credit, has reinvented himself late in his career mostly as a spot-up 3-point shooter, especially from the corners; he's shooting a very nice 37.6 percent from deep, and nearly half his attempts have come from 3.
But Barnes has been just about as good, having hit 36 percent from deep on nearly as many attempts per minute as Butler.
And Barnes is indisputably a better rebounder, passer, cutter, and defender, though the gap on defense doesn't appear to be quite as large as some of the metrics would suggest. But Barnes is better. He's longer and just a bit smarter at playing the percentages and funnelling quicker ball handlers — types who give Barnes, Butler, and everyone else trouble — into the right spots on the floor. Opponents have shot a scary 55.8 percent on isolations against Butler this season, and they were very good against him one-on-one last season as well, per Synergy Sports. Barnes has held his marks to just 35.5 percent on those same isolation chances.
And the video shows a stark difference in technique. Butler has a habit of crowding ball handlers, getting his chest into their bodies as they prepare for a dribble drive. That looks scrappy and effective, but it mostly results in blow-by drives and some fouls. Barnes is a bit smarter about giving so-so shooters a bit of distance, confident he can disrupt them with his longer arms and at least direct them toward help if they drive. He's also just a bit smarter and more active as a team defender, rotating to the right spots and responding with urgency to opposing offensive rebounds (and the kick-out passes that follow) and paying very close attention to transition leak-outs. Butler, though blessed with solid footwork, is a bit less attentive in all those areas.
All of this little stuff matters to a Clipper team vulnerable for the second straight year to opponent 3-pointers. The Clips allow about a league-average number of 3-point attempts, but that understates the issue, because their slow pace of play and continued habit of fouling at a very high rate naturally combine to decrease the raw number of overall field-goal attempts they allow. An "average" number from one spot on the floor is actually a small signal for this team's defense.
And opponents are doing well on those attempts. The Clips have allowed 37.4 percent shooting from deep, the sixth-worst defensive mark in the league, and opponents have hit a sizzling 42 percent from the corners, per NBA.com. That's also the sixth-worst mark in the league, and it represents a frustrating carryover from last season, when L.A. opponents hit 42.9 percent of their corner 3s.
There's a lot of stuff going on here, and most of it doesn't involve Butler doing anything wrong. The Griffin-Jordan duo has clearly improved on defense as Del Negro has allowed them — and especially Griffin — to use their speed more in defending pick-and-rolls, a play that flummoxed them last season. They're talking to each other more, and developing the sort of big-big chemistry you see when big-man partners intuitively know when to switch, help, and rotate without pausing midstream.
But they're still young, and they're still learning. Smart ball handlers can string Jordan out far to the sideline, making the Clips vulnerable on the weak side. And Griffin's aggression can sometimes work against the Clippers. One action in particular gives them major trouble: when opponents station a big man at each elbow, and run a pick-and-pop with one big man while the other simultaneously cuts to the basket — almost mirroring what he'd do as a roller if he were involved in the pick-and-roll itself. Here's Oklahoma City about to find a layup for Nick Collison out of this exact action — a Russell Westbrook/Serge Ibaka pick-and-pop, with Ibaka about to catch at the top of the circle: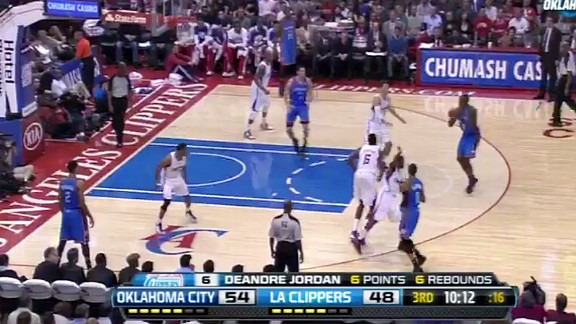 Jordan has trapped Westbrook and is retreating to Ibaka — normal stuff. But Griffin has abandoned Collison on Collison's off-ball "roll" in order to run out hard at Ibaka, creating a crisis: An opposing big man has gotten behind both L.A. bigs.
Other teams have discovered this is a smart way to attack the Clips, and they've gotten a pile of open 3s out of it, as the Clips' perimeter defenders sink in to address the crisis. Here's Denver sneaking Kosta Koufos behind both L.A. bigs via a Ty Lawson–Kenneth Faried pick-and-pop and simultaneous Koufos roll: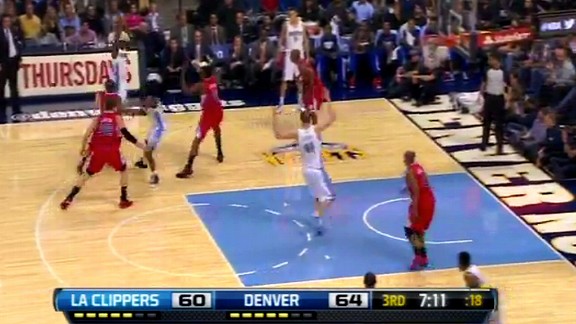 Here's Sacramento working Chuck Hayes open in the middle — and creating a wide-open 3 in the right corner — via the same action: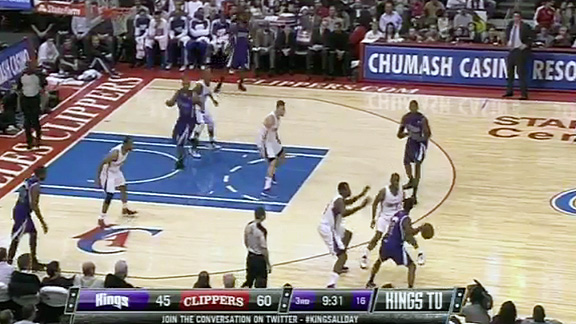 And here's LARRY SANDERS! cutting free into the lane, and drawing a ton of help, as Griffin traps Brandon Jennings on a pick-and-pop and Jordan rushes up to take the popper (Luc Richard Mbah a Moute, with the ball):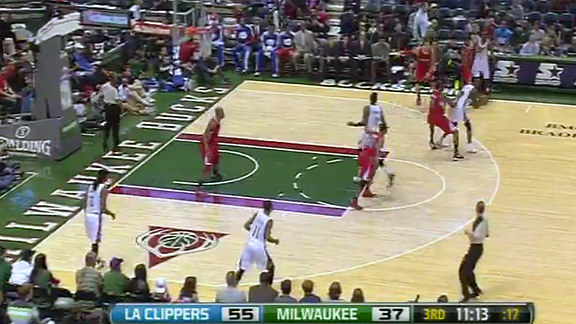 There is still some cleaning up to do for the Griffin-Jordan duo, and they'll be more on point when the games start to matter again. (They sort of do now, actually, with Memphis having eked ahead of L.A. in the race for the no. 3 slot — a race that means the difference between facing a scary Denver team in the first round and facing one of the conference's weaker sisters at the no. 6 spot. That could be the Lakers, and though the Clippers would probably be very nervous about the lack of a real home-court edge in that series, they should take the opposite stance: Embrace the opportunity to vanquish Big Brother.)
There's other stuff going on. Paul has been a bit gambly this season, even by his standards, and that has hurt in stretches. Butler also has a tendency to crash too aggressively into the paint when nothing much dangerous is happening there. Crawford is a liability on the ball, off the ball, and everywhere in between.
Starting Barnes, or just giving him more minutes with the Clips' new starting lineup, might help the defense on the margins. He's only logged 14 minutes alongside L.A.'s current non-Butler starters, though the Butler starting lineup is scoring with an off-the-charts efficiency that has so far made up for its subpar defense. Both the Clippers and opponents also seem to perceive the two players differently in a way that might matter. Barnes's 36 percent mark from 3 is a bit of an outlier for him, and as we saw last season in the Lakers' brief playoff "run," teams are happy to ignore him from the perimeter in order to muck things up elsewhere. Butler's only a career 33.5 percent shooter from deep, but he's been above average for three straight seasons, and opponents treat him with a bit more respect. He's a former All-Star, after all. Perceptions change slowly.
And former All-Stars don't enjoy coming off the bench. Perceptions change slowly there, too. Barnes has played 32 minutes or more in a game just 97 times in his entire career, and though his efficiency hasn't dropped off in those heavy-minute games, the Clippers (and other teams) may just not look at him as a starter.
But he's played like one this season, and his very best skill — off-ball cutting — is of even more value in a lineup that now includes another long-range shooter in Billups that demands attention and two bona fide stars in Paul and Griffin.
This is the kind of change that is easier on paper, and likely won't happen in real life. And it's just one of many small changes that could transform the Clippers back into contenders capable of beating the very best teams. Will enough of those changes happen in time?
Filed Under: Blake Griffin, Chris Paul, NBA, Zach Lowe