Who's That Draft Pick? The Big-Time Role Players!
Andy Lyons/Getty Images
Every year there are a handful of awesome prospects who slip past the lottery in the NBA draft. These are the players you want your team to steal late in the first round, or somewhere in the second. We know they're out there, only nobody's sure exactly who falls into this category. But that's why we're here. All week, we're stealing Robert Mays's "Who's That Guy?" series to look at a handful of late-round possibilities, with the disclaimer that we know pretty much nothing about these guys. Nobody does, if we're all being honest. Let's do it.
The past two days we've looked through the mid-majors and the foreign prospects. Today, we're keeping things a little shorter because I'm in New York and there are better things to do in this city than write about fringe draft prospects.
Still, there are three guys from big-name schools who deserve some irrational enthusiasm.
Gorgui Dieng
Who Is He? Gorgui Dieng! Center from Louisville.
Where Is He From? Dakar, Senegal
Measurables: 6-foot-11, 230 pounds, 7-foot-4 wingspan
Years Played: Three
Louisville Stats: 9.8 ppg, 9.4 rpg, 2.5 bpg, only 2.6 fouls per game

NCAA Tournament Stats: 7.3 ppg, 6.1 rpg, 2.5 bpg

His Game in 40 Words or Fewer: A shot-blocker who can help protect the paint, rebound, and even hit a few sneaky jumpers on the other end. He's been injured during workout season, and that's hurt his stock.
Scouting Report Tidbit: "No one drafting Dieng is thinking superstar, but there's a need for backup centers in the NBA and he looks like he'd pass the smell test." (via ESPN Insider)
Projected Range: 20-30
Where Will He End Up? Chad Ford's got him going to the T-Wolves at 26.
Why Your Team Should Draft Him: You know you're getting at least one true NBA skill (shot-blocking), and on top of that he can hit open jumpers, rebound, run the floor, and he doesn't foul as much as most rim protectors. There are players with higher ceilings, and that scouting tidbit was a remarkably depressing compliment, but I swear, as long as he stays healthy, Gorgui Dieng will be a sneaky solid player for at least a decade.
Reggie Bullock
Who Is He? Reggie Bullock! Shooting guard from UNC.
Where Is He From? Kinston, North Carolina, home of Jerry Stackhose, NBA legend
Measurables: 6-foot-7, 200 pounds, 6-foot-9 wingspan
Years Played: Three
UNC Stats: 13.9 ppg, 6.5 rpg, 43.6 percent 3P
NCAA Tournament Stats: 10 ppg, 40 percent 3P
His Game in 40 Words or Fewer: He has two NBA skills — 3s and defense — that should translate regardless of how he develops otherwise. (Note: He may not develop much otherwise.)
Scouting Report Tidbit: From our very own Brett Koremenos: "Bullock was one of the best shooters in college basketball last season and was downright deadly converting jump shots off the catch."
Projected Range: 15-25

Where Will He End Up? No. 25 to the Clippers, hopefully.
Why Your Team Should Draft Him: Because Reggie Bullock is the type of player who has a role on a good team. For perspective: There are players in the same range (Shabazz Muhammad, Shane Larkin, Tim Hardaway Jr.) who can play in the NBA and have solid careers, but won't necessarily be useful on some of the best teams in the NBA. Bullock's just the opposite. He may not stand out on an average team, but he'd be the perfect role player on a playoff team.
Ricky Ledo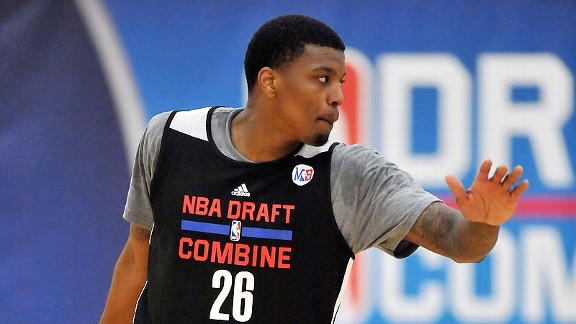 Who Is He? Ricky Ledo! Shooting guard from Providence, which is still a big-name school. Maybe.
Where Is He From? Providence, Rhode Island. Hometown hero!
Measurables: 6-foot-6, 197 pounds, 6-foot-7 wingspan
Years Played: ZERO. The NCAA ruled him ineligible, and he never played a game at Providence. Maybe not such a hometown hero after all.
Providence Stats: N/A

NCAA Tournament Stats: N/A
His Game in 40 Words or Fewer: A great shooter and good athlete who has never faced elite competition and comes with, as his ESPN Insider profile describes him, "lots of off-the-court concerns."
Scouting Report Tidbit: "On talent, Ledo is probably a lottery pick. He's a pure scorer who may be one of the best shooters in the draft." (ESPN Insider)
Projected Range: 20-40

Where Will He End Up? Probably early second round.
Why Your Team Should Draft Him: He went to four different high schools and never qualified for college, which, OK, yeah, that sounds a little worrying. But (a) the NCAA's rules are stupid, and (b) in the scummy basketball world, kids switch high schools all the time, for all sorts of reasons. Likewise, executives who've talked to him in the past month or two have "raved about Ledo after meeting with him, describing him as intelligent and impressive." And then there's the obvious point: He wouldn't have gotten nearly this far if he couldn't play. So, in a league where shooting guards are already endangered, there's a chance the most talented shooting guard in the draft is a guy who bounced between schools like 100 other high school stars, got screwed by the NCAA, slipped through the cracks, and could be stolen 25 picks too low. Of course your team should take him.
(No idea how we ended up repping that hard for Ricky Ledo, but here we are.)
And finally …
Archie Goodwin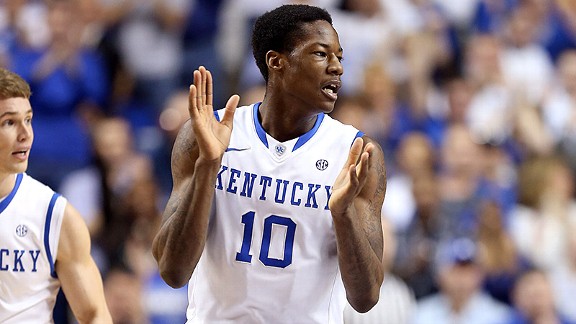 Chad Ford's Description: "He's got elite speed and athletic abilities. If he ever figures out a jumper, he's got a lot of upside."
We've all been reading way too many scouting reports, and I swear to god that just described like 800 players. The NBA draft is the greatest.
Filed Under: Andrew Sharp, NBA, NBA Draft, NCAA tournament