Who Will Win in the Battle Between Ottawa's Hopes and Dreams and Reality? (Spoiler: Reality.)
Justin K. Aller/Getty Images
The Senators and Penguins opened their second-round series Tuesday night, with Pittsburgh claiming an early series lead thanks to a 4-1 win on home ice.
The no. 1-seeded Penguins are the consensus favorites over the 7-seed Senators, but nobody would be surprised if the series turned out to be a long one. In the end, it may come down to which team can manage an edge in the key matchups.
Which key matchups, you ask, since you assume that's what you're supposed to do? Good question! Here are a dozen battles to watch as the series resumes on Friday night.

Craig Anderson vs. Tomas Vokoun and/or Marc-Andre Fleury
In The Battle of the Goaltenders
This series will probably come down to goaltending, because every NHL playoff series comes down to goaltending. But unlike most series, we don't have to argue over which team has the edge. That's Ottawa, and it's not all that close.
It's easy enough to forget, but for the first half of the season, Anderson was the best goalie in the NHL. A midseason ankle injury cost him six weeks, and might have also cost him the Vezina Trophy, but he's back to full health and has been excellent in the postseason.
The Penguins situation is more muddled, with Fleury at least temporarily losing his starter's job to Vokoun after struggling against the Islanders. Vokoun is an underrated goalie and has played well, despite a lack of playoff experience. (Tuesday was just his 14th career playoff game in a 15-season career, and his first one beyond the first round.) If he struggles at any point, it will be interesting to see if the Penguins take the opportunity to go back to Fleury.
Pittsburgh doesn't need its goalies to outplay Anderson — that's unlikely. It just need them to be close enough that the Penguins can make up the gap in other areas.
Pittsburgh's Power Play vs. Ottawa's Penalty Kill
In The Battle of the Special Teams
Special teams are always crucial in the playoffs, and this series features a showdown between two of the top units in the league. The stacked Penguins power-play unit was the second-best in the league during the regular season, while the Senators boasted the NHL's best penalty kill. Put simply, this series may be decided when the Penguins have the man advantage and these two units go head-to-head.
The opening salvo in the special teams battle was a decisive win for the Penguins, who scored twice on the power play to go along with a shorthanded goal in Game 1. If Ottawa can't find a way to even out this battle quickly, this might be a short series.
Sidney Crosby vs. Erik Karlsson
In The Battle of the Superstars Who We Really Hope Are Healthy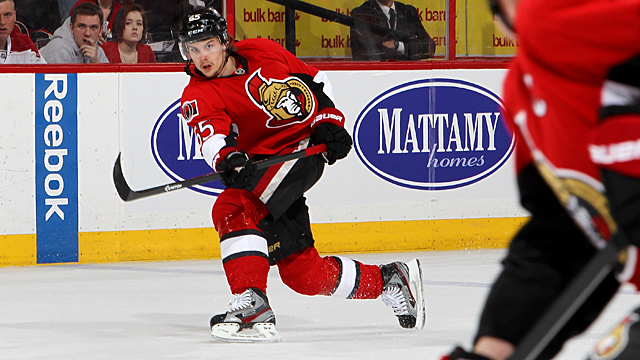 Crosby and Karlsson have plenty in common: Each is his team's best player, each has won major NHL hardware, and each missed time this season because of a freak injury. And most importantly, both are now back and apparently healthy. (They also play different positions and have completely different styles, but we'll ignore all that in order to force the comparison for narrative purposes.)
So far, Karlsson has recorded six points in six games, good enough for a share of the team lead. Crosby's been good for nine points through six games of his own. (Crosby missed the first-round series opener while recovering from his jaw injury.) Both guys are the sort of player who can take over a series, and the odds are good that at some point, one of them will. The question is which one.
Daniel Alfredsson vs. Jarome Iginla
In The Battle of the Cupless Old Guys
We covered the Cupless Old Guy phenomenon a few weeks ago, and Alfredsson and Iginla were the two biggest names on the list. There's a decent Cupless supporting cast here, too, including Vokoun, Chris Phillips, and Brenden Morrow.
So if you're looking for a sympathetic figure to get behind, this is the series for you. (Side note: You may want to avoid telling any Leaf fans that you plan to view Alfredsson as a sympathetic figure.)
Sergei Gonchar vs. the Ghost of Sergei Gonchar
In The Battle of … Well, Sergei Gonchar, I Guess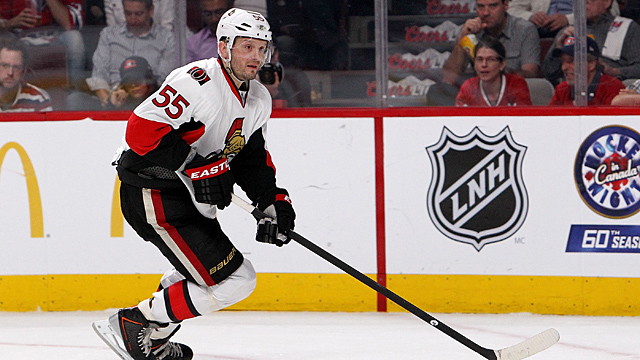 Gonchar wound up in Pittsburgh after the 2005 lockout and spent five years there, playing a key role as a veteran mentor for a young team transitioning from the Mario Lemieux past to the Crosby/Evgeni Malkin present.
In 2005-06, he was the second-leading scorer on a team that finished 29th overall. Within three years, the Penguins were an elite team that made back-to-back trips to the finals, winning once, and earning Gonchar the only Cup ring of his career. With the exception of an injury-shortened 2008-09, Gonchar put up double-digit goals and at least 50 points each year in Pittsburgh.
But by the time free agency beckoned in 2010, Gonchar was 36 years old and appeared to be fading. Surprisingly, he signed with Ottawa, largely because the Senators were willing to offer a three-year deal that included a no-trade clause. That seemed like an atrocious gamble.
But a funny thing happened: Rather than fading, Gonchar's stats got better each year in Ottawa. This season, in the final year of his deal, he put up his best offensive numbers as a Senator while playing big minutes because of the loss of Karlsson.
For the most part, Penguin fans still seem to love Gonchar (there was even talk this season that the team was trying to bring him back). We'll see how they feel if he can help knock his former team out of the playoffs.
Matt Cooke vs. Everyone
In The Battle to Avenge Erik Karlsson's Achilles
This is the battle that everyone wants to see. It's also the one that's the most likely to fizzle out completely.
The backstory here is well-known: In February, Matt Cooke sliced Karlsson's Achilles tendon on a play that seemed accidental. But not everyone agreed, citing Cooke's (well-earned) reputation as a dirty player. The Senators mumbled vague threats about future revenge, and made a few halfhearted attempts at payback when the teams had their first post-Karlsson meeting in the regular season.
Now that the two teams are meeting in the playoffs, could the bad blood boil over? It's possible (remember, the Senators aren't shy about protecting Karlsson in the postseason), but it doesn't seem likely. Everyone involved is downplaying the matter these days, and you'd have to think there's just too much at stake for things to get crazy.
Then again, getting crazy seems to be right in certain people's wheelhouse …
Eugene Melnyk vs. His PR Staff
In The Battle of "Oh God What Did He Say Now?"
On a certain level, it's hard not to like Senators owner Eugene Melnyk. Yes, he has a history of saying dumb things and making himself part of the story. But he's also the sort of passionate owner that every fan wishes their team had. His shoot-from-the-hip approach sure beats press releases from some faceless board of directors, even if it sometimes comes with a side-helping of crazy.
And can he ever bring the crazy. His latest masterpiece came in the wake of the Karlsson injury, when he claimed to have hired a special forensics team to prove Cooke was guilty of dirty play. That made him and his team a punch line, and it sounded less like a dignified NHL owner and more like the ravings of a delusional Senators fan. Which is pretty much what Melnyk is, for both good and bad.
Will we be treated to more of Melnyk's patented madness during the series? It's hard to rule it out. He recently joined Twitter, and has already fired a shot at "classless" Penguins fans because he noticed some of them using profanity. If somebody swearing on the Internet is enough to set Melnyk off, who knows what we may see if the series goes seven.
Paul MacLean vs. Dan Bylsma
In The Battle of the Jack Adams Award Winners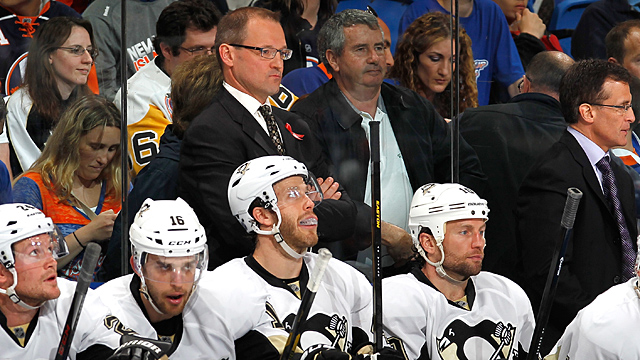 Yes, fine, while Bylsma won the Jack Adams in 2011, Paul MacLean hasn't won one yet — technically speaking. But he's going to win this year, right? We've all agreed that it would be ridiculous for that not to happen? OK, good, just making sure. So it's a battle of Jack Adams winners.
But while MacLean's got plenty of well-deserved credit over his first two seasons in Ottawa, it's sometimes easy to overlook the job Bylsma has done. After all, how hard can it be to coach one of the most talented rosters in the league?
Pretty tough, actually, as more than a few coaches over the years have learned. Managing high expectations (not to mention a dressing room full of big egos) can be a challenge, and Bylsma has handled it well since his debut in 2009. He may never get full credit, and he'll have someone calling for his head any time the Penguins lose two straight. But he deserves to be in the conversation about the best coaches in the league, and a second Cup ring would cement that.
NBC Executives Who Love Sidney Crosby vs. CBC Executives Who Need at Least One Canadian Team
In The Battle of the Shadowy Ratings-Based Conspiracies
That's how the NHL determines winners and losers these days, right? No? Only crazy fans and sore losers think that way? Oh, OK, carry on then.
Healthy Jason Spezza vs. Injured Jason Spezza
In The Battle of 'Oh Yeah, Whatever Happened to Him?'
You remember Spezza. Tall kid, nice guy, creepy giggle? Also happens to be one of the best playmaking centers in the entire league when he's healthy?
The "when he's healthy" part has been a problem this season, which saw Spezza miss all but five regular-season games when his back problems resurfaced. He had surgery on a herniated disc in February, and hadn't been seen since.
But Spezza has recently reappeared, first doing some light skating and more recently practicing with the Senators' "black aces," the collection of extra players each team keeps ready in case they need an emergency fill-in. There was talk that he could make an appearance in the series opener but he ended up staying in Ottawa, suggesting he's not close to a return quite yet.
But a comeback before the end of the series can't be ruled out — the Senators organization seems to love to downplay expectations and then have players make "surprise" returns ahead of schedule. And if Spezza can play and be effective, he'd provide the Senators with some desperately needed offense up front.
James Neal, Evgeni Malkin, and Jarome Iginla vs. Mika Zibanejad, Colin Greening, and Jakob Silfverberg
In The Battle of Forward Depth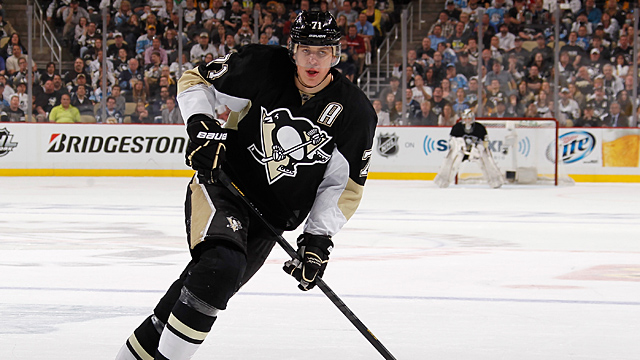 Take a look at those six names. The first group is made up of three All-Stars, two of whom will probably wind up in the Hall of Fame. The second group includes three young players who some hockey fans may not even have ever heard of.
But they have something in common. Those are the regular season's fourth-, fifth-, and sixth-leading scorers among forwards on each of the two teams in this series. And that tells you pretty much all you need to know about forward depth in this series. The Penguins have a ton of it. The Senators do not. And it's a big part of the reason why the Penguins led the league is scoring, while the Senators were dead last among playoff teams.
That also tells a bigger story about the sort of season the two teams have had. For the Penguins, it's been about getting everyone healthy, loading up at the deadline, and stacking the deck with a level of talent that's supposed to be impossible in a salary-cap era. For the Senators, it's been about just getting by, plugging whoever you can find into whatever hole has opened up at the time, and hoping they find a way to get the job done.
The amazing thing is that in Ottawa, somehow, it's working. Which leads us to what will probably be the most important battle of all …
The Ottawa Senators vs. Cold, Hard Reality
In The Battle That May Decide the Series
Let's cut to the chase: Here's the Penguins roster. Here's the Senators roster. Based on those two sets of names, this series should not be close. On paper, Ottawa doesn't have a chance.
But if you're a Senators fan, you're not too worried about that, because on paper this team shouldn't have had a chance all year. Plenty of experts didn't think Ottawa had the talent to make it back to the playoffs in the first place, and that was when the Senators were healthy. Once all the injuries hit, they were all but written off.
And yet here we are, with eight teams left, and the Senators are still around. They've embraced their #PeskySens identity and are starting to look like a team that's too dumb to know it's not supposed to be here. That's a compliment, by the way.
On paper, this series should be where the storybook season ends and the Penguins continue their march to another championship. But it won't be easy. And at the very least, it should be fun to watch.
Filed Under: Hockey, NHL, NHL Playoffs, Ottawa Senators, Pittsburgh Penguins