Which NHL Coach (or GM!) Is Getting Fired Next?
Ezra Shaw/Getty Images
It would appear that the NHL's firing season is upon us. We've already seen two GMs relieved of their duties since the lockout ended — Brian Burke's oddly timed dismissal in Toronto, followed by Scott Howson finally being put out of his misery in Columbus. Last week, we got our first coaching casualty.
And it was a big one. Lindy Ruff had held the distinction of being the NHL's longest-serving head coach but this month got the pink slip after more than 15 years on the job in Buffalo. If Lindy Ruff can be fired, anyone can.
So who's next? Let's take a look around the league at some of the coaches and GMs who find themselves on the hot seat.

Colorado Avalanche Coach Joe Sacco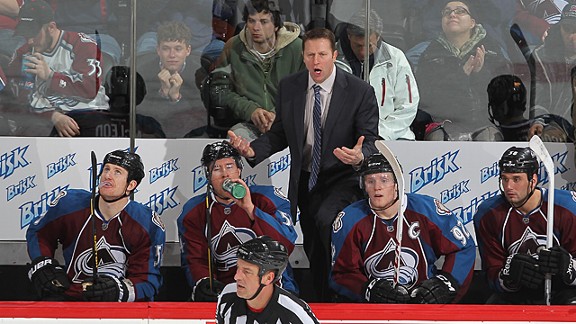 Why he's in trouble: Colorado is floundering near the bottom of the league and seems headed for a third straight year of missing the playoffs. Not many coaches can survive that sort of drought, and it's not like Sacco can point to a history of success in other jobs to buy himself time.
What could save him: It's not his fault that Gabriel Landeskog got hurt or Ryan O'Reilly won't sign. And though Colorado did miss the playoffs last season, he still led the Avs to a 20-point improvement over their disastrous 2010-11 campaign.
How hot is it? 7/10
Prediction: Sacco's on shaky ground, and his fate is likely tied to …
Colorado Avalanche General Manager Greg Sherman
Why he's in trouble: Colorado is floundering near the bottom of the league and seems … wait, we did that already. But in addition to the losing record, Sherman has to take a big chunk of the blame for mishandling the whole O'Reilly fiasco.
What could save him: At this point, he might need to hit a home run on an O'Reilly trade. And judging by the rumored asking price, he seems to know it.
How hot is it? 8/10
Prediction: It's always possible that Sherman could buy himself some time by firing Sacco, but it won't be much.
Minnesota Wild Coach Mike Yeo
Why he's in trouble: The Wild spent a ton of money in the offseason in hopes of improving a team that finished 12th in the West in 2011-12. So far this year, that's paid off with a move all the way up to … 11th.
What could save him: While the offseason signings were splashy, not many were predicting that the Wild were ready for contender status quite yet. This team is still a work in progress.
How hot is it? 3/10
Prediction: Yeo should be fine for the rest of the season, though he might need a playoff spot to last any longer than that.
New York Rangers Coach John Tortorella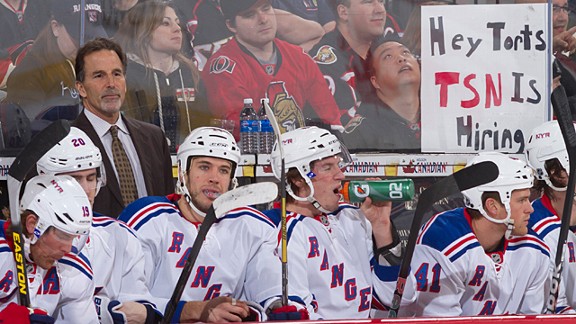 Why he's in trouble: The idea that Tortorella could be on this list would have seemed silly before the season began. But one year after being the East's no. 1 seed, the Rangers have slipped all the way out of a playoff spot. That's not good enough for a team that's spent a ton of money to assemble a championship-caliber roster, and you have to wonder if the Rangers players are starting to tune out the notoriously crusty coach. Some of his recent postgame comments have made him sound like a man who's out of answers.
What could save him: The Rangers still have one of the league's most talented rosters, and it's hard to imagine them not eventually climbing past several of the teams ahead of them.
How hot is it? 8/10, though you have to remember that this is New York — you can win a championship and still be a 5/10 the next day.
Prediction: This story will get bigger as the season goes on. The hockey media that Tortorella has spent years antagonizing will make sure of that.
Tampa Bay Lightning Coach Guy Boucher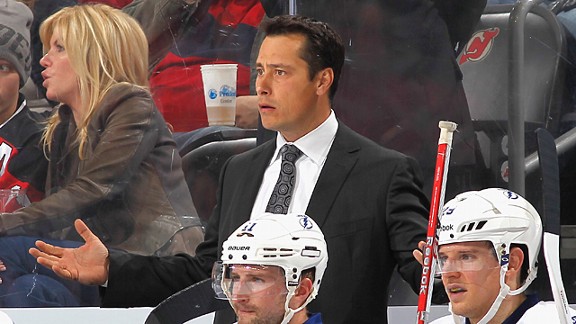 Why he's in trouble: After leading the Lightning to an impressive 2010-11 season in his first year behind an NHL bench, Boucher missed the playoffs last year while seeing his team lead the league in goals against. GM Steve Yzerman took steps to address the goaltending and blue-line issues, but so far, the team is still on the playoff bubble and Yzerman's patience might be wearing thin. Boucher had only one year of professional coaching experience when he was hired, so it's not like he has a ton of pedigree to fall back on.
What could save him: The Southeast Division has been awful so far, so the slumping Lightning aren't really losing much ground. They're still well-positioned to win the division and claim the automatic 3-seed that comes with it.
How hot is it? 4/10
Prediction: Barring a major collapse, Boucher should be fine until the offseason.
New York Islanders Coach Jack Capuano
Why he's in trouble: Despite some excellent young talent, the Islanders seem stuck in a state of permanent rebuilding. They're in last place in the Atlantic, a spot they've ended up occupying for each of the past five seasons.
What could save him? He's only in his second full year on the job, and nobody predicted the Islanders would contend this year.
How hot is it? 5/10
Prediction: It's impossible to predict what Charles "Let's make my backup goalie the GM" Wang will do, but it seems like Capuano should be safe for now.
Washington Capitals Coach Adam Oates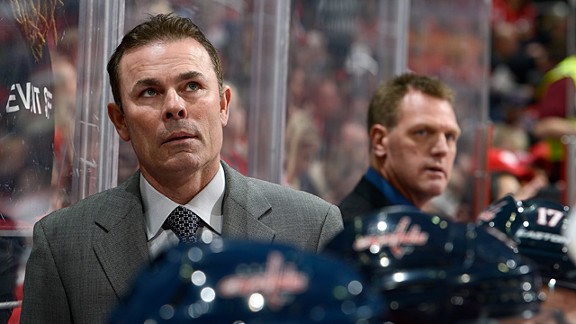 Why he's in trouble: The Capitals' season isn't going well, as you may have heard. While they've been better lately, the team is still tied for dead last in the East. Many of the Caps' big-name stars have struggled, and some of Oates's curious line combos haven't helped. He had zero head coaching experience when the Capitals hired him, so it's possible he's just in over his head.
What could save him: He's been on the job for a little over a month, and didn't even get a real training camp to start teaching his system. If the Caps fired him, they'd be moving on to their fourth coach in two seasons. Besides, the division is weak and Alex Ovechkin seems to be getting back on track.
How hot is it? 4/10
Prediction: At some point, the Capitals have to realize that it's time to stop firing coaches and start wondering whether the blame should be directed higher up. Speaking of which …
Washington Capitals General Manager George McPhee
Why he's in trouble: We mentioned that the Capitals were bad, right?
What could save him: McPhee's been the Capitals' GM since 1997, and he rebuilt the team from the ashes of a full-scale tank job in 2004, so he's earned some patience from ownership. That might be enough to get him through the rest of the season.
How hot is it? 9/10
Prediction: The Capitals probably need a strong playoff run for McPhee to make it through the offseason, and a midseason slump could see owner Ted Leonsis pull the trigger even earlier.
Winnipeg Jets Coach Claude Noel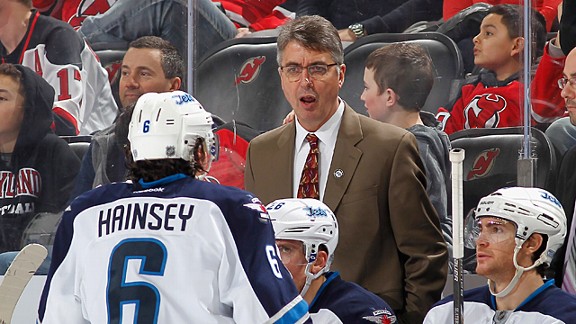 Why he's in trouble: The Jets aren't all that good, missing the playoffs last year and finding themselves on pace to do it again this year. At some point all the goodwill from the franchise resurrection will start to be replaced by actual expectations.
What could save him: It's worth remembering that the reborn Jets are still just the Atlanta Thrashers in better uniforms. Everyone knew this was going to be a rebuild that would take some time.
How hot is it? 1/10. (Straightforward observation or Winnipeg climate joke? You decide!)
Prediction: Noel should be fine.
San Jose Sharks Coach Todd McLellan
Why he's in trouble: It's almost become a cliché in recent years to talk about the Sharks' window slamming shut, but here we are. The Sharks started the season 7-0-0 and looked like Cup favorites, but since then the wheels have come off — and now they're barely clinging to a playoff spot. This follows last year's early playoff exit, after which GM Doug Wilson didn't exactly offer McLellan a vote of confidence.
What could save him: Another seven-game winning streak would help. But this is clearly a coach who needs a significant playoff run.
How hot is it? 9/10
Prediction: It's unlikely that Wilson can afford to be especially patient here, since it won't be long before fingers start pointing at him, too.
Florida Panthers Coach Kevin Dineen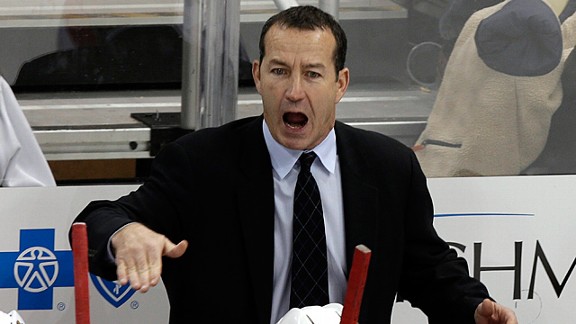 Why he's in trouble: The Panthers were one of last year's pleasant surprises, and had hoped to build on the momentum of their first playoff appearance in more than a decade. Instead, they're sitting near the bottom of the Eastern standings and the building often seems half-empty.
What could save him: Dineen got some Jack Adams buzz for his work last year, his only full season as Panthers coach.
How hot is it? 2/10
Prediction: It seems like it would be crazy to fire Dineen so soon after he did a great job last year. Then again, Panthers boss Michael Yormark doesn't always seem to make great decisions.
Blue Jackets Coach Todd Richards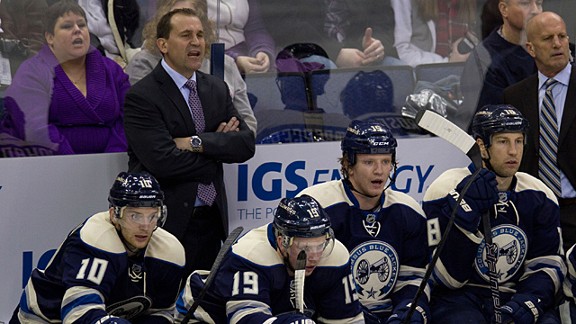 Why he's in trouble: The Blue Jackets are a mess, headed toward a last-place overall finish for the second straight year. With Howson already gone, it's unlikely that replacement GM Jarmo Kekalainen wants to be stuck long-term with a guy he didn't hire.
What could save him: He hasn't had much time on the job. Richards was only given the interim tag when he stepped behind the bench for the last half of the disastrous 2011-12 season, meaning he's had just 20 games as the full-time coach. And besides, vintage Scotty Bowman couldn't do much with this roster.
How hot is it? 8/10
Prediction: With this year already looking like a write-off, it's possible that Kekalainen won't feel any pressure to move quickly. That could get Richards through to the end of the season, but not much more.
Buffalo Sabres General Manager Darcy Regier
Why he's in trouble: Regier was hired by Buffalo the same summer that Ruff was, and it had become hard to imagine that the pair would ever be broken up. The fact that he had to send Ruff packing is an indication of just how bad the situation has become in Buffalo.
What could save him: At this point, it's not easy to come up with a good answer. A regular-season turnaround followed by a solid playoff run might do it. So would trading for a unicorn, which at this point seems just about as likely.
How hot is it? Hot. Really hot. Buffalo-abandoned-building-fire hot.
Prediction: Regier is the next GM fired, and the rebuild truly begins in Buffalo.
Filed Under: Hockey, New York Rangers, NHL, San Jose Sharks, Washington Capitals