What's Different About Kevin Love?
Kevin Love has had a fantastic season, averaging 26.5 points and 13.6 rebounds per game. But for the month of March alone, over a 16-game span, he averaged 30.7 PPG and 13.9 RPG on 46.4 percent shooting, including 44.9 percent shooting from the 3-point line. He was one of the most efficient players in the NBA in half-court offense, posting a PPP of 0.994 — good enough for the 90th percentile among all NBA players. How has Love been able to make the jump from a good offensive player to a great one?
First, I want to look at is his post game. In February, I wrote about this and at the time, he was a decent post player, posting up on 21.9 percent of his possessions with a PPP of 0.881, placing him in the 62nd percentile. Since then, Love has been posting up more often (23.5 percent of his possessions) and his PPP has improved to 0.927 (80th percentile). That's a pretty significant jump in about six weeks of play.

So what's different? Love still likes to post up on the left block. I wrote previously that when he set up there, Love was turning to the middle 45.1 precent of the time, turning to the baseline 14.7 percent of the time, and facing up 34.2 percent of the time. Now, Love has started facing up a lot more, and as Bill Simmons noted in his MVP handicapping post, he's starting to hit some stepbacks when facing up. He keeps the defense off balance, not allowing them to alter his preferred move. For example, when Love wants to take a jump shot out of a face up — something he does 61.4 percent of the time — he gets the defense to give him space by using his body:
His body control is fantastic. He makes that initial turn while leaning in with his shoulder, forcing his defender to take a step back. Then he has the space to take a jump shot, which he easily knocks down. The key is that turn.
His lean-step through-shot motion is fun to watch, but when it doesn't work, Love isn't stuck. He goes to his jab step and pump fake when necessary to get his defender to give up the space to get his shot off. Once he has room, he can drive to the basket:
This is where his ability to keep the defense off balance is most apparent. You have post defenders trying to play up on Love and take away the jump shot. After a jab step or two, combined with a few pump fakes, Love uses the defense's aggressiveness against them. In this case, he's able to get his man to jump, which creates a driving lane allowing him to finish at the rim.
The block isn't the only area where Love is thriving. His high efficiency is also a result of his 3-point shooting — and not even easy ones. He's not taking (or making, for that matter) a lot of corner 3-pointers, which are easier than any other 3-point spot. Rather, using a chart created with NBA.com/stats, we can see that 66 percent of Love's 3-point attempts come from the wing, and he is much better here than in the corner: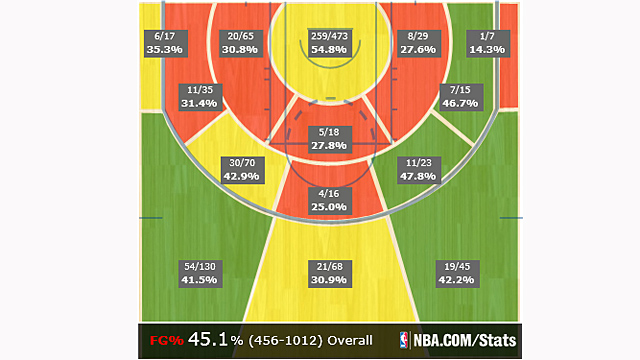 [Ed. note: Green indicates above average, yellow average, and red below average.]
Love is clearly an above-average 3-point shooter on the wing — 5.6 percent better than the league average on the left wing and 6.8 percent better than the league average on the right wing. These numbers might seem unusual at first, but a power forward who is so good at rebounding and crashing the glass isn't going to be standing in the corner waiting for the ball to come to him. Love's 3-point shots come out of pick-and-pop situations or situations where he is spotting up on the wing. These types of shots are going to be more open for Love and he'll shoot a better percentage:
Since Love is a power forward, he is defended by opposing team's bigs, either 4s or 5s. When there is a dribble penetration or pick-and-roll that doesn't involve Love, his defender usually leaves him to go help — leaving Love wide open. When that happens, Love is available to for a kick-out pass and a catch-and-shoot. If he is in the pick-and-roll as the screener, his defender has to hedge, again leaving him open on the wing.
Kevin Love can also hit 3-point shots off the dribble, and that has allowed Rick Adelman to get creative. He uses Love as a ball handler in pick-and-roll situations to get his power forward open 3-point shots:
This play starts with Love at the elbow, getting the elbow entry pass. Then the point guard runs right at Love's defender and sets a rub screen for Love, who dribbles back and pulls up for an open shot behind the 3-point line. It's a fun play that can be effective with maybe two power forwards in this league, and Kevin Love is one of them.
The final area where Love can be really efficient is when he converts offensive rebounds into points. He has almost a preternatural ability to read the ball off the rim. Combined with his deftness at holding off defenders, Love creates a lot of put-back opportunities:
He's not the most athletic guy, so you won't see him finish strong with a tip dunk. You will see him create space to jump up, catch the rebound, and go up with it. For example, in the clip of his putback against the Celtics, he follows Luke Ridnour to the rim. As the shot goes up, Love pins his man, keeps him away from the ball, and draws a foul.
Simply put, Kevin Love is giving the Timberwolves more successful possessions. This efficiency on offense has turned him into a MVP candidate, and while he probably won't win, we definitely have another superstar on our hands. The scary thing for his opponents is that he's probably going to keep improving.
Filed Under: Kevin Love, Minnesota Timberwolves, NBA, Sebastian Pruiti, Total Breakdown