We Went There: The Bucs Start Here
Jared Wickerham/Getty Images
Pirates fans remember Sid Bream's spikes-first slide into home plate as if his spikes had sliced through their collective femoral arteries. That was back in '92, in the seventh game of the NLCS. The Pirates wouldn't have a winning season for another 21 years. This week's Cardinals-Pirates playoff series was about restoring life to a fan base that ranked no. 3 in Pittsburgh, behind the Steelers' and Penguins'.
"It just died," said Craig Boruchov, an orthodontist. "I've never seen anything like that in sports."
"Bream lumbering toward home plate …" said his dad, Michael, who is also an orthodontist.
"I crashed down in my dorm room when that happened," Craig said.


The orthodontic Boruchovs had closed their office in Long Island so they could go to Pittsburgh. They had been coming to PNC Park since the dark years, back when Lloyd McClendon ruled the club, when "We Are Family" had ceased to be a civic anthem and had become a semi-ironic T-shirt. Mike LaValliere, who was the catcher when Bream scored, joked to me, "If you asked Pittsburghers right now, they're Pirates fans because the Steelers are 0-4."
Craig Boruchov on the Bream play: "Was it Sluggo or LaValliere who missed the tag? It was off Stan Belinda. Belinda came in for Doug Drabek. I still think Jim Leyland is overrated."
Michael: "Our guy was Andy Van Slyke."
Craig: "There was a lot of tension in Pittsburgh then. Bonds called Van Slyke the 'Great White Hope.'"
Michael: "My son loves Bonds."
Craig: "I love him. Whether he did it or not, it's still a round ball and round bat."
This is the first thing you should know about the particular anguish of Pirates fans, 1993-present. They didn't blame Barry Bonds. They blamed the Pirates.
---
I wanted to hear about the time before the Bream play. Back when the Pirates were still winning world titles and putting out team annuals inspired by Soul Train. (Or maybe it was Soul Train that was inspired by the Pirates.) I found a man named John Yaggi sitting on the north end of Roberto Clemente Bridge, just outside PNC. He was wearing a '71 World Series championship T-shirt and missing most of his left hand.
"I was at Games 4 and 5 in the '71 Series," Yaggi said. "And Games 3, 4, and 5 in the '79 Series. I saw the last five games Clemente played. You know what those games were? The five-game playoff against the Cincinnati Reds '72."
For Pirates fans, the '72 playoffs were the original nut-kick — the ur-Bream. The Pirates took a 3-2 lead into the bottom of the ninth of Game 5 of the NLCS. "Johnny Bench hit an opposite-field home run to tie it," Yaggi said. "Then Bob Moose wild-pitched in the winning run. Moose died four years later." And Clemente's plane went down off Puerto Rico two and a half months after the game.
Do you remember Bill Mazeroski's home run in '60? I asked Yaggi.
"A little," he said. "I was a sophomore in high school. I was listening to the game in school. By the time I got on the bus, Mazeroski hit the home run."
Yaggi lives in Ohio on 67 acres of land. He worked for more than four decades in a forge shop — "a dirty, greasy forge shop. I've been one-handed for 50 years. … But I see the games I want to see."
"With his father-in-law" — Yaggi nodded at the man next to him — "I saw the last two games at Forbes Field. I saw the first two games at Three Rivers Stadium. I don't know who I was with. Sorry about that. I saw the last game at Three Rivers with my son. I saw the first one at PNC Park with my godson. He milks cows over in Titusville."
"All those years I was suffering with the Pirates," Yaggi said, "I was suffering with the Browns, too."
Wait, I asked, you're a Pirates fan and a Browns fan?
"And for 45 years I was a union member and a Republican," Yaggi growled. "I'm me!"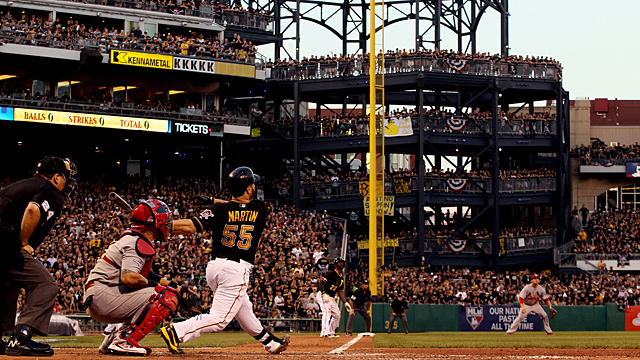 KEL-LY! KEL-LY! KEL-LY!
The crowd inside PNC was riding the Cardinals starter, Joe Kelly, a nice guy and savvy tweeter whose scoreboard picture looks like it was taken in fourth grade. A crowd that's new to the postseason can react one of two ways. In Arlington, Texas, a few years ago, Rangers fans were happy to be there. In Pittsburgh, they were like a wrestling crowd that knew all the chants in advance.
When the Pirates played the Reds last Tuesday in the wild-card game, the crowd started chanting, "CUE-TO! CUE-TO!" Pitcher Johnny Cueto dropped the ball on the mound. On his next pitch, he gave up a home run to catcher Russell Martin. A tradition was born. Pittsburghers would ride the pitcher. They would be assholes.
Scalpers were thick on the south side of the Clemente Bridge, where they were getting more than $100 for "uppers." A few years ago, the same seats cost 99 cents on StubHub — the transaction fee was often more than the ticket. On Sunday, I spent $125 for a ticket in section 325. The Pirates had passed out black towels at the door. The woman I sat next to waved hers so vigorously that after the Pirates got two runs in the first, I felt like Private Pyle in Full Metal Jacket.
The Pirates starter was Francisco Liriano. It is a compliment to Liriano, and a condemnation of the Pirates, that the Tribune-Review suggested Liriano "might just be the best free-agent signing in franchise history." But Pirates fans embrace anyone who comes in, because so many (Bonds, Bobby Bonilla, Aramis Ramirez, etc., etc.) have gone out. Martin, who came from the Yankees, blocked nearly every pitch that Liriano threw in the dirt.
Andrew McCutchen, who looked at the stands and patted his heart in pregame introductions, is a big deal. "He's almost Crosby level," said Matt Delawder, a fan with a Brett Keisel beard who was drinking Yuengling out of a can. (PNC is the one ballpark I can remember where beer is sold in a can.) As with Liriano, there's a compliment, and a hedge, in that "almost." Only Reggie Howze, who has played the saxophone outside Pirates games for 16 years, had anything unkind to say about McCutchen. McCutchen, he said, does not tip.
By the middle innings, the problem Pirates fans had with riding Cardinals pitchers was figuring out how pronounce their names. Seth Maness? As in, May-niss? OK: MA-NESS! MA-NESS! John Axford? AX-FORD! Carlos Martinez? MAR … I mean, CAR-LOS! I'm not sure the crowd bothered with Kevin Siegrist, who gave up the go-ahead RBI to Pedro Alvarez in the bottom of the eighth and an insurance run that came from a Martin single. The Pirates won, 5-3.
Pittsburgh was a game away from the NLCS. On Federal Street, a man in a Clemente jersey reached toward me as if he wanted me to jump in his arms, and another was shaking a "no parking" sign.
---
Mike LaValliere can still see the last pitch leaving Belinda's hands in the '92 NLCS. "Fastball," LaValliere said tonelessly. "Middle-away. About belt-high."
The Braves' Francisco Cabrera, who had all of 10 at-bats in the '92 regular season, drove the ball to left field. David Justice scored from third. Bream started in from second. LaValliere thought Cabrera had hit it too hard for Bream to score. "I'm actually thinking it wasn't going to be a play at the plate," he said. "I thought they'd be holding up Sid. It was hit that hard."
It's because of Bream that we'll never appreciate how talented, and how borderline radioactive, the '92 Pirates were. Bonds was his charming self — maybe a few hat sizes smaller. Van Slyke was the outré outfielder. "When Andy opened his mouth," LaValliere said, "you didn't know whether to laugh or cry or go try to shut his mouth." Drabek had won the Cy Young two years earlier. Tim Wakefield won eight games. Even Kirk Gibson came over from the Royals for two months.
Leyland managed with long indulgences punctuated by profane outbursts. "We just got Kirk Gibson," LaValliere remembered. "Jimmy's going with one of his tirades. He does his thing in his office at Three Rivers, then comes into our locker room, then walked in the bathroom, still ranting and raving. Finally, he goes into his office and slams the door. Gibby starts to undress. I say, 'He's not done yet.' Not 10 seconds later, Jimmy opens the door and starts firing back and forth again. He goes back to his office. Gibby looks at me. I go, 'No, he still has one more in him.' Jimmy comes out again. At that point, everybody goes, 'OK, he's done.' We all got undressed, showered, and left."
Some Pirates fans insist Leyland should have left in the starter, Drabek, in the '92 playoff game. Drabek began the ninth by giving up a double and a walk; Justice reached on an error. But as LaValliere said, "Dougie was on fumes. … If you asked any of us as well as anybody that followed the Pirates if they would stake Stan Belinda versus Francisco Cabrera for a win, we'd all have taken that. We'd have taken that 99 times out of 100. It was the one time we got burned."
Cabrera's ball bounced out near Bonds and Van Slyke. They were both Gold Glovers in '92. They also disliked each other. The Pirates had given Van Slyke a $12.6 million extension in 1990, which Bonds took, correctly, as a sign he wasn't getting re-signed. It was a classic Pirates front office move. As Joe Sheehan has pointed out, after that contract Bonds would win more National League MVPs (six) than Van Slyke would play seasons in Pittsburgh (three). Still, it was Van Slyke the Pirates brought back to town this year to throw the opening pitch of Game 4.
Two decades after the play, Van Slyke claimed that just before the fateful pitch to Cabrera he told Bonds to move forward. Bonds, Van Slyke said, "turned and looked at me and gave me the international peace sign. So I said, 'Fine, you play where you want.'"
The ball, of course, landed right in front of Bonds. His throw to the plate wasn't great. "Barry never had a good arm," LaValliere said. "What he did is he got to the ball faster and he played pretty shallow most of the time. A lot of teams wouldn't run on him because he got to the ball that quick." For his part, Bream wouldn't have won a footrace against Rick Reuschel. But as Bonds's throw tailed slightly toward the first-base line, LaValliere thought, Oh, crap.
"It had happened so fast," LaValliere said. "It's just instinct. Catch and turn and get to the corner of the plate. That's all I'm thinking." When the ump called Bream safe, LaValliere walked straight to the clubhouse while the Braves piled on each other at the plate.
"This is in no way to demean anyone, or even to compare baseball to what happens in war," LaValliere said. "But there's a scene in Saving Private Ryan at the end where a tank or a mortar goes off and everything is dead quiet. Dead silence. That's what it felt like. I remember going to the trainer's room. Nobody could say anything. Nobody was throwing stuff. Nobody was yelling and screaming. The plane flight home, the same deal. It's like nobody even talked. It was surreal."
You might say the CUE-TO chant marked the end of a 21-year silence.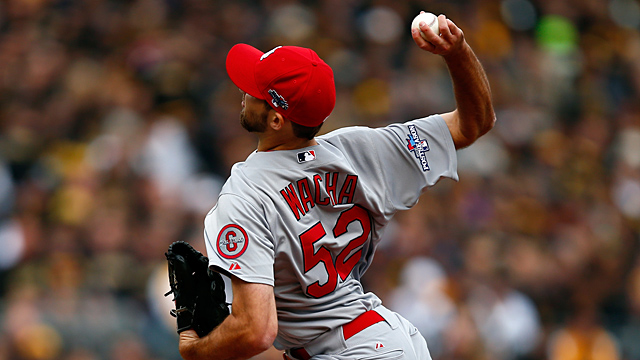 I took a boat to PNC for Game 4. A little after 1:30, the Three Rivers Queen was ambling west on the Monongahela. We passed under the Fort Pitt Bridge and saw the ancient funicular descending Mount Washington. At the nexus of the three rivers, where artist Florentijn Hofman's giant rubber duck is bobbing, we turned and headed northeast on the Allegheny. To the left was the Steelers' Heinz Field, followed in succession by the headquarters of Del Monte and StarKist — the canned-food aisle of corporate America. The top deck of the boat was filled with Pirates fans, and nearly all of them were drinking from cans of beer.
Ballparks, even good ones, are blights on the natural world. The best thing you can say about PNC Park is that it blights it less than most. Pittsburghers whiz behind the outfield walls on bike trails. Tattooed bros tie up boats with names like Never Enuf and That's What T Said just feet from the stadium and listen to "U Can't Touch This."
PNC, which opened in 2001, redeemed the Pirates before they redeemed themselves. Its signature shot is the outfield panorama of downtown, which mimics the city's most famous vista: the shot of when you come out of the Fort Pitt Tunnel. "I went up for PirateFest in 2001," LaValliere said. "It was 50 degrees up in Pittsburgh. Someone said, 'You want to see the new ballpark?' I walked out to home plate. I called Lloyd McClendon — he was the manager then — and I told him I was making a comeback. He said, 'Spanky, you serious?' I wanted to play in the ballpark."
Although the Pirates could have dogpiled that day, the ticket prices had plunged from Sunday. I bought a seat behind home plate for $140. My seatmates were four woebegone Pirates fans who'd come in from Denver and New York. George, who sold me the ticket, had inherited the curse of Pirates fandom from his dad, who loved Clemente. Everyone was armed to the teeth for the Cards' 22-year-old starter Michael Wacha: WACH-A! WACH-A!
But Wacha threw 7⅓ no-hit innings. In that time, he allowed one baserunner. It wasn't until he gave up a bomb to Alvarez that the chant came out. But the Cards' bullpen shut down the Pirates and McCutchen made the last out of the game. The series moved back to St. Louis tied at two.
The streets outside PNC Park were eerily quiet, almost like the Pirates' team plane back in '92. It made you fear the most charming story in baseball this year could end spikes up. The good news is, if the Pirates make the NLCS they'll play the Dodgers instead of the Braves. Atlanta had already talked to Bream about throwing out the first pitch.
Filed Under: Bryan Curtis, MLB, Pittsburgh Pirates, St. Louis Cardinals