We Went There: A Fine Mess at Madison Square Garden
Nathaniel S. Butler/Getty Images
This … this was not a fun, attractive, or well-played NBA game. The Pacers, turnover-prone all season and barely able to handle the ball without George Hill, committed 19 turnovers and seemed to be on the verge of losing the ball on every possession. The Knicks committed 30 fouls, about 10 more than the average team commits in a game, and at one point in the third quarter, I think every player had at least four fouls. It was truly awful. There were so many low points that the entire game transformed during some third-quarter nadir into a 48-minute-long low point.
It happened around the 4:45 mark of the third quarter, where my meticulous notes about X's and O's and crowd tomfoolery abruptly stop and transition into a single harrowing sentence: "I have no idea what is going on right now."

I reviewed the sequence in question on film after the game. Here is what happened: J.R. Smith drove and threw a jump pass to the Pacers. He does not play for the Pacers. David West recovered the ball and threw ahead to D.J. Augustin, starting in Hill's place and streaking at this very moment down the left wing in a perfect two-on-one, Paul George trailing him at the foul line (not an ideal position) and only Chris Copeland between them. But Copeland is at least eight inches taller than Augustin and sort of spooked him. So Augustin tried a ridiculous airborne lefty behind-the-back pass to George, only he threw it way behind George, and the ball rolled toward the opposite sideline.
George picked it up. That's good! He drove in for a layup, and missed when Kenyon Martin mounted a strong challenge at the rim. That's bad. The Knicks ran out, and Raymond Felton hit Copeland for a wide-open transition 3-pointer. He missed. Felton, who can barely jump, outleapt Augustin for the rebound, volleyballed it back off the top of the backboard, whacked at it again when it came down, finally grabbed it, and then dished it back out to Smith for a 3-pointer so open I might have been able to get rim.
Smith hit the side of the backboard. Or if he hit rim, he barely grazed the left side of it. West and Ian Mahinmi, a very tall center, were so befuddled by the severity of Smith's miss, they let Copeland slip in for the rebound and putback basket. The Pacers called a timeout, and Edie Falco was delighted. Fin.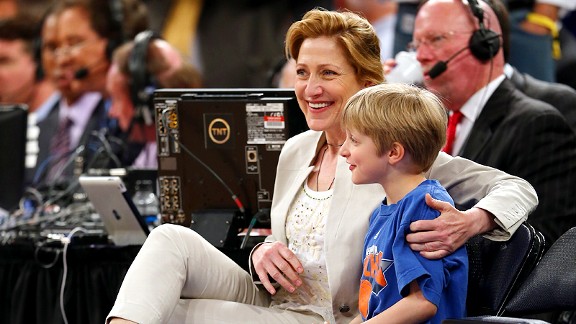 But there was so much more. Augustin threw a laser beam of an entry pass at Roy Hibbert's feet in the first half. Lance Stephenson just fell down with the ball in crunch time, and we can only hope he's not injured. Gerald Green, dusted off out of desperation, threw two consecutive post entry passes directly to players wearing the opposing jersey. With the game still within reach, both Hibbert and West tossed amazingly errant passes out of the post as the Knicks, who mostly scrapped hard double-teams tonight, showed hints of some trapping in crunch time. They actually did trap Hibbert on the left block with about eight minutes to go, and Hibbert, pinched toward the sideline, kicked the ball out to a shooter with something that was closer to a roll than a pass. It looked like Hibbert was skipping a stone, and the ball skidded out of bounds along the near sideline.
Another sequence midway through the third quarter went like this: George, under very tight pressure from Iman Shumpert, couldn't find a clean passing lane to West, who was wrestling underneath with Martin. George gave up and tried the Kevin Durant rip move, only he lost control of the ball and flung it high into the air. Felton caught it on the other side of the floor and passed ahead to Copeland for a fast break, which promptly ended when Copeland simultaneously committed a charging foul and threw a crosscourt pass about 15 feet from his target and out of bounds.
Indiana was still somehow only down by eight with 1:25 left when they entered the ball to West, who struggled in the second half after a strong start. West saw a double-team coming and alertly kicked the ball out to George on the perimeter. Problem: George had just moved from the spot where West threw the ball, and it went into the backcourt for a violation. It was a fitting end to a terrible game — a game in which the Pacers shot 19-of-33 from the foul line. "If we make our free throws," Indiana coach Frank Vogel said afterward, "it's a different game." He added this very apt summary of tonight's events: "We had a lot of problems. We didn't play a good basketball game."
After the game, Hibbert was sitting at his locker, head bowed, lamenting to Danny Granger that "we should have won" over and over. Hibbert played only 31 minutes and spent much of the game in foul trouble, and at least one of his fouls — his fifth — was the sort of straight-up block the referees have generally been allowing him this season. I asked Hibbert if the refs officiated him differently tonight. He wouldn't take the bait. "What did you think?" he asked. I said the fifth foul was shaky given precedent. "I think I had some dumb fouls, personally. I wasn't as disciplined as I should have been, and I take responsibility for that."
More notes from this mess:
• The Blue Man Group performed pregame tonight, and they were rehearsing in the bowels of the arena, where media members walk to get food or enter the court. And let me tell you, there is nothing that prepares you for the moment when you turn the corner in a hallway and suddenly come face-to-face with a blue-headed man holding an orange lightsaber.
• Pablo Prigioni, a.k.a. The Sneak, knocked the ball out of a dribbler's hands on the sideline and out of bounds twice, just because. That is what The Sneak does.
• The crowd went wild when Prigioni was introduced as a starter, happy at his return to the starting five after Mike Woodson's failed Game 4 experiment with a big starting lineup. They went wild again when he reentered the game early in the second quarter for Jason Kidd, who is just a very sad person right now. There was a lot of good-natured encouragement, almost pleading, from the MSG crowd tonight — a sure sign the Knicks are trailing, and that a few players have some issues to sort out. They got antsy when Shumpert hesitated on open jumpers the Pacers are increasingly happy to give him, but the antsiness felt very positive. The fans weren't saying, "Shoot it, you bum!" They were saying, "We know you can make it, Iman!"
They rose in anticipation whenever Smith came open, expressing an excitement that this would be the shot to break his slump. (They were right.) And they shrieked late in the first quarter, when a jump ball ricocheted ahead to Kidd, scoreless since Game 2 of the Boston series, and Kidd had nothing but clear space between himself and the basket. The shriek turned into a horrific gasp as Kidd's layup rolled around and off the rim, and save for a token second of playing time on the last possession of the half, we never saw Kidd again.
• Hill's absence because of a concussion was all over this game and changes the entire series. Augustin hit some 3s, and that's nice, but he's been inconsistent on offense all season, and he's a disaster defending the pick-and-roll. The Knicks finally got some traction on pick-and-rolls Thursday night, and they deserve credit for running some creative stuff, confusing the Pacers, and working their way into the middle of the floor against Indiana's wishes — something they were not able to do in most of the four prior games. That left Hibbert in the uncomfortable position of having to cover a bit too much ground in monitoring both the New York ball handler driving at him and his own man, a looming threat for a lob pass. "There were a lot of two-on-one situations myself and Ian [Mahinmi] had to deal with," Hibbert told me after the game. "And we didn't take care of it. They put us in tough situations on the pick-and-roll, and they finished a lot of those plays they haven't in the past."
Augustin is obviously much smaller than Hill, who stands 6-foot-2 with long arms that can bother pick-and-roll ball handlers from behind. But he's also less steady and less disciplined, and opposing ball handlers can confuse him and cross him up with small fakes — little jukes that end with Augustin a fatal beat behind the play, or smushed against a pick. Every bit of ground the point guard loses in defending the pick-and-roll means the other four defenders have to extend their help defense that much further, and that creates holes all over the place.
• Carmelo Anthony made some damn tough shots. He was only 12-of-28, which isn't great, but it was good enough — especially considering the degree of difficulty.
• Hibbert praised Mahinmi after the game, and Mahinmi deserves it. He's giving Indiana good minutes on both ends of the floor in this series, but mostly as the agile rim protector the team was missing last season.
• Hill's injury also creates some painful trickle-down effects for the Pacers. They played about nine minutes tonight without a traditional point guard, with George and Stephenson combining to fill that role. That almost literally never happened in the regular season. No lineup lacking both Hill and Augustin logged more than 21 minutes all season, per NBA.com, and that lineup included Ben Hansbrough — a true point guard who briefly stole Augustin's job. Hansbrough was in every non-Hill/Augustin five-man group that logged more than a couple of minutes all season.
With a wing player filling the point guard slot for those nine minutes, Vogel turned to a few other seldom-used groupings — including the Sam Young–Green combination of death, and the Stephenson-Young-Green trio. It can't feel good to reach like that in an closeout game.
• Pitbull and Ne-Yo, "Give Me Everything" count: Just one appearance, but it was as horrible as ever.
• The Knicks, as mentioned, mixed up some of their pick-and-roll sets in interesting ways. Early in the third quarter, they began three consecutive possessions by entering the ball to Anthony at the left elbow, clearly setting up for him to run a pick-and-roll with Tyson Chandler at the other elbow: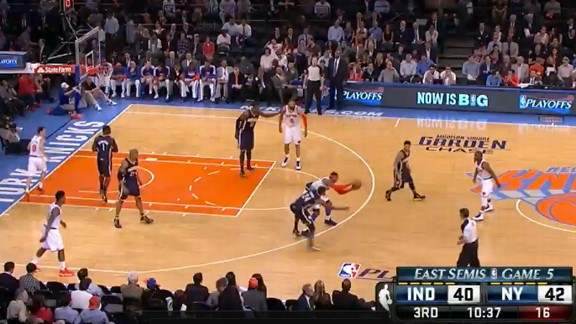 On the first possession, that's exactly what they did, and Anthony missed a very tough midrange jumper over George. They set up the same way on the next possession, and the Pacers likely expected the same play. But instead, Anthony pitched the ball to Felton on the left wing, and Anthony and Chandler combined to set a monster double screen for Felton — a pick that freed Felton to dribble into the middle of the floor and hit a floater: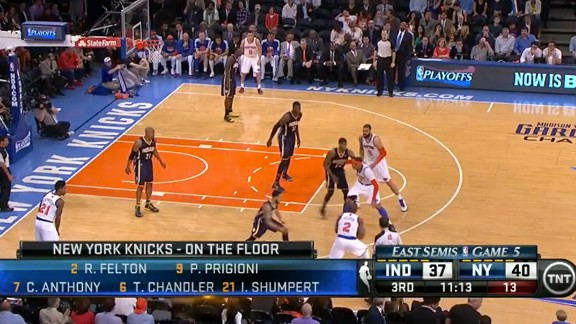 They ran another variation on the next possession, with Felton driving away from the double screen, getting into the paint, and skipping the ball to Prigioni for an open 3-pointer. Good stuff.
New York found similar success in the fourth quarter running all kinds of variations on a similar setup, only with Copeland and Martin at the elbows, and Anthony in the left corner: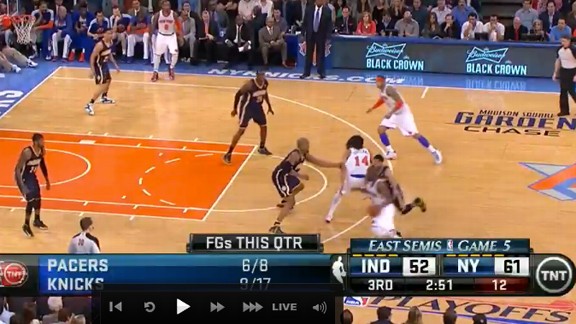 We look for grand adjustments — lineup changes, etc. — in playoff series, but it's often the nitty-gritty stuff like this that moves the needle on a game-to-game basis. "We changed some things a little bit tonight," Woodson said at his postgame presser after I asked about the tweaks. "In a playoff series, there's nothing tricky or anything like that. You just try to change some of your sets and see if it works."
• Copeland was huge tonight, and with Amar'e Stoudemire clearly limited (especially on defense, to the shock of no one), Woodson used him in combinations that are sort of big and small at the same time — Copeland-Anthony-Chandler and Copeland-Anthony-Martin, for instance. They function almost like New York's true small lineups, because the Pacers assign the same players to guard Copeland as they do Shumpert, but Copeland is bigger (6-9), can defend some power forwards for small stretches, and sports a much more reliable 3-point shot than Shumpert. That second group — Copeland-Anthony-Martin — logged nine minutes last night after playing just a single minute together all season, per NBA.com. That is scrambling.
• Woodson in his postgame press conference repeatedly referred to Indiana's arena, now named Bankers Life Fieldhouse, by one of its old names — Conseco Fieldhouse. Just another reason to enjoy Mike Woodson.
• Vogel didn't know if Stephenson had suffered a serious injury, and he said pregame it was unclear whether Hill would be back for Game 6. (He must pass the NBA's concussion protocol before getting back on the floor.) But Vogel sounded like the more smiley version of Tom Thibodeau in refusing to use the injuries as an excuse: "We've got enough players to beat the New York Knicks."
• Vogel is unfailingly polite. At the conclusion of his pregame press session, he wished the reporters in attendance good luck.
Filed Under: Carmelo Anthony, Indiana Pacers, NBA, New York Knicks, Paul George, Roy Hibbert, We Went there, Zach Lowe