Unit Watch: The Heat's Problem on Defense
Joe Klamar/AFP/Getty Images
We went through this last season with Miami. The Heat allowed the fourth-most 3-point attempts in the league — while playing at a below-average pace — and watched opponents hit a whopping 36.3 percent of those 3s. From 1998-99 through 2010-11, only two of the 48 conference finalists finished the regular season having allowed both an above-average number of 3-point attempts and an above-average opponent shooting percentage on long balls. Those two teams — the 2001 Bucks and 2006 Suns — were essentially right at the league average in one of the two categories once you adjusted for pace; the Heat were awful at both, a terrible historic omen for their title chances in a league that has long since embraced the 3 as a must-have weapon. Then the playoffs happened.

The Heat allowed just 30 percent shooting from deep in the postseason, against a slate of opponents that included three of the top 11 long-range shooting teams, in terms of percentage. Some of that is due to random luck; James Harden is still having nightmares about a few 3s that went halfway down in the Finals before rattling out. But some of it was also due to the natural increase in attentiveness and urgency that comes with postseason play — the same ratcheting up that closes off Matt Bonner's once-open looks every May and June, and led to Miami cutting its turnover rate dramatically in the playoffs. The Heat's go-to lineups feature three of the league's most incredible athletes, a very quick point guard who can cover lots of ground with active hands (Mario Chalmers), and one of the smartest defenders in NBA history (Shane Battier). Watching LeBron James and Battier defend the Russell Westbrook–Kevin Durant pin-down play that sliced through every prior opponent, it was easy to wonder how that Oklahoma City set had ever been effective. The coordination, timing, and athleticism were breathtaking.
Which is to say: I'm giving the Heat the benefit of the doubt when it comes to their horrid defense, currently 28th in points allowed per possession, in the company of the Phoenix, Detroit, and Cleveland types. Miami opponents are jacking 24 3s per game, the highest number in the league, even though the Heat are playing at just about a league-average pace. Only the Bobcats, pressing and zoning now and then, have allowed more corner 3s, per NBA.com. Opponents have knocked in an unsustainable 39.4 percent of all those triples, the third-worst mark in the league.
In other words, Miami pulled off modern NBA history last season by winning the title with such an awful regular-season 3-point defense. They may have to pull it off again this season.
But they've earned a certain leeway, especially considering their style of play. Miami blitzes everything, trapping pick-and-rolls hard out behind the 3-point line, crashing the paint aggressively behind that top-line defense, and banking on its collective speed to shut off spot-up openings. The style inevitably yields open looks, especially from the perimeter, but the Heat's philosophy is that no team can move the ball well enough and consistently enough to generate a winning number of those open looks over 48 minutes. Miami wants you to settle for your fifth option — that Matt Barnes above-the-break 3-pointer — and it wants to make you earn even that scrap via three or four perfectly timed passes around the court as the shot clock ticks away. And even then, one of the world's best athletes might be flying at poor Barnes.
Playing that style requires dead-on precision all over the floor. When Miami sends three defenders to one side of the floor to cut off a two-man pick-and-roll there, the two remaining defenders on the weak side must be in the exact right places at the exact right times. Typically, one of those weakside guys will rotate from the corner into the paint to help there, leaving the other to hover between shooters, ready to leap into any passing lane. That hovering guy has to pick his spot correctly, and both of them have to understand where to go if the defense manages to swing the ball back to the weak side — the step Miami often wants to force.
The precision, to be frank, hasn't been there. Teams have occasionally caught the Heat sending both of those weakside defenders at the same shooter, leaving the other one open. The Clippers on Wednesday caught Wade over-helping, a serial problem, from the strongside corner — always a dicey choice — on a Willie Green 3-pointer. LeBron James was late rotating when Jamal Crawford sliced into the lane on a high pick-and-roll that Miami's initial line of defense failed to contain; that Crawford hoop prompted an angry fourth-quarter timeout from Erik Spoelstra. And if there's one weakness in James's game, it's a tendency to watch the ball when he's one of those weakside guys, leaving him vulnerable to defense-bending backdoor cuts.
Wade's effort has been off for most of the season, and he's not 100 percent. He is always lollygagging in transition, costing the Heat easy buckets, and he has failed to finish a bunch of possessions with the proper rotations or closeouts.
And poor Ray Allen. Opponents are just torturing him. Miami is allowing 99.1 points per 100 possessions when Allen sits — a league-average mark — and an unthinkably bad 109.9, on 41.4 percent 3-point shooting, whenever he plays, according to NBA.com. It's not all on Allen, obviously. Wade has been sub-par, and the Heat are experimenting in the second and fourth quarters with three-guard lineups — Allen, Wade, and either Chalmers or Norris Cole — that have been hit-or-miss. They've also been slightly worse than normal when Rashard Lewis plays, either as the second big in smaller lineups, or as part of an almost traditional James-Lewis-Haslem or James-Lewis-Bosh front line.
Speaking of which, I've been surprised about the degree to which Miami has abandoned lineups with two traditional bigs. We knew the Heat would make the small Battier-James forward pairing, with Bosh the lone big, the team's foundation going forward, but a lot of folks around the league expected Spoelstra to use a little more "big ball," if only to save James and Battier some wear.
That hasn't been the case so far. Joel Anthony, destroyer of pick-and-rolls, is basically out of the rotation. Bosh and Haslem have appeared together in only five of Miami's nine games, for a piddling total of 29 minutes — a span in which Miami's defense has been very stingy.
Again, Spoelstra is absolutely right to work his rotations this way. It was what won them the title last season, unleashing a new LeBron, and it has Miami scoring more efficiently than everyone but the Knicks. But I'd be worried especially about wearing out Battier, who is banging with big guys to spare LeBron the heavy lifting there. Battier is as tough and smart as anyone in the league, but he's working his tail off every night and just turned 34. Spoelstra has wisely limited him to just 24 minutes per game, but Battier will need to give more in the playoffs.
I'd also be worried about Allen, who has not proven up to the challenge of functioning within Miami's coordinated scrambling on defense. He is getting plastered by screens both on and off the ball; opposing ball handlers are shooting 8-of-9 in pick-and-roll plays against Allen, per Synergy Sports, and his inability to avoid hitting picks straight-on is a big reason. Off-ball back screens are also killing him, and teams are going at Allen one-on-one; they are 7-of-12 in isolations against him, and he had no shot against Jamal Crawford in any situation on Wednesday night. (Side note: What if Jamal Crawford had practiced shooting during any of the prior 11 offseasons in his career?)
Allen is a smart player learning a hyperactive new system, so patience is in order here, too. But it's unclear if he has the physicality and speed to hang in that system. He's obviously provided a monster boost to Miami's offense with his ridiculous 3-point shooting, and Spoelstra has all year to find the right balance with his rotations.
But he'll do that against a league that is getting smarter against Miami. Teams are going to get better at negotiating Battier's fronting defense in the post, attacking him down there and reading where Miami's help is coming from. Even the Clippers made in-game progress in this regard last night after a few early double-teams from LeBron confused Griffin on the block; they made sure to station Chris Paul on Griffin's side of the court as an easy kick-out option, and Griffin showed more patience as the game went on.
Teams also know Miami will help hard from the weakside corners, as most teams do, and they are designing sets specifically to produce that help. Houston especially killed Miami like this, mostly because they have an excellent cross-court, long-range passer in James Harden. The Rockets over and over ran high pick-and-rolls that began on the right side of the floor but featured Harden going left around the screen, toward the middle of the court, like this: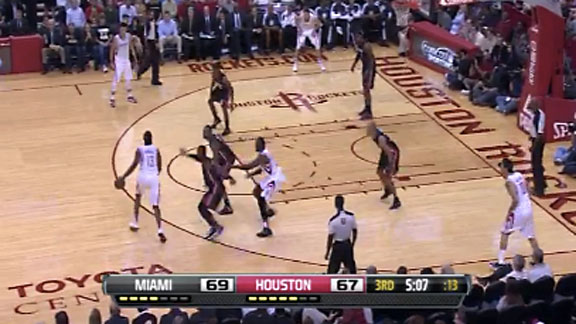 Since Harden is going left, the right corner, where Carlos Delfino is waiting with Battier on him, is technically the "weak" corner, meaning Battier in the Heat's scheme is responsible for crashing on Patrick Patterson rolling to the middle. Designing the play this way cuts the normal distance between the ball handler (Harden) and the open corner shooter, making for an easier pass. The guy in Delfino's spot hit several 3s this way.
Even the Green 3 on which Wade over-helped on Wednesday owes a bit to Paul's genius as a creator. It came on a Paul/DeAndre Jordan pick-and-roll up top, with Wade guarding the shooter in the weak-side corner (Green). Griffin, Battier's man, trailed the play, leaving Battier free to sit in the paint as an extra helper. Wade noted Battier's presence inside and understood he may have had help on Griffin once Griffin joined the play.
And then Paul did something incredibly smart. He saw Battier in the lane for a few counts and knew Battier was on the verge of a defensive three-seconds call. He swung the ball to Griffin on the left wing at the exact moment Battier slid the opposite way out of the lane, away from the play, to avoid that violation: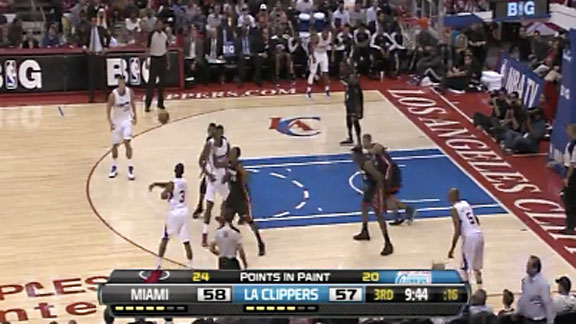 That little bit of trickery sucked in Wade an extra step — probably without need, considering Bosh's location — and in turn opened the easy Griffin-to-Green pass.
None of this is rocket science. Teams run this stuff against almost any defense that overplays the ball and the paint the way Miami does. But Miami plays a more extreme style than anyone, and it is leaking badly so far this season. Can they repair it in May and June again?
Filed Under: Blake Griffin, Chris Bosh, Chris Paul, Dwyane Wade, LeBron James, Miami Heat, NBA, Unit Watch, Zach Lowe