The Week 14 Mailbag
Bob Levey/Getty Images
Two quick plugs, because it's officially the holiday season and I will NEVER catch you in a more charitable mood. Did you know that we released a 30 for 30 fifth-anniversary holiday gift set that includes five Blu-rays and 100 documentaries and shorts in all? (Yeah, it's true! It's even on Groupon for 60 percent off.) And did you know that Grantland just launched a weekly newsletter? It's free, it's completely nonintrusive, and it includes links to some of our favorite stories from each week that you may have missed. Sign up by email and you're in!
All right, let's rip through these Week 14 games. Lots to discuss. Repeat: lots. Put on a seatbelt to be safe.
(HOME TEAMS IN CAPS)
BEARZOMBIES (+4) over Cowboys
I picked only four Week 13 games correctly and blew this Bears-Cowboys game, which means I'm 4-13 in my last 17 picks. In other words, I'm the New York Knicks of football handicapping. It's too bad I never opened a fancy office on the 11th floor of a New York City high-rise, hired a bunch of businesspeople, pretended that I knew something about business, then allowed ESPN The Magazine to write a cover story about me in which I said things like, "This isn't just about me picking games anymore, I want to be bigger than that"; "How can I be known for being a visionary, for being truly great?"; and "picking football games, business ventures, tech — I'm just hoping to be remembered for doing something great," even though I've never been that good at picking games and I've never had an 11-0 playoff run against the spread. That would make me the Carmelo Anthony of football handicapping.
Q: That Dallas O-Line has been instrumental for DeMarco Murray, but Thanksgiving proved that they're pretty bad in pass protection. Is your Most Valuable Unit defended like a title? Does it go to the Eagles Front Seven now?
—Robin, New Brunswick
BS: You're right, the Dallas O-line lost the MVU title on Thanksgiving before dominating the Chicago Bearzombies last night. Replacing them as 2014's MVU favorites as we head into the homestretch: a unit called "J.J. Watt and Any Three Other Guys." On the off chance that you missed Inside the NFL's "Mic'd Up" segment on Watt's Titans game, here's all you need to know:
• There's a 5.78 percent chance that Watt actually read my breakdown of his hypothetical fight to the death with Gronk, then said to himself, That's ridiculous, I'd crush that loser. Put a mic on me for my next game, please.
• For the record, that "Mic'd Up" video DID swing the Gronk-Watt Thunderdome line. J.J. Watt is now a -500 favorite. And climbing. I can't remember five badass action-movie lines in the history of action movies better than Watt yelping, "All I know is, you mess with me, YOU GOT PROBLEMS!" It's the "You're the disease and I'm the cure" of "Mic'd Up" moments.
• The footage of Watt repeatedly shredding Tennessee's offensive line (at least 12 different times, he overpowers someone and touches the QB somehow) and punctuating it by belittling those opponents on and off the field … I mean, you have to see it to believe it. HE KNOWS HE'S MIC'D UP THE ENTIRE TIME. AND HE DOESN'T CARE. What was funnier: J.J. complaining to an official about a holding no-call with, "I'm beating these guys like a drum out here!" or J.J. belittling a Titans lineman by sarcastically asking, "You gonna hold all day, or just part of it?"
• Don't sleep on Houston's assistant coach coming over to Watt on the sideline and saying, "Keep wreaking havoc out there, baby!" and then cackling maniacally like he's Ivan Drago's trainer circa 1985. I loved that part. How many football players are so overpowering that they make their coaches cackle maniacally?
• The unedited three-minute sequence of Watt's strip-sack, Watt running back to the sideline and whooping it up with teammates ("WOOOOOOOO!"), then Watt getting called back onto the field to catch a short TD pass ranks up there with the opening scene of Boogie Nights and the one-shot Goodfellas scene as one of the most unforgettable unedited one-camera sequences of all time. Fine, that's an exaggeration. But it's freaking great. I loved it.
• Dear Hollywood: For God's sake, write a quickie action movie that Watt can film this spring called Power Wattage. Here's the plot: J.J. plays a star defensive end named James Wattman who retired prematurely from the fictional APFL (the American Professional Football League) after the evil APFL commissioner (Roger Goodman, played by Bill Pullman) unfairly penalized Watt's team (the New Orleans Canes) for allegedly hatching a bounty scheme to injure other players that turned out to be WAY overblown, only the team was decimated by suspensions and blew their chance at the APFL title.
Disgusted, Wattman abruptly quits the APFL to become a Navy SEAL, wins the Medal of Honor for some crazy Middle East mission gone wrong, then just-as-abruptly retires from the Navy SEALs. (By the way, this all happens in three months.) He's living on a sprawling ranch in Texas when President Obama's new sports czar, Will Bimmons (played by Jason Bateman), approaches Wattman to unretire and "return" to the Canes.
Bimmons's goal: to bring down Commissioner Goodman by gathering evidence against the APFL for its callous disregard for player safety, concussions, PED use and an illegal painkiller ring that involves 10 APFL teams (including the Canes) as well as the biggest Mafia boss in New Orleans, Santino St. Pierre (played by Alec Baldwin). Here's the scene in which Bimmons unexpectedly visits Wattman on his ranch to convince him to come back.
Bimmons: You're a hard man to find.
Wattman: Not that hard.
[They stare at each other. Wattman turns and throws a tennis ball for his dog, who scampers away.]
Wattman: Go get it, Schauby.
Bimmons: You know who I am?
Wattman: It doesn't matter what I know. You have 90 seconds.
Bimmons: I only need 45.
Wattman: Then go.
Bimmons: I need you to come back to the Canes.
[Wattman spits a big hunk of tobacco juice on the ground.]
Wattman: I'm done with football.
Bimmons: It's not about football. I need you to bring down Goodman.
Wattman: Goodman? F-​-​-​ that guy.
Bimmons: Exactly.
Wattman: Why me?
Bimmons: Because you're the best. I didn't want to have to go to Gronkowski.
Wattman: Gronkowski? [Laughs.] He'd screw this up.
Bimmons: That's why I'm here.
Wattman: At least you're not a total idiot.
[Schauby brings the ball back — Wattman grabs it and chucks it again.]
Wattman: So what's in it for me?
Bimmons: One last job. That's it.
Wattman: Then I'm out?
Bimmons: You're out.
Wattman [thinking]: No thanks.
[Bimmons starts walking away, then turns around.]
Bimmons: I guess it's not true then.
Wattman: What isn't true?
Bimmons: That if you mess with J.J. Wattman, you have problems.
Wattman: I said that when I played football.
Bimmons: Yeah, but those are still YOUR teammates. You used to give a shit about them. They're in trouble.
[Wattman doesn't say anything.]
Bimmons: Thanks for your time. I guess I'm flying to New England.
[Bimmons starts walking away. We hear the faint chords of an electric guitar.]
Wattman: Wait.
… And we're off! Power Wattage, coming in October 2015!!!!!
Q: Can't believe you spent about 8 paragraphs on Brett Favre in your Week 13 column, then transitioned to the idea of a "Most Valuable Unit" and didn't throw Favre in there as 2008's winner. That never would have happened if Bill Simmons was still alive.
—Brian, San Mateo, CA
BS: Come on! I just created an action movie for J.J. Watt! Can't I just ride this high for three more minutes???
Q: Please take it easy on Jay Cutler George. Marc Trestman's play calling is atrocious. Since 1970, only 18 teams ran the ball less than 9 times in a game. Want to guess their record? Yep, 0-18. On Thanksgiving, Chicago joined that list with 47 passes and 8 rushes in Dallas (despite having a 14-3 lead at one point!). Marc Trestman is a FRANCHISE KILLER. He's a journeyman coach and a horrible play caller. He can't make any in-game adjustments. He's a poor game manager. He doesn't understand run/pass balance. This "QB Whisperer" crap that the media has been touting for 2 years is just plain wrong. How does that happen in the first place? How does one attain a completely false moniker, and how is that then perpetuated ad nauseam and unchecked throughout the media? Trestman is awful, he needs to go back to being a lawyer.
—Jeff, Lakeland, FL
BS: Yup, you only have three more weeks to top Jeff from Lakeland's Trestman rant as the "Most Scathing Email Under 150 Words From a Disgruntled NFL Fan." The only way that email would have been funnier would be if Trestman had written a book in 2010 called Perseverance: Life Lessons on Leadership and Teamwork. Wait, what???
TITANS (+1.5) over Giants
Yeah, I'm backing the Titans even though I am about to ask you the following question: Is Ken Whisenhunt the worst coach of the last 30 years to make a Super Bowl? Let's cross off every Super Bowl winner (yeah, even you, Barry Switzer) and everyone with a career record over .500 (a group that includes Bobby Ross, Lovie Smith and Jim Fassel). That leaves us with the following candidates.
• Raymond Berry ('85 Pats): Benched a red-hot Steve Grogan for a coming-off-injury Tony Eason right before Super Bowl XX, which was the first time I learned to use the word "inexplicable" correctly. Two years later, he started a now-petrified Eason, a washed-up Grogan and someone named Tom Ramsey over hometown hero Doug Flutie. By the '89 season, my dad and I had a running joke that Berry had passed away and the Patriots were propping up his corpse during games. When they finally fired him, the Pats replaced him with Rod Rust — who actually WAS dead. You can look it up. The 1990 Patriots were coached by a dead body. But Berry finished with a career record of 48-39, so unfortunately we have to cross him off. I'll be honest — I just felt like bitching about Raymond Berry.
• Sam Wyche ('88 Bengals): 84-107 career record and averaged 5.2 wins over his last five seasons … BUT he came very close to beating Montana and Walsh in Super Bowl XXIII, and he delivered one of the greatest in-stadium speeches ever. This speech is almost as good as J.J. Watt's "Mic'd Up" video. Has there ever been a better dis of an opposing city? I have to cross him off.
• Bill Callahan ('02 Raiders): Career record of 15-17. Took over Jon Gruden's Raiders, went 11-5 and got thrashed by Gruden's Bucs in the Super Bowl. The following year, he finished 4-12 while fending off a near mutiny, with Charles Woodson publicly accusing Callahan of tanking the season to rebuild around younger players. Callahan landed at Nebraska and finished 27-22 over four disappointing seasons; SI eventually named him "the worst coaching hire of the decade." He never coached another team, although he has reinvented himself as a valuable Cowboys assistant. In 2013, multiple Raiders (led by Tim Brown and Jerry Rice) accused Callahan of sabotaging their Super Bowl XXXVII chances by changing Oakland's game plan 48 hours before the game. This actually happened! Needless to say, we are NOT crossing Callahan off.
• Whisenhunt ('08 Cards): Career record of 47-61. The good news: Whiz came within a phenomenal Roethlisberger-Holmes throw-and-catch of winning the title. The bad news: He's dropped 21 of his last 24. He also ripped through an astonishing 10 starting QBs in the 58 games he's coached since Kurt Warner retired. Derek Anderson, Max Hall, John Skelton, Kevin Kolb, Ryan Lindley, Brian Hoyer, Jake Locker, Zach Mettenberger, Charlie Whitehurst and OH MY GOD MY EYES ARE BURNING!!!!
Still, Callahan battled a near mutiny and multiple sabotage allegations — I don't know how you top that one. He earns my current "Worst Super Bowl Coach of the Past 30 Years" vote, although you can't rule out Whisenhunt grabbing it before 2016. How can Whiz avoid that happening? Here's a word of advice about coaches and QB's from one of my favorite authors:
Quarterbacks are not born, they're developed. Without a coach to train him, and teach him the fundamentals and details in a dignified, organized manner — and at the highest standard — the quarterback cannot and will not succeed. No quarterback ever played at a high level without a demanding coach, and no coach ever became great without exceptional and consistent quarterback play. The two are completely intertwined.
The author of that passage? Yup … Marc Trestman. Every Chicago Bears fan will now light himself on fire.
Q: In this week's podcast with Cousin Sal you implied that Tom Coughlin is to old to coach in the NFL. At what point do you think he officially became to old to be an NFL coach? I only ask because Tom Coughlin is 68 and Bill Belichick will be 63 before the start of next season. Just wondering how much longer the Pats have until they are giving up 22 points to the Jags in the second half because their coach is to old and needs to retire.
—David, Los Angeles
BS: I created the Speed Limit Corollary in January 2007 — namely, that NFL coaches start losing their fastball at age 55 because of the long hours, their advancing age and a bunch of other stuff (here's the column). Coughlin responded by winning two Super Bowls at ages 61 and 65. (The lesson, as always … ) What if I tweaked it to the Jersey Speed Limit Corollary? Jersey's speed limit ranges from 55 to 65 depending on the stretch of highway. NFL coaches lose it somewhere between 55 and 65, depending on how much of an ageless cyborg they are. And Belichick is probably a special-exemption New Mexico Speed Limit — he might be able to defy all logic and keep cranking until he's 75, à la Bruce Springsteen.
Speaking of Bruce: I just posted a podcast with Chuck Klosterman in which we tackled the new College Football Playoff system, the future of concussions and football, and the increasingly troubling question, "If O.J. Simpson claimed that he suffered a slew of concussions during his NFL career and has been battling advanced CTE these last 30 years, then donated his brain to science after he died and that turned out to be true, would that single-handedly change the 'O.J. is a double murderer' narrative and transform him into something of a victim?" In the middle of that podcast, we discussed Monday's surreal World Aids concert in which Springsteen and Chris Martin filled in as U2's lead singer for an ailing Bono … and it just wasn't that good.
Did they pick the wrong songs? Have we been underrating Bono all along? Who would fare the best if we threw eight bands in a concert, then played Lead Singer Roulette and just swapped the lead singers around like it was a 1970s key party? I couldn't understand why this wasn't a bigger deal — two of the 10 most famous singers (Springsteen and Martin) inadequately filling in for another one of the 10 most famous singers (Bono) of one of the five most famous bands. For instance, if LeBron James said, "I'm filling in for Kevin Durant on OKC tonight while he's hurt," THAT would be a big deal … right? We'd want to see how LeBron fit in that role, and how he played off Durant's teammates. But with Martin/Bruce moonlighting on U2, nobody REALLY cared. Chuck's take is predictably interesting — he believes that people don't care about rock music nearly as much anymore, which is why the Martin-Bruce-U2 thing came and went. Anyway, here's the podcast if you want to listen to us ramble.
https://www.youtube.com/watch?v=kearE3oP2wU
Steelers (+3) over BENGALS
The 8-3-1 Bengals lead every other AFC North team by 1.5 games and have become -170 favorites to win the division (hold on, big "but" coming … ), BUT everything could easily fall apart in December: home for Pittsburgh, at Cleveland, home for Denver (Monday night), at Pittsburgh. Yikes. I'm grabbing the points because it's a Kitchen Sink Game for Pittsburgh and playoff manifesto rules apply, which means that the "Which starting QB do you trust more?" rule IS in play.
For the record, I don't trust Andy Dalton in big games for the following reasons …
• He's Andy Dalton.
• He hasn't single-handedly killed Cincy in a football game in more than a month.
• He's 21st in QBR, one spot below Ryan Fitzpatrick and two spots below Mike Glennon.
• He's one of only four current starting QBs who haven't thrown more TDs than interceptions. Dalton: 13 and 13. Josh McCown: 7 and 9. Geno Smith: 7 and 11. Blake Bortles: 9 and 15.
• Bengals safety George Iloka called this Steelers-Bengals game a "double-chinstrap game." Do you trust Ben Roethlisberger in a double-chinstrap game … or do you trust Andy Dalton?
• Oh, and I'm still getting Dalton emails like this one …
Q: How do we turn Andy Dalton into a dependable Franchise QB? I have the following suggestions.
(1) Nobody uses his first name any longer.
(2) Dalton needs to be told at least 10 times per day, "I thought you'd be bigger."
(3) Offensive Coordinator Hue Jackson refers to Dalton as "Mijo" at all times.
(4) No more Gatorade to replenish lost fluids – just coffee.
(5) Have Dalton's wife start wearing dresses that look like picnic table covers.
(6) After home wins, have stadium security slash Dalton's tires.
(7) For key division wins, ram a stop sign though his window as well.
(8) Have Dalton stay by himself at a barn the night before games (not the team hotel).
(9) Force Dalton to treat his own cuts and injuries.
(10) Helicopter fly-bys over Andy's barn from people pretending to own opposing teams.
(11) Before playoff games, stab a member of the coaching staff and leave their dead body on a training table for Dalton to discover.
(12) Before playoff games, instruct a teammate to tell Dalton that one of his upcoming opponents claims that he used to perform sexual acts on people who looked like Dalton when they were in prison.
Did I miss anything?
—Danny Breeds, St. Paul, MN
BS: Fantastic email. Here's how I feel right now:
Q: We have seen Good Bad Teams and Bad Good Teams, but what about the NFL's first "Vulture" division? Didn't the AFC North teams just spend the season picking at the lifeless corpse of the NFC South? Would you put money on Cincy, Pittsburgh, Balthimore, or Cleveland in a playoff game?
—Scott, Cranberry Twp.
BS: True fact: The AFC North is 11-2-1 against the NFC South, 7-1 against the Jags/Titans/Raiders, 8-8 against each other … and 3-7 against everyone else. Of that "everyone else," six were potential playoff teams.
Week 5: New England 43, Cincinnati 17
Week 5: Indianapolis 20, Baltimore 13
Week 7: Indianapolis 27, Cincinnati 0
Week 8: Pittsburgh 51, Indianapolis 34
Week 13: San Diego 34, Baltimore 33
Week 13: Buffalo 26, Cleveland 10
Translation: Start getting excited to wager against the AFC North champ in Round 1. Seriously. Start tucking money away.
Rams (-3) over WASHINGTON
True or false: The Rams are still alive to win the NFC West. TRUE! I didn't realize this until Will in Charlotte sent along what he called "the craziest possible NFL Playoff Machine scenario." As part of that scenario, the Rams win the NFC West. (It's worth a click … even if the sight of New England missing the playoffs made me temporarily lose vision in my right eye.) And no, I don't think the Rams are making the playoffs, but they're definitely close to locking down the almost-as-coveted "Friskiest Non-Playoff Team Of November/December" honors.
Q: Why doesn't anyone remember a one-legged Griffin staying on the field for three quarters (before eventually shredding his ACL) in Washington's 2012 playoff loss to Seattle? I mean, shouldn't Mike Shanahan's name be stapled to any discussion of RGIII's decline? It's like there is some kind of understanding among all media: "Look, we all know that Shanahan totally f'ed up RGIII, but if we write that, there'll be nothing left to speculate about, so we'll probably have to write more stuff about Ray Rice … and we're not even allowed to say what we're all thinking on that (you saw what happened to Simmons). So let's just all agree to ignore the Shanahan thing. Cool? Cool."
—Joe Atkinson, Newburgh, IN
BS: I turned my response over to my buddy Joe House, a longtime fan/sufferer of the Washington Professional Football Team. Here's what he wrote back …
As much as I enjoy a good Shanahan bashing — because, honestly, what a pompous dick — I don't think it's accurate to pin the RGIII disaster on him. The true culprit — as with all things pertaining to the Deadskins — is the owner and the diseased, hyper-dysfunctional zombie-institution he has unfairly and cynically foisted upon the good people of the DMV. Absolutely fair to bust Shanahan for not taking a forceful stand in the 2012 playoff game — he's the Coach, and in that moment, Cousins-for-Griffin was his call to make. But that mistake belongs to everyone in the organization, including Dr. James Andrews, who was standing on the sideline for that game.
From that moment forward, though — every single dumb misstep belongs to the dingbat owner, his crew of yes-men and Robert himself (who is all of 24 yrs. old now). The rush back to be ready for the 2013 season, the insistence on slogging through the 2013 games obviously limited in mobility and effectiveness and that season's ultimate failure all belong to the guy upstairs. We know this because Shanahan carped and undermined and sabotaged via careful anonymous leaks the idea that RGIII was his 2013 QB choice. Lastly — and this will be the last time I ever do anything that looks like a defense of Shanahan — you have to give him and his son some credit for the wild success RGIII enjoyed in the 2012 regular season. Those dudes had the wisdom and foresight to install an offense consisting of sets and packages just like what RGIII ran at Baylor, and boy were the results impressive. Of course, it all went to hell because this is Snyder and the Deadskins and karma is a bitch.
(Ladies and gentlemen, Daniel Snyder's Washington Professional Football Team!)
BROWNS (+4) over Colts
JAGS (+6.5) over Texans
Q: Week 11's most popular choices on Pigskin Pick'Em: 85.66% chose the Steelers (-5.5) over the Titans and 81.69% chose the Broncos (-9.5) over the Rams. Week 12's most popular choices: 76.9% had the Packers (-9.5) over the Vikings and 75.32% chose the Cowboys (-3.5) over the Giants. Week 13's most popular picks: 88.4% have the Bengals (-3.5) over the Bucs, and 87.4% have Miami (-5.5) over the Jets. I am definitely betting on the Bucs and Jets. When the majority of people agree on something, it's normally wrong. (Also: if the Bucs and Jets win this week, I deserve to be in next week's column, because that seems impossible at the moment.)
—Trent Bradley, Colleyville, TX
BS: They covered, so you made it anyway. The least-popular Pigskin Pick'Em picks are 6-0 against the spread since Week 13? Noted! As of noon ET on Friday, Week 14's least-popular picks are Jacksonville (14 percent) and Cleveland (16 percent)? Noted! Throw in home dogs being 7-1 over the past two weeks and I can't resist — even if it means taking a mediocre team against Andrew the Giant and backing Blake Bortles against J.J. Watt. (GULP.) More important, did you know there's a Bill Simmons Road in Colleyville, Texas? Do you want to have the "Was the road recently closed three weeks for repairs?" joke, or can I take it?
Q: LONG LIVE JOHNNY CLIPBOARD!
—Alexander, New York, NY
BS: (Cackling like J.J. Watt's coach after a J.J. Watt sack.)
Q: Does anything embody the Hoyer era for Cleveland better than this commercial?
https://www.youtube.com/watch?v=U7E9KtIbNaI
—Zach, Cincinnati
BS: I'm going the other way: I think Hoyer comes through this weekend; the Browns pull off the upset over an overrated Colts team that can't run the ball, turns the ball over too much and can't beat good teams; Andrew Sharp looks like a genius for this "Start Hoyer" column; and then Cleveland beats Cincy at home in Week 15 before blowing Week 16's "easy" road game in Carolina. What's the point? Because it feels like we're heading toward the 9-6 Browns traveling to Baltimore for Week 17's win-or-go-home showdown against the Used-To-Be-The-Browns … a.k.a. the God Hates Cleveland Bowl.1
Q: NFL Backfields have had nicknames bestowed on them for decades. However, something like "Thunder and Lightning" doesn't exactly describe what you get from the current Colts RB's, Trent Richardson and Daniel "Boom" Herron. What would be a more appropriate nickname for this duo? Is "Boom or Bust" too obvious?
—Matt, Jackson, MS
BS: Boom Goes No Dynamite? Boom Boxed? Boom and No Room? Boom and Gloom? In all seriousness, you know that Ray Rice isn't playing in 2014 when even the impotent Colts — a team owned by Jim Irsay (!!!!) — won't go near him.
Ravens (+3) over DOLPHINS
So Haloti Ngata gets nailed with a four-game PED suspension right as the Ravens are preparing for a "Loser Leaves Town" match in Miami? Sing it, Boy George!
Q: At this point, I just love these Adderall suspensions. Curse you, Adderall, in your help-me-stay-awake goodness! Ngata must have had to pull an all-nighter studying that playbook he's been running for the better part of a decade.
—Zach, Dallas
BS: According to Mike Florio, the NFL's revised PED policy allows the league to "publicly disclose information relating to the discipline of a Player to correct inaccurate public claims made by that Player or his representatives about the discipline." In other words, Roger Goodell can legally call someone out for being a liar. OHHHHHHHH THE IRONY!!!!!!!!!!!!!!!!!!!
Q: What's your Vegas line on Time Magazine's Person of the Year "face-off" between Roger Goodell and CDC head honcho Tom Frieden? And what about the unintentional Face/Off humor of your boy Goodell masquerading as the man responsible for containing Ebola?
—AJ Smith, Boston
BS: He's not kidding. Here, look.
So did Time intentionally pit Goodell against the CDC guy as one of those read-between-the-lines gimmicks? The only way I'd believe that would be if Time's website published a hit piece on Goodell from a former NFL player headlined, "How on Earth Is Roger Goodell Still the Commissioner of the NFL?" Oh, wait.
Q: A good secondary is extremely important in the NFL with the modern passing rules, right? Betting on the 2014 Ravens means you are backing Anthony Levine, Matt Elam, Will Hill, Jeromy Miles, Danny Gorrer and Lardarius Webb (who tore both ACLs since coming into the league). If you choose to bet on the Ravens, you know the risks.
—Jace, Des Moines
BS: As someone who threw Baltimore into 35 different parlays and teasers last week, then watched Phil Rivers repeatedly grab my gambling winnings out of my pocket, all I have to say is …
(And yet, I can't write off the Ravens yet! What the hell is wrong with me? But seriously — is Ryan Tannehill going to throw for 400 yards on the Ravens? I just don't see it.)
SAINTS (-10) over Panthers
"Hello, everyone, I'm Chris Myers … "
VIKINGS (-6) over Jets
Q: It's going to be really weird seeing Eli in another jersey next year. Do you think he's going to the Vikings to continue their "Sign Every Laughably Washed Up Quarterback" tradition that's been going since 1992?
—Alexander, Albuquerque
BS: Come on! The Vikes are slowly climbing back to semisortamayberespectability. They're 0-4 against the Pats/Packers/Lions and 5-3 against everyone else. They're 3-3 since Week 7; those three losses came by 12 points combined. Mike Zimmer looks like a real coach. Teddy Bridgewater looks like the best 2014 rookie QB. And they're about to get two first-rounders and nine second-rounders from Jerry Jones for Adrian Peterson after the Cowboys somehow miss the playoffs. I'm buying Vikings stock. And by the way …
Q: Imagine you're a Jets fan this season. Not only is Pete Carroll the defending champ, but Revis is going deep into the playoffs with the hated Pats, and Sanchez looks reborn in Philly. If the Pats play the Eagles in the Super Bowl, is it a sign from God that Jets fans should stop watching football? Am I a bad parent if I make my kids pick another team to root for? Someone has to end this cycle of poverty.
—John Forma, Princeton
BS: As always, it could be worse: You could be rooting for the Jets!
Q: Great podcast with the Notorious DVN Jr. I was really hoping you guys were going to touch on Goodell's coin toss scandal in 2010. When the Jets and Giants were vying to host the first home game at the new Meadowlands stadium, a coin flip was to decide who would play there first. For some reason that coin toss took place behind closed doors and with no representative from either the Jets or Giants … well except if you count the thoughts of Goodell's buddy John Mara. Did the Giants win the coin toss? Yes.
—EJ, Seattle, WA
BS: I know, I know, this story seems too incredible even for Roger Goodell. But it happened. Here are the accounts from the New York Times after the fact.
Four years later, was John Mara "selected" as one of the two owners to "lead" the "independent" committee that's "investigating" how Goodell and the NFL bungled the Ray Rice scandal? Of course! Was Goodell's buddy Dan Rooney — the man who once happily delivered Goodell the news that he had become the next commish — the other owner "selected" to "lead" the "independent" committee? Absolutely! Do the Rooney family and Mara family have a special relationship that was once commemorated in a 2012 feature in a Pittsburgh newspaper that includes a photo of Goodell standing next to both Rooneys? You betcha!
If you missed it, here's my podcast with Van Natta from Tuesday. We dissected Goodell's rocky tenure as commissioner as well as the timeline of the Rice scandal, almost as if we were recording an episode of Serial. If you're on the fence about Goodell's commissioner reign and you enjoy hearing the facts and only the facts from myself and a Pulitzer Prize–winning investigative reporter, I'd encourage you to listen to our podcast.
https://www.youtube.com/watch?v=nAMoOm5u8zE
Bucs (+10) over LIONS
Q: Watching the Lions-Pats game with my family of pathetic diehard Lions fans, and in the early 4th quarter Jim Caldwell, was forced to throw a challenge flag. As he slowly reaches into his back pocket, my brother and I stand up and shout simultaneously, "Facial expression!" It was his first facial expression of the season. He opened his mouth a little bit and squinted. We cheered like we had won a playoff game. I've seen decades of awful coaches, awful players, the worst GM of all time, the 0-16 season, Dan Orlovsky running out of the back of the endzone … but I have never seen anything as incompetent as Jim Caldwell on the sideline.
—David, Grand Rapids, MI
Q: In last week's column (about the Beckham catch), you made a list of reasons for watching football live that you'd hate missing if they happened. You missed a HUGE one. You need to watch all Detroit Lions games on the off chance that Jim Caldwell might use his lips to form words that are audible to normal humans hearing his headset. This is the Loch Ness Monster of football. No one has ever seen it. I thought I saw him speak last week, but it turns out it was just gas.
—Dave, Melrose, MA
BS: And yet, the Lions are one game behind the Packers for the NFC North title! With only home games against Tampa and Minnesota and road games at Chicago and Green Bay on their schedule! It just looks too easy, so I'm grabbing the points with a Bucs team that's 1-7 in either/or games. They are BUILT to go into Detroit as 10-point underdogs and lose by three. That's what they do.2
Texans (-6.5) over JAGS
I just thought about it some more — there's no way I can pick Blake Bortles over J.J. Watt. You mess with J.J. Watt, you got problems. I don't want to mess with J.J. Watt by using Blake Bortles as my proxy. I can't. I just can't.
Q: Is Blake Bortles the oldest looking "real" rookie in a professional sport since Greg Oden?
—Zvonimir, Split
BS: Blake Bortles looks like Pete Sampras. And I mean, Pete Sampras right now.
Q: How many NFL teams would trade their starting QB for J.J. Watt?
—Ben, Milwaukee
BS: Everyone but the Colts, Packers, Seahawks, Patriots, Broncos and Jets.
Q: There's only one possible name for a future NFL team in London: The Werewolves. Ready-made great song for TDs, pre-player introductions, etc. Please, NFL – give us the London Werewolves!
—Steve Tourek, Peoria, AZ
BS: I'm all in. The Werewolves of London! Imagine how cool the helmets would look. Could one of you lovable/artistic/talented weirdos out there design mock helmets and mock uniforms for the London Werewolves? By the way, I was kidding about the Jets NOT trading their starting QB for J.J. Watt. Just wanted to see if the Jets fans were reading carefully. (Thinking.) You're right, that was cruel. I apologize.
Q: In the event of a zombie apocalypse, which NFL player would you want to be the "Rick Grimes." Its gotta be J.J. Watt, right?
—Ben K., Long Island
BS: Are you crazy? It's definitely Peyton Manning. The dude just came back from four neck surgeries! He's indestructable! Also, he's great at ordering people around, he loves coming up with complicated strategies, he'd do anything to win, and he's unbelievable in every regular season. That's the thing about the zombie apocalypse. There's no playoffs. You just survive day after day after day. As long as nobody ever said, "We only have to win one battle with the zombies and we'll end the apocalypse, but we HAVE to win this battle," we'd be in perfect hands with Peyton Manning. My second choice: Ben Roethlisberger. Finishing last: Jay Cutler.
Bills (+10) over BRONCOS
You can't give Kyle Orton this many points in Mile High!!!! You're right, you totally can. But I like the way Buffalo's defense is playing. Fact: Only one 2014 team has scored more than 23 points on them. Fact: They've given up 91 points since Week 6. Fact: They're third in defensive DVOA and fourth in special teams DVOA. Really, they're a better version of the Rams defense/special teams that gave Denver so much trouble in Week 11. Also, I'm a gigantic Patriots homer who loves rooting against the Mannings. So I'm grabbing the points.
Q: Can you be the person that crusades against the worst term in sports history. Can you stop the madness? Bill … one cannot control his own destiny. A team cannot control its own destiny. The phrase itself contradicts the definition of the word destiny and makes no logical sense. You have the voice Bill. You can get the ball rolling. I beg you sports guy, please … stop the madness.
—David, Santa Monica
BS: Here's the problem: We started using the word "destiny" incorrectly and it's become something of an epidemic. For instance, my daughter loves watching dumb comedies. Last night, she started watching Jack, the 1996 comedy in which Robin Williams plays a 10-year-old boy who ages four times faster than normal kids and has Bill Cosby as his doctor, because what could go wrong there? To my enduring horror, she giggled throughout the whole thing even though it's genuinely excruciating, even admitting, "It's not my fault. I love bad movies!" So my daughter controls her future for liking better movies, but not her destiny or mine — for all I know, it's my destiny to spend the next 15 to 20 years of my life watching atrocious movies until she finally moves out. Got it?
Q: My brother found this little gem from 1987 … Any chance we can get Vince McMahon and the Hulkamaniacs to perform at the Super Bowl Halftime Show? The best part about this (besides feeling like you're trapped inside a fever dream) is that only two members of the brass section — Macho Man and The Junkyard Dog— are no longer with us … Otherwise, we can arrange a full reunion! Let's start a petition …
—Stephen, Tempe, AZ
BS: Every time I think we've found the perfect YouTube clip to illustrate the complete and total lack of self-awareness of the mid-1980s, something trumps it. Move over, Phil Simms's football aerobics video, there's a new sheriff in town! STAND BACK, PHIL SIMMS!
CARDS (+1) over Chiefs
Congrats to Arizona for bouncing back and forth between "Nobody Believes In Us" status and "Everyone Believes In Us" status a whopping five times (and counting). This week, Vegas made them a home dog against the 7-5 Chiefs even though the Cardinals are undefeated at home.
(Do I even need to say it? Nahhhhh … I don't even need to say it.)
Q: If you're the Cardinals with a great Defense, great skill players, and great coaching, why not call up Brett Favre? I know what that entails, but everybody who sees Favre says the guy can still sling it. He's healthy and smart enough to learn the offense quick, and there's no way he's a downgrade to Drew Stanton. Chances to win it all do not come around very often.
—Casey Anderson, Mitchell, SD
BS: That's it. Hey, Cardinals: NOBODY BELIEVES IN YOU!!!!!!!!!
Q: You brought up the Most Valuable Unit award – what's the Least Valuable Unit? There's are obvious choices like the Jets' quarterbacks, but shouldn't KC's wide receivers win it? With 5 minutes to go in a must-win home game against Denver, the KC receivers had three catches for 29 yards.3 And there's no telling how many fantasy seasons Dwayne Bowe has murdered. What say you Sports Czar?
—Cameron, Austin
BS: All depends on your concept of "Least Valuable." The Jets wouldn't have made the 2014 playoffs even if they'd had a decent QB, and the Jaguars wouldn't have made the playoffs even if they'd had a decent offensive line. But the Chiefs might have the worst receiving crew of any 21st-century team that finished over .500. They don't have a single receiver with 600 receiving yards, and they don't have a single receiver with a touchdown catch. Given the last 10 years of pass-friendly rule changes, that's impossible — it would be like NBC running a three-hour live Peter Pan musical with actors mangling English accents and NOT getting mocked on Twitter. So I have to give the 2014 LVU Award to K.C.'s pathetic receivers.
(Now watch them explode for 250 yards and four TDs against Arizona to ruin my pick.)
Q: Mike Smith may be the Mike Smith of Clock Management (just edging out Andy Reid), but nobody — NOBODY— will ever displace Andy Reid as the Andy Reid of Challenge Flags.
—Gary Haubold
BS: Did you know they keep track of this stuff? Andy won 44 of his 92 challenges, an above-average number that inspired a recent Kansas City Star piece about his flag-throwing competency. So as much as I love poking fun at Andy, we can't do it here. The best in the league? Mike Tomlin with 25 wins in 47 challenges, which makes much more sense when you remember that the role of Mike Tomlin is always being played by House M.D. star Omar Epps. Our worst flag thrower? Denver's John Fox … only 41 wins in 111 challenges! That makes John Fox the John Fox of challenge flags. Andy Reid is just the Andy Reid of being Andy Reid.
Seahawks (+1) over EAGLES
Q: Don't try to jump back on the 'Hawks bandwagon, Bill. You're not allowed. The bouncer has your picture.
—Scott, Displaced Washingtonian in Colorado
BS: You missed it. I just snuck by him. I'm hiding in the second-to-last row wearing a hat and sunglasses. And by the way, I can't believe that I forgot the NFL season doesn't really start until the weekend before Thanksgiving. My bad, Seattle. (No, I'm not apologizing to you, San Diego.)
Q: So I was going to harp on the fact that the Seahawks have gone 2-0 since your little heel turn, but then I thought "Wait … that's what I would have done last year. Back when I was an insecure, superstitious fan of a sad sack franchise that had never won anything — no better than a Browns fan. But we did win, and now I don't need to feel that way anymore. Ever." I'm sure you went through the same thing after the Patriots won their first Superbowl. So instead I'll ask you what it was like for you when your lifelong favorite team when from star-crossed, never-gonna-win-the-big-one chumps to actual legit champs. How did you cope?
—Brian, Kenmore
BS: By turning into an arrogant, us-against-them asshole! I lost my mind as a football fan for about six years. (Read this 2005 column that I wrote after the Pats-Colts playoff game if you don't believe me.) Then the Helmet Catch happened. The rest was history, even if the arrogant asshole side did seep out a little bit after I saw that Packers-Patriots line. (And look how that turned out.) My advice: Stay humble, stay self-deprecating, always sound like you don't know what to believe about your team even if, deep down, you kind of do.
RAIDERS (+9) over 49ers
How bad do you think the Raiders really want Jim Harbaugh? What would his trade value be in terms of draft picks? Picture it: the Niners send Kap and Harbaugh to the Raiders for a 1st and a 2nd round pick (i.e. Marcus Mariota and the slew of picks Trent Baalke for which inevitably flip the 2nd rounder). Who says no? This could be the biggest mindfuck-league-rattling trade in years, and also the most Raiders-like move I can possibly imagine.
—Matt and Kyle, Pamplona, Spain
BS: It took two people to write that email! It's hard to imagine San Francisco getting more than a second-rounder when everyone knows he's leaving. At the same time, the Niners might be able to play the Jets and Raiders against each other. And the Raiders once gave up a first-rounder and a second-rounder for Carson Palmer. So who knows? My best bet: The Raiders give up a 2016 first-rounder for Harbaugh, make him the coach and GM, sign him to a five-year, $35 million deal, then move 2015 operations to Los Angeles and suddenly Jim Harbaugh is running the Los Angeles Raiders. I'm in for season tickets, by the way. Just charge my credit card now.
Q: Let me be one of many Packer fans to point out that the T.O. catch in the '98 wild card game – the one you gushed about in Week 13's column – was the greatest catch ever that never should have happened. Jerry Rice clearly fumbles at 4:33 of this clip of the 49ers game "winning" drive. Replay was instituted the following year. Any real Packer fan calls it the Jerry Rice Fumble Game.
—Jake, Seattle
BS: Let's just say that a few Packers fans emailed me about this. Which fan base remains the most bitter about a single blown NFL call? Oh wait, I forgot.
https://www.youtube.com/watch?v=pDQAmuZ8t94
Patriots (-4) over CHARGERS
I tweeted this question earlier in the week, and I'll ask it again here: Who took the Bieber-Gronk photo, Bernard Karmell Pollard? MY GOD! Look at this thing!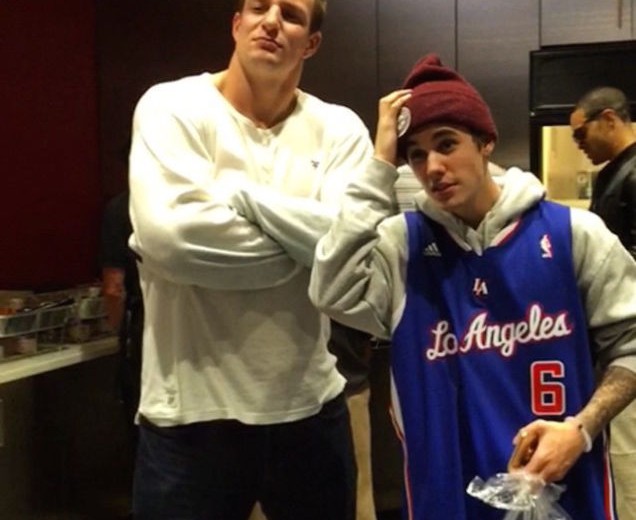 Q: If Belichick, Popovich, Saban, Mourinho, Bouchy, and Calipari conspired to take over the world, would they succeed?
—Corey, Pittsburgh
BS: Belichick couldn't keep Gronk away from Bieber for 20 seconds; now he's going to save the world? We need to bring in Eric from NYC just to cleanse the column of that appalling photographic karma.
Q: Billy Boy! Tough loss this week. You know who's taking it hard? Tom Brady. The agony of being outplayed by Rodgers and missing Gronk in the endzone seemed to damage his psyche. He's doing impressions of Sigourney Weaver from that part in Ghostbusters when she's inhabited by demons, wearing an airy dress, and acting strangely sexual towards Bill Murray. (After sliding his coat seductively off his shoulder and exposing his nipple he was overheard saying, "There is no Brady, only Zuul.") (But what a nipple!) It's all kind of disturbing, but he's breaking new ground and creating his own categories in our douchemetric ratings. And that's just another reason why Tom Brady is our 2014 Douchebag Champion!
—Eric, NYC
BS: Confession time: We planned on posting last week's column on Wednesday, two days early, before Eric in NYC had sent along his weekly email. Late on Tuesday night, I emailed him asking for the photo early; he woke up Wednesday morning and hurriedly sent it along. Four days later, the Patriots lost. Here's the point: I blew the game by directly contacting Eric in NYC. It was my fault. Don't blame Rob Ninkovich for repeatedly getting beaten on the wheel route, don't blame Darrelle Revis and Devin McCourty for screwing up that Jordy Nelson touchdown before the end of the first half, and don't blame Tom Brady for being 80 percent as good as Aaron Rodgers that day and making a poor throw when he had Gronk one-on-one against a freaking rookie on the single biggest play of the freaking game (!?!?!?!?!?!?). Blame me. I broke the rules. It won't happen again. (And yes, Eric in NYC emailed me on his own this week.)
Q: I heard the news that Bill Belichick could possibly testify in the Aaron Hernandez trial. After 15 years of Belichick press conferences, is there any doubt that this could be one of the best witness testimonies of all time?
—Nigel Carreiro
BS: One of the best? My new goal in life is to see Bill Belichick testify as a witness in any kind of trial. I'd absolutely pay $99.95 on pay-per-view for this. It would be like Cruise putting Jessup on the stand, only if Jessup never snapped at the end.
Q: The Chargers are now 2-0 since you said they would not win another game. How does it feel to be a total jackass? Just kidding, I still love you Bill. Although you are a jackass.
—Cole, San Diego
Q: Your reverse jinx for your stealth pick to make it to the Super Bowl from the AFC is working. Brilliant timing. Please go ahead and declare the Pats a blowout winner next week when they come to play in San Diego, they're arriving just in time for Philip Rivers' favorite month of the year.
—Dan, San Diego
Q: Please don't go all Goodell on us and start back peddling on your dumb Chargers "Won't win again this season" proclamation. Own it. Don't say it was "ambiguous" or that new "information" has come to your attention that has led you to re-think your view of the Chargers. Did you not get the All-22 Rams and Ravens game tapes I sent to your office? Someone at Grantland said they signed for it. There's no turning back now that your beloved Pats are in town for a Sunday Night showdown. Yeah, looks you just might have inadvertently put the Buckner hex on the Pats but good. Thank you for not believing in us! I said good day sir!
—Mark Short, Solana Beach, CA
BS: That's it! You pushed me over the edge! I am officially changing my pick. Not only will the Chargers keep winning in 2014, they're upsetting my Patriots this week: Chargers 37, Pats 34. You want a war, Chargers fans? I'll give you a war you won't believe! ENJOY THE SIMMONS STINK! My new pick …
CHARGERS (+4) over Patriots
Q: It's official. Phillip Rivers is Rick Grimes. Rick has his faults. He has lost his mind a couple times. Is prone to fly off the handle from time to time. Massively inflated ego. But he is a gamer. Fighting at 60% health at best, running out of time, Rick will not only save everyone, but he will do it looking like a complete badass. The same can be said for Rivers. You know there is a decent shot he collapses and loses his mind, but damnit when he is feeling it, no one is scarier, and no one looks more like a badass than them in the heat of the moment.
—Zane D., Birmingham
Q: The San Diego Chargers are the 2014 Homeland team lead by Phil Rivers aka Carrie Mathison. The CIA, just like the San Diego faithful have faith in their Phil Rivers even though the rest of the onlookers are on the edge of their seats waiting for the tequila/pill/sex rampage or the 3 interception game. And the past couple weeks have been redemption for both showing competency and promise. Plus, both Phil and Carrie make really fucking questionable facial expressions.
—Matt, Iowa
BS: So if you're scoring at home, I'm backing Rickarrie Grimathison and the 2014 Walking Dead/Homeland Chargers over New England plus-four.
PACKERS (-13) over Falcons
So much for the Packers-Patriots line being stupid! So much for you being insulted that the Patriots were getting 3 ½. Instead of 3! That's what you get for betting against Rodgers in Lambeau! You suck, Simmons! Hope you enjoyed the loss!!!!!
—Hundreds of Packers Fans Over the Past 120 Hours
BS: And guess what. You guys can enjoy the Simmons Stink, too.
This Week: 0-1
Last Week: 4-12
Season: 124-69*4
Filed Under: NFL, Arizona Cardinals, Atlanta Falcons, Baltimore Ravens, Buffalo Bills, Carolina Panthers, Chicago Bears, Cincinnati Bengals, Cleveland Browns, Dallas Cowboys, Denver Broncos, Detroit Lions, Green Bay Packers, Houston Texans, Indianapolis Colts, Jacksonville Jaguars, Kansas City Chiefs, Miami Dolphins, Minnesota Vikings, New England Patriots, New Orleans Saints, New York Giants, New York Jets, Oakland Raiders, Philadelphia Eagles, Pittsburgh Steelers, San Diego Chargers, San Francisco 49ers, Seattle Seahawks, St. Louis Rams, Tampa Bay Buccaneers, Tennessee Titans, Washington Redskins