The Night Everyone Got Excited for College Basketball
Jonathan Daniel/Getty Images
I had a chance to be in Chicago on Tuesday night to cover the college basketball games for Grantland, and I said no for two reasons. First, because most early-season college basketball showcases are sloppy and a little bit depressing. Second, because after the months of obsession over Andrew Wiggins, Jabari Parker, and Julius Randle, there's no way they could possibly live up to it.
People were comparing Wiggins to Durant and McGrady. Jabari Parker was supposed to be Paul Pierce and Glenn Robinson, and Julius Randle was the closest thing people had seen to LeBron.
There were 80 NBA scouts in attendance last night, which is a reminder that (a) NBA teams probably waste SO MUCH money scouting players they'll never have a chance to draft, and (b) this has all gotten kind of ridiculous. The United Center sold out the stadium Tuesday, and tickets for what was basically a preseason basketball exhibition were going for $750 apiece. We were due for a letdown.
But then all the players in Chicago made me look like an idiot.
We were planning on starting a series called Freshman Report Card later this season to track all the best prospects in college hoops, but last night was so ridiculous we might as well kick it off now. Let's start with the first game.
Julius Randle
Kentucky actually started the night by making me look like a prophet. The Wildcats were disorganized and sloppy on offense, everyone looked overwhelmed, and they didn't score a point for the first five minutes of the game. Michigan State reminded everyone that it has outrageous talent all over the court, too, and it looked like the better team for the entire first half. Perfect game to watch from home.
Then Julius Randle happened.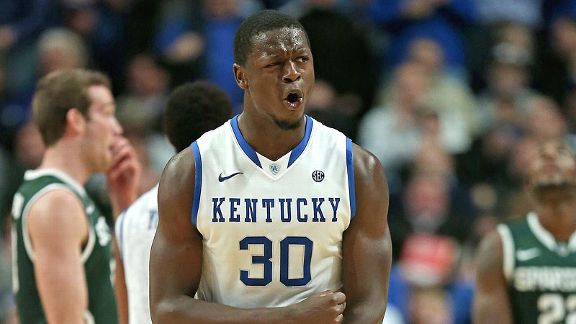 Dominant big men are almost always frustrating; the guys who look like they could overpower everyone on the court whenever they want to almost never actually do it. They are either out of shape, or they don't have the killer instinct, or they get into foul trouble, or they don't have the footwork or touch around the rim — whether you're talking about Dwight Howard on the Rockets this year, Greg Monroe at Georgetown, or even Greg Oden at Ohio State. There are a lot of "can't-miss" dominant big-man prospects who never seem to actually dominate.
All of which made it twice as fun when Randle came out in the second half and just went to work killing everyone. He scored the first six points of the second half, and spent the rest of the game attacking every time he touched the ball. All his offensive possessions should be set to 808 drums while he just bodies everyone. Emailing back-and-forth with coworkers last night, someone threw out "more powerful Amar'e" as a comparison. I was thinking Elton Brand at Duke. Others have said Zach Randolph.
Either way, his touch around the rim is incredible, his footwork is flawless, and he was the best rebounder on the floor in either game Tuesday. If Kentucky's other star freshmen — the Harrison twins — turn into stars by January and February, the combination of them, Randle, and James Young will make Kentucky the most terrifying team in the country. Mostly because of Randle. For all his skills, the most impressive part of Tuesday night was just how ruthless he was in attacking the Michigan State front line. When he scored over a triple-team halfway through the second half, I just blurted out "Jeeeeesus Christ" from my couch.
This was right about the same time that everyone decided Randle was the best player in college basketball and the real no. 1 pick in next year's draft.
Jabari Parker
Before anyone had ever heard of Wiggins or Randle, Parker was supposed to be the second coming of LeBron. There was that Sports Illustrated cover, and even before that, no less an authority than Derrick Rose anointed Parker the next great superstar out of Chicago. Then the hype sort of plateaued last year, while everyone discovered Hellbeast Julius Randle and then Wiggins, the freak-of-nature athlete from Canada. Next to all that, Parker seemed a little ordinary.
He still had all kinds of hype, but he wasn't as athletic as Wiggins or as big as Randle, he got hurt his senior year, and when people described him as the most polished NBA prospect it seemed a little bit backhanded. NBA fans want exotic talent and limitless potential; flawless fundamentals aren't as fun to dream about all year. But in the first half last night?
Polished looked pretty awesome.
Jabari was nailing jumpers in people's faces, then getting to the rim and finishing, and all the polish just meant that he could do pretty much whatever he wanted on the floor. There was also the one-handed alley-oop:
He finished the first half with 19 points that felt way too easy, and at halftime Bill Self told ESPN, "We couldn't guard Jabari, obviously." This is also when everyone pivoted to calling Jabari the new no. 1 pick.
hari-kari for jabari is the new riggin for wiggins

— jay caspian kang (@jaycaspiankang) November 13, 2013
Then …
Andrew Wiggins
Probably the highlight of the night was checking Twitter during halftime and seeing someone compare Wiggins to Gerald Green or a "poor man's Paul George." Sports fans are RUTHLESS. But yeah, Wiggins got into foul trouble early and struggled to get going while Jabari set the world on fire. Things were setting up perfectly for a Wiggins backlash. Then came the second half, in which he scored 16 points and ended the game with (1) a clutch face-up jumper that was maybe the most NBA-quality play anyone had all night, and (2) a breakaway dunk in which he outran everyone on the court.
A few things became obvious with Wiggins last night.
• He's not as polished as Jabari, and he's nowhere near as physically dominant as Randle.
• The form on his jumper is flawless, and he's quicker than anyone in the country.
• He's the most gifted athlete college hoops has seen since Durant.
• Watching him in Bill Self's offense will drive NBA fans crazy all year.
• He's talented enough to give people nightmares anyway this season.
• And he'll have a few moments each game that remind you just how limitless his potential really is.
Everyone who'd fallen in love with Randle and Jabari over the first 60 minutes of college hoops spent the last 20 minutes watching Wiggins score 16 points, attack the rim with unstoppable quickness, show off a jumper he can get off over anyone, and ultimately seal the win for Kansas in the final two minutes. And he has more room to improve than anyone in either game. It was like, "Ohhhh, right, so this is why people have been freaking out for the past nine months."
On a night that saw everyone flip-flop back and forth picking the most outrageous future superstar, I think most people ended up back at square one by the end.
---
A lot of NBA fans look down on college basketball because it's sloppy, and watching guys like Wiggins or Parker mostly just gives everyone an excuse to complain that they're forced to go to school in the first place. A lot of college fans see these superstars playing on teams like Kentucky and complain that the one-and-done superstars ruin the spirit of the sport. What was great Tuesday is that nobody could possibly complain about what happened in Chicago. It was the perfect way to kick off a season that should make all those stupid debates irrelevant.
People will spend all year obsessing over these three freshmen, but then you throw in teams like Michigan State with Adreian Payne and Gary Harris, Oklahoma State with Marcus Smart, Arizona with Aaron Gordon, Michigan with Glenn Robinson III and Mitch McGary, Louisville with Russ Smith defending the national title … and probably four or five other players and teams who will entertain people all year.
Teams and coaches matter in basketball — especially college basketball — but it all works best when there are stars who end up transcending everything else on the court. Nobody will remember the thousands of annoying whistles when they think back to last night. They'll remember Michigan State's starting five impressing everyone, Perry Ellis and Wayne Selden on Kansas, and a Duke team that's alarmingly hard to hate. And mostly, everyone will remember Randle, Parker, and Wiggins.
At least today, choosing between those three is irrelevant. There really isn't a bad option here. We'll probably enjoy each of them for different reasons, and they'll all be equally baffling for the next five months. The season could look a lot like Tuesday in Chicago. One night we'll lose our minds over Randle, then it'll be Jabari, then Wiggins, and by the end, it'll be hard for anybody to complain.
The one constant in sports is hype. It's always been like this with folk-hero superstars, but with today's media the legends grow faster than ever, and it usually gets a little out of control, and it almost always ends with us being disappointed.
That Jabari Sports Illustrated cover is a perfect example. Or Sports Illustrated's college-hoops preview a few weeks ago, comparing Wiggins to Wilt and Danny Manning. Our ability to abandon sanity is kind of incredible, and it happens constantly. That's what made Tuesday so awesome. With a thousand season previews and YouTube clips and scouting reports, we only get caught off guard when someone actually lives up to it all.
The only thing more amazing and ridiculous than the hype is watching someone somehow deliver on everything. Or three someones, in this case.
Filed Under: College Basketball, Andrew Sharp, Duke, Kansas, Kentucky, Michigan State, Jabari Parker, julius randle, Andrew Wiggins