The NFL Discard Pile
Jonathan Daniel/Getty Images
While the NFL dropped an incredible weekend of wild-card action onto our televisions this past weekend, the 20 NFL teams without playoff berths continued to move on with their respective offseasons. In the middle of writing previews and recaps, I wasn't able to get to a few stories that are worth a closer look. That's what today's trip around the discard pile is for. Let's start in Chicago, where one of Phil Emery's famous press conferences brought the news that the Bears would be sticking with their signal-caller for years to come …
Cutler Supreme
It was always pretty unlikely that the Bears would move on from Jay Cutler, but by the end of the 2013 season, you could piece together a bunch of logic that would seem to have it make a bit of sense. Josh McCown had stepped in and played admirably during Cutler's (seemingly annual) absence due to injury, which seemed to suggest that Marc Trestman and those two stud wide receivers might be able to coach up any middling passer into a viable Cutler impersonation at a fraction of the cost. Given that Emery wasn't involved with the organization when it acquired Cutler to begin with and that Emery hadn't felt the need to sign Cutler to an extension before the end of the 2013 season, well, you could begin to imagine that the Bears might let Cutler move on and spend the money they would have used on him to shore up a suddenly subpar defense.
Well, that didn't happen. The Bears came to terms with Cutler last week on a seven-year, $126.7 million deal that will keep the perennially controversial quarterback in a Chicago uniform for the foreseeable future. It's the sort of contract a team offers when it's 100 percent sure it has a quarterback who can win a Super Bowl, a sentiment I'm sure some percentage of Bears fans do not share with Emery. It's also a contract that makes some interesting trade-offs that speak to the level of confidence each side has in Cutler's — and Chicago's — future.
What's notable about this deal is the structure. The length and total value of the deal is relatively common; it's about halfway between the values of the contracts signed by Joe Flacco (six years, $120.6 million) and Aaron Rodgers (seven years, $131 million, by virtue of the five-year extension he signed this season). Unlike virtually every other deal given to a veteran quarterback, though, Cutler's contract contains no signing bonus. Instead, the base salary is guaranteed for the first three years of Cutler's deal, which ensures that Cutler will receive a whopping $54 million in guaranteed cash.
This sort of deal has strengths and weaknesses for each side. From Cutler's perspective, he gets a larger guarantee than most would have expected. Flacco, who had more leverage as a younger, more reliable quarterback coming off a Super Bowl win, only got $52 million in guaranteed money. Matt Ryan got $42 million. Rodgers, an MVP winner, got a similar $54 million in guaranteed money on his deal, albeit with less leverage. On the flip side, Cutler doesn't get as much money up front as his brethren do; with no signing bonus, Cutler only [sigh] gets $17.5 million of his 2014 salary upon signing the extension, with the other $5 million coming in deferred payments throughout the season. Cutler's 2015 and 2016 base salaries are also guaranteed for injury only.
By structuring the deal this way, the Bears can help keep their salary cap clean in future seasons and keep themselves flexible with Cutler as he ages. If the Bears had given Cutler a standard signing bonus, it would have stretched across the entire length of the contract; that would have made the cap hit lower during the first few years of the deal, but it would have made the latter years of the deal more expensive and required the Bears to eat dead money as part of the contract if they chose to move on from Cutler. Instead, this deal is more like a typical contract, only with the "signing bonus" spread exclusively over the first three years of the deal. After those three years are up, the Bears will have four more years remaining on the contract with base salaries between $12.5 million and $19.2 million. If the team decides to move on from Cutler at any point during that time frame, it can trade or cut him without incurring any cap penalties. In other words, this is the sort of contract a team makes when it wants to have a guy locked up for a few years while knowing it also wants to be able to end things very quickly and cleanly. Think of this as a three-year, $54 million deal with four one-year team options attached at the end.
Also curious is the way the Bears structured the actual year-by-year base salaries. Notably, while most contracts see the base salaries in a deal rise on an annual basis, Cutler's deal starts off with a $22.5 million base salary in 2014, falls to $15.5 million and then $16 million over the next two guaranteed years, and then drops to $12.5 million in the first option year before steadily rising to $19.2 million over the final four years of the deal. The quarterback franchise tag for 2014 was, before the Cutler deal, expected to come in at about $16 million. It's not so simple to say that the Bears should have just franchise-tagged Cutler, since the salary afforded a player franchised in consecutive years rises in the second year by 20 percent (which would pay Cutler $19.2 million) and then by 44 percent ($26.9 million), meaning the Bears would have paid Cutler $62.1 million over the same three-year stretch, with the added ability of being able to cut him or trade him if they wanted. The Bears are trading that leverage of being able to get rid of Cutler for $8.1 million and those four option years.
Was it the right move? It's hard to say. I support the idea of spending a premium to keep Cutler around, but I'm also of the opinion that Cutler's a lot better than some might believe. While McCown's performance in Cutler's stead this season was impressive, it was also driven by a freaky-low interception rate that will be impossible to repeat. The Bears would have also had to rush into finding a new quarterback without a high draft pick or an obviously available candidate, which seems like a recipe for disaster. I might have considered franchising Cutler before offering him two more guaranteed years as part of an extension in the hopes of saving money, but I don't think the general concept of locking Cutler up and paying him like he's better than Ryan is an incorrect assumption.
And by putting the largest base salary in the first year, the Bears are suggesting that they aren't about to go on another offseason spending spree, despite having just 32 players under contract for 2014. That number will fall when the Bears likely let Julius Peppers go, creating about $10 million in cap space, but Emery & Co. will have a lot of work to do in filling out their roster over the remainder of the offseason.
They kept two players on that roster with lower-profile contract extensions last week, neither of which enthuse me as much as the Cutler deal. In giving cornerback Tim Jennings a four-year, $22.4 million extension with just less than $12 million guaranteed, the Bears are locking up an undersize cornerback who just turned 30 and whose value is mostly tied up in creating interceptions, which tends to be a wildly erratic statistic from year to year. That's the profile of a player who can lose it and begin to look bad very suddenly. The contract's terms are still vague, but it seems likely that the guarantees amount to $7.5 million in assorted compensation for Jennings in 2014 and his $4.4 million base salary in 2015. My suspicion is that Jennings will be released after the 2015 season.
Chicago also gave left guard Matt Slauson a four-year deal after he produced a solid season on a one-year contract this past campaign. Slauson made $815,000 plus incentives, and was a starting guard on the Grantland All-Bargain Team. His new deal is worth $12.8 million with just less than $5 million guaranteed, but there's also a reason why Slauson was available for a million bucks in the middle of free agency last year. Competent guards are a relatively fungible property and a group getting squeezed by the market in recent years. It's entirely likely that Slauson would have struggled to match this deal on the free market, and even if he had gotten a better contract, the Bears likely could have found somebody as good as Slauson on another short-term deal. There's something to be said for stability and continuity, but there's also something to be said for opportunity cost and trusting your ability to read the market for a second consecutive season. Slauson's a solid guard, but this was probably an overpay.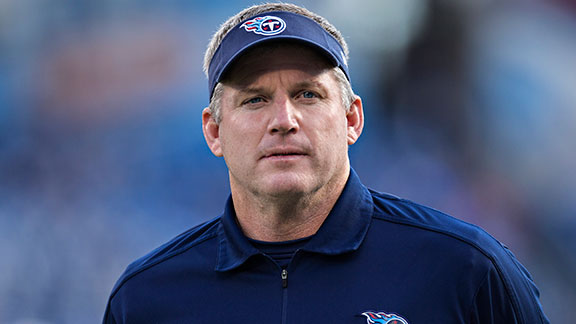 Munched
When he survived Black Monday, it seemed like the new ownership group in Tennessee had decided to give head coach Mike Munchak a fourth season at the helm after a relatively uninspiring 22-26 start to his NFL head coaching career. That was half-right. The Titans wanted to keep Munchak on board and even offered him a contract extension when they met with him on Friday, but insisted that Munchak fire several members of his staff to earn the extension. When he refused to do so, the Titans fired Munchak, bringing his relatively irrelevant reign to an end. In the process, the team chose to retain general manager Ruston Webster, who will take over sole leadership of the team and be the primary person in selecting the new head coach.
Honestly, while Munchak's in-game decision-making and bizarre comments about requiring two years to trust his offensive line on fourth down raised eyebrows, Webster has done little to inspire confidence that he's going to be part of the solution in Tennessee. While Webster was elevated to the general manager role in 2012, he was a key part of the front office as vice-president of player personnel when the Titans drafted Jake Locker in the first round of the 2011 draft, a move that saw Tennessee fall for the classic failed quarterback archetype and find another guy with a big arm and little reliable accuracy. He was also around when the team gave Chris Johnson a mammoth extension several months later. As the general manager, Webster's 2013 offseason was a bit of a disaster; he gave a massive contract to Andy Levitre, who struggled to stay healthy at the beginning of the year and had a relatively anonymous campaign, and then gave a three-year, $10 million deal to Shonn Greene that was seen as a laughingstock of a contract in league circles. Tennessee invested heavily in its offense despite fielding the league's worst scoring defense in 2012, and while the defense improved in 2013, much of that was due to the presence of Gregg Williams, who the team might now lose as part of the coaching shuffle.
Webster has a busy offseason ahead. After picking a new coach, he's going to have to release Johnson, make a decision on Locker's future, find a few doors to hit Kenny Britt with on the receiver's way out of town, and finally make upgrades on defense. Given the team's relative weaknesses, the Titans need both a quarterback guru and somebody to patch up the defensive holes. That would point to installing Williams as the team's defensive coordinator and hiring an offensive-minded head coach like Jay Gruden, who the Titans have already requested to interview. They're also after Ken Whisenhunt, who would be a disastrous hire; while Whisenhunt certainly has his strengths, he destroyed a number of quarterbacks in Arizona by constantly flip-flopping between subpar options and building an offensive line that couldn't keep those quarterbacks healthy. Whisenhunt fits in a place where he can't mess around at quarterback, like Detroit. Munchak seems like a likely candidate at Penn State, where he was once an offensive lineman under Joe Paterno.
Not Like a Sherm Hi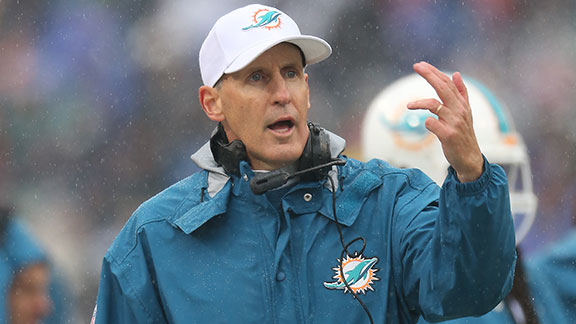 In a way, Munchak falling on his sword to defend his assistant coaches is noble. If you're of that mind-set, well, you're not going to be very pleased with Joe Philbin. In his interview with ownership, Philbin was reportedly told that he needed to fire offensive coordinator Mike Sherman. Despite his contract giving him the sole ability to hire and fire coaches, Philbin — presumably under the threat of losing his own job — fired his offensive coordinator after two years at the helm.
That's not enough, though; this wasn't just firing a professional acquaintance. Sherman's relationship with Philbin goes back to teaching Philbin in English class at the Worcester Academy in 1980. Sherman hired Philbin as a graduate assistant at Temple when he got his first coaching gig in 1983, and then again when Sherman was head coach of the Packers in 2003. Philbin hired his former mentor to be Miami's offensive coordinator when he took over the head coaching gig in 2012, and the team then drafted Sherman's quarterback at Texas A&M, Ryan Tannehill, with the eighth pick in the 2012 draft.
It's not tough to see where the relationship fell apart. Rumors suggest that Tannehill lost faith in Sherman sometime during the 2013 season, suggesting earlier this week that Miami's offense might be too mechanical. Of course, that's partly because Tannehill was a raw product coming out of college and remains a passer who still seems to make his fair share of mistakes as a decision-maker. The straw that likely broke the camel's back came when the Dolphins scored a combined seven points in their two season-ending "must-win" losses to the Jets and Bills, games in which Tannehill was a combined 30-of-67 (44.8 percent) for 286 yards with one touchdown and three picks.
By firing Sherman, both Philbin and Tannehill get more time to work out the kinks. Tannehill will get to prove his maturity with a new coordinator, while Philbin can rest easy knowing that he'll keep the job, having acquiesced to ownership's demands. Sherman, though, was the guy who brought those two together. They weren't great with him, but there's no guarantee that Philbin and Tannehill will be any better without him.
Filed Under: NFL, Chicago Bears, Jay Cutler, Miami Dolphins, Tennessee Titans, Bill Barnwell