The Nets Hired the Wrong Legendary Point Guard
Steven Freeman/NBAE via Getty Images
You may have heard that Jason Kidd was named head coach of the Nets last week. It's kind of amazing news, because wow, OK, I guess Jason Kidd is coaching the Nets now.
Mikhail Prokhorov is insane.
This was a bad decision. There's a chance Kidd will succeed, sure. Who knows. Nobody has any idea how a coach is going to fare in any given situation. Anyone who pretends otherwise is lying. But this was a bad decision for one reason: Look at who Prokhorov DIDN'T hire. If the Nets were looking to make a splash, there are at least 10 other point guards who would've been better choices than Jason Kidd — for the Nets or anyone else.
Kenny Anderson
Why It Would Be Great: CHIBBS! Kenny Anderson is the people's champ, and his Twitter account has just made us all love him 10 times more.
House blend is free at Starbucks have to get on it before noon,I am up God bless my loves ones!

— Kenny Anderson (@chibbs_1) April 19, 2013
Most importantly: Chibbs has life experience and valuable lessons to offer, like "Don't marry the crazy chick from Real World". And Chibbs is gonna tell you what's real.
Ask me I am going to tell you the truth ,weather u like it or not !

— Kenny Anderson (@chibbs_1) June 14, 2013
I was at a Nike media event once where Kenny Anderson was brought in as the celebrity coach. He had us run three-man weaves for 20 minutes and then let us play a 3-on-3 round robin for the rest of the hour. Simple, effective. Great practice.
Why It Might Not Work: Whatever, man, a crazy ex-wife doesn't have to be a deal-breaker.
Rod Strickland
Why He Would Be Great: He's spent the last five years or so working on John Calipari's staff, first with Memphis and then with Kentucky, so he's already got some high-level experience. Also, wouldn't it be great to see an NBA coach vomit on the bench?
Al – D.C.: We'd all be remiss if we didn't remember Rod Strickland puking up hot dogs during Bullets games.

Michael Wilbon: Yes, and that would often happen on the bench, after Rod ate hot dogs from the press room, sometimes with reporters. This is an actual conversation from a Rod Strickland hot dog grab one night.

Reporter: Rod, you can't eat that. You'll get sick and throw up!

Rod: I know. Won't be the first time … or the last … Can you slide me that mustard?
Slide him that mustard, Prokhorov.
Why It Might Not Work: Rod Strickland has had some DUI issues in the past, but hey, so has Jason Kidd! I say we're good here.
Penny Hardaway
Why He Would Be Great: He's currently coaching a middle school AAU team in his hometown of Memphis, he's always been considered one of the best guys around the NBA, and he co-owns a barbershop with the barber who cuts hair for Yo Gotti and Zach Randolph. Penny Hardaway is winning at life.
Why It Might Not Work: N/A … The Nets should've offered the job to Penny. And Penny should've said no, because what he's doing with middle schoolers in Memphis is much cooler than coaching Deron Williams to a 5th seed.
Kevin Johnson
Why He Would Be Great: Kevin Johnson is clearly smarter than 80 percent of the NBA coaches in the league right now. Maybe even 100. If Mikhail Prokhorov paid him $10 million a year to coach the Nets for the next five years, you can't convince me he wouldn't be successful.
Why It Might Not Work: Because Kevin Johnson probably belongs in the United States Senate instead, and maybe even in the White House one day. Coaching Joe Johnson and Gerald Wallace would be a pretty big step down from all of that.
Sam Cassell
Why He Would Be Great: Sam Cassell has spent a few years on the Wizards bench, everyone in D.C. loves him, and he's definitely going to be a head coach within the next few years. When that happens, having Sam Cassell as a coach will be SO MUCH MORE AMAZING than having Jason Kidd as a coach.
Why It Might Not Work: If a head coach did the giant balls dance during the NBA playoffs, David Stern might have him vaporized right there on the sideline. It'd be worth it, though.
Bonzi Wells*
Why He Would Be Great: I don't know, Bonzi Wells seems like the type of coach who would fight his players if they mailed it in or got out of line. Not like Lionel Hollins shoving Jerryd Bayless, but actually throwing down right there on the sideline. The Latrell Sprewell–P.J. Carlesimo incident would've been very different if it were Bonzi Wells on the other side of that exchange.
Why It Might Not Work: Bonzi Wells could ultimately be the first coach to merit a comparison to Andray Blatche. Proceed at your own risk.
(*Not a point guard, don't give a shit. We need more Bonzi Wells in our lives.)
Kevin Ollie
Why He Would Be Great: This is probably the most serious entry on the list. As my friend Ray said to me last week: "Thank God nobody told Prokhorov about Kevin Ollie. Somewhat contingent on the situation, but I can't understand why the Clippers, Brooklyn, or Denver don't realize he's basketball Jim Harbaugh."
Right.
He's young, his success shocked everyone at UConn last year, he survived as a journeyman for more than a decade in the NBA and CBA, and all things considered, Ollie has exactly the kind of profile that eventually translates into a great coach.
Why He Might Not Work: It's early. Too many NBA players remember him as the journeyman from those A.I. Sixers teams. He'd shout out orders and they'd be like, "Yooooooo. Calm down, you're Kevin Ollie, go get me a sandwich."
Baron Davis
Why He Would Be Great: Would instantly be the best-dressed coach in the NBA, would give the best in-game interviews, and would probably gain like 80 pounds if he became a full-time head coach. The world needs more Baron Davis.
Why It Might Not Work: Would likely be "injured" for at least 15 games a year while he attends movie premieres and/or Cash Warren's house parties. Having said that, imagine you're a team like the Milwaukee Bucks. If you're a team like the Milwaukee Bucks, we can all agree that Coach Baron Davis for 67 games is better than Jim Boylan for 82.
Andre Miller
Why He Would Be Great: Would instantly be the worst-dressed coach in the NBA, and hasn't gotten a decent haircut in over a decade. Get him the most wrinkled suit on earth and put him on the sideline immediately.
Why It Might Not Work: No, shut up. If Jason Kidd can get hired as a head coach, there's no good reason Andre Miller can't be player-coach for the Nuggets next year.
Gary Payton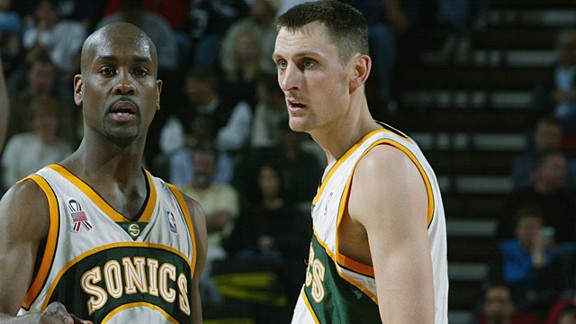 Why He Would Be Great: YO.
Seriously.
Jason Kidd/Gary Payton is the '90s Bay Area point guard version of the Prince/Michael Jackson debate, and we can't be friends if you side with Kidd over GP. As players in their prime, they were both pretty much beyond reproach. Kidd wins the battle of longevity, but Payton wins the battle of being one of the funniest, most fearless dudes ever. As a coach? He would be phenomenal with the media and relate to his players as well as any coach in the league.
He'd preach defense: "… Kids today don't understand [defense]. They say, 'OK, I'm gonna play defense for about five or six minutes.' And then if they're not playing well on offense, it will get to them, and they'll start using their energy on offense to try and score more points. What they don't understand is, if you play defense and get steals, you're gonna get your points off easy layups. It all adds up and feeds off each other."
And Jacuzzi sessions: "So what I did was, I didn't practice a lot. George Karl would tell me to go into the Jacuzzi, ice up, and come out only when we would have major things on the court. So I would practice for about an hour, and then George would pull me out. Then I would go back into the Jacuzzi and do the whole thing again. I kept my therapy and massages, so when I would play in the game I just left it all on the court for 46 minutes because I had the energy."
Then, most importantly, GP the coach would be talking trash constantly on the sidelines. To LeBron, to Durant, to refs, to fans, to opposing coaches. Wouldn't you like to see Gary Payton shouting down the sideline talking shit to Gregg Popovich? A week ago this would've seemed too good to be true. But now? With head coach Jason Kidd? No dream is off-limits. I think that's actually what this entire article was about.
Someone, somewhere, please. HIRE COACH PAYTON.
Filed Under: Andrew Sharp, NBA