The Most Attractive, Available Head Coaching Gigs in the NFL Right Now
Mark Cunningham/Getty Images
There's little joy to be had around the league on the first weekday after Week 17, commonly known as Black Monday. While a few fans will be excited that their teams are moving on from coaches who had subpar seasons, Black Monday's a day when failure comes home to roost. It's the day you get past all the clichés about taking things one game at a time and the coachspeak surrounding development and process to punish the football operations department for its subpar performance. It's the end of one era for a football team and the beginning of a new one. Outside of changing the quarterback for teams that have an entrenched starter at the helm, there's not a more serious change an NFL team can make.
This year's Black Monday was quieter than last year's, when seven head coaches lost their jobs. The racket wasn't quite as loud this year, thanks to the firing of Gary Kubiak earlier in December and Rob Chudzinski's dismissal on Sunday night. On Monday, four head coaches were relieved of their duties, none of whom were much of a surprise. In fact, it was more of a surprise that the likes of Dennis Allen, Mike Munchak, and Jason Garrett went to bed Monday night without having to update their LinkedIn profiles.

Now, I probably don't need to explain why the likes of Mike Shanahan and Jim Schwartz lost their jobs Monday. You watched their teams play this year. What I think would be interesting, though, is to talk about the possible replacements for these deposed coaches while trying to figure out who makes the best fit for each of these jobs. I'm going to stick with people who seem likely to consider NFL jobs, so while Tony Dungy or Nick Saban might be a great candidate for a given team, they're not going to come up here.
In order of relative job attractiveness …
Houston Texans
The Texans were the worst team in football, but they've got the first pick in the draft, at least two of the 50 best players in the league (Duane Brown and J.J. Watt), and enough of a defensive core to suggest that their turnaround could be a quick one. They've also been relatively patient with their coaches, as owner Bob McNair will be hiring just his third head coach in the franchise's 13-year existence.
Reports suggest that the Texans have a Tuesday deadline for hiring a head coach and are likely to bring in Penn State head coach Bill O'Brien as their new leader. It's a move that would make some sense. O'Brien was formerly the offensive coordinator of the Patriots before moving to Happy Valley, and the Texans need more help at the moment in rebuilding on the offensive side of the ball. If they draft Louisville quarterback Teddy Bridgewater with the first pick in the 2014 draft, as most seem to think will happen, they would likely want an offensive-minded head coach to help develop their new starting quarterback. Even if they don't take Bridgewater, it seems like a sure bet that their starting quarterback for 2014 isn't currently on the active roster, which would seem to suggest hiring an offensive coach.
O'Brien's an interesting case. On one hand, he has exceeded expectations during his two seasons at Penn State; the Nittany Lions were expected to be also-rans after the disastrous end to the Joe Paterno era, but O'Brien has gone 15-9 while crafting a competent offense with the likes of Matt McGloin at quarterback. He's not exactly Chip Kelly in terms of innovation, but O'Brien's a smart coach who seems to get the most out of the players and doesn't make a ton of mistakes as an in-game tactician. At the same time, though, the track record for Bill Belichick disciples as NFL head coaches is notably poor: The trio of Romeo Crennel, Eric Mangini, and Josh McDaniels produced a combined record of 72-119 during their time as NFL head coaches, which is almost exactly an average campaign of 6-10. O'Brien would have to buck that trend.
If O'Brien were to fall through in Houston, he would likely have his pick of a number of the other jobs available. Houston might then consider some alternatives. It was rumored to want a coach with NFL head coaching experience before the O'Brien stories leaked, which points to Ken Whisenhunt as a viable candidate. The only problem there is that Whisenhunt won't be available for interviews until next week, since his Chargers made it to the playoffs. Shanahan seemed like a logical candidate given that the Texans were already running some of his schemes in Houston under protégé Gary Kubiak, but he's been ruled out. It seems likely that O'Brien will be the choice, and it's one that makes some sense.
Detroit Lions
Detroit, almost unquestionably, has the most talented roster among the six currently available coaching gigs. Nobody can compete with a core of Matthew Stafford, Ndamukong Suh, and Calvin Johnson, with Stafford and Megatron both locked up for the long term and Suh about to join them. With a second tier that includes Reggie Bush, Nick Fairley, Larry Warford, Louis Delmas, DeAndre Levy, and Stephen Tulloch, there's just not much reconstruction to be done here. A coach could step in and win immediately.
At the same time, that can also be a negative. The Lions will have little cap room over the next few years, which means that whoever takes over in Detroit will not be able to reshape the roster in his image. That should push the Lions toward a coach who has experience working with a 4-3 defense built around getting pressure with the front four, the scheme Schwartz preferred during his time with the Lions.
The obvious candidate with that in mind would be Lovie Smith, who ran a Tampa 2 defense during most of his tenure with the Bears. Smith's scheme would fit well with Detroit's defensive personnel. Smith's Bears were also regarded as well-coached, highly disciplined veteran teams, which would be a nice counter to the sloppiness — perceived or otherwise — of the Schwartz era. He even has some knowledge of the roster after coaching against the Lions for most of the last decade. Smith should be the lead candidate for several jobs, especially if the Texans do hire O'Brien on Tuesday, but Detroit is just about a perfect fit for his strengths.
If Smith goes elsewhere, the Lions could follow up with another disciplined veteran coach in Jack Del Rio, who has managed to bring along several young defenders and turned a number of journeymen into viable starters during his time as Denver's defensive coordinator. The Ford family has steered away from retreads in recent years, though, hiring three first-time head coaches and Steve Mariucci, who left San Francisco with a 57-39 record and off of a 10-6 season. If they wanted to go after a first-time head coach, they could consider Bengals defensive coordinator Mike Zimmer, who has built a dominant defense mostly out of guys nobody else prioritized. Imagine what he could do with Suh & Co.!
Tampa Bay Buccaneers
Tampa Bay's roster isn't quite as talented as Detroit's, but there's still plenty to like about the situation a coach would be inheriting here. The Buccaneers' season was scarred by the dual impacts of the MRSA outbreak and the Josh Freeman circus over the first half of the season; they went 4-4 in the second half after an 0-8 start, and that was while they were down to their fourth-string halfback and starting rookie passer Mike Glennon. Some of the moves by also-deposed general manager Mark Dominik haven't quite worked out, with guard Carl Nicks continuing to struggle with infections to his toe, while safety Dashon Goldson was more notable for drawing fines and suspensions with his big hits than he was for improving the back end of the Tampa Bay defense. The Bucs still need a pass-rusher and will probably try to upgrade on Glennon if they get the chance, but there's a lot to work with.
Most organizations tend to replace their previous coach with a guy who represents the polar opposite of the person they fired. It makes sense; after all, you notice the flaws in the guy you have when you fire him, which naturally leads you to hire a person who doesn't have those flaws when you make the next move. Tampa Bay's no exception. It fired defensive-minded Dungy and replaced him with Jon Gruden, an offensive wizard. When it let Gruden go, it promoted Raheem Morris, its young defensive backs coach, to the job. When the players ran all over Morris and quit on him halfway through his final year with the team, the Buccaneers went after Chip Kelly before he turned them down. They eventually settled on Greg Schiano, a disciplinarian/Belichick parrot. And now he's gone.
So, if you were looking for the opposite of Schiano, you would aim for a relatively young offensive-minded coach with somewhat of a reputation of making the game fun for his players. That fits Gruden — well, not that Gruden. Could the Buccaneers hire Jay Gruden, Jon's younger brother, to be their next head coach? In addition to the whole success-with-a-Gruden thing from the past, Jay Gruden has done commendable work in Cincinnati bringing along Andy Dalton, a borderline quarterback prospect who didn't have much more pedigree than Glennon does. Gruden even spent seven years in the organization working underneath his brother as an offensive assistant before the administration fired Jon Gruden after the 2008 campaign. It would actually make a lot of sense to see the Bucs bring in another Gruden as part of their rebuilding process.
If one Gruden was enough for Tampa Bay, it could consider Whisenhunt, although his weakness in Arizona was very clearly in developing young quarterbacks. Seahawks offensive coordinator Darrell Bevell would be a strong candidate, given what he has done in bringing Russell Wilson along in Seattle, as would be 49ers offensive coordinator Greg Roman. Tampa Bay has a history of chasing big-name coaching hires, though, so it might even aim bigger and consider a run at somebody like Stanford head coach David Shaw, who once worked underneath Jon Gruden as the quarterbacks coach in Oakland before eventually succeeding Jim Harbaugh at Stanford. Of course, the tiny problem with that idea: Shaw doesn't want to leave school.
Washington
There are 32 head coaching jobs in the NFL. Talent and salary-cap situation being equal, if you took a vote among coaches around the NFL, I'm guessing you would hear that Washington represented the least appetizing opportunity of the 32 possible gigs. That's the power of Daniel Snyder. With that being said, though, all things aren't equal. Washington has Robert Griffin III, who probably isn't as good as he looked in 2012 and isn't as bad as he looked in 2013. He represents the best quarterback situation available to any of these coaches, including the Bridgewater opportunity in Houston. Washington doesn't have a first-round pick this year after the Griffin trade, but it'll have a full complement of picks again starting after the 2014 draft, and the cap penalties it incurred from the Albert Haynesworth saga are now off the books. Washington might even have money to spend this offseason! For whatever Snyder's ailments are, he's certainly willing to spend to improve the team, and Washington plays in a dismal division that hasn't produced a repeat winner since the Eagles in 2003-04. If Griffin is healthy next year, this could turn around awfully quick.
What kind of coach will Snyder look for after firing the Shanaclan? It's hard to tell. He has hired so many coaches since arriving in town that there's no clear trend. Snyder has hired three legendary NFL coaches (Marty Schottenheimer, Joe Gibbs, and Shanahan), an untouchable college coach (Steve Spurrier), and, well, a quarterbacks coach (Jim Zorn). He seems to be perpetually chasing a big name, and there's little reason to think Snyder will suddenly start learning from his mistakes now.
The problem is that there just aren't many big names out there. Jon Gruden has already suggested that he'll stay at ESPN. Dungy appears to be retired, as is Bill Parcells. If you assume that Snyder wants a big name, the coach who would really be the best fit is Bill Cowher. Cowher has been patient during his time away from coaching, waiting for the right fit and the appropriate responsibilities. Rumors suggest that he would want some level of personnel control over whatever team he went to coach. That seems dangerous given that he had the safety net of coaching in Pittsburgh's development machine for so long, but he could actually gain some semblance of the decision-making role in Washington, where general manager Bruce Allen has a financial background and wouldn't interfere in the process the same way that a general manager who was a former scout might. Rumors have even suggested that Snyder has met with Cowher twice. And while Cowher has a cushy in-studio gig on CBS's NFL coverage, Snyder would unquestionably have no qualms about paying whatever it took to get Cowher to coach in D.C. If Snyder holds to form, Cowher would be the guy he would hire.
Without Cowher, the search is murkier. There's nobody else with that stature available at the moment, unless Washington wanted to give up draft picks in a trade for a coach with an existing gig, which it can't afford to do. Smith and Whisenhunt, the two head coaches on the market who have been the head coach of a Super Bowl participant, would be in the running. The out-of-nowhere hire could be somebody from college; Art Briles makes sense, given his history with Griffin at Baylor, but I wonder if Washington would consider Oklahoma head coach Bob Stoops, who reportedly expressed interest in taking an NFL job recently. Of the six teams looking for coaches at the moment, Washington is obviously the team whose possible pool of candidates is widest.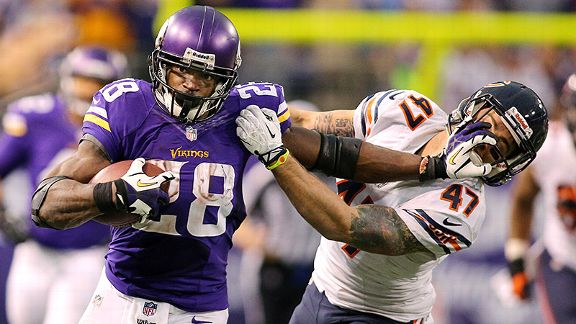 Minnesota Vikings
There's a huge step down in job desirability between Washington and the final two teams on this list. The Vikings' collapse this season after making the playoffs in 2012 was an unpleasant sign for an incoming coach. There are a lot of young players here, especially considering that Minnesota had three first-round picks in last year's draft, but there are gaping holes on the roster, notably at quarterback. Despite spending his playing career at defensive back, Leslie Frazier failed to do enough to develop a young secondary during his time at the tenure. Minnesota will also need to replace much of its defensive line after Jared Allen and Kevin Williams hit free agency this year. The team re-signed Brian Robison and will retain Letroy Guion for a year while introducing Sharrif Floyd into a larger role, but the Vikings still have major work to do there in finding another pass-rusher. Oh, and a long-term quarterback to replace the Ponder-Cassel-Freeman trio would probably be nice.
Given the need to develop a quarterback of the future and the bad taste left in its mouth from the Frazier run, Minnesota's preference will likely be for an offensive assistant. Jay Gruden would make sense in that role, but if he's not available, the team could also consider Josh McDaniels. My hunch is that it would end up with Darrell Bevell taking over, a hunch informed by the Vikings already asking to meet with Bevell for an interview this week. Bevell spent 2006-10 with the team as Brad Childress's offensive coordinator, so if Zygi Wilf thinks highly enough of Bevell after that stint to bring him in for a head coaching interview, it suggests that Minnesota liked having him around.
If Minnesota shoots higher — and there's no indication that it will — it could end up going after the likes of Whisenhunt or even the newly available Shanahan family to run a new offensive scheme. A big college coach wouldn't fit Wilf's image unless O'Brien fell out of favor in the running for the gigs above. Adrian Peterson, as we saw in 2013, can only do so much. Bevell seems like the best option available, given where the Vikings are in the success cycle.
Cleveland Browns
This is currently the least desirable head coaching gig in the league, thanks in part to the fact that the organization just fired Rob Chudzinski after a lone season at the helm. Uprooting your family for the right coaching gig is part of the job, but nobody wants to move away from where they're comfortable if it's only going to be for a year. That affects your possible coaching pool, especially when there are coaches who have already been a head coach elsewhere.
I wrote about this yesterday, but the Browns are almost surely about to make a run at Josh McDaniels, whom general manager Mike Lombardi was publicly very fond of during the latter's time at NFL Network. Whisenhunt looms as an offensive option if McDaniels doesn't come to terms. In the long run, though, I think McDaniels takes down the Browns job.
Filed Under: NFL, Bill Barnwell, Cleveland Browns, Detroit Lions, Houston Texans, Minnesota Vikings, Washington Redskins