The Dallas Cowboys Are Doing Great
Paul Moseley/Fort Worth Star-Telegram/Getty Images
It's the end of July and we're smack in the middle of the dog days for sports fans. But hey look, training camps are starting! Out in Oxnard, California, the Dallas Cowboys have been at it since the weekend, and things are already off to a fantastic start.
I'm a Dallas fan, which means I've been suffering through the annual hype cycle for the past decade. They're kind of like the NFL Knicks — full of ridiculousness from top to bottom, forever haunted by their own outrageous expectations. So of course training camp has been fun.
Let's review what we've seen from Oxnard thus far.
1. The season was barely a day old when we had the first Jason Garrett Hot Seat press conference. As Jerry Jones explained to the media: "When [Garrett] got here, [quarterback Tony] Romo never had the same guy two years in a row. We've got to take advantage of that. His safety-net presence … is a big part of the plan. He gives us a real advantage."
So there you go: Garrett is still the head coach because he's the same coach Romo has had the past six years. Go Cowboys?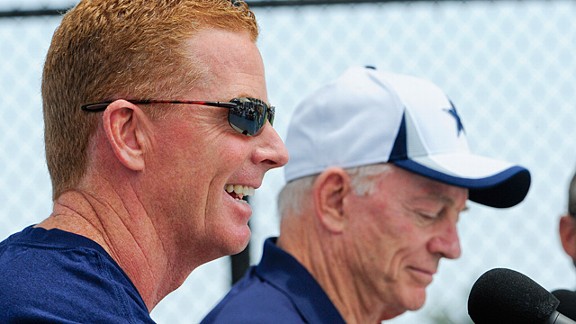 Look at the photo accompanying this column. Jason Garrett is so fired already.
2. After the first weekend of training camp, defensive end Anthony Spencer needs surgery and his backup (Tyrone Crawford) has a torn Achilles and will miss the entire season. Spencer should be back by the regular season, but for a team that battled injuries all year long on defense, it's not the greatest omen coming out of the first weekend of training camp.
3. COACH ROMO?
Does Tony Romo aspire to be an offensive coordinator after his playing days are done? http://t.co/XvVtufU40U

— NFL: AroundTheLeague (@NFL_ATL) July 24, 2013
Please let it happen. Coach Tony Romo will be so much fun one day.
And hey, maybe we're already there! As Jones remembers telling Romo, "Tony, take it over. Be proprietary about this thing, it's yours. Put it out there, put the plays out there you want. Ask that they be run. Don't take any B.S."
More: "[Romo] told me, 'You know, when I'm through playing ball, I want to be an offensive coordinator. One of the biggest shame things for me is that I may never have gotten to run my own plays, I think I'm a heckuva offensive coordinator.'"
Jones's problem: You have an offense that's been pass-heavy and predictable for the past two years. Solution? Let the quarterback start calling the plays.
Perfect.
4. Dez Bryant is doing ridiculous Dez Bryant things.
He's also looking forward to being more of a leader for Dallas this year. As Tim McMahon writes: "His priorities are straight. His passion is contagious. And his performance guarantees that others will pay attention to him. Those are a few pretty good qualities to look for in a leader."
Kind of like when Michael Irvin was the elder statesman in Dallas, the idea of Dez as a leader is completely terrifying. But it's also exciting. A return to the glory days!
5. Garrett is teaching geometry. The transcript from Pro Football Talk: "… if you're doing it from 10 yards inside and running to that same six yards, that's the hypotenuse of that right triangle. It's longer, right? So they have to understand that, that it takes longer to do that. That's an important thing. Quarterbacks need to understand that, too. If you're running a route from here to get to that spot, it's going to be a little longer, you might need to be a little fuller in your drop. … We talked about Pythagoras and it's been going for the last few days."
Of course.
a² + b² = CHAMPIONSHIP.
I really hope that becomes the Cowboys' rallying cry this season.
And as someone who actually roots for this team, I've given up trying to understand what's happening here. It's a losing battle trying to make sense of any of this. It's more fun to just soak in the ridiculousness, and hope it all works out somehow with Coach Romo, Leader Dez, and Professor Garrett. Oh, and also:
LATE-BREAKING UPDATE — As ESPN Dallas reports this afternoon, Cowboys receiver Dwayne Harris spent the summer chasing animals to lose weight. "I'd just go out, man, and look for stuff to run after. All kinds of stuff. Rabbits. Cats. Everything. Especially when I was back at home with my mom [in Stone Mountain, Ga.]. We live in the woods, so there was a lot of stuff running out there."
Rabbits. Cats. Everything. Cowboys training camp is the best.
Filed Under: Andrew Sharp, Dallas Cowboys, NFL, Tony Romo