The Back-From-Injury NFL Stars Not to Forget in 2013
Rob Carr/Getty Images
Few things betray Roger Goodell's unquenchable thirst for power like the NFL's efforts to be a constant fixture in the sports calendar. It's not enough that football dominates Sundays (and Mondays, and now Thursdays) between September and February. Now it wants March (free agency) and April (a four-day, prime-time broadcast NFL draft), too. For all of the league's efforts, though, May is still a lull in the churn of NFL news. Post-draft headlines are reserved for rookie contract signings and mandatory minicamps — not exactly Darrelle Revis trade chatter.
Last week, tossed in with talk of outdated NCAA rules and Nick Fairley's craziness was a seemingly simple news bit about Sean Lee and Dez Bryant being "ready to go" for the Cowboys in 2013. The headline was a reminder (not about Bryant, really, who had his best season as a pro and played in all 16 games) that even though most of the official transactions are done for the offseason, there's one area left where some teams are set to quietly improve — the back-from-injury, de facto free agent.

Despite their pervasiveness, we still underestimate how deeply injuries can affect a team. To understand their impact, we need some Bill Barnwell throwback jams. In the 2008 version of Football Outsiders' Pro Football Prospectus, Barnwell wrote an essay entitled "The Injury Effect," in which he introduced a metric called "Adjusted Games Lost." Most of the info is rehashed in this look back at the 2008 season, but the gist is this: The correlation between a change in injuries and a change in wins is huge, bigger than you would even guess.
One piece of the AGL formula is that not all injuries are created equal. An injury to a starter obviously means more than one to someone who's just covering punts. This brings us back to Sean Lee. Lee played at a Pro Bowl level last season in Dallas, but he did so for only six games. The 2012 Cowboys spent more of their season without Sean Lee than with him. Outside of Cowboy country (this goes for any fan base, really; injuries are the easiest and often best excuse), this is easy to forget. He might as well count as a free-agent acquisition, and one who costs Dallas nothing. There are a handful of these throughout the league (Revis and Percy Harvin would be good examples, but they actually are brand-new additions to their respective teams), and each should provide an upgrade when September rolls around.
Sean Lee, ILB, Dallas Cowboys
Games missed in 2012: 10
"Pro Bowl level" probably doesn't do justice to Lee's 2012, which was ended by a toe injury in Week 6. At Pro Football Focus, he'd graded out as the sixth-best inside linebacker in the league to that point — right ahead of first-team All-Pro NaVorro Bowman. It's reasonable, though, to believe that Lee would've finished even higher. PFF grades accumulate over the season, and Lee's per-game average extrapolated to 16 games would've made him one of the highest-graded defensive players in the league.
This is the ideal modern inside linebacker, in that his coverage skills are right up there with his ability to stop the run. There are plenty of legitimate questions about Dallas's personnel as it switches to a 4-3 defense, but for Lee, it should actually help. He figures to be a perfect fit as the Mike linebacker in a 4-3, and if new defensive coordinator Monte Kiffin does stick with the Tampa 2 principles he made famous with the Bucs, Lee has the chance to blossom into a deep-dropping linebacker, in the mold of Brian Urlacher.
Joining Lee among the league's best inside linebackers last year was actually his teammate Bruce Carter, who also ended the season on the IR. Carter, like Lee, is a former second-round pick who had the best season of his career in 2012. He'll likely move to the weak side this season. Lee's replacement last season was fellow Penn Stater Dan Connor, who put together an underwhelming year and left for the Giants this offseason. Sliding into what some figured would be Connor's outside linebacker spot is 4-3 vet Justin Durant. With a healthy Lee and Carter, and the addition of Durant, the Cowboys should vie for the title of NFL's best linebacking corps.
Brian Cushing, OLB, Houston Texans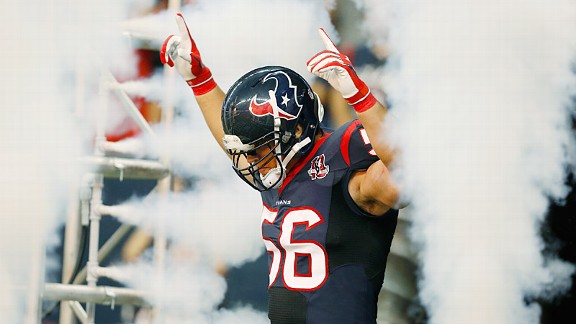 Games missed in 2012: 11
Cushing owns the most-discussed injury on this list, but that's more a product of how it happened rather than to whom. In a Monday-night win over the Jets, Cushing tore his ACL on a questionable cut block from guard Matt Slauson. Slauson has said it's a play he thinks about and regrets often. An ACL tear, and the subsequent recovery process, is a massive blow to any athlete, but the impact it had on to the Texans' defense as a whole was just as substantial.
In 2011, his first season in Wade Phillips's 3-4 defense, Cushing was simply one of the best inside linebackers in football. According to Pro Football Focus, he received the third-best grade of anyone at the position, behind only the San Francisco duo of Bowman and Patrick Willis. Without him for most of the season, Houston still managed to finish as the league's no. 3 defense according to DVOA, but it wasn't because of its play at inside linebacker. Bradie James was old before he jumped between Texas teams, and Tom Brady spent most of his two games against Houston victimizing him in man coverage.
Cushing isn't all the Texans need to compete with the likes of New England and Denver, but he is the second-best player on one of the league's best defenses. There have been some notable changes to the Texans' personnel this offseason (replacing Glover Quin with Ed Reed, losing Connor Barwin), but having Cushing for a full season would be the biggest one Houston could ask for.
Carl Nicks G, Tampa Bay Buccaneers
It doesn't feel quite so notable, considering what the Bucs have done this offseason, but Tampa's spending spree last year was a pretty big deal at the time. The Bucs shelled out a lot of money for Vincent Jackson, but its best move was signing all-world guard Carl Nicks, to pair with two-time Pro Bowler Davin Joseph.
That plan lasted all of three (sort-of) games. Joseph tore up his knee in Tampa's preseason game against New England, and the Bucs were left with the combination of Jamon Meredith and Ted Larsen at right guard. Seven weeks into the season, Nicks was also done, a torn plantar plate ending his year.
Combined, the injuries created a chain reaction along Tampa's offensive line. Center Jeremy Zuttah, who'd been solid in his first year at the position, moved to left guard. Larsen, who'd originally been Joseph's replacement before losing his job to Meredith, moved to center. Even though both performed well enough (Doug Martin did rush for 1,454 yards), there are two notable issues here: (1) Continuity is often the most important factor in the success of an offensive line, and (2) Zuttah and Meredith are not Nicks and Joseph.
Coming out of Nebraska, Nicks was a guard-tackle tweener who lasted until the fifth round. All he's done since then is become arguably the best guard in the NFL. According to Pro Football Focus, Nicks was the second-highest rated guard in the league in his final season with the Saints (and the highest rated the season before). Playing several games having already sustained the toe injury that would end his season, Nicks still graded out in the top 25 for his seven games. Joseph doesn't approach Nicks, but he's a reliable starter. With both him and Nicks back and healthy, Zuttah slides back to center and the interior offensive line Tampa envisioned a year ago should finally be a reality.
Lardarius Webb, CB, Baltimore Ravens
Cary Williams's play down the stretch for Baltimore (OK, and winning the Super Bowl) made Webb the easiest name to forget from this list, but the truth is that in letting Williams walk and welcoming back Webb, the Ravens will be better at corner next year. Webb was a top-five corner in 2011, and he was well on his way again this past season before a torn ACL against Dallas ended his year.
Few teams had the sort of turnover the Super Bowl champs did in the past couple months, and it's one of the reasons Webb's return figures to be so important. Ed Reed and Ray Lewis are gone. It's on players like Webb and Terrell Suggs to take leadership roles on a revamped defense. "We paid attention while [Reed] was here," Webb told the Baltimore Sun. "We're going to continue doing what he taught us. He took all of us up under his wing. He was my favorite player. Everything I did was to try to emulate him, trying to be like Ed Reed. He's gone now and I wish him the best. We will continue that tradition. Ray Lewis and Ed Reed taught us so much. We paid attention. I know I paid attention. I know exactly what to do."
Draft picks like Florida safety Matt Elam and Kansas State linebacker Arthur Brown look like classic Ozzie Newsome fare and should contribute right away, but having a guaranteed quantity like Webb on one side of the field should go a long way in easing Baltimore's defensive transition.
Brian Orakpo, OLB, Washington Redskins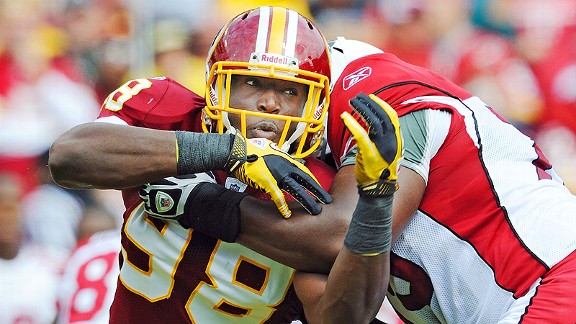 Games missed in 2012: 14
Washington was 29th in Adjusted Games Lost in 2012, and the 14 missed by Orakpo make up a solid chunk of those. The Redskins' problem for much of last year's first half was on the back end of its defense — an area Washington has attempted to shore up this offseason. Former Bucs corner E.J. Biggers was Washington's biggest free-agent acquisition, and the Redskins spent two of their first three picks on secondary players. The best addition they'll make, though, has nothing to do with picking off the quarterback. It has to do with getting after him.
In 2011, Orakpo had the seventh-highest grade of any 3-4 outside linebacker, according to Pro Football Focus. It was his third-straight season with at least 8.5 sacks, and according to Football Outsiders, he was 18th in the league with 25.5 hurries. What makes the prospect of the 2013 Redskins' pass rush frightening is who was seven spots ahead of him on that list — his teammate Ryan Kerrigan. Kerrigan had a fine rookie year in 2011, but this season, he turned into a star. He was the ninth-highest rated 3-4 outside linebacker according to Pro Football Focus, and his 60 combined quarterback hits and hurries were the best in the league. With Kerrigan coming from the left side and a healthy Orakpo from the right, the Redskins have a chance to put together a pass rush that rivals any in the NFL.
Filed Under: Dallas Cowboys, Houston Texans, NFL, Robert Mays, Tampa Bay Buccaneers