Stanley Cup Final: The Five Factors of Game 5 (And Beyond!)
Brian Babineau/NHLI via Getty Images
So the Blackhawks and Bruins are down to a best-of-three for the Stanley Cup, and nobody has any idea what to expect from these teams anymore.
Oh, we thought we had it figured out. After Monday's 2-0 Bruins win in Game 3, we all felt confident in going with the "defense wins championships" narrative. Then the two teams went out on Wednesday and blew the doors off in the Blackhawks' wild 6-5 overtime win.
So now they're headed back to Chicago for Game 5 on Saturday, and anyone who tells you they know what's going to happen is lying. But in the absence of actual predictions, we can at least take our best shot at figuring out which factors are likely to play a key role in the outcome.
Here are five elements that have loomed large so far, and might determine which team skates away with the Stanley Cup in the next few days.

1. Special Teams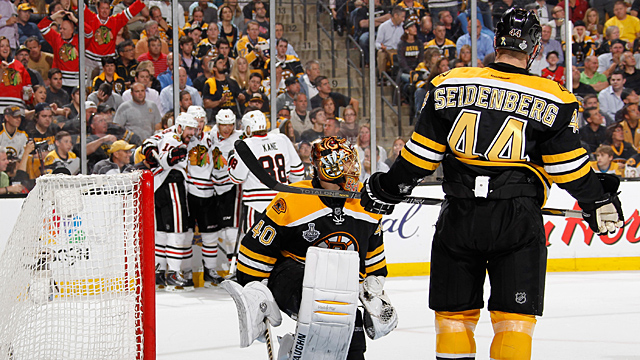 Wednesday's game saw Chicago score a short-handed marker to go along with a power-play goal that ended an 0-for-14 slump in the series. Combined with Boston scoring two of its own on the power play, that made it four special-teams goals on the night, double the total from the first three games combined.
That lack of special-teams output wasn't a shock in a matchup between two teams who ranked in the top five on the penalty kill but in the bottom half of the league on the power play during the regular season, and it's likely that Game 4 ends up being an outlier. But this was an area where the Bruins had maintained an advantage through three games, and the Blackhawks were able to even that for at least one night.
As the series wears on and every game becomes more crucial than the last, we should expect to see fewer power plays because the referees will swallow their whistles both teams will magically decide to stop breaking the rules. That will lessen the impact of special teams overall, while magnifying the importance of each power-play opportunity that does come along.
In a series that's already seen three overtimes, one extra goal could determine the champion. That goal could come on special teams if one team can find a way to establish an edge.
2. Zdeno Chara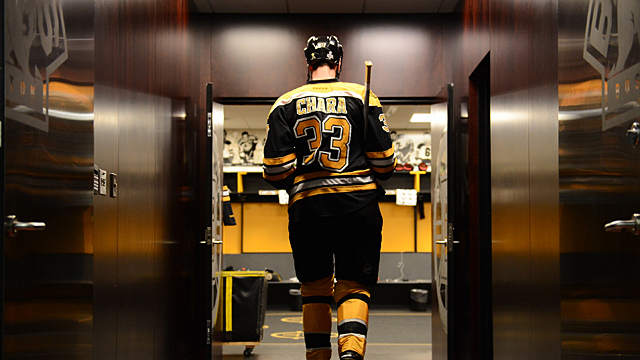 With apologies to the Norris voters, Chara may well be the league's best defenseman. He's the rare defensive player who's so dominant that his presence can dictate an opponent's strategy. Blackhawks coach Joel Quenneville's decision to split up Patrick Kane and Jonathan Toews for the first three games was at least partly motivated by a desire to force the Bruins to use Chara to shut down one star or the other, but not both.
But Quenneville abandoned the plan after seeing his offense sputter in Game 3, reuniting Kane and Toews on Wednesday night. And it worked, with Kane recording two points and Toews finally scoring his first goal since the Red Wings series.
Meanwhile, Chara was a minus-3 on the night, only his fourth minus of the postseason and his worst +/- game since January. (And yes, +/- is a flawed stat, but he was a negative by more advanced measures, too.) And that was in a home game, where the Bruins could (and did) make sure Chara was on the ice for every shift against the Hawks' top line. With Game 5 and a possible Game 7 in Chicago, they'll have to work harder to get that matchup.
If Chara can shake off Game 4 and get back to his usual self, the Bruins should be fine. If not, they might not win another game.
3. Marian Hossa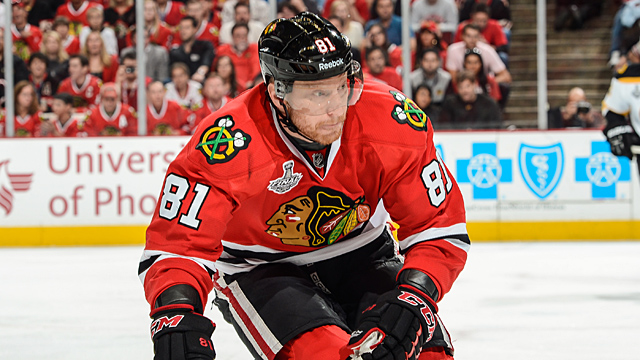 Hossa returned to the lineup Wednesday after being a surprise scratch in Game 3, and his one-timer produced the rebound that Patrick Sharp banged home for the Hawks' power-play goal.
If it's possible for a player with a $63 million contract who winds up in the Final every year to be underrated, then Hossa may be one of the most underrated players in the league. He's probably only the fourth- or fifth-most talked about player on the Blackhawks roster, but he's an excellent two-way player who'll be crucial to any success the team has.
We don't know what was wrong with Hossa — the Blackhawks called it an upper-body injury, though he seemed to be favoring his leg or ankle in Game 4 — and we don't know how much of an issue it will be going forward. He missed the morning skate on Wednesday and reportedly didn't get clearance to play in Game 4 until shortly before the opening face-off. That would seem to indicate that he's not 100 percent yet, and might not be for the rest of the series. Needless to say, the Bruins know this and will be taking every opportunity to put a body on him.
If Hossa can play, and play effectively, the Blackhawks can pair him with Patrick Sharp on an excellent second line while keeping Kane and Toews together on the first unit. If not, Chicago's forward depth will take a major hit against a Bruins team that rolls four lines as well as any team in the league.
4. Luck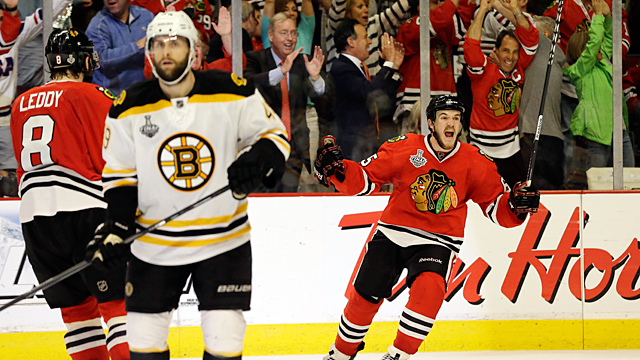 Let's face it, these two teams are so evenly matched that the three remaining games are going to come down almost entirely to puck luck and random chance.
[Stares out into a sea of horrified faces.]
Oh, right, I forgot, we're not supposed to acknowledge that part of sports. OK, let's scratch this section and replace it with …
4. Fatigue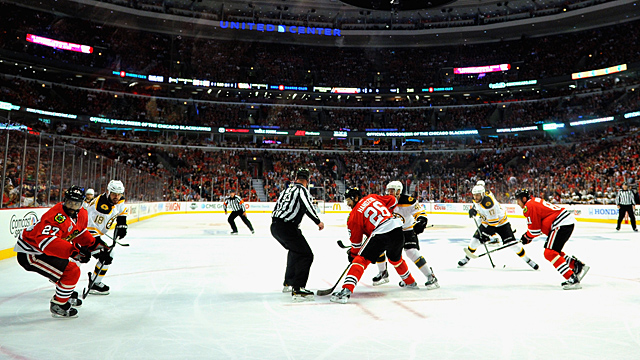 The Bruins and Blackhawks have played an awful lot of hockey over the last week. While four games in eight days isn't exactly Herculean, when you factor in an additional five periods' worth of overtime you start to wonder how much of a factor fatigue will be.
With the exception of Hossa, both teams have been able to keep their key players reasonably healthy. But they're closing in on two straight months of playoff hockey, and there's little doubt that they're beaten up. We won't know exactly how beaten up until after the series is done and we get the traditional Unveiling Of The Top Secret Injuries, but it's safe to assume that the trainer's room is getting crowded.
On the other hand, it was a shortened season and both teams had a week off before the start of the final. An extra day between Game 4 and 5 should also help. Beyond that, both teams will be trying to find a way to do more than just limp across the finish line.
5. Goaltending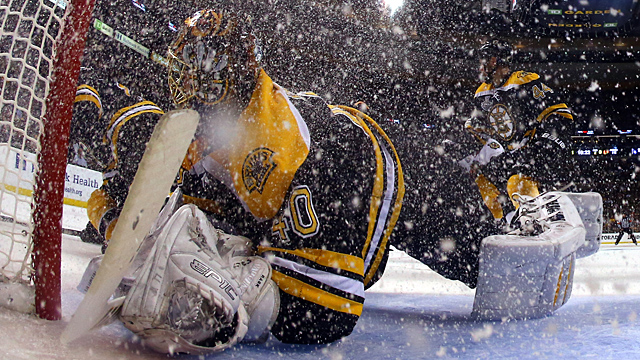 You knew this one was coming. Dominant goaltending had been the key story line for each of these teams heading into the series, and there hadn't been any indication that was about to change.
And then came Game 4, and suddenly everything was going in. The Bruins put five goals past Corey Crawford, but it wasn't enough because the Blackhawks beat Tuukka Rask three times as often in one game as the Pittsburgh Penguins could manage in an entire series.
Oddly, despite the win, it's Crawford who seems to be taking most of the heat in the wake of the 6-5 shootout. That's partly because of reputation — Crawford is generally viewed as the less established of the two goalies, even though he has more experience than Rask — and partly due to aesthetics. While Rask was beaten six times, the goals were varied and most had a degree of difficulty. The five that got past Crawford included a few stinkers, and each goal beat him to the glove side (a fact that virtually the entire hockey media made sure to point out).
It's not exactly groundbreaking that Crawford's glove hand is his weak spot, because that's true for almost every NHL goalie. But his tendency to give up goals there (especially on low shots, as broken down in detail here) is disconcerting, and you have to wonder if it could start to become a mental issue.
Everyone already seems to expect that Rask will rebound from Game 4. Crawford isn't getting that benefit of the doubt. He'll have to prove the doubters wrong for the Blackhawks to have a chance.
Filed Under: Boston Bruins, Chicago Blackhawks, Hockey, NHL, Stanley Cup