Roadside Attractions: A Look at the Los Angeles Marathon Murals
Kent Twitchell
They're a common sight in the Los Angeles urban landscape, those rectangles of paint that don't quite match the color of the wall they've been applied to. It's a practice called buffing, and whether it's done by official clean-up crews or cheap landlords, the purpose is to cover up graffiti. The buffing is usually applied to the not-so-secret language of gangs or the work of teens practicing their tags. Sometimes, when you're stuck out on the notorious L.A. highways, you'll notice a huge gray swath of paint on a retaining wall. And sometimes behind what appears to be a standard buff job you'll still be able to make out a trace of what was once there. It could be a collection of human silhouettes along the 5 near Dodger Stadium, or a faint pattern on the 10 by the National exit, or a large circle on the northbound 110 as you near downtown, where, if you have enough time to look, you can still make out the words "The City of Los Angeles Marathon."

---
Back in 1983, as Los Angeles prepared for the Summer Olympics, artists Kent Twitchell and Alonzo Davis proposed a project to the Olympics arts commission in which 10 of California's best muralists would celebrate one of the state's flourishing art forms. The idea was approved and artists including Frank Romero, Judy Baca, Glenna Avila, and the two painters who presented the plan created a series of (not necessarily sports-related) murals on the highways leading to the Los Angeles Memorial Coliseum.
L.A. businessman William "Bill" Burke was the commissioner of tennis for the '84 Games, and during the city's post-Olympics glow, he founded the Los Angeles Marathon. The first edition of this annual race was held in 1986, and the 28th happened this weekend, taking the runners from Dodger Stadium on the Eastside all the way to the beach in Santa Monica. In 1986 Burke commissioned a similar mural from Twitchell to celebrate the fledgling competition and help make it a part of the city's identity. (Burke, the husband of former congresswoman and Los Angeles County supervisor Yvonne Brathwaite Burke, is a controversial local figure. Under his leadership, the company that runs the marathon was fined for campaign finance violations, and he has been the subject of various corruption investigations, several of which involved the marathon. In 2011, he spearheaded a $1.2 billion, possibly not credible, bid to buy the Dodgers from Frank McCourt when the team was in bankruptcy.)
Twitchell's L.A. Marathon Runners, featuring 26 large-scale figures spread across more than 300 feet, took more than three years to complete. It was finished in 1989 at its first location in Inglewood on the 405, near LAX. It was later relocated to the 5 freeway after the continuous cycle of tagging and cleaning and tagging again began to wear down the paint film.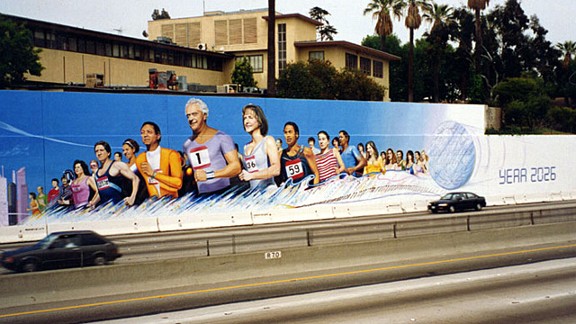 L.A. Marathon Runners was followed by Year 2026, a 400-foot mural on the 10 freeway that Ramiro Fauve painted in 1994. Fauve was best known for his mega-murals, gigantic images that often worked as oversize billboards, including a re-creation of one of Nike's famous Bo Jackson ads that he and his partner did on the side of the Equitable Building at Hollywood and Vine.
The bright future Fauve envisioned in Year 2026 was meant to show that the marathon would continue to be part of the city's history, even as levitating freeways were erected, spaceships flew overhead, and robots were allowed to participate in the race — all of which were depicted in the mural. Leading the pack of runners in the image is the blue-eyed and white-haired Bill Burke, wearing no. 1 on his racing bib and surrounded by friends, family, and staff.
There's also a third L.A. Marathon mural, the aforementioned one on the 110 where you can still kind of make out the race's old logo. This larger piece was originally done in a style that could best be described as child-friendly psychedelia, full of smiling faces and kind orange tones. None of the organizations dedicated to mural preservation in Los Angeles nor any of the experts I talked to know which artist did it. The California Department of Transportation's records have it credited to Davy Woods. There is no information online about a muralist by that name, but there is a sculptor who lives in Venice named Woods Davy, though in an e-mail he wrote that he's never painted any murals. Which either means that there's a mysterious, under-recognized muralist out there with an extremely coincidental name, or that it's very hard to keep all the information straight when there are more than 1,600 murals registered with the L.A. Cultural Affairs Department.
Today, however, you can't see any of these three murals, because they are behind the gray paint.
---
Standing in his still-active downtown studio, Kent Twitchell wears a splattered gray sweatshirt and looks at an enlarged photo of L.A. Marathon Runners. At 70 years old, Twitchell can be unfocused in conversation, but he is clear as he points to the different models he used for the mural. "This woman had run the marathon in Boston. She's a singer from Hawaii and came out here to live — Linda Green was her professional name, an incredible singer." Pointing to a mustachioed New Zealander prominently displayed on the far right, he says, "This is Rod Dixon. He was a middler and actually outright won the New York Marathon. And it was unheard of for a middler to do that."
He goes on, his finger skipping around the photograph: "This was my dentist. This was a friend of mine. This was my student when I was teaching a mural class at Biola University. This was the girl I wanted to start dating. I put her on there for that purpose."
"How'd that go?" I ask him.
"We got married," he says.
After L.A. Marathon Runners was moved across town, it again became a magnet for graffiti — "meaning the older connotation of the word," says Twitchell, differentiating it from the street art that now gets exhibited by institutions like Los Angeles's Museum of Contemporary Art.
A few years ago Caltrans developed a process called "hibernating," in which murals are coated with an environmentally friendly organic material and covered with a special gray paint. If Caltrans approves the restoration of the mural, this gray paint and the graffiti beneath it can be removed using highly pressurized water shot at a specific angle and temperature, all while not affecting the original painting. The mural can then be coated with a new product that helps maintain it for another 10 years.
A few years ago Twitchell agreed to have L.A. Marathon Runners hibernated. "If we ever get a more civilized generation that wants to restore it, then they'll be able to," he says. "You sort of toughen up when you're doing exterior pieces. When the L.A. Fine Arts Squad and I, and a few others in the hippie days, were doing this, we always thought we were working in Florence, that people would appreciate what we were doing because we were putting our all into it. And for a while they did. Then at some point in the mid-'80s it started to deteriorate out there so much that there was no respect for anything."
---
On the January morning in 1994 that Ramiro Fauve and his two-person crew were supposed to begin Year 2026, the 6.7-magnitude Northridge earthquake hit. The resulting damage shut down traffic on either side of their designated wall, but not on production on the mural. "For a while I could walk out on to the 10 freeway and see how I was doing," says Fauve.
While the mural's location provided maximum visibility for Eastside-to-Westside commuters, it also immediately made it vulnerable to the elements. "The sun on the south-facing wall began to wear it down and fade it out. Water started seeping through the retaining wall," says Fauve. "Freeway murals just don't hold up too well. There's a constant 75 miles per hour wind from the cars."
Over the years the graffiti became more frequent. When Fauve learned the city planned to hibernate the mural, he had no objections. "I was going to paint it out myself," he says. "I was so tired of the graffiti."
---
Isabel Rojas-Williams, the executive director of the Mural Conservancy of Los Angeles, says that the graffiti defacing the murals around the city got particularly bad in the late 1990s as arts programs began getting cut in L.A.'s public schools. She thinks the problem was exacerbated during the financial crisis because there was less money to pay for removing graffiti, so it stayed up longer, even in high-traffic locations.
In recent years the MCLA has raised funds to restore murals around the city. Through an agreement with Caltrans via its Transportation Arts Program, the artists would be responsible for removing any new graffiti to the restored murals. The organization's biggest initiative has been bringing back the hibernated 1984 Olympics murals in anticipation of the 30th anniversary of those Games. It has commissioned Willie Herrón III, the respected Eastside artist responsible for one of the original murals, to restore them. When Frank Romero's Going to the Olympics is completed in a few weeks, MCLA will have five done. Of this group, only Kent Twitchell's uncovered Jim Morphesis Monument has been hit by taggers, but it was quickly cleaned up and so far the rest have been left alone.
It's a tough task, trying to maintain public art that is vulnerable to so many threats. Fauve has taken on a resigned pragmatism. "I'm known for mega-murals, and paintings for film and television, and branding and graphics," he says. "So I'm used to things getting painted over, redone, done again, thrown away or put away in a production office and forgotten. For my fine art, I care about permanence, but I've never thought of [the other kind] of work as permanent. Murals age really quick, even with UV blockers and graffiti coats."
Herrón, on the other hand, has taken on a more hopeful perspective. "I'm not interested in painting new murals anymore," he says. "I'm interested in assisting this city to support preserving the artwork that has existed through my lifetime, that was created in my lifetime."
Presently there are no plans to restore the Los Angeles Marathon murals, either by the MCLA or the L.A. Marathon.
Maybe by the year 2026, when we have our anti-gravity levitating highways, we'll have figured out a way to protect all the murals, digital or otherwise, that run along them. Maybe that will be what the spaceships are there for. But what does seem clear is that few people's commutes have ever been enriched by the color gray.
Eric Ducker (@ericducker) is a writer and editor living in Los Angeles.