Rankonia: The Triangle Power Rankings
1. Jesus Navas: Making the Most of an Opportunity
Jesus Navas gets the top spot this week, thanks to a nomination from Triangle editor Chris Ryan. Says Ryan:
Really into this goal by Spain winger Jesus Navas against Croatia in Euro 2012. He goes FULL YOLO. Who cares if it's an open net? He absolutely roofs it. As he should! You don't get that many opportunities to play in front of an audience that big. Especially if you're Jesus Navas, who once suffered from anxiety issues that were so severe they prevented him from traveling extensively with the Spanish national team. It's great to see him so confidently smash the daylights out of the ball in front of an international audience. Also? He kind of looks like the kid from Real Genius.

2. Mario Chalmers: Nothing But Love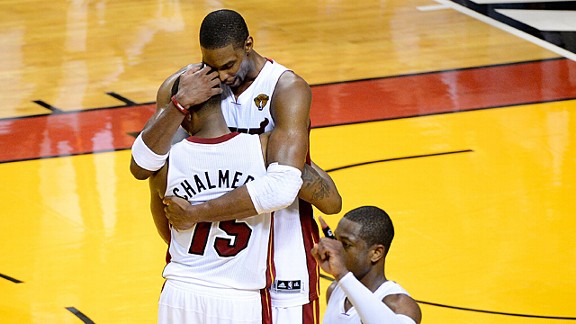 Robert Mays nominates Mario Chalmers, the little brother/punching bag of the Miami Heat who grew up in Game 4 on Tuesday night. Says Mays:
Good on Mario Chalmers. Being a Mizzou grad, I never really did like the guy, but considering all of his recent trauma, I felt a bit obligated to swallow the bile and wish him the best. At this point, it feels like Mario is that really bad kid on your Little League team with the cringe-worthy, overbearing dad. Every time he's up, you just pray he closes his eyes, swings as hard as he can, and miraculously gets it out of the infield. You wouldn't want LeBron projecting all of his failures onto you, would ya?
3. Graphics Guy Who Made This Ad Fly Out of CC Sabathia's Butt: Well. It's Pretty Self-Explanatory, Right?

Cousin Sal makes his Rankonia debut with this nomination of an unknown graphics hero. Writes Sal:
This one puts the "rank" in Rankonia. I nominate the guy working in the YES Network graphics department responsible for creating this masterpiece. How else would we know that The Amazing Spider-Man in 3-D premieres July 3 if an animated image didn't shoot out of CC Sabathia's rectum? Funny — a few months ago when I read CC's weight-loss tips in Men's Health News I don't remember anything about hiding a hologram of the web-slinger in his bowels. Well done, graphics dude. If this were 15 years ago this single clip would've earned you a spot alongside me and eight other fart-joke loving idiots on the Man Show writing staff.
4. R.A. Dickey: One-Hit Wonder

It should be noted that Grantland's baseball bro Jonah Keri nominated Dickey, who pitched his second consecutive one-hitter earlier this week, exactly one minute after I put out a call for submissions on Tuesday. And if we're being honest here, that nomination probably would have been seconded by Grantland's Mets bro Sean Fennessey if I hadn't told him to pick someone else. Keri makes his case (very succinctly!):
R.A. Dickey: Your argument is invalid.
5. Patrik Elias: Finders, Keepers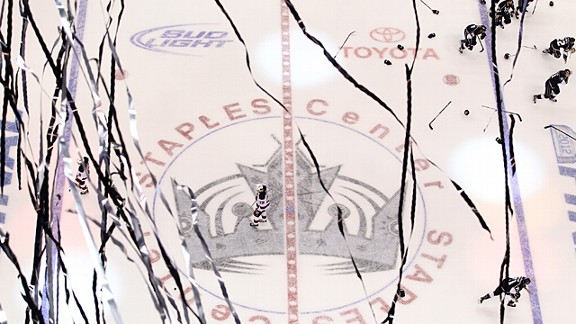 Sean McIndoe nominates Patrik Elias of the New Jersey Devils, who did not steal the Cup from the Los Angeles Kings but did steal our hearts by (possibly!) swiping a very important hockey puck. Says McIndoe:
I nominate Patrik Elias of the New Jersey Devils, who stands accused of stealing the puck immediately after the Kings' Cup-clinching victory last week.
Now, I don't know if he's guilty or not, and since this is the Internet I can just pass on the scandalous accusation with some vague disclaimers tacked on about "allegedly" that nobody will bother to read. But I want him to be guilty, because stealing the winning team's puck is just a fantastic jerk move. After all, Chris Pronger basically invented it.
In the world of passive-aggressive responses to a hockey loss, "stealing the Cup-winning puck" is basically "body-check your opponent as many times as you can after he scores a goal in NHL '94" to the power of a million.
6. The Dad Who Earned This Dream Team Jacket: Father of the Year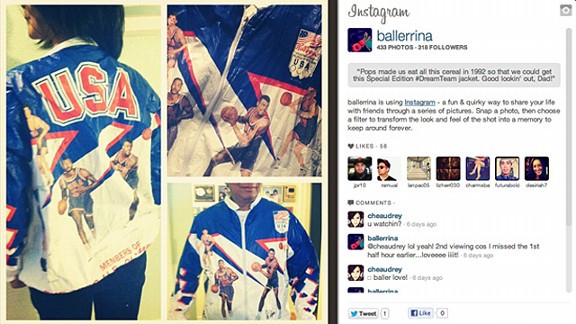 Can someone send Rafe Bartholomew this jacket? Thanks in advance. Writes Rafe:
Friend of Grantland @ballerrina tweeted an image of one of the coolest pieces of original Dream Team swag last week, to accompany NBA TV's broadcast of the Dream Team documentary. Apparently, her dad made the family eat a ton of Kellogg's cereals to snip enough proof-of-purchase bar codes to get this Team USA windbreaker, which features John Stockton, Karl Malone, David Robinson, and Chris Mullin. Excellent parenting, pops. I'd be willing to eat a pallet of Grape Nuts with Datu Puti white vinegar instead of milk to get my hands on one of these jackets.
7. The Philadelphia Phillies: Fake Tough
Phanatic Andy Greenwald has had enough. On to 2013, please. Writes Andy:
A few weeks ago, when things were relatively decent and Freddy Galvis's 22-year-old BACK WASN'T BROKEN, American fashion model Cole Hamels made headlines for throwing at the midsection of teenage dream Bryce Harper. In response, Nats GM Mike Rizzo ranted that Hamels (who, I must note for the click-averse, is WEARING MAGENTA SLACKS ROLLED UP TO MID-SHIN in that photograph) was "Fake Tough." The Phillies, usually a merry bunch, sought to stem their free-fall last week with some homemade T-shirts bearing the same phrase. This seemed like a good idea because, heck, if there's one thing the Phillies are generally good for, it's amusing, unsanctioned clothing. But in a dispiriting turn meant, perhaps, to prove once and for all that this year is different, the Fightins responded by losing four of the next six. If funny slogans can't save this team (and if Cliff #$@#$ing Lee can't even WIN A GAME) then perhaps this season is well and truly doomed. Turns out Mike Rizzo was right after all. Or, as Sam Elliott once put it: "Sometimes you eat the bar. Sometimes, well, the bar eats you."
I'm pretty sure he meant "bear," but with the Nationals in first place, I think you get the drift.
8. Mike Dunlap: Uhhh … Congrats?
I told Fennessey he couldn't second the R.A. Dickey nomination, and now look. Someone from the Charlotte Bobcats made the list. Says Sean:
Nominating Mike Dunlap, former "associate" coach (is that a real title?) at my precious St. John's hoops program, recently hired away to shepherd MJ's LOLCats from the dank basement in Charlotte to the great glory of fewer Ping-Pong balls at next year's lottery. Enjoy Ty Thomas, Mike!
9. David Nalbandian: HULKING OUT
This nomination comes via Brian Phillips, who, btw, said in his e-mail that he was filing from a beach. Sounds very glamorous! (In case you were wondering, I am filing this Rankonia from the chair I slept in Monday night.) Anyway. Writes Phillips:
"La da da da da, here I am, just being a line judge, doing my line judge things, always pleasant spending time in London, the sun shining, double decker buses and whatnot, might get Llewellyn a Big Ben cap for his birthday, it's coming up you know, got to make a note of OH AAAAH OW HOLY CRAP MY SHIN OUCH WHY DID YOU DO IT DAVID NALBANDIAN THAT'S OH OUCH CRAP I'M BLEEDING I'M BLEEDING I'LL GET YOU FOR THIS NALBANDIAN WHY WHY WHYYYYYYYYYY."
10. Harry Reid: Ranking Democrat on the Bryce Harper Oversight Subcommittee

Harper for America.
Filed Under: Andy Greenwald, Brian Phillips, Bryce Harper, Chris Ryan, Cousin Sal, Jonah Keri, Philadelphia Phillies, Rafe Bartholomew, Rankonia, Sean Fennessey