NHL Playoffs Stock Watch
Gregory Shamus/Getty Images
The NHL playoffs can define a player's career. It's when some elevate their games while others crumble, when legacies are made and lost, and when we separate the clutch performers from the choke artists.
There are two schools of thought on all this, and one of them is that everything in that last paragraph is complete nonsense. The playoffs are far too small a sample size to draw any meaningful conclusions, and because there's little evidence that "clutch" even exists in sports, all we're really doing is just crafting lazy and often unfair narratives out of statistical blips that should actually be credited to random chance.
The other school of thought is that while all of that might be true, we don't care because overreacting to the playoffs is part of the fun of being a sports fan.
For the purposes of this post, we're going with option no. 2. So here are 10 players that have seen their stock move significantly up or down during the first two rounds.

Up — Joe Thornton, San Jose Sharks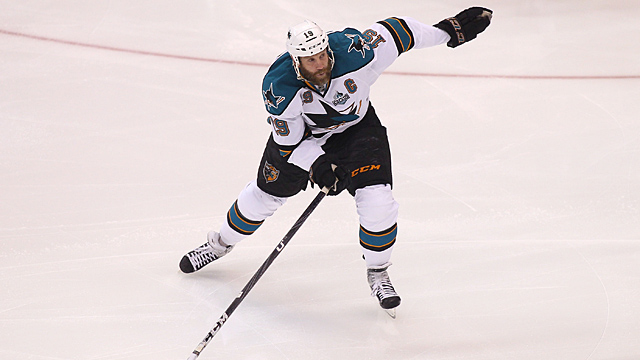 Perhaps no player in the league has suffered more from our love of postseason narrative than Thornton, the poster child for the superstar who racks up points in the regular season but just can't get it done in the playoffs. Year after year, the Sharks would enter the playoffs as Cup contenders, only to be upset early on, thanks to yet another disappearing act by their captain.
It was a nice enough story, as long as you didn't look too closely at the numbers. With the exception of a pair of pointless postseasons with the Bruins (one off which came when he was just 18 years old), Thornton's playoff numbers have usually been decent. While his regular-season numbers were typically better, he's never had less than 0.75 points per game in any postseason in San Jose. And since the 2004-05 lockout, just five players have scored more playoff points than Joe Thornton, with only Sidney Crosby and Evgeni Malkin having done so in fewer games.
But no matter how much he scored or how hard he competed, everyone had made up their mind that Thornton was the problem. But that seems to be changing this year, even though his numbers look pretty much the same. Maybe it's because this time it's the Sharks who are pulling off the upsets, or maybe everyone is just getting tired of piling on, but Thornton is finally getting some long overdue credit. If he can lead the Sharks to a Game 7 win over the defending champs tonight, he may finally bury that choker label for good.
Down — Brad Richards, New York Rangers
To describe the last few weeks of Brad Richards's 2013 season as falling out of favor wouldn't do it justice — I think the word we're looking for here is "plummet." He was one of the hottest players in the league over the regular season's final weeks, recording five goals and 11 points in the Rangers' last six games. By the end of the first round, he'd been demoted to the fourth line. By the end of the second, he was a healthy scratch. His stat line for the 2013 playoffs: 10 games, one goal, zero assists, one point.
What the heck happened?
Nobody seems to know for sure, but it doesn't seem likely that a player who had a decent season (he was third in team scoring) suddenly forgot how to play. Richards is 33 and at the point in his career when players usually decline. But that decline is supposed to be at least somewhat gradual, not all rolled into the course of a few weeks.
It's unclear what the future holds for Richards in New York, if anything. There's plenty of buyout talk, though not everyone is convinced. One thing we can agree on: With one more year until the salary-cap situation turns ugly, the Rangers' window is closing fast. And that means Richards will be front and center in yet another dramatic offseason on Broadway.
Up — Phil Kessel, Toronto Maple Leafs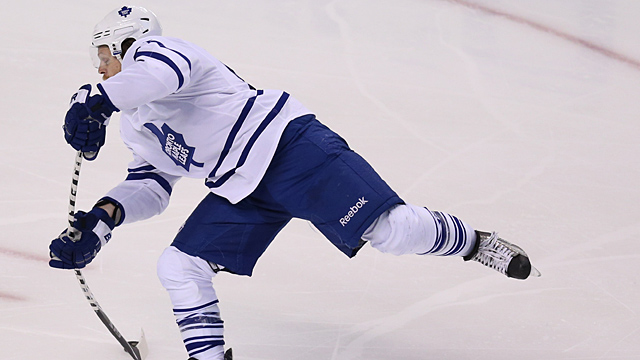 Heading into the Leafs' first-round series with Boston, there were three things we all knew about Kessel: he was a good player, he came across like an awkward but nice enough kid, and he completely disappeared whenever he played the Bruins.
In the four seasons since the trade that sent him to Toronto, which included the draft pick that turned into Tyler Seguin, Kessel had managed just three goals (none at even strength) and a minus-22 rating in 22 games against the Bruins. For many of those contests he seemed invisible, utterly shut down by Zdeno Chara & Friends, while Boston fans serenaded him with sarcastic "Thank you, Kessel" chants.
So a playoff series against the Bruins seemed like Kessel's worst nightmare. Instead, he was the Leafs' best player — dynamic offensively, and often surprisingly noticeable in his own zone. In the end, while Kessel's numbers (four goals and two assists in seven games) dwarfed Seguin's, they weren't enough to lead the Leafs to an upset. But they may be enough to end, or at least temporarily derail, the "Boston owns Kessel" narrative.
That's not the kind of victory Kessel and the Leafs were hoping for, but it's more than most of us thought he'd be able to manage.
Down — Jaromir Jagr, Boston Bruins
When the Bruins missed out on Jarome Iginla at the trade deadline and had to settle for Jagr instead, more than a few observers argued that they'd actually wound up with the better player. It wasn't a hard case to make. Jagr was outscoring Iginla on the season, had more playoff experience, and seemed like the sort of puck-possession machine who would fit in perfectly in Boston.
Or maybe not. While Iginla's been lighting up the postseason scoreboard (like everyone else on the Penguins' roster), Jagr's been held to no goals and just four assists through 12 games. He hasn't exactly disappeared — his 36 shots rank fourth on the Bruins — but so far the puck just isn't going in for him and his linemates.
We could come up with all sorts of explanations for what's going on here, or we could just start with the simplest one: The guy is 41 years old. He managed one goal in two rounds with the Flyers last year, and wasn't exactly dominant in Dallas before being dealt to Boston. Maybe he's just not the player he used to be, and expecting him to provide the Bruins with anything more than occasional secondary scoring was never realistic.
Or maybe he's just saving himself for a more dramatic stage. Next up for Boston is a conference finals date with Iginla and the Penguins. If Jagr suddenly goes back to playing like his old self, let's just agree to pretend the preceding three paragraphs never happened.
Up — Kris Letang, Pittsburgh Penguins
You could make a case for just about any player on the Penguins roster who doesn't have a hyphenated first name, because the team has spent the last few weeks playing the role of the Harlem Globetrotters against the overmatched Islanders and Senators.
But the pick here is Letang, who's racking up points from the blue line in what's on pace to be one of the all-time great playoff performances by a defenseman. As of Monday, here's the full list of NHL defensemen who've exceeded even half of Letang's point production in this year's playoffs: Zdeno Chara and Paul Martin. That's the whole list. And Martin gets some time as Letang's partner, so at least some of his points come via passing the puck across to Letang and then deciding how to celebrate the goal that's no doubt seconds away from happening.
If Letang can keep up his current pace for two more rounds, he'd become only the fourth defenseman in NHL history to top 30 points in one playoff year. He won't, because the Bruins are a far better team than the Islanders or Senators. But for now, it's still an impressive pace.
Down — Daniel Alfredsson, Ottawa Senators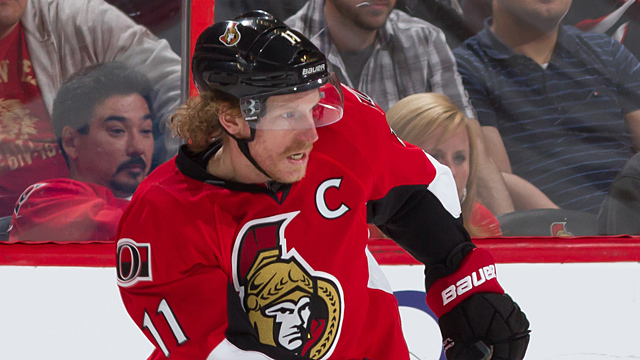 Alfredsson helped the Senators win a playoff round for the first time since 2007, recording 10 points in 10 games along the way. But he winds up in the "down" category because of his most memorable postseason moment, which came off the ice. That would be after Game 4 against the Penguins, when he stunned reporters by admitting the Senators would "probably not" be able to mount a comeback.
He ended up being right, of course, but it was still a rare slip for a player who's had a remarkable ability to avoid controversy over his long career. Sure, there was the Niedermayer thing, a few regrettable guarantees, and a bunch of stuff that made Toronto fans whine but nobody else ever cared about. After almost two full decades in the league, that passes for a downright pristine track record.
Will the controversy become some sort of defining moment in Alfredsson's career? As a wise man once said, probably not. But considering how eager some were to sing his praises in what may have been the final week of his career, it was an odd and uncomfortable ending to what had seemed like a storybook Senators season.
Update: It has come to our attention that Alfredsson deals with losing by playing shirtless Ping-Pong at tacky Ottawa bars. Disregard everything I just wrote; his stock is now soaring.
Up — Jonathan Quick, Los Angeles Kings
When the Kings handed Quick a 10-year contract last offseason, more than a few skeptics wondered if they'd come to regret it. Yes, he'd been fantastic during the 2011-12 season. And of course, he'd been nearly unbeatable during the Kings' playoff run, leading them to the franchise's first Stanley Cup and making himself an easy choice for the Conn Smythe.
But other than that one year, his career numbers didn't exactly scream "superstar," and he was coming off back surgery. Plus, making an ultra-long-term commitment to a goaltender wasn't exactly a move that had a super track record. A spotty 2013 regular season added more doubt. Quick had been great for one year, but let's see him do it again, right?
OK, done. Through two rounds, Quick has been every bit as good as he was during last year's run. In fact, since a rocky opening two games he's arguably been even better. The Kings are facing a seventh game with the Sharks and a loss could change the equation, but as of right now, Quick has cemented himself as the top playoff goalie in the NHL.
Down — Jonathan Toews, Chicago Blackhawks
Despite being just 25 years old, Toews has already earned a reputation as one of the NHL's best captains (he's been nominated for this year's Mark Messier Leadership Award) and two-way players (he's a two-time Selke nominee). And did we mention the Conn Smythe Trophy, Stanley Cup ring, and Olympic gold medal that he'd earned by the age of 22?
So if there's any player who seemed like a sure bet to have the "clutch" label permanently slapped on him, it was Toews. There's just one small wrench in the story line: reality. Specifically, that Toews doesn't seem to score in the playoffs.
Dating back to the last eight games of the Blackhawks' 2010 Cup run, Toews has just four goals in his last 32 playoff contests. That's less than one-third of his regular-season goal-scoring rate. In fairness, his 16 assists over that same time frame matches his regular-season average, so it's not like he disappears. But with the Presidents' Trophy–winning Hawks fighting for their playoff lives in a seven-game series with the Red Wings, they need goals, and for yet another postseason their captain can't seem to provide them.
Up — Torey Krug, Boston Bruins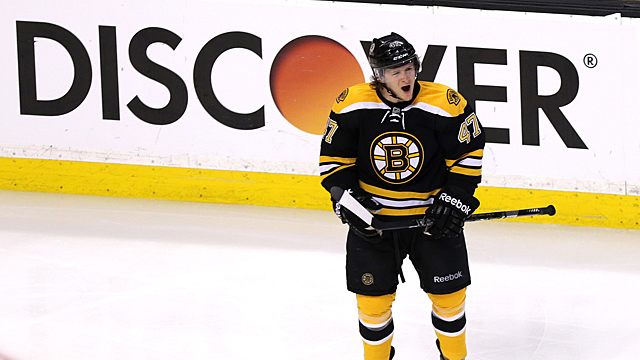 OK, sure, this should really be David Krejci's spot. He leads the league in playoff scoring. He scores OT winners. He's been great.
But no Bruin player's stock has risen more during the playoffs than Krug's, because just a few weeks ago he didn't have any stock. Few fans outside of Boston had ever heard of Krug, and for good reason: He was an undrafted, tiny defenseman with just three NHL games on his résumé.
Five games later, Krug has become the feel-good story of the 2013 playoffs. After being forced into the lineup because of injuries to Dennis Seidenberg, Wade Redden, and Andrew Ference, Krug made history by notching a goal in four of the five games he's played. By the time the Bruins had punched their ticket to the third round, Krug's four goals had him tied for the league lead among defensemen, not to mention ahead of snipers like Patrick Kane, Pavel Datsyuk, and Rick Nash.
It may not last — there's every chance that Krug will wind up sharing space with John Druce and Steve Penney in playoff one-hit wonder trivia questions — but right now, it's hard not to root for him to keep the hot streak going.
Down — Cory Schneider, Vancouver Canucks
Remember what I said up in the opening about a lot of this being completely unfair? Schneider is a good example of what I meant. His numbers were bad: a 4.62 GAA, an .880 save percentage, and zero wins. Those numbers are also based on two games, which he played while still recovering from a groin injury.
But unfortunately for Schneider and the Vancouver Canucks, those two games represented half of the team's entire playoff run. Their shocking sweep at the hands of the Sharks cost coach Alain Vigneault his job and has some observers ready to write off the Canucks as contenders. And it came on the heels of a season that was defined by Vancouver's goaltending drama, with Schneider and Roberto Luongo dominating headlines even though they were never the team's main problem.
When the Canucks finally do trade Luongo for pennies on the dollar, all the pressure is going to fall squarely on Schneider. And the most recent memory of him is going to be returning to the crease with a season on the line, and getting shelled for nine goals in fewer than two games' worth of work.
Not good. Not fair, no. But definitely not good.
Filed Under: Hockey, NHL, NHL Playoffs