NFL Run & Shootaround: Visions and Circumstances
AP Photo/Darron Cummings
On any given Sunday (or Monday, or Thursday), your NFL Run & Shootaround crew will be gathered around multiple televisions, making inappropriate jokes and generally regressing to the mean. Catch up on all the NFL action right here.
The King's Speech
This season, with the widespread distribution of RedZone and the behind-the-curtain nature of the year's great controversies (Bountygate and replacement refs), the NFL has made me feel like a bit of a voyeur. Experiencing this league in some kind of hyperactive way, zooming through story lines, injuries, wins, losses, tweets, radio bits, GIFs, and, yes, games, I feel like I'm watching lots of things I shouldn't, or at least lots of things I don't need to see. It's a testament to the NFL's unmatched production values that I (a) can follow it all, and (b) haven't gone insane.
Maybe that's why the footage of Colts head coach Chuck Pagano giving his team a postgame speech after their victory over the Dolphins felt like it brought another manic Sunday to a halt.

This was a different kind of voyeurism. This was a peek into something special. There was going to be no flipping the channel, or checking Twitter, or anything else. This was going to stay where it was for a while. Locker room speeches, or the idea of locker room speeches, are used to sell everything from cars to the presidency. Clear eyes, full hearts, game of inches, no money down, etc. But seeing Pagano, electric-eyed, hoarse, dressed in a peacoat, surrounded by loved ones in blue and white, and hearing his poetically charged words, interrupted only by "amen"s and shutter clicks … it was something incredibly human and real in a league that often asks us to think of its players and coaches as characters in a fantasy.
We process a lot of sounds, images, and information about this league. We stay up on roster moves, speculate on people's employment and whether or not they'll return from some devastating injury that was soundtracked by smooth jazz on television. So much of it is basically bullshit. So much of it we could do without. This brief moment on Sunday, though — this felt necessary.
— Chris Ryan
Steve Smith Waited All Season to Do This
(All .gifs by HeyBelinda)
Danny White Eyes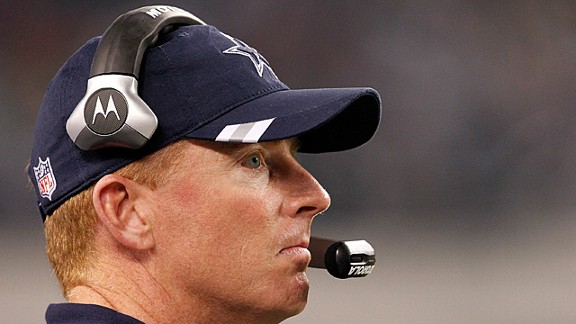 Until this weekend, I never thought Jason Garrett was in trouble. Jerry Jones is the guy who once said he regretted not bringing back Chan Gailey for a third year.
But then Sean Payton became a free agent. All of a sudden, the anti-Garrett stuff on Twitter and in sportswriterdom became a live thing. Maybe, just maybe, Jones could be prodded into making the change.
There are two big criticisms of Garrett. One is the game management/strategic stuff. He doesn't know when to call timeouts. He waits too long to get into a hurry-up and turn the game over to Tony Romo.
The second criticism is even more dangerous, because it's essentially unprovable. That criticism is that Garrett isn't coaching with any particular urgency. That his laid-back, wise-guy act rubs off, in some inchoate way, on Tony Romo, Dez Bryant, et al. While this criticism is nothing more than amateur psychology — Tom Landry and Roger Staubach did OK together — it's one that can be trotted out every time Garrett is shown meekly clapping on the sideline. Or every time, as my uncle said last night, he gets "those Danny White eyes" in the fourth quarter.
The power of this knock is that it seems true. The Cowboys, as they did under Wade Phillips, seem like a semi-talented team that plays just hard enough to get on either side of 8-8. If Sean Payton is really gettable, Jason Garrett is in a knife fight with his reputation.
— Bryan Curtis
The Playmaker
When Charles Tillman punched the ball out of Kenny Britt's arms on the first play from scrimmage yesterday, I did the only thing I could — laugh, and shake my head. I guess after 10 years of watching it happen, I've just run out of reactions. Forcing four fumbles in a game is downright ridiculous (Tillman is the first to do it), but for Tillman and for the Bears, the notion of taking the ball away is nothing new. Tillman's time in Chicago has nearly mirrored Lovie Smith's, and along with Brian Urlacher and Lance Briggs, he's been a part of the trio of defenders that's carried over between the Bears' two runs of dominant defense in the past nine seasons. The difference is that while Urlacher and Briggs have been lauded for most of the decade, the appreciation for Tillman is new.
The delay is somewhat warranted. For years, Tillman probably didn't deserve to be mentioned alongside his elite teammates. When the Bears defense reached its first peak of the Lovie era, he probably wasn't the best cornerback on the roster. That was Nathan Vasher. And even as Tillman supplanted Vasher after the latter's play declined, the defenses of the post-2006 Bears were nothing but average units against the pass.
Tillman's elevation is tied to the return of a formidable pass rush. With the arrival of Julius Peppers (and most recently, Henry Melton), the Bears once again became a top-10 unit, and Tillman's best football has come after his 30th birthday. The touchdown returns and the forced fumbles are what stand out and what have Tillman in conversations for Defensive Player of the Year, but the playmaking has always been a part of Tillman's game. Where the improvement has been marked is in coverage. The guy they call Peanut has been the best cornerback in the league this season, with his best night coming on a national stage against Calvin Johnson two weeks ago. And if Tillman is the best corner in football, his counterpart, Tim Jennings, with his league-leading six interceptions, isn't far behind.
The consistency in Tillman's 10 years in Chicago has probably made him the best cornerback in team history, and his feel for the ball has helped define the mind-set of Smith's defenses, but what we're seeing now is different. I wrote last week that if J.J. Watt were to win the MVP, Cameron Wake would be the deserving Defensive Player of the Year. I was wrong. This is the best Bears defense since Smith's arrival, and Charles Tillman — not Urlacher, not Briggs, not even Peppers — has been its best player.
— Robert Mays
This "U MAD ELI?" GIF Works for So Many Occasions
I mean … car won't start? Girl said no to your marriage proposal? Someone spoiled The Walking Dead for you on Twitter? This is really all you need to respond with.
— Ryan
Atlanta: Sports City, USA, for One Weekend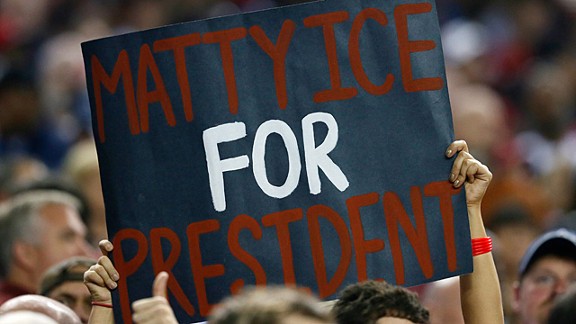 I can't remember the last time UGA football, the Atlanta Hawks, and the Atlanta Falcons won important games in the same weekend. I'm sure all three have won in the same weekend before, but I can't envision a previous time when all three had something on the line and a lot to prove, and all came up on top.
The Bulldogs were coming off a giant win the previous weekend versus Florida, but a very Georgia-ish move would have been to follow that up with a loss against a less-accomplished team in Ole Miss. But they didn't. They won, 37-10, leaving them a single game away from a SEC Championship berth while remaining the fifth-ranked team in the land. That was Saturday.
On Sunday, the Hawks had their second game, against an Oklahoma City Thunder one year removed from being in the NBA Finals. As a team with a drastically different lineup, trying to figure out their chemistry and gain some confidence, losing game one against the Hardenrockets wasn't the end of the world, but starting 0-2 would undoubtedly be a blow to the preseason momentum, along with the many predictions that the team would be surprise contenders in the East. So what did they do? They beat the Thunder, 104-95, without Josh Smith in the lineup. This was another surprise. That was Sunday evening.
Also Sunday evening: the Atlanta Falcons vs. the Dallas Cowboys. The Falcons were favored to win, but a loss still wouldn't have been the biggest surprise in the world. Before the 2012-13 Falcons, 36 teams in NFL history had started the season 7-0. When it comes to winning that eighth game, only 24 of those 36 have made it. So, the chances of the Falcons becoming that 25th team wasn't exactly a gimme historically, but certainly not a crazy thing to envision. And let's not forget, they're playing the Cowboys.
After a close, low-scoring game, one without a touchdown until the fourth quarter, the Falcons finally broke away and won 19-13. While almost across the board not considered the best team in the league, they're also undoubtedly having one of the better starts in NFL history. This is a third surprise, one that is still difficult to wrap my mind around.
I wish there were other sports-related things I could write about right now, but I can't. I've never felt like this before. I'm barely used to one team bringing me joy, but three in the span of 24 hours? That's just something I'll never forget. I just hope Auburn, the Clippers, and the Saints can help us repeat next weekend.
— Rembert Browne
Filed Under: Atlanta Falcons, Bryan Curtis, Chicago Bears, Chris Ryan, Dallas Cowboys, Eli Manning, Indianapolis Colts, Miami Dolphins, NFL, Rembert Browne