NFL Run & Shootaround: The Right Stuff
Andy Lyons/Getty Images
On any given Sunday (or Monday, or Thursday), your NFL Run & Shootaround crew will be gathered around multiple televisions, making inappropriate jokes and generally regressing to the mean. Catch up on all the NFL action right here.
Liftoff
(GIFs by @HeyBelinda)
Chris Ryan: To paraphrase Crash Davis, anything that traveled that far, that fast should have had a stewardess on it. A lot has been made of Andrew Luck, the rocket scientist, whether it's his days behind a draftsman's desk in Palo Alto or his cerebral off-field hobbies, detailed in Robert Mays's feature on the second-year Colts field general. We know the dude reads books without pictures. I'm not here to talk about Luck the rocket scientist. I'm here to talk about Luck the rocket launcher.
You can sort of see it in the GIF above, and you can more see it in this video on NFL.com, but if you saw it as it happened, you know what I'm saying is true: That pass — a 64-yard strike to T.Y. Hilton — looked like it had afterburners. For half a second, when it leaves Luck's hand, it looks like it's going on the traditional arc of an object hurled into space — up and then down. But as anyone who watched Luck overcome a crappy, three-pick performance and a 28-point deficit to orchestrate one of the greatest comebacks in NFL history can tell you, Luck is playing by different rules. He may be able to complete a crossword puzzle, and his teammates may have gotten so confused by his beard that they think he's Jesus (Gosder Cherilus: "Andrew kept saying, 'Stay with me, stay with me,' … He willed us to this win"), but when you get down to it, a carpenter is only as good as his tools. This guy is a 6-foot-4, 239-pound beast with a lightning bolt for an arm. They don't teach that at Stanford.
YAY
Alex Smith Agony
Andrew Sharp: As someone who has made a lot of Alex Smith jokes over the years, I feel like an apology is in order. Four touchdowns, no picks, and 378 yards — this was so much more than even the drunkest Chiefs fans would've predicted for him and the offense. He was awesome. What Smith did Saturday was make me feel bad for making fun of him constantly for the past three years, then make me feel twice as awful when it all ended in disaster anyway.
The defense fell apart, Dwayne Bowe couldn't get that second foot down, and life is unfair.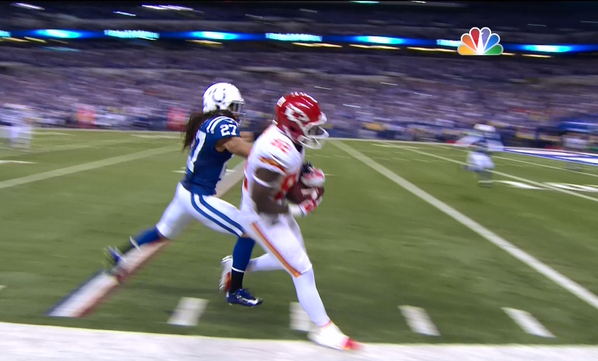 For the record, I'm pretty sure Smith's better than the mediocrity punch line we've all turned him into. Look at his playoff stats with the Niners two years ago — 495 yards in two games, six touchdowns, no picks, 101 passer rating. Tiny hands aside, he's not Andy Dalton. But he wasn't good enough to beat the Giants in those playoffs, or to keep the 49ers from going after Peyton Manning a few months later. Then the 49ers gave his job to Colin Kaepernick the first chance they could, and he had to smile and nod while the offense hit another level and the team went to the Super Bowl. It's all pretty terrible, because he's not actually terrible.
Watching Andrew Luck in the second half Saturday, it felt like we were watching a charmed career play out in real time. He's done this for two years. Luck makes every big throw down the stretch, gets the bounces, and gives us all kinds of endings that remind us how great sports can be. Alex Smith is the flip side of that "charmed" coin.
Saturday wasn't his fault, but he still loses. He played his best game of the season with his team's best player on the sideline, and it'll be forgotten in 10 days. He stood in the pocket and made a perfect throw to Bowe on the biggest play of the game, and it didn't matter.
Sports are great sometimes, but, god, they are HORRIBLE sometimes.
(image via @Jose3030)
Go Pats
Third-Act Prospects
Matt Borcas: Like most American football coaches, Eric Mangini began his career in Australia. Studying abroad at the University of Melbourne, the Wesleyan undergrad became involved with the Victorian Gridiron Football League when his older brother, Kyle, a defensive lineman for the Kew Colts, informed him of the team's head coaching vacancy. Mangini, a nose guard, was rehabbing a separated shoulder at the time, so a role on the sideline suited him perfectly. The rest was history. All he did was lead the Colts to a 22-3-1 record and two league titles in as many seasons, including an upset of the vaunted Berwick Miners. "You couldn't have written a better story for the movies," Mangini told the Hartford Courant in 1992. "That team had won 27 straight games. They had '1992 champs' on their jackets before we even played the game. After we won, we were on magazine covers and on the Australian television version of 'Wide World of Sports.'"
Over the next decade, Mangini worked his way up through the coaching ranks, following Bill Belichick wherever he went. A lowly ball boy position with the 1994 Browns eventually turned into the Patriots' defensive coordinator job in 2005, and the Jets named him their head coach one year later. Despite two winning seasons out of three, shaky quarterback play (most notably during the second half of 2008, when Brett Favre's right arm fell off), testimonials from his players, and a cameo in The Sopranos' penultimate episode, Mangini was unfairly scapegoated out of New York. (Nowadays, it's impossible not to look back at Rex Ryan's early success with the Jets and think it had more to do with the foundation Mangini built than with anything else.) Nevertheless, the Browns named him their head coach within two weeks, setting the stage for what should have been a massive but necessary rebuilding project. Of course, nothing good can stay in Cleveland, at least when it comes to the expansion Browns, and though Mangini's teams showed clear and impressive signs of progress in spite of an unthinkably barren roster, he was ushered out by Mike Holmgren, master charlatan, at the end of the 2010 season, at which point he became a critically acclaimed analyst for ESPN.
Still, unless you're Jon Gruden or Bill Cowher, coaches wanna coach, which is presumably why Mangini took an offensive consulting gig with the 49ers this past June. His job, essentially, is to give San Fran's offense "a strong feel on opposing defenses and how to exploit them," as well as to help with game plans and booth reviews. He has drawn rave reviews from the likes of Jim Harbaugh and Greg Roman, and is open to working in the same capacity next year. It seems obvious that an offense would bring in a defensive-minded coach to offer a fresh and unique perspective, but Mangini's position is fairly unconventional. That won't be the case for long, though, if the Niners' offense keeps bullying playoff opponents like it did yesterday. Long live the Mangenius.
Downton Abbey Is Back
The Real McCoy
Robert Mays: When Mike McCoy was given the Chargers' head-coaching job last winter, everyone was ready with some version of the same joke: Does he come with Peyton Manning? The argument for McCoy was similarly uniform. In two seasons, he'd taken offenses led by Tim Tebow and Peyton Manning (could two quarterbacks be more different?!) to the playoffs. But even that felt like a reach, as Tebow's Broncos were a bottom-10 offense for that inexplicable run. No matter how anyone wanted to frame it, the 40-year-old McCoy's shot was thanks to 36-year-old Manning winding up in Denver.
A year later, with mastermind Chip Kelly's Eagles and coaching stalwart Andy Reid's Chiefs gone from the playoffs, the Chargers remain, and the decision to bring in McCoy — even without Manning — is the reason why.
The path to the Chargers' win yesterday started about 12 months ago, a little more than two weeks after Ken Whisenhunt was fired by the Arizona Cardinals. That's how long it took for San Diego to get in touch with and finalize a deal for Whisenhunt — who's been successful with anything resembling an NFL quarterback — to be its offensive coordinator. Then it was on to the defense, where McCoy made the sometimes-risky call of keeping the old coordinator in place. John Pagano would stay, and with that, the pieces of the Chargers' staff were in place.
The symbols of Whisenhunt's success this year are everywhere. Despite his coordinator experience, McCoy lets Whisenhunt handle the play-calling duties, and in one year, San Diego went from 24th in offensive DVOA to third. Philip Rivers just finished what might have been the best season of his career. And Whisenhunt's reward for it all looks to be less than a year's stay on the head-coach scrap heap.
Pagano's value was harder to pinpoint until yesterday. Riddled by injuries, the Chargers' defense struggled for most of the season. San Diego was 11th in points allowed, but that was thanks mostly to facing the fewest drives of any defense in football. No offense extended more drives on third down than San Diego's, and the result was the Chargers' defense spending plenty of time on the sideline. What Pagano and his crew did yesterday, though, against an offense capable of putting up points in bunches, was throw enough at Andy Dalton to make his head spin. Safeties blitzed, outside linebackers dropped, quarterbacks were hit, and it often ended with the ball back in a Charger's hands. San Diego probably wouldn't have won yesterday without those two Bengal fumbles, but what we saw from Pagano was still a very good defensive coach doing more with less. And he's a very good coach with a job, thanks to McCoy.
For how well Whisenhunt and Pagano called their games yesterday (and it was very well), the biggest move of the day still belongs to McCoy. In the first half, the Chargers seemed content to shorten the game as they had many times this season (only New Orleans had a higher time of possession, per game, excluding overtime, by one second), and along with only six passes from Rivers, the Bengals got a steady diet of Ryan Mathews and Danny Woodhead. When the second half began, McCoy's move was to go as far as he could in the other direction, starting the half in no huddle — with Mathews firmly on the sideline — and going after the Bengals' defense from the first play. It was the football equivalent of Rocky switching hands against Clubber Lang — the type of move born from a deep, honest understanding that your opponent is probably more talented than you.
Again, Dalton and his mistakes helped, but the Chargers did more than enough to win. And they did so while going 4-for-12 on third down, despite being the best team in football in those situations all year. That's just another sign of how well McCoy has tailored his quick passing game to his quick-release quarterback and his short-area receivers. The coach of the year may have lost on Saturday, but the best-coached team in the league is headed to Denver next weekend.
Did You See Nebraska?!!
Enter Sandman
Hua Hsu: I always love hearing about those meetings right before the big game when the thoughtful coach unveils a surprise guest, the guest capable of awing a room full of unreasonably gigantic humans, and everything turns into a child's birthday party. On Saturday, Ric Flair showed up to recite some pleasantries about how he hated the Cowboys and hey who doesn't love the 49ers and too bad Cam Newton and the Panthers will probably be sore about him bigging-up their NFC rivals (the Nature Boy reps Charlotte). Go Niners! In the corner, right tackle Anthony Davis brightened and, for a few seconds, he was no longer in this "shithole" of a town.
For his part, Milwaukee-born lover of hats Colin Kaepernick was wearing an insulated, ear-flapped Brewers hat that he most likely designed himself. Taking pride in your soil is a complicated thing, and it was hard not to admire the mesmeric insanity of all those Packer fans yelling themselves warm on Sunday. The length of one's shirt sleeves, the gruesome turf, how fast you got back up: Everything refracted as regional exceptionalism. With a little more than a minute to go, the Niners had a third-and-8 on the Packer 38. Season on the line, game of (totally arbitrary) inches, something about toughness and will, etc., and a familiar, muffled chugging sound: Is the Lambeau P.A. playing "Enter Sandman?"
Of course Metallica was only kinda from the Bay Area, just as "Lights" — used by the 49ers propaganda department to brilliant effect here — was originally about Los Angeles. But some combination of jet lag, Jim Beam, and a circa--91 memory of this kid in art class mimicking our quasi-hometown heroes all wrong ("Exit light/Eeeeeeenter Sandmaaaan") convinced me that the Niners would prevail. Of course it was another vaguely unconvincing win. Can this defense and Phil Dawson carry a team past the Panthers or Seahawks to the Super Bowl? Does Russell Wilson own any garish hats? Is the red zone offense designed to spite Frank Gore? Is Kaepernick cognizant of what it means when numbers count down? All concerns for next week, when Carolina asserts its rightful ownership over yelling WOOOOOOO! I fell asleep thinking about Primus.
Your Girlfriend Was a Ghost!!!
Text Messages to Andrew Luck
Shea Serrano: Andrew Luck is a human with a cell phone, so I sent him some text messages after Saturday's game.
Me: Yo!
Andrew: hello
Me: holy christ man what a game!
Andrew: it was neat, I thought
Me: my boner will probably never go away
Andrew: what?
Me: nothing nvm congratulations
Andrew: thank you
Me: I was watching at home with my sons
Andrew: yeah?
Me: yeah. It was crazy. I was telling them how you're from houston
Andrew: well, not technically. I was born in D.C. and lived in London and came to Houston later
Me: YOU'RE FROM HOUSTON, ANDREW. YOU'RE ALL WE HAVE ANYMORE, ANDREW. DID YOU EVEN WATCH THE TEXANS, ANDREW? DON'T TAKE THIS AWAY FROM US, ANDREW.
Andrew: I heard they kicked the Texans out of the league because of how sucky you guys were this season
Me: :'(
Me: i have feelings, andrew
Me: what were you thinking when you recovered that fumble and dove into the end zone? Because I was thinking OHHHHHH FUUUUUUUUUUUUUUUUUUUUU WHAT JUST HAPPENED
Andrew: same
Me: when you threw that bomb to Hilton for the lead I was so excited that I jumped up, screamed, picked up my son and then spiked him on the floor like a football
Andrew: is that true?
Me: YES!
Me: no
Me: but you get it
Andrew: I get it
Me: what was your favorite thing to do when you were in Houston, which is where you are from
Andrew: I just play football. That's it.
Me: but besides that
Andrew: I guess I liked studying.
Me: boooooooooooring
Andrew: did you know I was co-valedictorian?
Me: so was I
Andrew: really?
Me: YES!
Me: no
Me: :(
Me: but one time in high school I learned all the words to Mase's Harlem World album in like two days, so my parents were pretty proud of me too
Me: what were you thinking when you guys were down by 700 points?
Andrew: I thought we just needed to buckle down and play Colt football and we'd be able to get right back in the game.
Me: stop
Me: for real
Me: because I was thinking WTF IS HAPPENING RIGHT NOW THE DEVIL IS REAL IS ANDREW LUCK REALLY ABOUT TO LOSE A PLAYOFF FOOTBALL GAME TO ALEX SMITH
Andrew: same
Me: Alex Smith is the worst.
Andrew: he's not
Me: I mean, I know. but you get it. He's just so alexsmithy. His name isn't even cool.
Me: Alex Smith.
Me: I can't even say it without making a smarmy face.
Me: Alex Smith. Gross. It sounds like the name of someone who sells mattresses. "I got a mattress guy. Alex Smith. Great mattress guy." Quarterbacks should have cool names. Joe Montana is a boss-ass name. Tom Brady. Joe Namath. Troy Aikman. Peyton Manning. Drew Brees. All of them, great names. Warren Moon. HIS NAME WAS WARREN GODDAMN MOON THAT'S THE ILLEST SHIT I EVER HEARD IN MY WHOLE LIFE THE ONLY THING BETTER WOULD'VE BEEN IF SOMEONE WAS NAMED ANDY ASTEROID OR WHATEVER
ME: OH FUUUUUU I'M GONNA START CALLING YOU ANDY ASTEROID
Andrew: don't
Me: dude, andy asteroid is definitely like 1,000 percent better than Andrew Luck.
Andrew: it's not
Me: :/
Me: how are you feeling about New England next week?
Andrew: it's gonna be a tough game
Me: are you going to try to start losing by four touchdowns and then come back and win
Andrew: I am not
Me: good, good
Me: because if you keep doing that I'm going to run out of sons to spike on the floor
Me: #RIPMySonISpikedOnTheFloor
Andrew: stop
Me: sry
Me: all right, man. good luck next week.
Andrew: thank you
Me: it's gonna be great
Andrew: hope so
Me: tom terrific vs. andy asteroid
Andrew: nope
Me: dang
Catch Me If You Can
No Expectations
Ryan: I didn't really expect the Eagles to beat the Saints, just like I never expected the Eagles to win the NFC East and go to the playoffs. When they hired Chip Kelly to replace Andy Reid, I expected the team to be entertaining. I would say my expectations were met.
In the past, I've found Eagles seasons emotionally draining. I'm sure my most frequently texted message over the last 10 years or so is "fuck my life," and it was most commonly sent between the months of September and January. This season was different, though. Here, check out this picture that sums up my Eagles fandom over the last 15 years:
Throughout this whole year — the preseason quarterback competition, the Riley Cooper debacle, the opening game against the Redskins that made me feel like the kid in Pink Floyd's "Learning to Fly" video, the three losses that followed, the emergence of Nick Foles against the Giants as the athletic version of Yeezus, the two subsequent losses that made me think this one season was going to be a dress rehearsal for future Chip campaigns, and the 7-1 finish to the year, including seeing the Eagles hang 49 on Oakland and 54 on Chicago — throughout it all, the ups and the downs, I've remained remarkably steady. OK, maybe not steady, but I never didn't enjoy what was happening. Even the losses didn't hurt like they used to. I guess it's because I felt like I was in good hands.
The Eagles lost to the Saints in a tic-tac-toe game. They ran out of moves to make. They should have scored more off turnovers, Alex Henery should have made that field goal early in the game, and maybe Cary Williams didn't need to go Wolverine-berserker on that final kick return. Whatever. When this game was over, I didn't text "Fuck my life." I texted "That was awesome." Not the game (that sucked), but the whole season. Because it was. Don't let us get De'Anthony Thomas. See you in the fall.
Filed Under: Alex Smith, Andrew Luck, Andrew Sharp, Chris Ryan, Cincinnati Bengals, Indianapolis Colts, Kansas City Chiefs, NFL, Robert Mays, San Diego Chargers, San Francisco 49ers