NFL Run & Shootaround: The Football Player
Joe Robbins/Getty Images
On any given Sunday (or Monday, or Thursday), your NFL Run & Shootaround crew will be gathered around multiple televisions, making inappropriate jokes and generally regressing to the mean. Catch up on all the NFL action right here.
When I Paint My Masterpiece
This is a video of Adrian Peterson highlights, with play-by-play by Gus Johnson, because of course Gus Johnson was calling this game.

Adrian Peterson rushed for 212 yards against the Rams, putting him in contention to break Eric Dickerson's single-season rushing record.
We are coming up on the year anniversary of AD's knee blowout. This has been said before, almost as many times as Peterson has rushing yards this season, but the "if you strike me down, I will become more powerful than you can possibly imagine," vibes are coming from Purple Jesus. He is not as good as he was before he got hurt, he's better.
This is what completion looks like. When you talk about someone being the finished article (because, come on, there's nothing like talking about someone being the finished article), you're talking about Adrian Peterson. This is the football player. If an alien landed on Earth tomorrow and, for whatever reason, asked you what football was (you know, before he said "Take me to your leader"), you would show him this highlight reel of a man running the football like a Decepticon with moves like a Bob Fosse dancer. When he wasn't bowling over Janoris Jenkins and his Rams defensive cohorts, he was pirouetting around them, leaving them in his purple-tinted dust.
The only person who didn't seem totally blown away by this performance was Peterson: "I look at today's game and I could have had 300." It's hard to imagine the performance that would please him. Impossible even.
— Chris Ryan
Mad as Hell
(All GIFs by HeyBelinda)
Bet I Wish I'd Cashed In
750/1 odds that both CBS and Fox would abandon their lopsided nationally televised games in the THIRD quarter
Yes — this happened yesterday. With a little more than a quarter left to play, CBS left Denver-Baltimore and Fox bid adieu to NYG-Atlanta. No one saw these blowouts coming, either. Certainly not Vegas, who had the Broncos as only three-point favorites and the Fox game as a pick 'em. The best part is when studio hosts Curt Menefee and James Brown have to sheepishly inform the home audience what's going on. I was stuck in a sports bar and couldn't hear what was being said, but the message was clear.
"Hey folks — for those of you not enjoying the piece of crap we've just stuck you with for the last two and a half hours, we now leave that insufferable mess and send you to Houston-Indy, where at least you can possibly see a last-minute, meaningless Texans FG to cover the spread on the sucker bet of the day. Oh — and for those of you angry that we're walking out on this atrocious pairing because you need to monitor Ronnie Hillman's progress for fantasy implications, get a computer — better yet, get a life. For the rest of you, again, we apologize for Flacco'ing up your Sunday. We take you now to Houston … "
— Cousin Sal
Magic Matthews
It's pretty clear that Clay Matthews spent some of his time on the shelf taking in Magic Mike on VOD. Next week's sack celebration is going to involve a sign promoting Matthew McConaughey's Oscar campaign. Just wait.
— Robert Mays
Watt Just Happened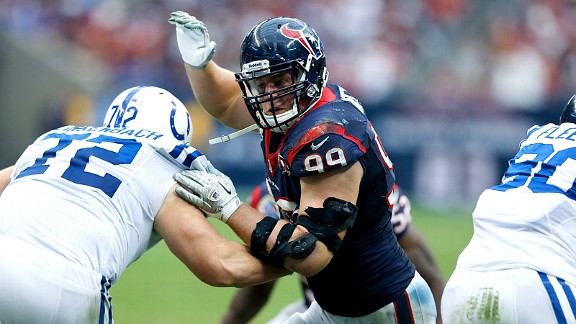 I'll make this brief. Yesterday, J.J. Watt had 10 tackles, six tackles for loss, three sacks, and a forced fumble on Houston's 2-yard line. He now leads the league in sacks, tackles for loss, and quarterback hits. He is tied for 56th in unassisted tackles, where he's the only defensive lineman who ranks in the top 120. He is tied for eighth in passes defensed, and he is the only non-defensive back in the top 45. That is all. Carry on.
— Mays
Time Hurdles On
The Equalizer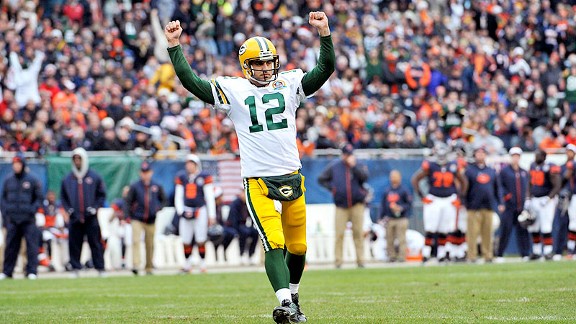 About midway through the second quarter yesterday afternoon, the Packers faced third-and-6 from their own 34-yard line. Chicago had just gone up 7-0, and after a quick first down, it looked as if Green Bay might be forced to give the ball back after just four more plays. As Aaron Rodgers dropped back to pass, the Bears' pass rush, which was a factor most of the game, managed to push him from the pocket. Rolling to his right, and without ever setting his feet, Rodgers flicked his wrist and threw a perfect strike — behind the corner, in front of the safety — to Randall Cobb 30 yards up the right sideline. Three plays later, the Packers tied the game.
When the completion was made, everyone in the room was properly awed. "Who else can make that throw?" someone asked. Eyes down, head shaking, I answered honestly: "No one." (Later, Andrew Luck's name came up. But that's where the list ends.)
The Packers have their share of flaws. Julius Peppers, who's had a down year for his standards, spent most of Sunday afternoon handling left tackle Marshall Newhouse. There is still little running game to speak of. Green Bay's defense has its own issues. What makes Green Bay dangerous as the playoff picture takes shape mostly has to do with no. 12 and what he can do in spite of everything else. When things break down up front, they're never totally broken down. Rodgers is always prone to extend plays and make pinpoint throws while drifting this way or that. There's never a sense of calm when he's under center and you're rooting for the defense. There never can be.
San Francisco can claim the most impressive of yesterday's wins. With what they did in Foxborough, it's difficult to deny that they're the best team in football as things currently stand. Still, if I were listing the teams I'd like to avoid in the coming month, Green Bay would be near the top. Tom Brady and Peyton Manning have had masterful seasons, and each deserves the MVP consideration they've received. But at times, like yesterday afternoon, it seems like no one does more despite having less than Rodgers, and even as the rest of his team may occasionally falter, there's no rest when he's on the other side.
— Mays
Filed Under: Aaron Rodgers, Adrian Peterson, Green Bay Packers, J.J. Watt, Jay Cutler, Joe Flacco, NFL, Peyton Manning, San Francisco 49ers, Tom Brady