NFL Run & Shootaround: Cutler's Way
Jonathan Daniel/Getty Images
On any given Sunday (or Monday, or Thursday), your NFL Run & Shootaround crew will be gathered around multiple televisions, making inappropriate jokes and generally regressing to the mean. Catch up on all the NFL action right here.
With or Without You
Over the holiday, I was back in Chicago for the first time since the start of football season. Amid all the eating and drinking, there was plenty of time in the car, and with that came the chance to hear Chicago sports radio. I made a handful of long drives over the course of those few days, and each time the radio was on, the programming was the same — a re-airing of that week's "Jay Cutler Show."
Each week (excluding those after a concussion), Cutler joins the "Waddle & Silvy" show on ESPN 1000 for an hour, and from what I gather, the segment is immensely popular. All of my Bears-fan friends are regular listeners, and considering the station was content to let it run for what seemed like three days, I imagine those friends are a representative sample. They tune in because, much like watching Cutler play football, just about anything can happen. Sunday's Bears game against the Vikings was a perfect example.

Late in the first quarter, with the Bears up 7-3 and driving again, Cutler dropped back to pass. With no one open, he pulled the ball down and scrambled to his left. He managed about seven yards down the left sideline before ending the play with a stiff arm to the helmet of cornerback A.J. Jefferson. As he gathered himself out of bounds, Cutler then flipped the ball at Jefferson before starting his jog back to the huddle. The flag flew in, and what had been a positive play now had the Bears moving backward.
With less than two minutes left in that same half, the Bears now up 18-3, Cutler, rolling and then drifting to his left, let a first-down throw loose into the tiniest of windows on the left side of the end zone. Tight end Matt Spaeth made an incredible play hauling it in, but that Cutler was willing to make the throw, let alone was able to complete it, was the most improbable part of the sequence. Cutler ended the second quarter yesterday 15-of-17 for 117 yards, and after what's become a trademark rocky start, the Bears led 25-3.
Those two plays are the Cutler narrative we've known since his arrival in town — a mix of hard-to-match flashes of talent and hard-to-understand levels of assholery. Yesterday was no different, as he blended a few masterful throws with the downright bizarre (tying J'Marcus Webb's shoe in the huddle during the fourth quarter).
Sometime in that first half though, I thought about a joke I'd made to a few friends during the previous week's Monday-night blowout in San Francisco. Considering what happened against the Niners, and what happened over the final six games of last season, is Jay Cutler the most valuable player in the NFL? The answer, of course, would seem to be "no." In 10 games this season, Cutler has a passer rating of 81.1. But what determines the definition of value? In football, the array of injuries provides the occasional chance to find out just how good or bad a team is without a certain player. There's no way to determine how much the Heat would suffer without LeBron James because they're never without him, but with Cutler, and with many quarterbacks, we've gotten that chance.
The facts are as such: In the past three seasons, the Bears are 25-10 with Jay Cutler. Without him, they're 2-6, and one of those wins came in a game in which Todd Collins went 6-for-16 with 32 yards and four interceptions. Cutler's value isn't in throwing for 400 yards and a handful of touchdowns. It's in allowing the Bears to be who they want to be. The most impressive play Cutler made yesterday wasn't the touchdown pass to Spaeth. It was a throw to Brandon Marshall that came after sliding to his left, avoiding two rushers, and finally running back to his right before letting it go and earning a pass interference call in the end zone. All we had to learn about the state of the Bears' offensive line (and this is before yesterday's injuries), we learned while Aldon Smith was pumping up his sack lead last Monday night. Like Aaron Rodgers can with T.J. Lang and Marshall Newhouse, Cutler hid Webb and Gabe Carimi the best he could. Now, with that questionable offensive line in tatters, the task becomes even greater, and Bears fans will be watching as intently as ever. Because our fascination with Jay Cutler isn't the product of his status as an enigma. It's a product of us knowing just how valuable he really is.
— Robert Mays
Smokin' Bane Cutler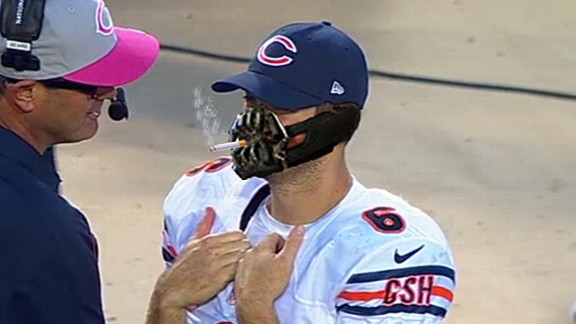 (Photoshop: Mark Lisanti)
Theatricality and deception, powerful agents for the uninitiated. But we are initiated, aren't we Jay?
You Got Served
With all the attention being paid to Vince Wilfork devouring a whole turkey in one bite, Owen Daniels's turkey-themed celebration flew a little under the radar. (All GIFs by HeyBelinda)
— Chris Ryan
The Dowager Lady of Fantasy Football
An important question for the ages: Who writes the little Yahoo fantasy football "Matchup Ratings" blurbs? The answer is probably either "interns" or "an algorithm," but I like to think it's a small and frank committee of meddling yentas who judge each football player with the same exacting if inconsistent standards they would use to evaluate an aspiring grand-nephew-in-law. How else to explain pursed-lip commentary like "not exactly reliable" (Donnie Avery) or "came up small last week which is a shock to no one" (Lance Kendricks, and I can just feel the glint of reading glasses on a beaded chain being lowered to deliver that assessment) or "lost any trust we had in him last week" (you're in trouble, Nick Foles) or "head for the hills" (I forget who that one was about, but it was someone on my roster, and I'm pretty sure I heeded the advice).
It goes on and on. "Henne is hard to trust!" the peanut gallery chirps. "Forget it!" they scold about a quarter of the suitors — er, players every week. Even the positives have the feel of a pep talk. "Scored last week and looks great," says my busybody neighbor, winking over the hedges to punctuate her point about Kendall Hunter. "Plus, if there was ever a week to reach him, this is it." (My busybody neighbor writes romantic comedies in her spare time.) "Really nice game last week, so viable if you need him," leans in a drunken aunt to say about Brandon LaFell. It's true, he sent a lot of smiley texts. But, she admits, because she's nothing if not honest, he has been "very inconsistent this year." Tough but fair: That time he left me stranded at the airport back in April was supposed to be the final straw. What's a girl to do? Ah yes, turn to the sensitive soul mate. "He has taken a back seat to others lately," I can hear some mother's friend opining, "but this is a fantastic matchup." So it's settled. Call me, Randy Moss!
— Katie Baker
Back and to the Left
Won't You Please Help Me
When it comes to the many preposterous decisions made by Jim Schwartz in the Lions' 34-31 overtime loss to the Texans on Thanksgiving, I'll leave the analysis to an actual expert like Barnwell. But here's a broader question: Why don't NFL head coaches hire the equivalent of a baseball bench coach?
Should we really assume that coaches who prep 100 hours a week before leading their teams into battle, that have decades and decades of football experience, are so clueless that they script 22 passing plays in a row? Or plan to throw a challenge flag when everyone in the world watching knows it's not needed? Or run through the stadium tunnel thinking if they have a chance to win a game with a 47-yard field goal, they'll try it on third down because it's a gimme?
This strikes me as nearly impossible. Hell, Schwartz is a Georgetown econ grad. Just doesn't seem possible that he'd be this clueless about such basic strategies.
Hiring a bench coach could and should solve this problem. There's a ton going on in a football game, a lot more than you'll see in a baseball game, and a lot faster too. Hire a 28-year-old wunderkind to give the head guy a hand. Someone who is future coach material but lacks the seasoning to get a head job of his own, and isn't a threat to the big man's job. The pecking order would be understood: Your bench coach is there as a sounding board when you're weighing moves throughout the game. And in the last two minutes of a half, he's attached to your hip, there to handle clock management and offer reality checks lest you get an inkling to do something really dumb and cost your team the game.
There are 700 people on the sidelines in any given NFL game. No reason not to add a 701st.
—Jonah Keri
Cousin Sal's "Bet I Wish I Made This Weekend"
Over 72.5 minutes to prepare my Thanksgiving turkey, which was supposed to be completely done in a half hour.
You ever attempt to fry a turkey for the first time while your overpaid, underachieving, pathetically lame football team fools you into believing they're going to fight back from a three-plus touchdown deficit? Don't ever do it. Best-case scenario you end up with a broken heart, a permanently grease-stained patio, and the slightest touch of salmonella. The good news is my 7-year-old son told me he watched a commercial that said if I start drinking Bud Light my team will start winning. He'd better pray to God (and the Most Interesting Man in the World) I don't start.
— Sal Iacono
Some Day a Real Rain Will Come
"In all my years of football that's a first. I've never seen anything happen like that during a football game." — Reggie Bush
Seven Points or Fewer, Comeback Wins, and the Atlanta Falcons
"The Falcons have won seven games this season by seven points or less. That's coaching." — D. Orlando Ledbetter, Falcons writer, Atlanta Journal-Constitution
Some would agree. Wins and losses in close games often come down to coaching decisions, and there are few out there who would label Mike Smith as a below-average coach. He seems confident and capable, especially in late-game, high-pressure situations that the Falcons seem to get themselves into every week.
Others using the same stat (seven wins by seven points or fewer), however, would point to the Falcons' tendency to not convincingly beat teams, and note that any of these close wins and Matt Ryan late-four-quarter drives could have gone the other way and the Falcons could be, you know, 3-8.
Two camps of Falcons critics and both schools of thought are right. But they're not 3-8. Or even 6-5. They're 10-1. And even through Week 12, with a tie for the best record in the league and a four-game lead in the NFC South, you'd think they were fighting for a wild-card spot based on commentators' analysis, skepticism, and the all-too-common "they won again, but …"
But they're not fighting for a wild-card spot. They're 10-1.
A loss to the Saints on Thursday, a game the entire football-watching world will be focused on, would only fuel the criticism that the Falcons are not legitimate contenders. Interestingly enough, a win wouldn't do much either, because the Saints are 5-6 and already beat the Falcons in the Superdome, so payback won't seem like a monstrous surprise, especially at home.
It will be interesting to see if the narrative surrounding the team changes during the remainder of the regular season (only with a solid Giants win do I see that possibly happening), but for now it looks like everything that happens with the Falcons is a moot point in the eyes of the football experts, commentators, and non-Falcons fans, until they notch that first playoff win. Until then, to most, it all might as well be a fluke.
— Rembert Browne
I Too Would Like to Fight Fireman Ed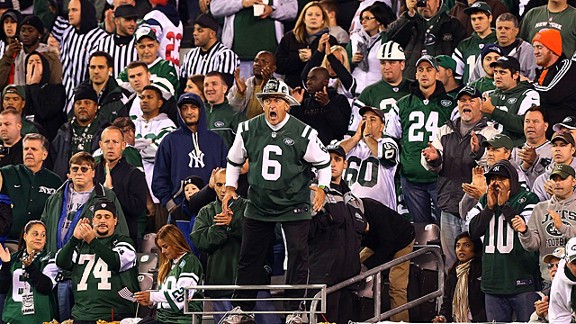 During Thursday's semi-annual basting of the Jets at the hands of the Patriots, a report came over Twitter by way of former New York tackle Kris Jenkins:
Fireman Ed deleted his account? Wow thought he was a diehard fan? Guess he went back to the Dolphins.

— Kris Jenkins (@krisjenkins77) November 23, 2012
Fireman Ed, a.k.a. Ed Anzalone, the behatted jackass who attends every New York Jets game and leads the hallowed, much-mocked J-E-T-S chant, departed the game at halftime. Fireman Ed, a grown adult who wears a hat to football games and yells at people in hopes they'll yell along with him, has "resigned" from his post. Which is interesting because Anzalone, who says he is not paid by the Jets organization, DOES NOT HAVE A POST. He's just a guy who goes to games. But Fireman Ed, a buffoonish figure who is meant to represent a bankrupt idea of blue-collar, back-to-basics New York fandom, does no such thing. He is a man with a hat who yells. Though he insists he will continue to root for his team, he will not do so as an imaginary avatar that most fans resent. He wrote an editorial in yesterday's edition of New York's local Metro paper, explaining his rationale:
I decided to leave Thursday because the confrontations with other Jets fans have become more common, even though most Jets fans are fantastic.
The Jets fan is not fantastic. The Jets fan is a salty depressive. Forty-three years of ignominy will do that to a base. Is it any wonder that the thick-necked goon who the producers of Sunday Night Football have used to illuminate brazen failure for more than two decades might become a target for face-punching? The problem with imaginary jobs is the imaginary part. Ed Anzalone assumed a mantle of importance — but he does not matter. At all. The Jets will continue to lose, to be mismanaged, to seize headlines over savvy personnel moves, to sigh through press conferences, to throw to the wrong team, to run face-first into the ass of their own. It's their destiny. Someone tell the guy in the hat.
— Sean Fennessey
Filed Under: Chicago Bears, Dallas Cowboys, Jay Cutler, Katie Baker, Mark Sanchez, Miami Dolphins, New York Jets, NFL, Reggie Bush, Rembert Browne, Robert Mays, Sal Iacono, Sean Fennessey