NFL Run and Shootaround: The Long Good-bye
Doug Pensinger/Getty Images
Ray Lewis Is Truly Awesome
Ray Lewis has described many things as "awesome." He dieted and exercised before this season and showed up to camp at his lightest weight in some 15 years: "It's awesome," he said, "I feel great." Earlier this season he described Joe Flacco and the Ravens' much-improved offense as "awesome." Last week, as he took a victory lap around the Ravens' stadium one last time, he described it as "the most awesome thing you could ever ask for in any professional career." After Baltimore's twist-filled victory over Denver on Saturday, Lewis began doing that postgame proselytizing thing that's common in such contexts. Maybe it's the awareness that Lewis is nearing the end or maybe it was the delirium of the game, but there was something wildly moving and strange about his incantations. He said some cold-blooded shit about "weapons," just as the tool that had been forged for his demise, Peyton Manning, walked up to hug him. Then his eyes got gone and serene as he admired his team's mile-high handiwork: "Man … it's just awesome," he said, all blissful and blessed, clouds of mist surrounding his face, as though the Creator had taken a highlighter to him. There've been few players over the past decade as intense and absorbing as Lewis. For those of us who remember when "Ray Lewis weapons" turned up a different kind of search-engine result, there hasn't been another athlete whose path to righteousness has felt so visceral and extreme.

When I sent the "Elon speech" to the most intense friend I know, he watched it and then told me he was re-evaluating his entire work ethic. Ray Lewis speaks, and it's like I finally understand The Tree of Life, the concept of infinity, "Christina's World," my father-in-law, and Jules from Pulp Fiction. He understands what he's saying, and you want to follow along. "Awesome" is one of those words where we tend to forget its original meaning: To be awesome is to feel awe. It's not just an expression of approval and appreciation but also one that suggests fear, discomfort, the presence of something sublime, mysterious, and overwhelming. That's the "awesome" the God-fearing and God-loving Lewis meant to use, and for a moment — the first moment in many, many years — I wanted to know what that state of being possibly felt like.
— Hua Hsu
Into the Void
(All GIFs by HeyBelinda)
Bet I Wish I Hadn't Made
FALCONS (-3) over Seahawks
Not because it was a bad pick. I'm still convinced I had the right side. But because if you had the Falcons giving a field goal, like I did, and lost after being up by 20 points late in the third quarter, you were probably left a devastated, penniless slob — like I am. Of course, I can recall dozens of bad bets that left me as bewildered as an inebriated Jodie Foster rant, but this one was special in its own demoralizing way.
Here's how I remember it. With 2 minutes and 11 seconds remaining in the third quarter, Falcons fullback Jason Snelling caught a five-yard shovel (is it shovel or shuffle? Let's go with shovel) pass from Matt Ryan to give Atlanta a 26-7 lead. Seemingly insurmountable — but I was still screaming for the Falcons to go for the two-point conversion, figuring that being up 27-7 this late in the game is no better than being up 26-7. A 28-7 lead would guarantee that three Seattle scores would only result in a tie. In other words, in order for Seattle to end up with exactly 27 points they would need to have scored two TDs and two field goals in 17 minutes. That's not happening.
OK, so they decide to settle for the extra point, which isn't a big deal if you consider that 37 out of the other 31 head coaches probably would've also effed this up. The ball is snapped but not until a good two-Mississippi count after Seattle's Richard Sherman jumps offside and blocks the PAT attempt. Sherman was so far ahead of the snap, he literally could've set himself in the holder's spot, taken the snap, placed it, whirled around, and kicked it himself. Now the ball is placed at the one-and-a-quarter-yard line (half the distance to the goal), but Falcons coach Mike Smith STILL lines his team up for the extra point and AGAIN Sherman jumps offside. And AGAIN Smith opts for the extra point (this time it wasn't blocked and the PAT was accepted). What's going on here? Half the distance of half the distance gives you an opportunity to run a play from scrimmage from the 5/8-of-a-yard line. That's 20 inches for two points. What if Sherman continues this behavior and jumps offside 10 more times — "halving the distance" until that distance becomes five Marshawn Lynch mustache hairs away from the goal line? Are you still kicking?
As we now know, Seattle scored three (yes, only three, because four would've been virtually impossible) times in the fourth quarter to go up by a point, only to lose the game by two points (instead of my desired three) after Matt Bryant drilled a 49-yard field goal following the now-infamous Pete Carroll de-icing.
Who knows, the game could've been different from 27-7 on if Atlanta had gone for and made the two, but the truth is, in most if not all probability, I'm looking at a push instead of a loss. Congratulations, Mike Smith, you hit the middle. You clearly bet on the Seahawks, and you and your team still won. And as a result of asinine coaching moves such as these, you shan't be seeing my money backing your team again in the winter of 2013. Go, Niners!
— Cousin Sal
Champ Bailey Didn't Get Amour. He Does Now.
Mike Smith and Pete Carroll Being Wrong Forever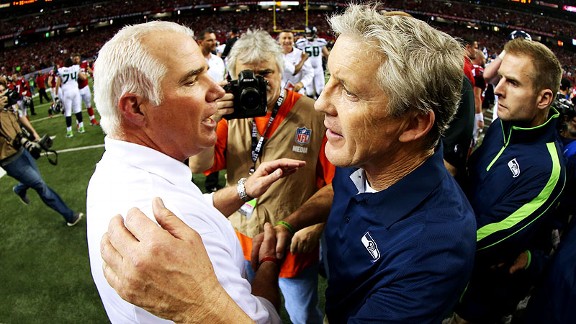 Coaching is hard. Grantland's Bill Barnwell, the Great Corrector, has been pointing out the dunderheaded moves of NFL head coaches every Monday morning for 19 straight weeks. He's never hard up for material. Sometimes these decisions are debatable and sometimes they're just plain bad. Yesterday's game between the Falcons and Seahawks, however, was a symphony of wrong, two maestros leading their teams into disaster at nearly every turn. Let's recount the awful: Did Pete Carroll call a timeout after a first down near the end of the first half that ultimately cost his team at least three points? Yes. Would that field goal have proven the difference in the game? Yes. Did Mike Smith decline to go for a one-yard two-point conversion in the third quarter to extend his team's lead to three touchdowns? Yes. Did his team eventually fall behind 28-27 after a furious Seattle comeback? Yes. Did Carroll attempt to freeze kicker Matt Bryant before the potential game-winning field goal? Yes. Did Bryant miss the doesn't-count kick? Yes. Did Carroll then complain that he didn't call a timeout after witnessing Bryant's miss? Yes. Did Fox's cameras capture Carroll calling for the timeout? Yes. Did Smith inexplicably have Bryant squib-kick to the Seahawks with eight seconds to play after securing a 31-28 30-28 lead? Yes. Did the Seahawks improbably get in position for a potentially city-saving 65-yard field goal? Yes. Did Carroll attempt just such a possibly miraculous kick? No. (His team lost.)
— Sean Fennessey
Justin Tucker: An Appreciation
When your pro team sucks, like mine does, you live vicariously through guys who played for your college team. They're like old frat brothers scattered throughout the NFL. This weekend, I perked up when Tarell Brown and Earl Thomas, who played defensive back at University of Texas, had nice interceptions. And I positively went into recherche du temps perdu when Justin Tucker nailed the game-winner for Baltimore. Justin Tucker is awesome.
Tucker is the kind of guy who became a college legend based on a single play. He was born in Austin in 1989. His father is a cardiologist, and his mother is a former drum major. According to a Baltimore Sun profile, Tucker sang "Danke Schoen" at a middle school assembly, and — this was an early sign of his moxie — he really worked it. Tucker's childhood hero was Adam Vinatieri. (Vinatieri is to this generation of kickers what Larry Bird was to rural Indiana spot shooters in the 1980s.) As a kid, Tucker was losing a rec soccer game at halftime. He remembers being furious when he saw all his teammates happily eating Lunchables.
But Tucker's killer instinct is balanced by his menschiness. "He's the most upbeat human being I've ever been around," Mack Brown told the Sun. In Baltimore, Tucker says he likes to watch his non-kicker teammates and "appreciate their craft." You absolutely believe that, with his smile and patchy half-beard, he's telling the truth.
In 2011, Tucker's Longhorns were mediocre: 6-4 when they reached THE BIGGEST GAME IN HISTORY BEFORE JOHNNY MANZIEL. It was November 24. They were playing Texas A&M, at night, in College Station. The Aggies were departing for the SEC, and this was the "last" meeting between the teams.
The Longhorns hung around thanks to Manny Diaz's D and three interceptions by Ryan Tannehill. In the closing seconds, Texas got the ball back down one. Case McCoy ran 25 yards to put them in field goal range. But it was a long field goal: 40 yards. Tucker remembers Aggies fans hopping up and down so furiously that the field seemed to be vibrating. "[H]e didn't blink," Mack Brown said. "They called timeout, and he thought, Good for them. That just gives me more time to focus. Everybody on the team knew he'd make it." Tucker, of course, did make it. He drilled it. The dog pile was so big, I worried he'd get hurt.
If you want to see what that kick "meant," to me and everybody else, watch Mike Sherman's face in this clip.
I suspect Tucker thought about that kick Saturday, when he had a chance to beat Peyton Manning and the AFC's no. 1 seed on the road. I also suspect he thought, I got this. To Justin Tucker, for that one and this one: Danke Schoen.
— Bryan Curtis
Quizz Bowl
I Will Remember You …
You hear that? That's a little Sarah McLachlan playing in the background as Seattle defensive back Richard Sherman exits stage left, making hand gestures and screaming at the top of his lungs. And I, for one, will miss him. I know that there's probably some rule written in the constitution of Georgia about athletes named Sherman winning anything in Atlanta, and I'm sure that many of you readers, to say nothing of Sherman's various opponents over the course of the season, won't be too sad to see him heading back to the Pacific Northwest and beginning his offseason. But I will miss him. I will miss the shit talk, the gesticulating, and the shots fired on Twitter. I will actually miss all of that. Sherman is my kind of pain in the ass. But all the attention he demanded actually made me really appreciate something I rarely check out: cornerback play. See, I come from a land where men like Dominique Rodgers-Cromartie and Nnamdi Asomugha watch as receivers rack up yards after the catch and running backs get past the second level of defenders totally clean. The idea of having a trash-talking, lumber-laying, Brady-trolling monster playing corner is just not something that computes with me. So watching him over the last few weeks gave me a new appreciation for the demands of the position he plays, to say nothing of the way he plays it.
— Chris Ryan
Peyton and Ray, A Play in One Act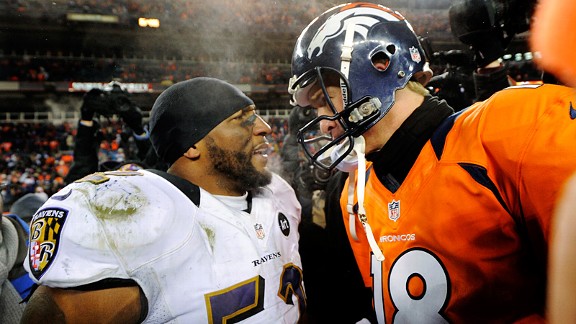 I just want to take a moment to highlight one of the greatest things that happened this past weekend in football. After the Broncos-Ravens game, Ravens media director Chad Steele tweeted this:
Great moment @ 1.5 hours after the game, Peyton Manning and his family waited to congratulate @raylewis52.com #ravens twitter.com/CSteele32/stat…

— Chad Steele (@CSteele32) January 13, 2013
I can only imagine that the conversation went something like this:
Peyton: [Shifts around awkwardly.] Hey, Ray, good performance out there today …
Ray: [Softly.] Yeah, man, you, too. I just want you to know … I love you, man. Love is a special word, and I use it only when I mean it. Say the word too much and it becomes cheap.
Peyton: [Shifts around again.] Um, thanks. So, listen, I don't really know why I'm here, other than to say —
Ray: [Looks afar.] I don't think any of us really knows why we're here. But I think we're supposed to believe we're here for a purpose. Do it right or don't do it at all. That comes from my mom. If there's something I want to do, I'm one of those people who won't be satisfied until I get it done.
Peyton: [Confused.] Right, yeah, definitely. Until you get it done. So, as I was saying —
Ray: [Still staring off.] Man, it was crazy out there. It was like a playoff atmosphere. This was a great game for us to play at this time of year.
Peyton: [More confused.] Right, right, really a playoff atmosphere. Anyway, just wanted to say thanks, man, for a great career. You're really one of the best in the business.
Ray: [Nods.] Thanks, really means a lot. I never wanted to be famous. I only wanted to be great. I don't know what would have happened to me if I hadn't been able to hear …
Realizing that Ray Lewis was channeling his inner Ray Charles, Manning mumbled a quick congrats, a "gotta dash," and grabbed his son before bolting out of the locker room.
But all jokes aside, this was a touching gesture from Peyton Manning — one of the greatest quarterbacks of our lifetime paying homage and saying good-bye to one of the greatest linebackers of our lifetime. It was a wonderful reminder that football is simultaneously entertaining, humbling, and humanizing.
— Patricia Lee
Welcome Home
Being a Seahawks fan is not easy. An incomplete litany of examples from my (relatively) short life: Steve Largent retiring, having never made the Super Bowl; missing out on local(ish) legend Drew Bledsoe and getting Rick Mirer (boy, was I excited for the Rick Mirer era … ); missing the playoffs when Vinny Testaverde and the Jets were given a touchdown when he just barely broke the plane of the 1-yard line (many credit this play for the implementation of instant replay technology); Anthony Wright — whom you might remember but actually, you are thinking of comedian Anthony Clark — almost costing us a playoff berth when he led his Ravens to a team-record 17-point comeback in 2003; but he didn't, which led to Matt Hasselbeck saying the words "we want the ball and we're gonna score" in an overtime playoff game at Lambeau right before throwing a game-winning interception to Green Bay cornerback Al Harris; and everything that happened in Super Bowl XL. Oh, and yesterday. That happened, too.
So here's a message to the newly minted Seahawks fans out there — the kids who were born into it and the transplants in a city of transplants, who fell in love with a young, brash, and talented team that could do everything except start hot or defend the pass in the fourth quarter:
Welcome. Now you know, insofar as true knowledge requires experience. Just know that can get out now if you want; no one will blame you. Now's as good a time as any to avoid intertwining your emotions with a team that cares about you just enough to break your heart. Or you can stick around. Being a fan of any football team is hard, and the rewards of getting to care about a quality NFL team, well, you just felt them. When Marshawn Lynch got into the end zone with 31 seconds left, wasn't that the best? You hugged a stranger, didn't you? You did. I saw. You were so happy. And yeah, things got really bad after that. But that moment, that stranger-hugging moment, one of these days it'll be the ultimate stranger-hugging moment, when someone in blue and neon green is hoisting the Lombardi trophy.* And that could be next year. It could always be next year, in a general sense, but if you stick with the Seahawks, our specific next year will involve Russell Wilson, a young roster with quality players at every position, Russell Wilson, and Russell Wilson. So maybe things will be different.** Come on. Stick around. It'll be worth it.***
*No it won't.
**They won't. Haven't you been paying attention?
***This is true. It will be worth it.
&#8212 Spike Friedman
Filed Under: Aaron Rodgers, Baltimore Ravens, Bryan Curtis, Chris Ryan, Cousin Sal, Denver Broncos, Matt Ryan, NFL, Patricia Lee, Peyton Manning, Ray Lewis, Russell Wilson, Sean Fennessey