NBA Shootaround: Who Shot? J.R.!
Streeter Lecka/Getty Images
So much amazing is happening, and the Shootaround crew is here to help you keep track of it all. You'll find takes on moments you might've missed from the previous night, along with ones you will remember forever.
Make Me a Knickstape

[All GIFs courtesy @heybelinda]
Let's forget for a second that though the Knicks were playing on the road in Charlotte, the noise in the building was mostly for them. Let's put aside that the Bobcats were losers of four in a row going into the game, that they had a charming if overmatched lineup (Kemba, MKG, Bismack, Gerald Henderson, former Speaker of the House Tip O'Neill and the robot from Short Circuit) on the court, and that they were playing like a bunch of Treadstone/Blackbriar agents trying to viral off their blues (BOURNE LEGACY JOKES, GUYS. AMIRITE?). Let's forget all that. You say caveat, I say cave-J.R.-SMITH-HEROBALLLLLLLL!

I mean, anytime you can get J.R. Smith at the center of attention it's a good thing. Anything that keeps Iman Shumpert's #TAPED thing going is totally fine with me. And anytime it causes this much struggle on the face of the greatest basketball player of all time, it's a great thing:
Jordan apparently congratulated Smith after the game. "He said something, but I can't really repeat it." Yeah. No shit. Still, when life hands you a nice glass of lemonade, someone always conspires to saddle you with a bunch of lemons, right? J.R. couldn't even get wheels down in Miami without someone spoiling The Dark Knight Rises for him. Sorry, J.R. You merely adopted the dark; Michael Jordan was born in it.
— Chris Ryan
Mark Cuban Is More Into Eric Bledsoe's Early Stuff, Maaaaan
Hubie Brown Compliments + DeAndre Jordan Losing His Mind = !!!
And Yet the Night Belonged to Caron Butler
OK, Lob City. Think of the fault lines! Please!
— Ryan
A Personal Kobe Bryant Timeline
Grantland intern Patricia Lee is a lifelong Lakers fan. And even more so a lifelong Kobe Bryant fan. In tribute to Kobe scoring his 30,000th point last night (and in the tradition of this Rembert Browne post), Patricia offers up this personal timeline of her Kobe years (which is pretty much all of her years).
• 1991: Kobe Bryant has become fluent in four languages — Italian, English, Spanish, and basketball. Patricia is born. Her dad was at the hospital … watching the Lakers game. The Lakers lost that game.
• 1996: Kobe is picked in the first round of the NBA draft. Patricia graduates from kindergarten!
• 2000: The Lakers — led by Kobe and Shaq — win the first championship of Patricia's lifetime. • Patricia sells her dot-com for two packs of bubblegum and a sweet new Polly Pocket.
• 2001: The Lakers win their second consecutive championship. Turns out that dot-com trade was great for Patricia!
• 2008: Kobe enters the Olympics and leads Team USA to the gold medal. Patricia prepares for her final year of high school and gains five pounds.
• 2009: Patricia puts on her big-boy pants and starts her first internship. The Lakers win their 15th NBA championship. You owe me one, Kobe.
• 2012: Kobe scores his 30,000th point against New Orleans. Patricia has an awesome banana nut muffin.
The Triumphant Return of the Iguodunka of the Night
OK, triumphant may be overstating it. But, hey, you've gotta start somewhere, right? Also: What's up, Smitty?
— Ryan
In Case This Pelicans Thing Catches On
In support of the New Orleans Hornets' wise decision to change their name to the Pelicans — only the goddamned state bird of Louisiana! — a few suggestions for other NBA team names more reflective of their city or region:
• The New York Bacon Egg and Cheese on a Rolls
• The Orlando Tribal Tattoo on Both Ankles
• The Detroit Inexplicable Giant Plumes of Sewer Steams
• The Oklahoma City [ ]s
• The Miami White Linen Pants and Chest Hairs
• The Brooklyn Kid Selling Peanut M&Ms on the Subways
• The Boston Let's Break Into My Father's Liquor Cabinet Get Loaded and Then Go Chuck Snowballs at Tourists by the Fens
• The Golden State I Just Found a Lollipop in My Backpack I Think It's a Weed Lollipop But I'm Not Sure LOLs
— Amos Barshad
Nailed On
Early in last night's game against the Hawks, Nuggets point guard Ty Lawson received a pass on the right wing, took two dribbles with his left hand, went around a screen from Timofey Mozgov, and calmly sank a jumper from the middle of the free throw line — an area referred to as the "nail" in coachspeak.
It seemed like a rather unremarkable play in comparison to some of the more dazzling scoring moves Lawson unleashed en route to a 32-point outing (albeit resulting in a Denver loss). But in reality, it was by far the most interesting play of the night.
Up until that jumper, Lawson had not made a shot from that spot of the floor all season. In fact, he had only attempted eight shots from in and around that area.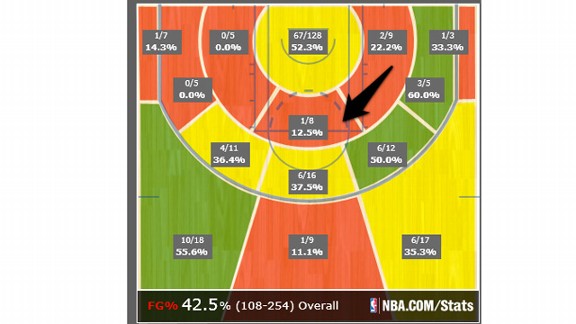 This scarcity of looks from there should come as no real surprise given that George Karl's offensive philosophy places an emphasis on getting to the rim or the foul line rather than taking mid-range jumpers. The problem with that approach so far this season is that Denver's ball handlers are finding it harder and harder to attack the rim, especially in an effort to draw fouls.
Lawson is no exception to this. Though the percentage of his looks at the rim remains consistent with last year's numbers, the number of fouls he's drawn is way down. The likely explanation for this is that since the departure of Al Harrington, almost all of Denver's most frequently used lineups feature two non-shooting bigs.
Without at least one frontcourt player pulling an opposing big man out of the paint (with the threat of his outside shooting), space to attack the rim is much harder to find for the Nuggets. And with so many big Denver bodies occupying areas near the paint, the frantic, long rotations that come from opposing help defenders are replaced with much more manageable ones.
To push his game to a higher level, given the lack of ideal personnel around him, Lawson needs shots like that nail jumper to become a staple of his game. If he wants to be the first option on a contending team, Lawson can't solely rely on spot-up 3's and layups. No star player can. Long 2's draw the criticism of statisticians everywhere, but they are actually a necessary evil for primary shot creators around the league.
Much like Tony Parker in San Antonio, Lawson needs to use his incredible quickness to be a constant threat to convert shots from mid-range if he wants Denver to break into the West's elite.
— Brett Koremenos
The Role He Was Born to Play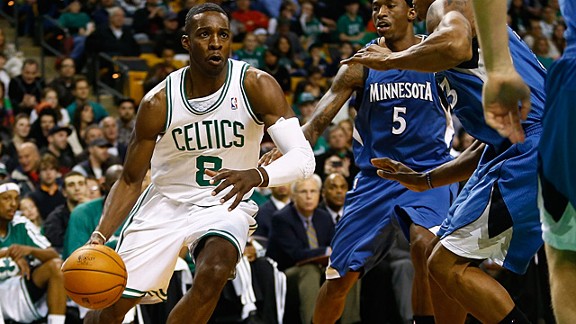 One serious observation: Jeff Green is barely playing power forward anymore, and in news that is probably related, he has looked like a useful NBA player for three straight games. He didn't log a second at power forward against Minnesota, and the two most common lineups in which he has served as a power forward — with just 26 minutes between them — haven't appeared in either of Boston's last two games. It seems both Jared Sullinger and Chris Wilcox have gained enough of Doc Rivers's trust to earn more than token rotation minutes, and that in turn has allowed Boston to use Green at his optimal position.
Let's not oversell things. Green is still shooting just 43.5 percent from the floor, and Boston is playing massively better when he's on the bench. His PER, currently at 10.9, has only recently surpassed his annual salary (about $8.4 million this season). Boston doesn't need Green to be an All-Star, but they need him to be useful to get where they want to go. Baby steps.
One non-serious observation: J.J. Barea can be borderline insufferable. He was working the officials all game, and when he earned an offensive foul in the fourth quarter for nailing KG with a hockey check of a screen, he was aghast at the call, walking back down the floor with his hand on his forehead in disbelief, giant sarcastic smirk on his face. "Not a foul," he mouthed, mock-laughing.
Guess what happened three minutes later? Barea was guarding Green on a wing post-up, and in an effort to combat his size disadvantage, he was pressing, using his chest to bump Green and get underneath Green's base. Green responded with a light forearm to Barea's chest area, right about where it says "Minnesota" on the Wolves' jerseys. "Chest" would be the key word there. Barea responded by snapping his head backward and flailing his arms — his totally untouched arms — over his head in a giant "V" to earn a semi-bogus offensive foul on Green. Good thing Stu Jackson probably has Barea's number on speed dial. Keep whining, though, J.J.
— Zach Lowe
Filed Under: Andre Iguodala, Boston Celtics, Brett Koremenos, Charlotte Bobcats, Chris Ryan, Denver Nuggets, Kobe Bryant, Michael Jordan, Minnesota Timberwolves, NBA, New York Knicks, Patricia Lee, Tony Parker, Zach Lowe