NBA Shootaround: The Sweet Smell of Success
Scott Cunningham/NBAE via Getty Images
So much amazing is happening, and the Shootaround crew is here to help you keep track of it all. You'll find takes on moments you might've missed from the previous night, along with ones you will remember forever.
The Silver Lining of the Neglect Bubble
netw3rk: Now riding their longest winning streak in 19 years, it's fair to say the Knicks are a good team; I could imagine them reaching the second round of the playoffs. The digit representing decades in my age has gone from two to three since the last time I thought the Knicks could or should reach the second round of the playoffs.
To be sure, other teams have been bad for stretches, missed the playoffs for stretches. But here's where the famed New York Bias enters. One way to think about NYB is as a constant focus on the narratives surrounding a New York City team from the media, irrespective of the team's relevance vis-à-vis wins and losses. This is viewed with annoyance from those on the outside as something approaching arrogance. To wit: Iman Shumpert's profile is boosted simply from his playing in New York, whereas, say, Dion Waiters is overlooked nationally because he plays in Cleveland. This is a fair gripe.

The Atlanta Hawks, on the other hand, are in a bubble of something like casual neglect. If the Knicks had the Hawks' recent playoff history, I would be writing this from a bathtub filled with Dom P and confetti, constantly tooting on a party whistle. The Hawks have smart, engaged fans, good players, and have consistently been in the playoff picture over the last five years with three second-round appearances and over a dozen playoff wins. Compare that to the Knicks over the same stretch: zero second-round appearances, one playoff win, and two seasons of not making the playoffs at all. And yet we — and by we, I mean the amorphous mass of worldwide NBA discourse — do not discuss the Hawks, Al Horford, Jeff Teague, or Josh Smith unless it's to discuss where they might go upon leaving Atlanta. That's annoying for an Atlanta fan, and insult is added when MVP chants rain down from Philips Arena for an opposing player. The Hawks deserve better.
But there can be an upside to a neglect bubble.
During the long ennui-inducing stretch of the Knicks' seemingly being GM'd by Franz Kafka, New York fans could've benefited from a bubble of casual neglect. Even during those years of irrelevance, the team was said to have "expectations." These expectations are shot through the distorting lens of New York Bias, and they're transmitted into the amorphous mass of NBA discourse; those expectations are compared to reality, and much schadenfreude ensues. A similar situation could be said to have occurred in Lakerland this season, but at least they earned their schadenfreude by being so very dominant for so very, very long. What I mean is, when you're bad, you'd rather be bad in, say, Milwaukee, where the national media can just ignore you. Just let me enjoy my meaningless April basketball in peace.
So, as seemingly every Melo jumper feathered its perfect arc before diving through the hoop with snaps like firecrackers, I think the same thing I thought watching those Frankenstein Knicks teams make fourth-quarter Sisyphean runs during all those lost springs: just enjoy this right now.
Up in the Air
(All GIFs by @HeyBelinda)
Chris Ryan: Fun game to play with yourself: How long does it take you to even notice Jeff Green before he comes flying in for the putback?
A Plea for Postseason Steph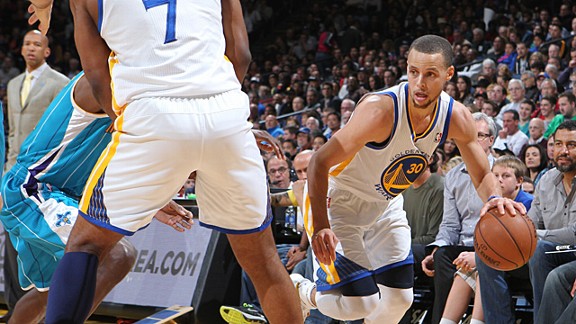 Brett Koremenos: Steph Curry is fun. OK, I know this isn't exactly some insightful revelation, but when you watch hundreds of basketball games a year, the fun guys to watch, like Curry, stand out from the congested sea of players, schemes, and ultimately forgettable plays that accrue in your memory over the course of a season.
For me, watching Curry is like a reward. Anytime I suffer through a boring early game in the frozen tundra of Wisconsin, I'll check and see if there's a late Warriors game I can flip over to. I fill my head with dreams of warm weather and hopefully a torrent of points from the dude with one of the sweetest jumpers in the game. And while quite a few players can put the ball in the hoop better and more often than Curry, none seem to do it with as much flair.
Kevin Durant, Kobe Bryant, James Harden, and the rest of the ruthless scoring machines grind out points with cold efficiency. Curry is different. There are no methodical isolations, rim-rocking dunks, or powerful post-ups. He's just a dude flying around screens, flinging chaos whenever he steps over the half court (because that's pretty much where Curry's range starts).
Even when he missed his first five shots last night against the future Pelicans, I didn't want to change the channel because when you're watching Curry, you're always just one jumper away from a potential downpour of points. And after Ryan Anderson made a slight mistake in his pick-and-roll coverage, the Warriors star sank a deep 3 for his first basket of the night. Over the next six minutes, Curry would make three other shots — a layup and two more 3s — that turned a four-point deficit into a nine-point lead Golden State would never relinquish.
Though the rest of his night turned out to be rather pedestrian, it's those mini-outbursts that have me champing at the bit to see Curry on the playoff stage. Every time he strings together a couple of jumpers, you'll wonder if it's the beginning of a magical postseason performance. Enough of this regular-season nonsense already. Bring me Playoff Steph!
Like a Circus in Here
Gallo's Humor
Sean Fennessey: Danilo Gallinari had a tough March. His numbers were down across the board: points per game, field goal percentage, PER, laughably obvious cultural stereotype celebrations.
But April is a new day. Last night, the Nuggets put a hollow-point right into the spleen of Utah's playoff hopes. Amazingly, the Denver Nuggets have lost just nine games in three months. And the way they've done it — spreading the offense around, allowing Andre Iguodala, Wilson Chandler, Ty Lawson, and even Kosta Koufos to dominate when possible — has been remarkably effective. Their loose, fast, paint-invading strategy first inspired head-scratching analysis. Then came the "They can't do it without a superstar" column-inch-filling. Then the "Hey, maybe they can do it" rationalizing. Now it's hard to know where this team stands. They rank fourth overall in offensive efficiency on the season and have a strong chance at that 3-seed. That would set up a delightful first-round matchup with the Golden State Warriors that would probably break Basketball Twitter. Gallinari's ability to score isn't a must for the Nuggets — they've already proved they can win without the Italian Stallion slashing the nets. But they sure seem to have a lot more fun when he's doing just that.
I'm Spartacus
Do You Believe in Magic?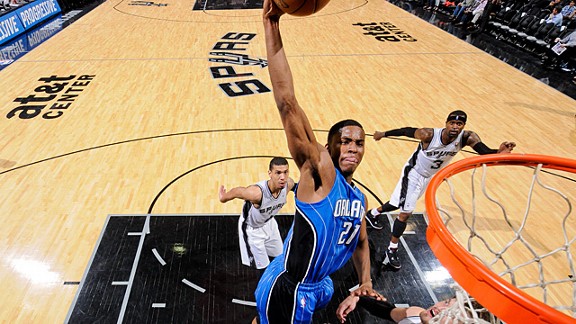 Ben Detrick: Even with studs like LeBron James, Kevin Durant, and Carmelo Anthony now moonlighting as power forwards, the 3 spot remains the NBA's go-to position for Swiss army knife cutlery. This season's breakout small forwards have been Paul George and Nicolas Batum, but there's no shortage of other emerging talent at the swingman slot. The Spurs' Kawhi Leonard — an elastic, cornrowed demon unfairly equipped with both rangy defensive prowess and top-shelf scoring efficiency — might be the NBA's most untouchable non-star asset.
Leonard didn't play last night against Orlando, but the game featured another young small forward with multitudinous abilities: Moe Harkless. At only 19, the New York City product has averaged almost 20 points and six rebounds over the last five games, and demonstrated capabilities both as a 3-point threat and shot-rejector. Last night against the Spurs, he chipped in 18 points, nine rebounds, two assists, and two blocks. Ropy and mobile at 6-foot-8, the barely legal teen is a raw version of Andrei Kirilenko.
While center Nikola Vucevic (who pulls down 11.6 rebounds per game) has often been mentioned as the most valuable piece the Orlando Magic scooped up in the Dwight Howard/Andrew Bynum deal, Harkless will be the player the Sixers most rue coughing up in that shockingly disastrous trade. Philadelphia coach Doug Collins, for one, has reportedly been "consumed" with tracking Harkless's box scores — although his asinine distrust of rookies probably would've prevented Moe from being anything beyond a practice-squad corpse for the Sixers. But it's enjoyable to imagine Collins seething with rage as Harkless stuffs yet another stat sheet, sort of like a Facebook-lurking ex-boyfriend watching his former squeeze traipsing through Tuscany with her chiseled new beau. Even though Philly's acquisition of Bynum was universally lauded at the time, Sixers faithful must now live life as if a young, affordable core of Jrue Holiday, Harkless, and Vucevic were never a possibility. And it's only going to get worse.
My Name Is Jonas
Danny Chau: Jonas Valanciunas seems like a fun person. Last year, during the Lithuanian Basketball League all-star game, he stormed the court in a wizard costume, complete with wooden staff and elderly gait, and tried to kick a basketball into the hoop from half court. Then there's this video of him wearing a red nose, looking like the Hamburger Helper glove. He's also a Gucci Mane fan, and every Gucci Mane fan I know is pretty fun.
Needless to say, I'm on the bandwagon (Valan-choo-choo train?). Though, after last night's 24-point, 10-rebound performance against the Wizards, who isn't?
Valanciunas took 18 free throws last night. He made 16 of them, which means he made more free throws in 40 minutes against the Wizards than in the 218 he played in all of December. It's an incredible feat, particularly because of his size. Sure, this is the era that made outside-shooting big men indispensable, but Valanciunas isn't that kind of player — at least not yet. His offensive game is very much in the mold of a traditional big man, but where most of that breed falter, he thrives. On the season, Valanciunas shoots 77.5 percent from the line, which is just outside the top five among centers who average at least 20 minutes a game, according to NBA.com/stats. However, since February, he's converted 82.8 percent of his foul shots, which would put him behind only Marc Gasol on the season. The latter percentage is more indicative of his norm anyway — he was consistently in the 80 percent range in two years of Euroleague and Eurocup competition.
Being able to draw and convert free throws at a high rate, especially at the center position, is an increasingly rare skill. It's a solid, and potentially frightening, foundation to build upon, given his tenacity. His understanding of defensive schemes will need polishing for him to maximize his gifts, but that's what these late-season extended minutes are for. Plus, when he becomes a great help defender — with his motor, it really isn't a matter of "if" — we can start calling him Trap God.
Great Expectations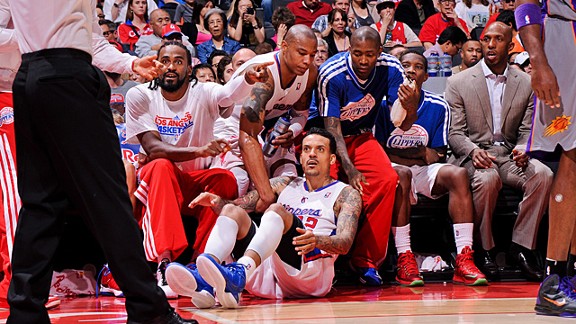 Robert Mays: Last year, the Los Angeles Clippers were a part of the NBA narrative seemingly from start to finish. The league's (and maybe sports') most downtrodden franchise had turned the trade for Chris Paul into respectability, and along with the emerging Thunder, redemption-seeking Heat, and ageless Spurs, they remained in the conversation until getting bounced by San Antonio in the second round.
This year's Clippers are, by any measure, better. Paul's summer recruiting landed the best bench in basketball, and the young core around him is a year older and improved as a result. Last night's win over the Suns was the team's 50th, a new franchise record. Yet as the playoffs approach, any interest in Los Angeles's best basketball team seems to have waned from where it was a year ago.
These stories go this way, I guess. Watching a Clippers team win was a novelty 12 months ago; now it's expected. And while the Clips are better, they're not that much better. There are still plenty of questions, about both their defense and an imagination-free offense that leans on Paul more than it should. If the playoffs started today, the Clippers would again play Memphis in the first round. I don't think anyone would be surprised if that was the end of their run, and if they did manage to beat the Grizz, the Spurs would take care of what Memphis couldn't.
If they do get bounced in the first round (or even in the second), this season will likely be qualified as a disappointment, and Vinny Del Negro's future will be in question. That's where we are with the Clippers. A 50-win, 4-seed season can count as a disappointment. Which isn't to say it shouldn't. Championships are what matters, and if L.A. wants to max out its time with Chris Paul, that should be the goal. But consider how quickly this has happened. Winning has become an expectation for a team that had never won before, and that expectation has bred a lack of satisfaction. These days, it's hard to stay happy in Clipper Nation, but I guess that's what you want.
Filed Under: Brett Koremenos, Carmelo Anthony, Denver Nuggets, Golden State Warriors, NBA, New York Knicks, Sean Fennessey, Stephen Curry