NBA Shootaround: The Chicago Way
Nathaniel S. Butler/NBAE via Getty Images
So much amazing is happening, and the Shootaround crew is here to help you keep track of it all. You'll find takes on moments you might've missed from the previous night, along with ones you will remember forever.
A Puncher's Chance
Robert Mays: The lasting image I'll take from last night's game in Chicago came with about four minutes left in the fourth quarter. With the Bulls up nine, LeBron James began a drive to the basket, where two Bulls were waiting. The first foul, by Jimmy Butler, wasn't enough. With James still in the air, Taj Gibson came in to finish him off, ensuring that James would get nowhere near the rim. LeBron peeled himself off the floor, headband askew, and without a word, walked briskly toward the free throw line. By that point in the night, there was no sense in acting like he wasn't ready for it.
As Tom Thibodeau has spent most of this season pounding his starters into dust, a common conversation I've had about these Bulls is why, after three years of leaving him hoarse, they still played the way they did. Three years is usually the breaking point for the NBA's disciplinarians — Scott Skiles, Doug Collins — but without Derrick Rose (and without much else), Luol Deng and Joakim Noah and the short Bulls bench were again grinding their way to the playoffs. The question was this: Were Thibodeau's words hitting differently, or were the types of players the Bulls had somehow different?

The answer always tended to be a little bit of both. It's hard to imagine Joakim Noah playing any other way, but it's clear that the players in that locker room have a special kind of respect for their coach. Both of those theories were tested, though, last month. When the Bulls arrived in Los Angeles in late February, the exhaustion was on their faces. Their legs had grown tired, but so had they — of the interminable speculation about Rose's return. As it became clearer that Rose probably wouldn't be back, it looked more and more like they wanted the season over. They lost to the Lakers that day, and for the most part, it looked like they'd gotten their wish.
I went into last night assuming that without Noah, the Heat would roll — a concession I was fine with. The streak was undeniably fun, and watching greatness at that level is always something I'll enjoy. It wasn't that I wanted the Bulls to win. It's that I didn't much care if they lost. Then the game actually started.
I'd be lying if I said Derrick Rose isn't a huge part of what's made the past three seasons of Bulls basketball great, but last night, it was impossible to ignore how much the rest has mattered, too. These teams play a certain way, and in being wholly unafraid last night, they played that way again. Kirk Hinrich has gotten his share of grief all season (much of it justified), but he set a tone last night that everyone fell behind. There would be no easy baskets, and from the tip, the team in red believed they were every bit as good as the team in black. And the best part was that for 48 minutes, the crowd did, too. When the stakes are high, that building comes alive. The stakes were high last night, and it wasn't just because a streak was on the line. The Bulls' season was, too.
There are some writers who've said that no matter happens, Derrick Rose should spend the rest of this season on the bench. This team can't beat Miami, so the risk shouldn't be run. I don't think one game in March with everything to gain and nothing to lose changes that, but it's hard to watch what happened last night and not imagine Rose sitting there with a tingle up his spine. The team that lost in Los Angeles probably wasn't worth coming back to, but the team in the United Center last night, and the crowd cheering them on, might be. That team, the one that leaves LeBron James picking himself up off the floor, has a puncher's chance — literally.
Russell Westbrook, Running the Option
(All .GIFs by @HeyBelinda)
Brooklyn Is for Trolls
Sean Fennessey: There's a perception that the Brooklyn Nets are old and overpaid and riddled with slothful ballstoppers. Turns out that's true — they're the fifth-oldest team, with the second-highest average salary, and the slowest pace in the NBA. That's a fine combination for basketball that makes blood come out of your eyes. Yes, the Nets are boring. They play a lumbering, fumbling, body-bumping kind of game. Imagine the trolls from The Hobbit — those of you dedicated enough to finish The Hobbit, you masochists — boxing out the whole of the Shire with their troll asses. The Nets are that ugly and stupid-seeming, and they turn into stone if exposed to the sun. They also win.
Last night, they destroyed Portland at the Rose Garden while Paul Allen looked on, before departing in his rocket ship made of gold bullion. And so now P.J. Carlesimo's Nets are 28-15. They were 14-14 when Avery Johnson was fired on December 28, and getting worse. With a full season under Carlesimo (and a full season of Post-Plasma Injection Straight Into His Soul Deron Williams,) the Nets could have challenged for 55 wins, more than enough to secure the 2-seed in the woeful Eastern Conference. The Knicks-Nets rivalry hasn't taken off quite the way Jay-Z's mediocre late-career lyrics might have promised — but if the team actually challenges the Knicks for the Atlantic Division title down the stretch, it might all feel a little less manufactured.
Earlier this week on The B.S. Report, Bob Ryan somewhat reluctantly offered the Nets as the lone team that could give the Heat problems in the playoffs. Despite the Bulls' performance last night, I think he's right. At present, Brooklyn will finish with the 4-seed, which would mean a second-round matchup with Miami. If they can creep up past the Knicks, we'll get an Eastern Conference Finals that will get uglier before it gets pretty. Picture the elbows thrown, the jerseys tugged, and the flagrant fouls attempted by Reggie Evans (a 20-20 game last night in the third quarter!) and Kris Humphries and Gerald Wallace and the great Andray Blatche (I love him — he should be the best big man in the league, but I worry he's too interested in pencil sketch-filtered selfies.) Then picture Brook Lopez's willowy touch, as he scoops and hooks his way around Udonis Haslem and the Bird Man. Can the Nets beat the Heat? Probably not. But they can badly injure them before they face their first real challenge in the playoffs. In the Finals.
[Charlie Sheen in Platoon Voice]: BAAAAAAAAAAAAAAARNES
The Beauty, Grace, and Precision of … Ivan Johnson
Danny Chau: Some of the best moments in the NBA are the ones that play out like fables. The game is just a game until it tells us something more. With 9:48 left in the second quarter, Hawks forward Ivan Johnson, the league's most legitimately terrifying player, throws a perfect pass to a darting John Jenkins for an easy layup. Of course, the splendor was in the how, not the what.
Johnson steals the ball from Landry Fields and initiates the drive. Fields hounds him near the sideline. To elude him, Johnson quickly pivots, but his legs begin to slide and he loses traction. Just as he's about to do the splits, Johnson swivels his torso and fires a no-look, over-the-shoulder pass. He had the presence of mind to find a streaking Jenkins while angling his body to deliver the pass and managing to keep his balance in a compromising position. Watching a chiseled brute perform such an acrobatic maneuver so deftly, I was instantly brought back to the moment in my childhood when I learned that stone gargoyles fly around and protect humanity from evil at night. It's a hackneyed saying, but it's true: Things aren't always what they seem.
Also worth noting here is the unique defensive scheme employed by the Hawks. DeShawn Stevenson is in stance against Alan Anderson, eyeing the ball intently. As Fields comes up to receive the pass, Johnson rushes up along the side of Stevenson, creating a frightening mirror image effect, which surely throws Anderson off for a split second because Stevenson and Johnson have the exact same hairstyle on the tops and bottoms of their heads. That split second is enough for Johnson to bully his way in for a steal. It's called the Gemini Formation (I hope), and it was executed to perfection.
A List of March College Stars Who I Wish Had Better NBA Careers, Presented Without Commentary
Jay Caspian Kang:
10. Chris Porter
9. Juan Dixon
8. Marshall Henderson (pre-registered)
7. Shawn Respert
6. Scotty Thurman
5. Bo Kimble
4. Sherwood Brown (pre-registered)
3. Harold "The Show" Arceneaux
2. God Shammgod
1. Randolph Childress
Spring Broke Us
netw3rk: As March lurches into April, the maxim "everybody is banged up this time of the year" begins its seasonal emergence, as much a harbinger of spring as cherry blossoms and drunk college kids descending on Florida like fist-pumping locusts. One can imagine Dolph Schayes uttering it in a cigarette-smoke-filled locker room to a reporter who would rather be covering baseball while soaking a tube sock in Bengay and wrapping it around his thigh. This part of the NBA season invariably begins to resemble Stephen King's novella The Long Walk, as teams attempt to balance expending enough energy to put one foot in front of the other with husbanding enough energy for the playoff finish line.
Which brings us to the Grizzlies visiting the Knicks. No high-flying, history-trolling win streaks here. Just two teams trying to survive the wear and tear of a long season with their playoff position and stamina intact. The Knicks are suffering from a panoply of dings, wounds, and ballooning vertebrae — the latter sidelining defensive anchor Tyson Chandler — while the Grizzlies' Catalan-army-knife, big man Marc Gasol, missed the last two games with an abdominal tear. Those last two Gasol-less games — a win against the Celtics and a loss on the road to the Wizards — were the first games in which the Grizzlies, the second-best defensive team in the league with a 98.1 Defensive Rating, had given up 100 points in over a month. (The Wizards loss featured a John Wall 47-point, eight-assist, seven-rebound dream sequence that originally existed in the mind of John Wall as a child as he played on a NERF hoop.) New York came in having licked the wounds of their pestilential West Coast road trip — in which the Knicks played the role of a Native American village in a Cormac McCarthy novel —with five wins against non-playoff tomato cans. Their win over the Celtics, was their first over a playoff-bound opponent since February 1.
What one would assume would be an uphill slog for the Knicks was further complicated with the surprise announcement that Gasol would stuff his dangling intestines back into his abdomen hole and play. Considering the Chandler-less, Sheed-less, Kurt Thomas–less Knicks would start 6-foot-9 Kenyon Martin at center, a Gasol/Zach Randolph frontline should theoretically have had more than enough beef to clog up the paint. But Gasol never really looked right, and the Knicks small-balled their way to 61 percent from the field in the first half for a 69-41 lead.
That 28-point lead would turn out to be juuuust enough for New York to hang on. The Grizzlies would outscore the Knicks 60-39 in the second half with a mix of grit-n-grind free throws, hustle, and timely 3-point shooting from Mike Conley and the beginning-to-look-like-an-NBA-contributor Jerryd Bayless. Marc Gasol shook off some of his first-half torn-abdomen rust with 10 points, three assists, three rebounds, a steal, and a block in the half. Looming somewhat ominous was Z-Bo's nonplussed towel-face reaction to Coach Hollins sitting him all but four minutes of the fourth quarter in favor of Quincy Pondexter. That's a face Madison Square Garden is all too familiar with.
Zen and the Art of the Subtweet
Patricia Lee: Phil Jackson has only been on Twitter for one day, but I think it's fair to say he's already mastered the art of social media. Let me explain.
11 champ;ipnsikp[ ringhs

— Phil Jackson (@PhilJackson11) March 27, 2013
Translation: My name is Phil Jackson, and I am the former coach of the Los Angeles Lakers. In case you couldn't infer it from my Twitter handle, I have 11 CHAMPIONSHIP RINGS.
One more time: 11 CHAMPIONSHIP RINGS.
But why the weird spelling? Was his phone's autocorrect not on? Did he close his eyes and guess where the keys on his keyboard were? Did he type this with his pinky while holding a glass of scotch in one hand and the TV remote in the other? Did all the rings make it hard for him to type correctly?
I hope he never tells us.
What I do know, though, is that this might have been a subtweet.
Yes, a subtweet, a subliminal tweet coyly directed at someone on Twitter.
It's basically the Internet equivalent of going out to dinner with a group of friends, ordering appetizers, and then after a while saying, "Wow, I thought we were all going to share the artichoke dip and onion rings" when it was clear that Anna was the only one helping herself to thirds … and fourths … and fifths …
So, back to Phil Jackson.
Why would his first tweet mention his championships? Being the cynical Lakers fan that I am, I saw this instantly as a dig at Mike D'Antoni (and Jim Buss).
Who has 11 rings? Oh, that's me. Who was the coach all the fans were clamoring for after the Mike Brown firing? Oh, yep, yours truly! Who got passed over for a job that should have been his? Me again. Whose team is it that has a roster of All-Stars and is barely in the playoff picture? Oh, not me, that's D'Antoni.
But guess what? That same team called Phil Jackson's raise and handily beat the Timberwolves — for the 22nd straight time. Why? Because they finally realized that they needed to win their games from here on out? Perhaps. Because they wanted to make up for that last-minute loss to the Wizards? Likely. Because they wanted to rise to Phil Jackson's latest bluff? Most definitely.
So yeah, subtweet on, Phil Jackson. We at the Grañtlañd headquarters appreciate the social media maven within. Especially if it means more Lakers wins.
What If JaVale McGee Figures It Out?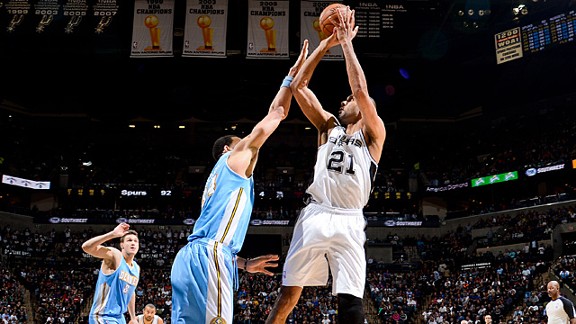 Brett Koremenos: First impressions are really hard to shake. Or at least they are when you're JaVale McGee. Whether it's been written, spoken, or tweeted, the Nuggets' much-maligned big man has been one of the most joked-about players in the NBA. It's not that it's necessarily unwarranted; McGee certainly has a history of head-scratching plays or goaltends that occur simply because he felt like it was a good time to swat a ball out into the stratosphere.
There's this myth that McGee is, and always will be, a clown; that his gaudy stats are a mirage, that he'll never be able to figure out how to play winning basketball. But what happens if he does? It's an idea that seems to gets lost in the endless string of jokes attached to his name, yet there's never been a point in McGee's career where he's closer to self-actualization as he is right now.
His numbers from last night against the Spurs — 21 points on 10-of-11 shooting and 11 rebounds in just 26 minutes — were great and all, but what I couldn't stop focusing on was how he got them. The crazy flip shots, monster dunks, or sky-scraping rebounds didn't capture my attention as fully as plays like this:
This may seem like nothing out of the ordinary, but consider what McGee does during this sequence:
• Sets a good, hard screen for teammate Wilson Chandler with proper technique (wide base, hand over wrist, puffs out his chest)
• Follows the drive with a hard roll looking for an offensive rebound
• Turns and immediately sprints back on defense once the Spurs secure the rebound. He actually works to get ahead of Tim Duncan (who Kenneth Faried was checking), in order to ensure he doesn't get an unchecked rim run for a layup in transition.
• Stays active and attentive in help when the post entry pass goes to Duncan.
• Stays on his feet and walls up (without some crazy attempt to block a shot) to force Duncan into a miss without risking a foul.
These are little, fundamentally correct things, but add them all up and you see a player getting close to the powerful understanding of adding nuance and intelligent play to his ridiculous length and athleticism. When those two things meet, it can produce a scary and destructive force (think LeBron James).
If McGee quietly goes about maturing by stringing together sequences and full games like this, he very well could have the last laugh, at our expense.
Heartbeats
Chris Ryan: "That was for him." That's what Jeff Green said about making this game-winning layup against Cleveland last night. The "him" was Dr. Lars Svensson, who, just one year ago, performed heart surgery on Green in the same city. Svensson was in attendance at the Cavs-Celtics game at Quicken Loans Arena. The game-winning layup was the result of a pre-designed play for Green. If you had told a Celtics fan that Doc Rivers would be drawing up last-second plays for Jeff Green, while Jason Terry and Paul Pierce were both on the court, he would've stared at you and asked if you had been smoking that Big Chief. But this is happening. This is not-so-secretly the best story in the NBA. Not only that Jeff Green has returned from a career-threatening heart condition to play basketball, but that Jeff Green has become a different Jeff Green. After the game, Rivers said, "When you're in a timeout and guys are staring at you, they're telling you they want the ball … Most guys look down, because they don't want the ball, but he clearly wanted the ball." Jeff Green is looking up now.
Filed Under: NBA