NBA Playoffs Short-Attention-Span Power Rankings: WTF!?
Ronald Martinez/Getty Images
A survey of the players and teams making moves in last night's NBA action.
1. GINOOBBBBBILIIIIIIIIIIII!!!!!!!!!!
Pop on Manu'slast two 3-point attempts: "I went from trading him on the spot to wanting to cook him breakfast tomorrow. That's the truth."

— Brent Barry (@Barryathree) May 7, 2013
Chris Ryan: COME. ON.

2. Stephen Curry
(All GIFs by @HeyBelinda)
Ryan: Just another third quarter you meet in heaven from Stephen Curry. According to Synergy Sports, going into last night, Steph was averaging 10.7 points per third quarter this postseason, on 73 percent shooting. Last night? Yeah, he got a little above that number: 22 points, on 75 percent shooting. That statistic should come with one of these:
And here's the thing: I was almost more impressed with his passing. OK, that's bullshit. I was impressed by his shooting — there are only like two things I'm more impressed by than Steph's shooting and those are the Sistine Chapel and the bank robbery in Heat. Let's just say I noticed his passing. The underhand scoop dish is a personal favorite.
2a. STEPHEN CURRY
3. Jimmy Buckets

Robert Mays: I'm glad that rationality and logic no longer belong in conversations about the NBA playoffs, because I'd like to have a chat about Jimmy Butler. Last night, for the third time in as many games, Jimmy Butler played all 48 minutes of an NBA playoff game. Saturday, that meant no rest, on the road, in a Game 7, for a team missing two of its three best players. Yesterday, it meant guarding the planet's best basketball player, fresh off a week of rest, for four consecutive quarters.
We've reached a point in our basketball reality where LeBron James is going to get his. In yesterday's fourth quarter, Butler tried to handle a James breakaway by doing everything short of a horse-collar tackle. James responded by maintaining his balance, moving the ball to his left hand, and banking it in off the glass. At a certain point, there's nothing to be done. LeBron James is what would happen if someone punched up, up, down, down, left, right, left, right, b, a into the start menu of the universe.
All Butler can do, and all he did do for the entirety of Game 1, is make things more difficult for James than they have to be. James finished last night's game with 24 points, eight rebounds, and seven assists, but not until late did it ever feel like he was anywhere close to having his typical grasp on a game. James will adjust, and it's likely that he'll turn more to his significant strength advantage in later games, but Game 1 was maybe the fullest realization of what Jimmy Butler can be for the Bulls. Butler not only started Chicago's defensive possessions by manning James as he came down the floor — he ended them. He finished the game with 14 rebounds, as many as any two Heat players had combined. And although he missed eight of his 13 shots, Butler managed to squeeze nine points from the free throw line and bury a massive 3 to put the Bulls up one down the stretch. It's been different Bulls at different times who've lit the way this postseason, and last night, it was Jimmy Butler's turn.
4. Nate Robinson
5. Kawhi Leonard and Danny Green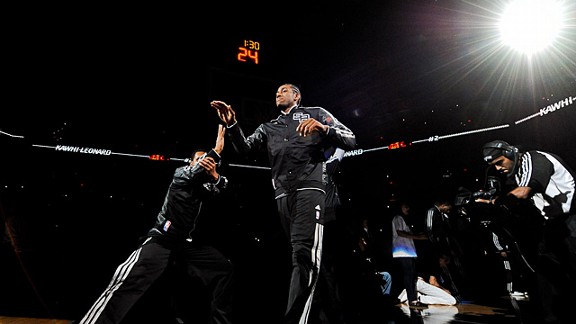 Danny Chau: The Spurs are the cockroaches of the NBA. Your best idea on how to get rid of them isn't good enough. They've outlasted dinosaurs, and they can sure as hell outlast humans. Stepping on them releases pheromones that'll bring a horde to your doorstep, and by the time you're looking under the mat, they're already in your cabinet space, defiling your goods. There's little you can do to stop it, because after living through an explosion or 2,000, do cockroaches even have the capacity for fear?
Steph Curry hoped to find out. He went ballistic in the third quarter and ended up with 28 points in the second half alone. But lost in the mania was the duo of Kawhi Leonard and Danny Green, who combined to offset Curry's 28 with 28 of their own. Beyond their Big Three, there's a degree of facelessness to the rest of the Spurs roster. Leonard and Green are Swiss Army knives for San Antonio, asked to space the floor, make athletic hustle plays, and defend the opposition's most critical threats. Last night, that facelessness bled into their statistical production, too. In a bizarre coincidence, Leonard and Green each had 14 in the second half, alternating between one player scoring nine points and the other scoring five in the two quarters.
And that's why the Spurs survive. With the help of high-functioning role players discreetly negating the Warriors' advances (and an unfortunate defensive read on the last play by Jarrett Jack), the Spurs were presented a window of opportunity for the team's aging stars to do what they do best. Even on an off night for the Big Three, the Spurs refused to be counted out, because what's left to fear? After centuries of evolving as a playoff team, the current generation has the survival blueprint in its genes.
6. Gregg Popovich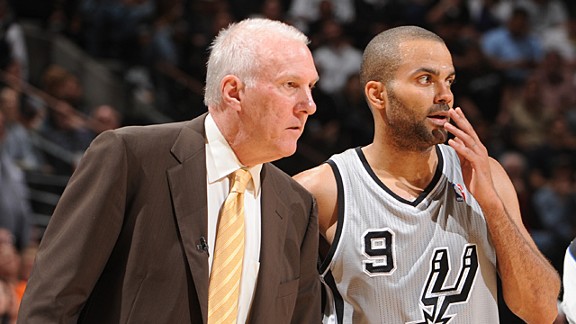 Brett Koremenos: Most of the time when you hear the term "playoff experience" it is a cliché. Last night, however, was the rare exception in which it actually played a huge factor into the outcome of a game.
As the Spurs started to make their incredible comeback, they did so with perfect execution in their half-court offense and out-of-bounds plays, from the end of the fourth quarter all the way through the second overtime. The Warriors, on the other hand, devolved into a series of isolations that occurred either right from the beginning of the possession or after an initial pick-and-roll where the ball rarely changed sides of the floor. Given this San Antonio team has a ton of combined, ahem, postseason experience, it shouldn't come as a shock that they were able to trust their sets when the pressure ratcheted up in the final minutes.
Along with a great head coach like Popovich, trust is exactly what is required to run great offense in the clutch. Trust can only come from having experience. For years, the Spurs have won big games in the playoffs by moving the ball, setting great screens, and running their plays to perfection when it mattered most.
Golden State is in uncharted territory in that regard and it manifested itself in the form of some ugly possessions in which only individual brilliance could save them from an empty trip. Experience may be the best teacher. Last night, the Warriors were taught a lesson.
7. The Good and the Bad and the Mark Jackson
Ryan: That's a timeout pep talk from Jackson during Golden State's 107-101 overtime win over San Antonio back in February. There are very few coaches in professional sports who deserve to have Explosions in the Sky music playing over their timeout talks. Mark Jackson is definitely one of them. I know I would play until I tore all my hip flexors for that dude. But at times, Jackson's rhetoric can be his own worst enemy. If you want to know why Stephen Curry was out there on the court for 58 minutes last night, look at that video up there. Jackson rode Curry because Curry was the best player in the building last night, sure. But he also kept him in the game because he would've wanted to have been kept in the game. His authenticity as a great player turned very good coach, and the depth of connection he has with his players because of that history cannot be underestimated. But maybe Jackson needs to be saved from himself, or maybe his players need to saved from his history.
He also may want to rethink the whole playing Richard Jefferson thing.
Filed Under: Brett Koremenos, Chicago Bulls, Chris Ryan, Danny Chau, Golden State Warriors, Manu Ginobili, Miami Heat, NBA, Robert Mays, San Antonio Spurs, Stephen Curry