NBA Playoffs Short-Attention-Span Power Rankings: The Walking Dead
Christian Petersen/Getty Images
A survey of the players and teams making moves in last night's NBA action.
1. "Playoff Basketball"
(All GIFs by @HeyBelinda)
Chris Ryan: I think it was Pete Carril who said the the playoffs don't really start until one guy taunts another guy about a separate guy sleeping with his wife. Well, Jordan Crawford, I guess that makes you the starting gun.
You heard it over and over again over the last two nights of games: playoff basketball. Somebody gets tagged coming down the lane? Playoff basketball. Francisco Garcia checking Kevin Durant for about 90 feet with his hand around his hip? Playoff basketball. Hitmen? Playoff basketball. Open-play, timeout-call retaliations? Playoff basketball. Some bench scrub telling one of the 10 best players in the world that another one of the 10 best players in the world did something that rhymes with "plucked your fife"? Playoff. Basketball.

And you can see it, right? Or you can hear it, at least. You can hear it in the voices of the ex-players acting as commentators: Chris Webber getting hyped for Patrick Beverley's push-back on Reggie Jackson (something along the lines of "Don't let anyone punk you just because you're on the road!"); Shaq and Chuck killing Kenny because the Jet was trying to stand up for Mark Jackson's woe-is-me-Manimal-stepped-on-Steph's-foot act (something along the lines of "Those were touch-up fouls," "They're just letting them know they're there," and "Do you ever not agree with someone from New York!?"); Dennis Scott getting hyped (relative to D-Scott levels of hype) about what the crowd is going to be like at Oracle for Game 6.
These guys miss it. And the guys who are playing? They love this shit. When I interviewed Matt Barnes a couple of weeks ago, I asked him about walking into the Grindhouse, in Memphis, during the playoffs, and what the intensity was like inside that building. He visibly perked up (Matt Barnes is a rather sedate interview subject): "I'm getting excited just thinking about it."
Maybe the basketball isn't always good; guys are getting hurt, sets get abandoned early in the clock, there's isolations and over-whistling, and some truly stupid coaching. But you can feel it in the air every night. Right around these Game 5s and Game 6s, something wakes up inside these guys. Something that doesn't care about cap space, secondary breaks, or help defense. It turns into glorious, heartbreaking, shocking combat. And it is the best time of the sporting year. Playoff basketball.
1a. Jordan Crawford
Zach Lowe: Jordan Crawford is a clown.
2. James Harden Walking the Dog
3. Antagonistic Fashion Choices
netw3rk: At the suggestion of master motivator Kenyon Martin — seriously, look out, Tony Robbins, K-Mart is coming for your neck — the Knicks wore black suits to Game 5 against the Celtics to represent their attendance at the Celtics' funeral. Kind of like a pay-your-respects-by-disrespecting-you type of thing. One would hope — after the desultory, regressive wank-fest that they foisted on the gathered Madison Square Garden crowd like a phenomenally meaty fart in a hot car — that what died is their hubris. I would personally settle for their hubris, at least, falling gravely ill.
But wait. Here's where we acknowledge that, yes, this is merely Game 5; the Knicks will have two more chances to close the series. Fine. And should the Knicks win the series, Game 5 will be one of those "hey-ja memba?" anecdotes Knicks fans will use to test each other's bona fides. "Hey-ja memba Game 5? Nahhh, I wasn't worried."
What should I write now, game notes? Stats and stuff? I'm shambling around my living room in a stupor. Melo and J.R. were a combined 11 for an = [ Phin – (phi)n ]/Sqrt[5] Gal(L / K)abλv + (1 − λ)w with 0 ≤ λ ≤ 1x ∞
So, that was bad. What else? Jet Terry kept showing me that picture of Bear Grylls's producer's venom-melted foot. Brandon Bass had me considering the term "Bass Explosion" as looking like one of those late-'90s Miami DJ mix CDs with the drawing of the lady sitting on a speaker on the cover. And Jeff Green grabbed me by my wrist and kept saying, "Why are you punching yourself?" as he punched me in my face with my own hand. Later, as the mop crew cleaned the blood off the Garden floor, KG answered a postgame question by going on one of his patented heavy-breathing, sweat-drenched, extemporaneous crazy-person rants, where the rant is connected to the question solely by the fact that it is also being spoken in the English language, this time something about hardhats.
Something I've noticed from watching this Knicks team is they have a tendency to regress to their worst instincts, individually, when the moments get bigger, almost like they're aware of the situation. Instead of the ball moving around in space like it did during their 13-game winning streak, it sticks in Melo's hands, and he looks like a boxer searching for that one haymaker. J.R. hooks back up with his shady dribble fadeaway girlfriend and disappears for huge swathes of the game. Mike Woodson forgets how successful the two point-guard lineups have been. It's hard to decide if this Knicks team is Dr. Jekyll trying not to drink the Mr. Hyde formula, or Mr. Hyde trying to use the correct dinner fork. Basically, the season to this point has been one long frog-and-the-snake metaphor. Meanwhile, the Celtics are playing loose and gritty, a poker player on his last stack of chips.
4. Terrence Williams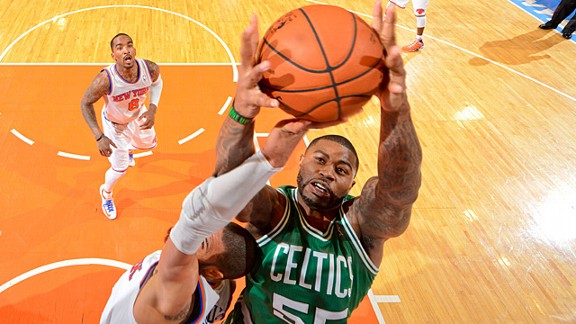 Brett Koremenos: Part of the fun of the NBA playoffs is that sometimes the most unlikely contributors emerge from obscurity to make an impact for their teams on the game's biggest stage. Williams wasn't even on the Celtics' roster until March, but the well-traveled guard has helped his team crawl its way back into its series against the New York Knicks. After playing just nine minutes in the team's three opening losses, Williams has played 28 in the last two games, providing a key spark for a floundering Celtics team. 
Although Williams is nothing like a hidden superstar waiting to be unleashed, he is a 6-foot-5 wing defender who can both get a team into its offense and attack the rim off the bounce — the latter of which is a trait no other Celtic, other than the injured Rajon Rondo, currently possesses. In fact, Williams could essentially be described as something of a Rondo-lite. 
He also provides a great complement to the rejuvenated Jason Terry. The veteran guard has always been much better in the role of shooter/scorer rather than occupying the mantle of primary ball handler. Terry is able to play to his skill set on offense when he shares the court with the versatile Williams, while still being able to guard the smallest member of the Knicks' backcourt on defense — something he can't always do when playing with Avery Bradley. 
5. Samuel L. Jackson
Hella strategy by OKC tonite. Fuck offense & defense, lessee what happens! OHHHHH…we lose?!

— Samuel L. Jackson (@SamuelLJackson) May 2, 2013
6. Look Homeward, Pacers
Danny Chau: The Pacers came pretty close to perfection last night. Their big three of Paul George, David West, and Roy Hibbert combined for 63 points on 68 percent shooting and limited the Hawks' big three of Al Horford, Josh Smith, and Jeff Teague to 35 points on 28 percent shooting. After losing two straight away from home, the Pacers fired back with an outstanding performance on both ends.
The Indiana-Atlanta series has been one big case study on the importance of homecourt advantage. The finding? Holy crap, is it important! The home team hasn't lost in this series, and has won each game by at least 11 points. The average margin of victory in the five games is 17.4 points.
The Hawks have a natural upswing in production at home compared to games on the road, and that's been enough to win both their games in Atlanta. The Pacers, on the other hand, have a Jekyll and Hyde situation going on at home and away from Bankers Life Fieldhouse. This has something to do with a five-game sample size, but the numbers are still staggering. The Pacers — you know, the hardnosed, grind-it-out team full of athletes you wouldn't want to mess with — are the best home offense of the young 2013 playoffs, scoring more than 116 points per 100 possessions, according to NBA.com. That's two points more than the Heat, and more than three points higher than the third-ranked Warriors. But on the road, their offensive efficiency plummets to 83 points per 100 possessions. No, seriously. That's a 33-point swing.
There must be something life-giving about Bankers Life Fieldhouse. George owes his Most Improved Player award to the place, because no one would've given him even a sliver of consideration if they only looked at his road numbers, in which he shot below 40 percent from the field and 30 percent from the 3-point line for the entire regular season. Coming from a lifelong Californian who has never set foot in Indiana, I suspect it has something to do with the in-arena Dunkin' Donuts. That's probably an unspectacular fact for most, but keep in mind this is an arena that has more Dunkin' Donuts locations than the entire state of California, as long as you don't count the one location built in a freaking military base. I actually wrote a research paper last year about why there aren't any Dunkin' Donuts in California (though their owner promises locations by 2015), but that discussion is for another time on another site.
Sorry, where was I?
Oh, right. Pacers so far at home? GOOD. Pacers so far away from home? REALLY BAD.
Filed Under: Boston Celtics, Brett Koremenos, Chris Ryan, Danny Chau, Indiana Pacers, James Harden, Kevin Durant, Kevin Garnett, NBA, New York Knicks, Paul George, Zach Lowe